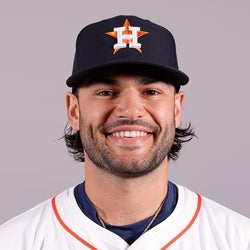 Out
Injury Forearm
Est. Return 7/1/2024
Rest-of-Season Projections
2023 Fantasy Outlook
The Astros downplayed his injury in the 2021 ALDS, but McCullers revealed in February that he had suffered a strain of the flexor tendon, adding that it was torn partially off the bone. It also came to light that he suffered setbacks over the winter which conspired to delay his season debut until Aug. 13. McCullers showed no ill effects upon his return and finished with a sparkling 2.77 ERA over 10 regular-season starts down the stretch. On a personal level, McCullers' season on a bit of a sour note as he allowed five homers in Game 3 of the World Series, but what's important is that he was still healthy heading into the offseason. After a full offseason of rest, McCullers will likely once again become a darling of the fantasy community. He's battled a myriad of health issues throughout his career, but McCullers has reached 22 starts on four occasions and made 11 starts during the shortened 2020 seasons. When healthy, McCullers will be toeing the rubbers every fifth day for one of the best teams in baseball, if not the best.
Read Past Outlooks
$Signed a five-year, $85 million contract extension with the Astros in March of 2021.

Likely out until July of '24
Astros general manager Dana Brown said Tuesday that McCullers (forearm) might not be ready to pitch again until early July of 2024,
Chandler Rome of The Athletic
reports.
ANALYSIS
McCullers required surgery this past June to repair a torn right flexor tendon and remove a bone spur from his right forearm. The 30-year-old hasn't appeared in a game at any level since the 2022 World Series and can apparently be ruled out for essentially the entire first half of the 2024 campaign.
Read More News
Pitching Stats
Loading Pitching Stats...
2023
2022
2021
2020
2019
2018
2017
2023 MLB Game Log

Calculate Stats Over Time
Just click on any two dates.
Scoring
FanDuel
DraftKings
Yahoo DFS
Loading Pitching Game Log...
2022 MLB Game Log

Calculate Stats Over Time
Just click on any two dates.
Scoring
FanDuel
DraftKings
Yahoo DFS
Loading Pitching Game Log...
2021 MLB Game Log

Calculate Stats Over Time
Just click on any two dates.
Scoring
FanDuel
DraftKings
Yahoo DFS
Loading Pitching Game Log...
2020 MLB Game Log

Calculate Stats Over Time
Just click on any two dates.
Scoring
FanDuel
DraftKings
Yahoo DFS
Loading Pitching Game Log...
2019 MLB Game Log

Calculate Stats Over Time
Just click on any two dates.
Scoring
FanDuel
DraftKings
Yahoo DFS
Loading Pitching Game Log...
2018 MLB Game Log

Calculate Stats Over Time
Just click on any two dates.
Scoring
FanDuel
DraftKings
Yahoo DFS
Loading Pitching Game Log...
2017 MLB Game Log

Calculate Stats Over Time
Just click on any two dates.
Scoring
FanDuel
DraftKings
Yahoo DFS
Loading Pitching Game Log...
Minor League Game Log

Calculate Stats Over Time
Just click on any two dates.
Loading Minor League Pitching Game Log...
Left/Right Pitching Splits
BAA
K
BB
H
HR
Since 2021

vs Left

.210
112
61
76
7
Since 2021

vs Right

.204
123
37
83
10
2023

vs Left

0
0
0
0
0
2023

vs Right

0
0
0
0
0
2022

vs Left

.165
27
16
13
1
2022

vs Right

.258
23
6
24
3
2021

vs Left

.223
85
45
63
6
2021

vs Right

.188
100
31
59
7
More Splits

→

View More Split Stats
Home/Away Pitching Splits
ERA
WHIP
IP
K/9
BB/9
Since 2021

Home

3.02
1.15
122.1
9.2
3.9
Since 2021

Away

2.87
1.32
87.2
11.3
4.6
2023

Home

0
0
0
0
0
2023

Away

0
0
0
0
0
2022

Home

1.50
1.03
30.0
8.7
3.9
2022

Away

3.57
1.58
17.2
10.7
4.6
2021

Home

3.51
1.19
92.1
9.4
3.9
2021

Away

2.70
1.26
70.0
11.4
4.6
More Splits

→

View More Split Stats
Advanced Pitching Stats
Loading Advanced Pitching Stats...
Loading MLB Defensive Stats...
Our full team depth charts are reserved for RotoWire subscribers.
Subscribe Now
Recent RotoWire Articles Featuring Lance McCullers
See More
Erik Halterman previews the 2023 MLB Playoffs with his best World Series bets and more as the postseason gets underway. Can the Astros repeat as champions?
Erik Siegrist sifts through the available talent in the American League and thinks Bo Naylor offers a solution for the Guardians' catching woes.
Past Fantasy Outlooks
2022
2021
2020
2019
2018
2017
2016
2015
2014
2013
McCullers came into 2021 with a reputation of having as much upside as he had durability problems, and he strengthened his argument in both camps by the end of the season. He finished the season with a career-best total in innings, had the lowest hits per nine in the AL, finished second in ERA, fourth in K/9 and eighth in WHIP. His walk rate was truly the only blemish on what was the strongest season of his career. Unfortunately, his forearm started barking during the ALDS and he missed the rest of the season, leaving us with a lasting memory of concern for 2022. The way the season closed is certainly going to be an issue the earlier you draft, and any work stoppage in camp likely further delays any finality on the status of his arm for the season. His 2022 outlook is much like his 2021 outlook -- high risk and high reward. Rostering McCullers requires other staff anchors and he should not be drafted as more than a SP3.
The right-hander returned from a lost 2019 season due to Tommy John surgery and largely looked like himself, posting a 3.93 ERA, 1.16 WHIP and 56:20 K:BB across 55 innings (11 starts) last season, though he did have a brief stint on the injured list due to a neck procedure. The underlying numbers (24.7 K% and 8.8 BB%) remained largely in line with his career figures, and his fastball velocity continues to sit at 94 mph. Durability is still a question mark despite the largely healthy 2020 campaign, as his career high in the majors remains 128.1 innings from 2018. McCullers is entrenched in Houston's starting rotation and is entering the final year of his contract. He's a safe bet for solid production if he can stay healthy in 2021.
McCullers has not thrown a pitch in the major leagues since October of 2018, but that is not going to stop people from drafting him as they did prior to the 2018 season. We fell in love with McCullers in that 2017 postseason when he was throwing all of the hammer curves and making hitters look silly. He was doing that in 2018 as well before the elbow gave out. The thing that gets overlooked with him is that even before the injury, durability was not a thing for him. His career high in innings was what he put up in 2018. Now, we're looking at a guy who is going to have workload restrictions in 2020 and who may struggle with command, as it is typically the last thing for pitchers to rediscover post TJS. His 2017 final line is absolutely repeatable in 2020, but that is not a good thing because those numbers are barely rosterable in a mixed league. There are safer plays for you in the player pool.
No sense in burying the lede: McCullers will miss all of 2019 recovering from Tommy John surgery. In 2018, McCullers started 22 games for the third time in his four years in the league, throwing a career-high 128.1 innings. He was enjoying a typically solid season, albeit with a slightly elevated walk rate. Then, in August, in an interleague game at Dodger Stadium, McCullers left early after tossing just a couple of warm-up pitches before the fifth. The initial diagnosis was a forearm strain incurred from swinging the bat. He rehabbed for the next several weeks, making it back as a reliever for the last week of the season. In early November, McCullers went under the knife, with an expected 12-to-14 month recovery on tap, setting him up to be ready for spring training in 2020. If you're rebuilding and can stash a possible keeper, McCullers is worth a small bid.
A pair of DL stints due to back issues limited McCullers to 118.2 regular-season innings (22 starts), but his performance when on the field further hinted at ace upside. He struck out 25.8 percent of the batters he faced, issued walks at a 7.8 percent clip and served up just eight homers, with the estimators suggesting McCullers was roughly a run better than his surface numbers would indicate. McCulllers has relied on his devastating curveball as his primary pitch over the past two seasons, throwing it 47.4 percent of the time in 2017 compared to 40.4 percent for his fastball (11.9 percent changeup). That's the Rich Hill approach, but also like Hill, McCullers is an injury risk, having missed time in 2016 due to elbow and shoulder issues. Expecting even 150 innings may be a stretch, but McCullers' contributions in that limited window may be so great that he still finishes as a borderline top-20 starter. The team context -- home park, bullpen, offense -- couldn't be any better.
McCullers' season had two negative bookends of shoulder and elbow DL stints, which no doubt helps explain the 1.54 WHIP he posted in between. The fact that his WHIP shot up from 2015's 1.19 without any change to his 3.22 ERA speaks to how well he pitched in traffic. His 81.4 LOB% tied for the fourth highest with Kyle Hendricks and Danny Duffy among starters (minimum 80 IP). His ability to generate weak contact so consistently (fifth-lowest hard contact rate) and to keep the ball on the ground when in play (third in GB%) while also limiting contact in the first place (his 30 percent strikeout rate was sixth-best) were instrumental in his strand success. Despite the injuries that curbed his workload, there were enough positives from the half-season to be excited about the 23-year-old going forward. Early winter checkups report the elbow -- which was the second of the injuries -- won't delay the start of his 2017. The young flamethrower with a devastating swing-and-miss curve has shown major promise in 206.2 innings as a big leaguer. Buy in bulk.
This is why prospect mavens aren't lying when they say "I don't know" so often when discussing callups. If someone told you a 21-year old who had peaked in High-A (and was crushed there with a 5.47 ERA and 5.2 BB/9) with just 97 IP would blitz through Double-A and thrown 125.7 regular season IP in the majors, you'd have called them crazy. McCullers was so dominant in Double-A (0.56 ERA, 13.5 K/9) and Houston was competitive so they took a shot and it panned out brilliantly. He has the potential to be the right-handed complement to Dallas Keuchel atop the rotation, though it will take some time for that kind of consistency to develop. Walks are his biggest hurdle. He allowed two or more in 68% of his 22 starts (league average: 53%) and had a 4.5 BB/9 in 260 minor league IP. Shoulder soreness has McCullers likely ticketed for a DL stint to start the season, so he should be downgraded somewhat on draft day.
McCullers took the next step in his development with High-A Lancaster last season and predictably endured some growing pains in the hitter-friendly California Leauge. An increase in walks (5.2 BB/9) and home runs allowed (1.67 HR/9) were his main flaws, but he still struck out batters at an elite clip (10.7 K/9). His future remains unclear as a big league starter or closer, but how he pitches in the more neutral environment at Double-A Corpus Christi should help give the Astros a better read on his path to the majors.
McCullers, a second-generation hurler, performed exceptionally well in his first full season in the minors. In 25 appearances (19 starts) for Low-A Quad Cities, McCullers went 6-5 with a 117:49 K:BB over 104.2 innings. His walk rate (4.2 BB/9) was a little high, but he more than made up for it by keeping the ball on the ground (2.00 GO/AO) and inside the park (0.3 HR/9). The 20-year-old's aggressive three-pitch arsenal includes an upper-90s fastball with excellent movement, an above-average slider and changeup. While his future as a big league starter or closer remains uncertain, how McCullers fares this season - most likely in Double-A - should give the Astros a better read regarding his path to the majors.
The Astros drafted McCullers with the No. 41 pick in the 2012 draft, far lower than he was projected pre-draft due to what was perceived to be excessive bonus demands. The Astros were able to meet those demands with a $2.5 million bonus, thanks in part to signing the surprise first overall pick (Carlos Correa) for far less than slot. McCullers gets the ball up near 100 mph, but his arm action is far from easy, putting him at increased risk of injury. With dominant stuff, McCullers projects as a future ace. He'll likely begin the year in High-A, but could wind up in Double-A before all is said and done.
More Fantasy News