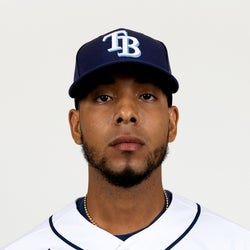 Rest-of-Season Projections
2023 Fantasy Outlook
2022 was a lost season for Patino who went down early with an oblique injury in his first start of the season and then later with shoulder discomfort limiting him to six starts at the major league level and another 11 in rehab and development in the minors. He had one very impressive outing against the lowly Royals in mid-August, but high other outings were disastrous including one outing where the Yankees hung nine earned runs on him in 1.1 inning of work. The numbers were terrible because he pitched from behind more often than not and the league rightly sat fastball and got what they were looking for. If his command and/or durability do not improve, he could be converted into a power reliever moreso than a starter, but Tampa Bay will give his mechanics and body every attempt to succeed before pushing him to the pen. The talent is there, but the execution is not yet there. A very late round dart throw at best until something changes for the better.
Read Past Outlooks
$Traded to the Rays in December of 2020.

Moving to relief at Triple-A
ANALYSIS
Patino threw a scoreless inning Saturday for Durham in his first relief appearance of the season following a 6.66 ERA in six starts. While it doesn't necessarily look like a permanent move, if Patino helps the Rays in 2023 it seems like it will be as a reliever. "The best version that we saw of Luis was probably in (2021), I think when he was coming out of the bullpen for us," manager Kevin Cash said. "He was very, very powerful."
Read More News
Pitching Stats
Loading Pitching Stats...
2022 MLB Game Log

Calculate Stats Over Time
Just click on any two dates.
Scoring
FanDuel
DraftKings
Yahoo DFS
Loading Pitching Game Log...
2021 MLB Game Log

Calculate Stats Over Time
Just click on any two dates.
Scoring
FanDuel
DraftKings
Yahoo DFS
Loading Pitching Game Log...
2020 MLB Game Log

Calculate Stats Over Time
Just click on any two dates.
Scoring
FanDuel
DraftKings
Yahoo DFS
Loading Pitching Game Log...
Minor League Game Log

Calculate Stats Over Time
Just click on any two dates.
Loading Minor League Pitching Game Log...
Left/Right Pitching Splits
BAA
K
BB
H
HR
Since 2021

vs Left

.268
27
27
44
6
Since 2021

vs Right

.235
58
15
51
12
2023

vs Left

0
0
0
0
0
2023

vs Right

0
0
0
0
0
2022

vs Left

.250
5
6
10
1
2022

vs Right

.372
6
7
16
5
2021

vs Left

.274
22
21
34
5
2021

vs Right

.201
52
8
35
7
More Splits

→

View More Split Stats
Home/Away Pitching Splits
ERA
WHIP
IP
K/9
BB/9
Since 2021

Home

3.28
1.18
57.2
7.2
3.0
Since 2021

Away

7.71
1.74
39.2
8.8
5.2
2023

Home

0
0
0
0
0
2023

Away

0
0
0
0
0
2022

Home

3.68
1.36
14.2
4.9
3.7
2022

Away

20.25
3.56
5.1
5.1
11.8
2021

Home

3.14
1.12
43.0
8.0
2.7
2021

Away

5.77
1.46
34.1
9.4
4.2
More Splits

→

View More Split Stats
Prospect Rankings History
Advanced Pitching Stats
Loading Advanced Pitching Stats...
Loading MLB Defensive Stats...
Our full team depth charts are reserved for RotoWire subscribers.
Subscribe Now
Recent RotoWire Articles Featuring Luis Patino
See More
Past Fantasy Outlooks
For as hard as Patino throws (96 mph), he's been a disappointment so far in his short career. While he has a 9.0 K/9, the walks (4.1 BB/9) and home runs (1.4 HR/9) have pushed his ERA near 4.50 with a 1.37 WHIP. He's basically just a fastball-slider pitcher and so far he's had problems navigating lineups even a second time. The fastball (11.3 SwStr%) and slider (14.2 SwStr%) generate a good number of swings-and-misses, but most of the contact he allows is in the air (30.8 GB%). To make matters worse, his performance deteriorated as the season went on with a 21.8 K-BB% in the first half that dropped to 10.6% in the second half. The 22-year-old has the opportunity to turn it around for a team that has historically put its pitchers in good position to succeed.
While many were clamoring for MacKenzie Gore to get the call, it was Patino who earned a promotion from the alternate site in August -- almost three months before his 21st birthday. He was promoted explicitly to work out of the bullpen and logged between one and 2.1 innings in all 11 of his appearances. It was a massive jump for the Colombian fireballer, who had only two starts above High-A under his belt prior to getting invited to the Padres' alternate site. As a flyball pitcher who walked an uncharacteristically high percentage of batters (16.5 BB%), Patino struggled to prevent runs. He leaned heavily on his 97-mph fourseamer (touches 100), throwing his changeup and slider a combined 35 percent of the time. The Padres are open to Patino winning a rotation spot this spring, but it's also possible he could reprise a multi-inning role out of the bullpen or continue developing as a starter at Triple-A.
Other than the high-risk nature of young pitchers who throw hard, Patino has few flaws. At 6-foot, he is undersized for a right-handed starter; he struggles to generate groundballs (38.4 GB% at High-A); and he dealt with a blister at the end of the season -- sometimes blisters reoccur. Everything else about the 20-year-old generates glowing praise. He has been the youngest starting pitcher in every full-season league he has played in. With his arsenal, it is easy to see why. His pitches all have excellent life, and it starts with his mid-90s fastball, which is a 70-grade pitch. He throws a hard slider that flashes plus and is working on getting more consistent with his changeup. His command/control improved as the season went on and he made two starts at Double-A as a 19-year-old. With good health, he will throw 100-plus innings for the first time and could reach the majors in some capacity.
A dominant full-season debut allowed Patino to emerge as a top-five pitching prospect in the top system in baseball, which is no small feat. Among Midwest League pitchers who threw at least 80 innings, Patino had the lowest FIP (2.33), lowest WHIP (1.07), highest K-BB% (22.4) and also happened to be the youngest pitcher in that subset. He dominates with a mid-90s fastball and a pair of potentially plus breaking balls. His changeup is still a work in progress, but given his age and advanced feel, it would not be surprising if that too ended up being a plus pitch for the 6-foot, 192-pound righty. He threw 70-plus pitches in all but one of his 17 starts, so he has experience turning a lineup over multiple times. While there is a temptation to ding shorter righties, Patino's repertoire will allow him to have success at the highest level. From a dynasty-league perspective, the only knock is that he is a pitching prospect who is a couple years away from the majors.
More Fantasy News