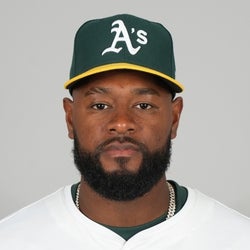 Out
Injury Oblique
Est. Return 2/1/2024
Rest-of-Season Projections
2023 Fantasy Outlook
Severino experienced arm soreness so the Yankees initially took it easy on the Tommy John recoveree, but it wasn't long before Severino was up to speed. He posted a 3.45 ERA and 1.07 WHIP with 95 punchouts in 86 innings through July 13, but then a lat injury sent Severino to the 60-day IL. He returned for three starts in September, registering a 1.69 ERA and .63 WHIP with 17 strikeouts in 16 frames. Including rehab and playoffs, Severino logged 123.1 innings, so he shouldn't be under too much of a restriction, likely nothing more than a few maintenance days. Severino's 27.7% strikeout rate was lower than pre-TJS while his 7.4% walk rate was a little high, as was his home run rate. His 96.3-mph fastball was down a tick, but when he came back in September, Severino was throwing 97-98 mph. There is risk, but Severino can post SP1 numbers, albeit with fewer innings, drafted much later than the staff anchors.
Read Past Outlooks
$Signed a one-year, $13 million contract with the Mets in November of 2023.

Heads to Mets on one-year pact
Severino (oblique) agreed to a one-year, $13 million contract with the Mets on Wednesday,
Jeff Passan of ESPN.com
reports.
ANALYSIS
The 29-year-old right-hander will make the short move to Queens after a rollercoaster eight-year run with the crosstown Yankees. He arrived in the Bronx with loads of promise back in 2015 but has battled a range of injuries over the last handful of seasons. It was a high-grade oblique strain that cut short his 2023 campaign, and he stumbled to a 6.65 ERA in 89.1 innings when healthy. That said, Severino should be 100 percent by the beginning of spring training in 2024 and figures to have a spot in the Mets' Opening Day rotation if he gets through camp without any physical complications. His career ERA in the majors is 3.79.
Read More News
Pitching Stats
Loading Pitching Stats...
2023
2022
2021
2020
2019
2018
2017
2023 MLB Game Log

Calculate Stats Over Time
Just click on any two dates.
Scoring
FanDuel
DraftKings
Yahoo DFS
Loading Pitching Game Log...
2022 MLB Game Log

Calculate Stats Over Time
Just click on any two dates.
Scoring
FanDuel
DraftKings
Yahoo DFS
Loading Pitching Game Log...
2021 MLB Game Log

Calculate Stats Over Time
Just click on any two dates.
Scoring
FanDuel
DraftKings
Yahoo DFS
Loading Pitching Game Log...
2020 MLB Game Log

Calculate Stats Over Time
Just click on any two dates.
Scoring
FanDuel
DraftKings
Yahoo DFS
Loading Pitching Game Log...
2019 MLB Game Log

Calculate Stats Over Time
Just click on any two dates.
Scoring
FanDuel
DraftKings
Yahoo DFS
Loading Pitching Game Log...
2018 MLB Game Log

Calculate Stats Over Time
Just click on any two dates.
Scoring
FanDuel
DraftKings
Yahoo DFS
Loading Pitching Game Log...
2017 MLB Game Log

Calculate Stats Over Time
Just click on any two dates.
Scoring
FanDuel
DraftKings
Yahoo DFS
Loading Pitching Game Log...
Minor League Game Log

Calculate Stats Over Time
Just click on any two dates.
Loading Minor League Pitching Game Log...
Pitching Appearances Breakdown
How many pitches does Luis Severino generally throw?
What part of the game does Luis Severino generally pitch?
% Games Reaching Innings Threshold
% Games By Number of Innings Pitched
Left/Right Pitching Splits
BAA
K
BB
H
HR
Since 2021

vs Left

.269
68
27
94
19
Since 2021

vs Right

.225
131
38
93
18
2023

vs Left

.333
34
17
61
11
2023

vs Right

.271
45
17
52
12
2022

vs Left

.196
34
10
32
8
2022

vs Right

.195
78
20
40
6
2021

vs Left

.333
0
0
1
0
2021

vs Right

.059
8
1
1
0
More Splits

→

View More Split Stats
Home/Away Pitching Splits
ERA
WHIP
IP
K/9
BB/9
Since 2021

Home

3.82
1.18
94.1
9.4
2.6
Since 2021

Away

5.42
1.37
103.0
8.7
3.3
2023

Home

4.87
1.33
40.2
7.5
3.1
2023

Away

8.14
1.91
48.2
8.3
3.7
2022

Home

3.14
1.06
51.2
11.0
2.3
2022

Away

3.22
0.93
50.1
8.8
3.0
2021

Home

0.00
1.00
2.0
9.0
0.0
2021

Away

0.00
0.25
4.0
13.5
2.3
More Splits

→

View More Split Stats
Stat Review
How does Luis Severino compare to other starting pitchers?
This section compares his stats with all starting pitcher seasons from the previous three seasons (minimum 120 innings)*. The bar represents the player's percentile rank. For example, if the bar is halfway across, then the player falls into the 50th percentile for that stat and it would be considered average.
* Exit Velocity, Barrels/BBE %, Balls Hit 95+ MPH %, and Spin Rate are benchmarked against 2019 data (min 120 IP).
See here for more exit velocity/barrels stats
plus an explanation of current limitations with that data set.
K/BB

Strikeout to walk ratio.

K/9

Average strikeouts per nine innings.

BB/9

Average walks per nine innings.

HR/9

Average home runs allowed per nine innings.

Fastball

Average fastball velocity.

ERA

Earned run average. The average earned runs allowed per nine innings.

WHIP

Walks plus hits per inning pitched.

BABIP

Batting average on balls in play. Measures how many balls in play against a pitcher go for hits.

GB/FB

Groundball to flyball ratio. The higher the number, the more likely a pitcher is to induce groundballs.

Left On Base

The percentage of base runners that a pitcher strands on base over the course of a season.

Exit Velocity

The speed of the baseball as it comes off the bat, immediately after a batter makes contact.

Barrels/BBE

The percentage of batted ball events resulting in a Barrel. A Barrel is a batted ball with similar exit velocity and launch angle to past ones that led to a minimum .500 batting average and 1.500 slugging percentage.

Spin Rate

Spin Rate is the rate of spin on a baseball after it is released. It is measured in revolutions per minute (rpm).

Balls Hit 95+ MPH

The percentage of batted balls hit that met or exceeded the 95 MPH threshold.

Swinging Strike

The percentage of pitches that result in a swing and a miss.
Advanced Pitching Stats
Loading Advanced Pitching Stats...
Loading MLB Defensive Stats...
Our full team depth charts are reserved for RotoWire subscribers.
Subscribe Now
Recent RotoWire Articles Featuring Luis Severino
See More
Past Fantasy Outlooks
2022
2021
2020
2019
2018
2017
2016
2015
Severino returned to MLB game action 18 months and three weeks after undergoing Tommy John surgery at the end of February in 2020. He made five appearances out of the Yankees' bullpen over the final 10 days of the regular season and into the postseason, giving up one earned run on three hits and two walks while striking out nine in 7.1 innings. While he looked like the same guy on the mound, Severino's average velocity on his four-seamer was 95.4 mph, down from averages of 97.8 mph in 2018 and 96.0 mph in 2019. His slider was also down a couple ticks from the 88 mph it averaged from 2016 through 2018. It's possible he could gain a tick of velocity as he gets even further removed from the surgery, and even if everything remains where it was in 2021, Severino still has premium stuff. Heading into his age-28 season, the biggest concern with the 6-foot-2 righty is quantity of innings. A healthy Severino is the Yankees' second-best starter, so he should be a part of the rotation, but he will likely have some starts skipped and probably won't go much more than five or six innings, even when he's dealing.
Dreams of a Gerrit Cole-Severino 1-2 punch atop the Yankees' rotation were shattered last February when Severino was diagnosed with an elbow injury that required Tommy John surgery. It was a brutal blow for the young right-hander, who made only three regular-season appearances in 2019 due to lat and shoulder issues. Prior to the run of injuries, Severino was emerging as one of the game's most promising hurlers, winning 33 games and registering a 3.18 ERA between 2017 and 2018. Plenty of pitchers have gone on to find success after TJ surgery, so there's no reason to rule out a return to form for Severino, though there's bound to be some rust -- and a strict innings limit -- upon his eventual return. Severino isn't expected to be ready to rejoin the rotation until well after the start of the regular season, further capping his 2021 value. He may not be a viable option in fantasy leagues until 2022.
Simply put, Severino is one of the best pitchers in MLB. The question heading into 2020 is, are the lat and shoulder issues that cost him all but three regular-season starts behind him? Initially diagnosed with a sore rotator cuff early in spring training, Severino was later revealed to have also suffered a Grade 2 lat strain which is what was responsible for the lengthy absence. When Severino returned, his velocity was just a tick below normal, offering some optimism for a full recovery. Severino is unfairly penalized for his home venue. Yankee Stadium is plus for homers but suppresses runs. This helps explain his success in the Bronx where his career ERA and WHIP are a tad better than on the road. Most will want to wait until the spring before investing, creating a buying opportunity in early drafts. However, even if healthy, Severino's workload will likely be lower than other aces.
Severino had an amazing season considering he makes his home starts in Williamsport Northeast. Most of his metrics were a carbon copy of his 2017 breakout season. He allowed two or fewer earned runs in 19 starts and struck out eight or more hitters in 13 starts. All kidding aside about his home ballpark, Sevvy was a monster at home, notching a 2.74 ERA while holding the opposition to a .217/.270/.337 line over 92 innings. The road games were where he was more mortal, as he had a 3.99 ERA and allowed a .255/.303/.416 line over 99 innings away from Yankee Stadium. It looked as if he would cruise to a Cy Young Award at the break, going into it with a 2.31 ERA and 14 wins. Severino won five games in the second half with a 5.57 ERA. He wasn't that bad (3.37 FIP), but he was giving up significantly more line drives while generating fewer groundballs. On top of that, he injured his shoulder warming up for his first spring training game and is expected to start the season on the injured list.
A year later than expected, Severino proved that the flashes he showed as a rookie in the second half of 2015 were indicative of his upside. While Masahiro Tanaka scuffled in the first half, Severino thrived, mixing his arsenal of a high-90s fastball, slider and improved changeup effectively to become one of the best starters in the American League. He threw more pitches in the strike zone than ever before (49.3 percent), held hitters to a lower contact rate on those pitches (82.3 percent), and made hitters chase pitches outside the zone at the highest rate of his career (31.3 percent). Home runs are still his greatest weakness, and he allowed 15 in 97 innings at Yankee Stadium compared to six in 96.1 innings on the road, but as long as he keeps his walk rate (2.4 BB/9) in check, the long balls are unlikely to derail him. Severino will likely be treated as a top-10 starting pitcher in most draft rooms for 2018, but the increased price and hype appear to be warranted.
Severino had a breakout stint as a 21-year-old in 2015, working to a 2.89 ERA over 11 starts and looking poised to join the top of the rotation. Though there were signs that he might take a bit of a step back -- a 4.44 FIP, struggles with the long ball, and an unsustainably high strand rate of 83.3 percent -- few could have predicted how disastrous the 2016 campaign would be. Through seven starts, he was 0-6 with a 7.46 ERA and had allowed eight home runs in just 35 innings, leading to a demotion to the minors to straighten things out. Severino joined the bullpen after coming back up to the majors, where he was terrific to the tune of a 0.39 ERA with 25 strikeouts in 23.1 innings. Despite his success in the bullpen, the Yankees will likely try again with the young righty as a starter in 2017, though he proved too unreliable last season for owners to confidently count on him out of the gate. As a low-risk gamble, however, he could pay off handsomely.
The Yankees bypassed the starting pitching trade market in July, instead declaring Severino the solution to their problems. They were right and Severino was dominant down the stretch. There are some issues to iron out, including the home runs, but he showed an impressive three-pitch mix that was effective against both righties and lefties. His fastball carries him which is often the case when a guy throws 95-96 mph on average. He gets both swings-and-misses and groundballs at a good clip with it, but his changeup is an above-average strikeout weapon and an elite groundball inducer (62%). The slider is the weakest of the three, but still showed flashes of success. With 162 combined innings in 2015, Severino should have few, if any, innings restrictions in 2016. He's set to join Masahiro Tanaka atop the Yankees' rotation and could be a star in the making.
No pitcher in the minor leagues enhanced their stock as much as Severino during the 2014 season. He climbed two full levels, posting a 127:27 K:BB ratio and a 2.46 ERA in 113.1 innings between three stops, thanks to a mid-90s heater and a slider and changeup that work well off said fastball. Severino, who finished the season as a 20-year-old at Double-A Trenton, has never failed at a level, but he has never been truly tested. In 24 starts last season, he gave up more than three earned runs on just one occasion. This is what makes his upcoming season so intriguing. Despite being just six feet tall, he weighs almost 200 pounds, so he should be able to handle a full season. He also happens to pitch in a system where advanced starting pitching will be pushed aggressively, as the Yankees' starting rotation is chock-full of injury concerns and below-average options. Assuming he was unowned going into last season, he should be a top-5 pick in dynasty drafts in 2015.
More Fantasy News