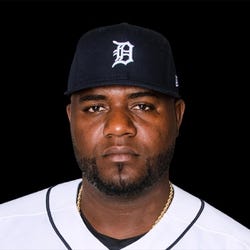 Rest-of-Season Projections
2022 Fantasy Outlook
Pineda began the season as the Twins third starter, but three IL stints limited him to 22 appearances (21 starts). He missed time with thigh, forearm, and oblique issues. While on the hill, Pineda continued his trend of outpitching his ERA estimators as his 3.62 ERA was pegged low by the associated 4.29 xFIP and 4.36 SIERA. A 77.7% LOB mark was the cause as his BABIP and HR/FB rate were near league average. Pineda's 19.2% strikeout rate was a career low as his swinging strike mark was also a personal worst. At best, Pineda is a streaming option in mixed leagues, but his spotty health track record and declining strikeouts land him in the fungible bin in shallower leagues, the type of guy you pitch then ditch for favorable matchups. He signed a one-year deal with the Tigers, which will lead to some good matchups against the Royals and Guardians.
Read Past Outlooks
$Signed a one-year, $5.5 million contract with the Tigers in March of 2022. Released by the Tigers in September of 2022.

The Tigers granted Pineda his
release
Wednesday after he cleared waivers.
ANALYSIS
Neither the non-contending Tigers nor Pineda likely had interest in keeping him around in the organization as pitching depth at Triple-A Toledo, so Detroit will eat the money remaining on his one-year, $5.5 million deal and allow him to get a head start on finding his next home. Given that the 33-year-old turned in an ugly 5.79 ERA, 1.41 WHIP and a career-worst 9.0 K-BB% across 46.2 innings for Detroit on the season, playoff-hopeful teams might not have much interest in bringing him aboard down the stretch.
Read More News
Pitching Stats
Loading Pitching Stats...
2022
2021
2020
2019
2018
2017
2022 MLB Game Log

Calculate Stats Over Time
Just click on any two dates.
Scoring
FanDuel
DraftKings
Yahoo DFS
FantasyDraft
Head2Head
Loading Pitching Game Log...
2021 MLB Game Log

Calculate Stats Over Time
Just click on any two dates.
Scoring
FanDuel
DraftKings
Yahoo DFS
FantasyDraft
Head2Head
Loading Pitching Game Log...
2020 MLB Game Log

Calculate Stats Over Time
Just click on any two dates.
Scoring
FanDuel
DraftKings
Yahoo DFS
FantasyDraft
Head2Head
Loading Pitching Game Log...
2019 MLB Game Log

Calculate Stats Over Time
Just click on any two dates.
Scoring
FanDuel
DraftKings
Yahoo DFS
FantasyDraft
Head2Head
Loading Pitching Game Log...
2018 MLB Game Log

Calculate Stats Over Time
Just click on any two dates.
Scoring
FanDuel
DraftKings
Yahoo DFS
FantasyDraft
Head2Head
Loading Pitching Game Log...
2017 MLB Game Log

Calculate Stats Over Time
Just click on any two dates.
Scoring
FanDuel
DraftKings
Yahoo DFS
FantasyDraft
Head2Head
Loading Pitching Game Log...
Minor League Game Log

Calculate Stats Over Time
Just click on any two dates.
Loading Minor League Pitching Game Log...
Pitching Appearances Breakdown
How many pitches does Michael Pineda generally throw?
What part of the game does Michael Pineda generally pitch?
% Games Reaching Innings Threshold
% Games By Number of Innings Pitched
Left/Right Pitching Splits
BAA
K
BB
H
HR
Since 2020

vs Left

.298
58
19
100
16
Since 2020

vs Right

.255
78
16
97
14
2022

vs Left

.306
12
7
30
8
2022

vs Right

.301
14
1
28
5
2021

vs Left

.290
32
7
54
8
2021

vs Right

.246
56
14
60
9
2020

vs Left

.308
14
5
16
0
2020

vs Right

.205
8
1
9
0
More Splits

→

View More Split Stats
Home/Away Pitching Splits
ERA
WHIP
IP
K/9
BB/9
Since 2020

Home

3.84
1.23
124.1
7.4
1.7
Since 2020

Away

4.80
1.34
54.1
5.5
1.7
2022

Home

4.19
1.25
34.1
5.5
2.1
2022

Away

10.22
1.86
12.1
3.6
0.0
2021

Home

3.73
1.23
72.1
7.6
1.4
2021

Away

3.41
1.24
37.0
6.6
2.4
2020

Home

3.57
1.19
17.2
10.2
2.0
2020

Away

1.80
0.80
5.0
1.8
0.0
More Splits

→

View More Split Stats
Stat Review
How does Michael Pineda compare to other starting pitchers?
This section compares his stats with all starting pitcher seasons from the previous three seasons (minimum 120 innings)*. The bar represents the player's percentile rank. For example, if the bar is halfway across, then the player falls into the 50th percentile for that stat and it would be considered average.
* Exit Velocity, Barrels/BBE %, Balls Hit 95+ MPH %, and Spin Rate are benchmarked against 2019 data (min 120 IP).
See here for more exit velocity/barrels stats
plus an explanation of current limitations with that data set.
K/BB

Strikeout to walk ratio.

K/9

Average strikeouts per nine innings.

BB/9

Average walks per nine innings.

HR/9

Average home runs allowed per nine innings.

Fastball

Average fastball velocity.

ERA

Earned run average. The average earned runs allowed per nine innings.

WHIP

Walks plus hits per inning pitched.

BABIP

Batting average on balls in play. Measures how many balls in play against a pitcher go for hits.

GB/FB

Groundball to flyball ratio. The higher the number, the more likely a pitcher is to induce groundballs.

Left On Base

The percentage of base runners that a pitcher strands on base over the course of a season.

Exit Velocity

The speed of the baseball as it comes off the bat, immediately after a batter makes contact.

Barrels/BBE

The percentage of batted ball events resulting in a Barrel. A Barrel is a batted ball with similar exit velocity and launch angle to past ones that led to a minimum .500 batting average and 1.500 slugging percentage.

Spin Rate

Spin Rate is the rate of spin on a baseball after it is released. It is measured in revolutions per minute (rpm).

Balls Hit 95+ MPH

The percentage of batted balls hit that met or exceeded the 95 MPH threshold.

Swinging Strike

The percentage of pitches that result in a swing and a miss.
Advanced Pitching Stats
Loading Advanced Pitching Stats...
Loading MLB Defensive Stats...
Past Fantasy Outlooks
2021
2020
2019
2018
2017
2016
2015
2014
2013
2012
2011
Pineda missed 36 games due to a suspension and returned to where he left off last season giving the Twins a steady performer in the rotation. He made just five starts but had a 3.38 ERA with a 22.5% strikeout rate and 6.3% walk rate. Pineda was suspended 60 games in 2019 for taking a banned diuretic. He had 36 games left on the suspension which were not reduced when the season was shortened due to the pandemic. He missed more than half the season when he was originally going to miss less than a quarter. Pineda has decent velocity (92.1 mph average fastball) but outstanding control. He's struggled at times in his career with giving up hard contact, but his low walk rate and manageable home-run rates (13.5% HR/FB in 2019, no home runs allowed last season) show he can be a dependable No. 3 starter for the Twins.
Pineda won 12 games with a 4.01 ERA and 23.3 K% in his first full season back from Tommy John surgery. He also displayed great control with just a 4.7 BB%. He had two short stints on the injured list with a sore right knee and a triceps strain, but was otherwise healthy. He looked primed to become Minnesota's top starter heading into the playoffs, with a 3.04 ERA and 25.7 K% after the All-Star break, but was suspended 80 games in early September for taking a banned diuretic. The suspension was later reduced to 60 games after he argued it was not being used as a masking agent for a performance-enhancing drug. He'll miss the first 39 games of the 2020 season. Pineda has struggled at times in his career with giving up hard contact, but his low walk rate and manageable home-run rate from last season (13.5% HR/FB) indicate he can be a dependable No. 3 starter in real life and a viable fifth starter in fantasy.
Pineda spent last year working his way back from July 2017 Tommy John surgery. He made four minor-league rehab outings before requiring surgery for a torn right meniscus at the end of August. The Twins signed him to a two-year deal before the 2018 season with plans to have him enter the rotation in 2019 after a year of rehab. Pineda offers good velocity and strong strikeout rates (8.6 K/9 in 2017) but has been plagued by the long ball. A healthy return of Byron Buxton and Minnesota's outstanding 2017 outfield defense could work wonders for his profile. He's expected to be fully healthy after knee surgery, but the lack of rehab innings could put him behind in spring training and he seems unlikely to approach 150 innings in his first full year back. The Twins will make every effort to have him begin the season in the rotation, and if they fall out of contention, they could flip him to a contender this summer.
Like many hurlers, Pineda fell victim to the wave of uppercut swings, as his home run rate rose despite working down in the zone. Unfortunately, his season was cut short after 17 starts and 96.2 innings, so he never got the chance to adjust, like his teammate Masahiro Tanaka. Pineda had Tommy John surgery in mid-July, putting him on the shelf for most, if not all of 2018. Likely not a coincidence, Pineda incurred a pair of three-homer games in the three he pitched before going under the knife. Before getting hurt, Pineda's swinging-strike rate reverted to career levels, suggesting that 2016 was the outlier. His walk rate also reverted to its usual stingy level. The Twins signed him to a two-year deal this offseason, which will give Pineda short-term stability while giving the Twins a shot at an affordable, high-upside starter with something to prove in 2019. The safe play is ignoring Pineda entirely in 2018 in single-season leagues, as a return before September would be surprising, and even if he makes it back, he would be handled with kid gloves.
Another year, another maddeningly frustrating season for Pineda: His overpowering stuff helped him post an American-League-leading 10.61 K/9 as he eclipsed the 200-strikeout mark for the first time. Aside from that, however, he suffered through the worst season of his brief career. Some factors -- such as an AL-high .339 BABIP and a FIP (3.80) more than a full run lower than his ERA -- suggest bad luck was partly to blame, but he suffered a similarly poor fate in those departments in 2015 as well. Home runs remained an issue, as Pineda served up a personal-worst 27 long balls, and he also saw his walk rate spike for the third year in a row, albeit to a still acceptable 2.72 BB/9. He'll get another look in the middle of the Yankees rotation in 2017, and when he's at his best he is a dominating force on the mound. Unfortunately, until Pineda can prove himself to be a more consistent and reliable pitcher, he'll be a big gamble for fantasy owners.
Pineda held most of his incredible walk rate from 2014 while also spiking his strikeouts by three percentage points and set a career high in groundballs, which should have resulted in a darn good season. Maybe something like his 2011 and 2014 smashed together (3.17 ERA, 1.02 WHIP and 8.4 K/9). Instead, it was his worst season yet. A major HR issue at home (1.6 HR/9) and way too many hits on the road (10.5 H/9, .363 BABIP) sank his season. His season was a graduate-level course on control vs. command. He threw strikes, but really hittable ones. His .904 OPS in the middle third of the zone (including pitches outside of the strike zone, too) was eighth-worst among SPs with 27-plus starts. There are flaws here and injury risk, but getting a 7.4 K/BB in a double-digit round doesn't happen often, so cost mitigates a good portion of that risk and makes him a worthy gamble. At worst, he's a road-only streamer as that ridiculous BABIP will come down.
After a brilliant MLB debut, Pineda was dealt to the Yankees in early 2012 in an intriguing challenge trade that sent Jesus Montero to Seattle. Pineda then missed the next two seasons before finally working his way back to make his Yankee debut in 2014. He got off to an incredible start, with just a 1.00 ERA in his first three starts, before the Pine Tar Incident in Boston. He went out to the mound with four pounds of it slathered on his neck and was eventually caught after allowing two runs on four hits in just an inning and two-thirds. His suspension ended up not mattering because injury once again struck and cost him three and a half months of time. He finally returned in mid-August and got right back on track, allowing two or fewer runs in eight of his final nine starts. Pineda lacked the dominance we saw in his rookie season, but his command and control were impeccable. Unfortunately, with just 76 innings of work, he remains a severe health risk, but at least we were able to see him perform at a high level, so the fear of skills erosion after two years off has faded.
The much-hyped trade of Jesus Montero for Pineda has not worked out for either team at this point. With Pineda, the issue has been injury rather than skill degradation, and while it's hard to get excited about a pitcher that has missed two full years with shoulder troubles, Pineda is still just 25, and could very well bounce back with the electric stuff that made him so exciting to watch back in 2011. In his return from injury, Pineda made 10 starts over three levels in the minors last season, carrying a 10.0 K/9 and 2.3 BB/9 over 23.1 innings at Triple-A. The poor track record of health makes him something of a lottery ticket, but the payoff could prove to be a big one if he's able to return to something resembling his pre-injury form at the big league level this season.
The trade of Pineda for Jesus Montero was a huge topic last offseason, but things started to go downhill for Pineda right from the moment he became a Yankee. Not only does Pineda have a shoulder injury that kept him out for all of 2012 and will sideline him for at least half of 2013 as well, but he also had a DUI in August. It's too soon to know whether the dominant stuff we saw in 2011 will come back after the injury, but Pineda is still just 24, and is definitely worth a flyer if you can find a fill-in for the first half.
Pineda turned in a rousing rookie season last year, highlighted by a trip to the All-Star Game. His 9.22 K/9IP ranked second in the American League and he led rookie pitchers in strikeouts as he overpowered batters with a fastball that averaged 94.6 mph, fourth highest in baseball. In fact, his 26.0 missed-swing percentage was third in the AL. The popular theory that Pineda's 5.12 second-half ERA was a result of tiring down the stretch probably got a little more play than it merited. Pineda got hammered in three second-half starts (two of which came in mid-July), which bloated his ERA; his remaining ERA was 3.40, not far off his first-half pace. (He was also on an innings limit that kept him from going deep into games in the second half and leveling out his ERA.) Importantly, his strikeout and walk rates remained consistent (the K/9IP was actually up a few ticks), and his batting average against was still only .236. In addition to his mid-to-upper-90s fastball, Pineda features a nasty slider and a change-up that by year's end had developed into a weapon that helped him neutralize left-handers. This season, he'll likely be allowed to go deeper into games and to approach 200 innings. However, he'll go from a pitchers' park to a hitters' park after his trade to the Yankees and pitch more games in the AL East. His ERA and WHIP may take a hit, but he should be a mainstay in the Yankees rotation for many years.
The organization's top prospect, Pineda enters spring training with a rotation spot all but assured. He dominated last season at Double-A and Triple-A, totaling 154 strikeouts in 139.1 innings. He walked just 34 for a 2.2 BB/9IP and a 4.5 K/BB. Pineda's fastball has good sinking action, and he improved the velocity last season, pitching in the mid-to-upper 90s. He also has a very good changeup and a developing slider. Pineda missed much of 2009 with an elbow injury, and the Mariners shut him down early last season and probably will have him on an innings limit this season. If the Mariners don't keep him at Triple-A to delay his service clock, expect him to break camp in the Seattle rotation.
More Fantasy News