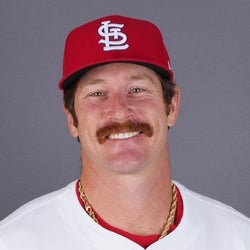 Rest-of-Season Projections
2023 Fantasy Outlook
Now a two-time All-Star since transitioning back to Major League Baseball after a three-year run in Japan, Mikolas is not afraid to attack hitters. He fills up the strike zone -- Mikolas posted a 4.8 BB% last season -- while using his four-seamer, slider, sinker and curveball all at least 20% of the time. Hitters can't really guess against him, making him a tough plate appearance even if the stuff is modest (19.0 K% last season). The right-hander was forced to miss the shortened 2020 season due to a flexor tendon injury and missed extended time in 2021 with a calcification of that same flexor tendon. The fact that he was able to rebound for a 202.1-inning season suggests he's fine from a health standpoint, but the recent injury history should be accounted for when projecting innings. Drafting him to be much more than a streamer is ill advised.
Read Past Outlooks
$Signed a two-year, $40 million contract extension with the Cardinals in March of 2023.

Matches season high for strikeouts
Mikolas (9-13) allowed three runs on seven hits and struck out 10 without walking a batter over seven innings to earn the win Sunday over the Reds.
ANALYSIS
Mikolas matched his season high with 10 strikeouts. He logged quality starts in his last two outings of the season after an inconsistent campaign overall, which saw the veteran right-hander post a 4.78 ERA, 1.32 WHIP and 137:39 K:BB across 201.1 innings. Mikolas is under contract for 2024, so he should be a mid-rotation starter for the Cardinals after enduring the worst of his five years with the club in 2023.
Read More News
Pitching Stats
Loading Pitching Stats...
2023
2022
2021
2020
2019
2018
2023 MLB Game Log

Calculate Stats Over Time
Just click on any two dates.
Scoring
FanDuel
DraftKings
Yahoo DFS
Loading Pitching Game Log...
2022 MLB Game Log

Calculate Stats Over Time
Just click on any two dates.
Scoring
FanDuel
DraftKings
Yahoo DFS
Loading Pitching Game Log...
2021 MLB Game Log

Calculate Stats Over Time
Just click on any two dates.
Scoring
FanDuel
DraftKings
Yahoo DFS
Loading Pitching Game Log...
2020 MLB Game Log

Calculate Stats Over Time
Just click on any two dates.
Scoring
FanDuel
DraftKings
Yahoo DFS
Loading Pitching Game Log...
2019 MLB Game Log

Calculate Stats Over Time
Just click on any two dates.
Scoring
FanDuel
DraftKings
Yahoo DFS
Loading Pitching Game Log...
2018 MLB Game Log

Calculate Stats Over Time
Just click on any two dates.
Scoring
FanDuel
DraftKings
Yahoo DFS
Loading Pitching Game Log...
Minor League Game Log

Calculate Stats Over Time
Just click on any two dates.
Loading Minor League Pitching Game Log...
Pitching Appearances Breakdown
How many pitches does Miles Mikolas generally throw?
What part of the game does Miles Mikolas generally pitch?
% Games Reaching Innings Threshold
% Games By Number of Innings Pitched
Left/Right Pitching Splits
BAA
K
BB
H
HR
Since 2021

vs Left

.248
148
43
203
27
Since 2021

vs Right

.261
163
46
229
29
2023

vs Left

.282
58
16
105
14
2023

vs Right

.284
69
23
114
11
2022

vs Left

.207
76
18
74
11
2022

vs Right

.244
77
21
96
14
2021

vs Left

.273
14
9
24
2
2021

vs Right

.232
17
2
19
4
More Splits

→

View More Split Stats
Home/Away Pitching Splits
ERA
WHIP
IP
K/9
BB/9
Since 2021

Home

3.94
1.10
217.0
6.6
1.7
Since 2021

Away

4.17
1.26
224.1
6.1
1.9
2023

Home

5.67
1.35
92.0
6.7
1.8
2023

Away

4.05
1.31
102.1
5.2
1.8
2022

Home

2.38
0.83
94.2
6.6
1.4
2022

Away

4.10
1.21
107.2
7.0
2.0
2021

Home

3.56
1.15
30.1
6.5
2.7
2021

Away

5.65
1.33
14.1
5.7
1.3
More Splits

→

View More Split Stats
Stat Review
How does Miles Mikolas compare to other starting pitchers?
This section compares his stats with all starting pitcher seasons from the previous three seasons (minimum 120 innings)*. The bar represents the player's percentile rank. For example, if the bar is halfway across, then the player falls into the 50th percentile for that stat and it would be considered average.
* Exit Velocity, Barrels/BBE %, Balls Hit 95+ MPH %, and Spin Rate are benchmarked against 2019 data (min 120 IP).
See here for more exit velocity/barrels stats
plus an explanation of current limitations with that data set.
K/BB

Strikeout to walk ratio.

K/9

Average strikeouts per nine innings.

BB/9

Average walks per nine innings.

HR/9

Average home runs allowed per nine innings.

Fastball

Average fastball velocity.

ERA

Earned run average. The average earned runs allowed per nine innings.

WHIP

Walks plus hits per inning pitched.

BABIP

Batting average on balls in play. Measures how many balls in play against a pitcher go for hits.

GB/FB

Groundball to flyball ratio. The higher the number, the more likely a pitcher is to induce groundballs.

Left On Base

The percentage of base runners that a pitcher strands on base over the course of a season.

Exit Velocity

The speed of the baseball as it comes off the bat, immediately after a batter makes contact.

Barrels/BBE

The percentage of batted ball events resulting in a Barrel. A Barrel is a batted ball with similar exit velocity and launch angle to past ones that led to a minimum .500 batting average and 1.500 slugging percentage.

Spin Rate

Spin Rate is the rate of spin on a baseball after it is released. It is measured in revolutions per minute (rpm).

Balls Hit 95+ MPH

The percentage of batted balls hit that met or exceeded the 95 MPH threshold.

Swinging Strike

The percentage of pitches that result in a swing and a miss.
Advanced Pitching Stats
Loading Advanced Pitching Stats...
Loading MLB Defensive Stats...
Our full team depth charts are reserved for RotoWire subscribers.
Subscribe Now
Recent RotoWire Articles Featuring Miles Mikolas
See More
Past Fantasy Outlooks
2022
2021
2020
2019
2018
2015
2014
2013
Mikolas has a 3.54 ERA, a 1.15 WHIP and 29 wins in 429.1 innings with the Cardinals and is a lock for the rotation. That alone makes him a viable source of innings in deeper mixed leagues, especially given the Cardinals' division and home park. His 18.3% strikeout rate over that span is mediocre, but his 4.1 BB% is excellent. This pitch to contact style works well in St. Louis, given the quality of the defenders behind him.
Mikolas ended 2019 with a sore flexor tendon which lingered into the spring. An MRI revealed no ligament damage, so he ramped up slowly and would not have been ready for the original Opening Day. After continuing to throw bullpens over the summer and into camp, Mikolas was expected to return for the delayed start to the season. However, the injury recurred, requiring season-ending surgery. Mikolas' calling card is control as his 18.4 K% and 3.9 BB% since returning from overseas suggests. The 32-year old relies on a high groundball rate to minimize homers, though it didn't help in 2019. Mikolas could be relied upon for close to six innings, a rarity in today's game. This is all now a big question after surgery, plus such a long time since he last took the hill in an MLB game. If healthy, Mikolas should be in the Cardinals' rotation, but without a high strikeout rate, his margin for error is thin.
Not much changed with Mikolas from his first season back stateside in 2018 to 2019, except the home runs. His K% and BB% were near carbon copies of his 2018 marks and his swinging-strike rate was identical at 9.6%. It wasn't a sizable dip, but Mikolas' groundball rate dropped to 47.4%, and the balls that got up did more damage thanks in no small part to the reduced drag on the big-league baseball. His win total was cut in half and his fantasy value took a good hit as a result of these factors. Now 31, Mikolas has a pretty clear fantasy ceiling given his limited strikeout ability, and while excellent command and control have kept his floor high, that floor has been jeopardized by a sore flexor tendon in spring training. If he gets healthy and the ball is deadened some this year, Mikolas could settle into a mid-to-high 3.00s ERA with a WHIP in the teens and double-digit wins on a competitive team.
Mikolas' 2018 campaign was better than even the most optimistic league-equivalency estimators could have predicted after he made the jump from Japan. He was supposed to be pretty good, but he certainly wasn't expected to be this good, finishing with a 2.83 ERA, 18 wins (tied for most in the NL) and a sixth-place finish in the NL Cy Young race. He looks to be a legitimately good starter, with his primary skill being his impeccable control, which allows him to offset a modest 18.1% strikeout rate with an excellent 3.6% walk rate, the best among qualified starters. Mikolas was also good at limiting the long ball, with a near-50% groundball rate leading to a 0.72 HR/9. None of his peripherals suggest that major regression is coming, though the variability of wins means he's unlikely to repeat such a high number in that category, taking away some of his fantasy value. Still, Mikolas is for real and should be treated as a high-floor option this draft season.
Mikolas returns stateside in 2018, having signed a two-year deal with the Cardinals after three highly successful seasons in Japan. But will that success translate? The right-hander flopped in his first pass through the majors from 2012-14, posting a 5.32 ERA and 1.42 WHIP over 91.1 innings between San Diego and Texas. He found his way with the Yomiuri Giants, with his K/9 ticking up from 6.6 to 8.2 to 9.0. Mikolas was also much sharper with his control, issuing a total of 69 free passes in 424.2 innings. The curveball passes the eye test, but for Mikolas it's more about getting that pitch over for strikes than it is the swing and miss. Maintaining the confidence that he gained in his slider and cutter will be crucial to his success in a starting role with St. Louis, and to his chances of exceeding 7.0 K/9, a number he failed to reach in any of his first three big-league seasons.
The Rangers couldn't have envisioned using Mikolas for 10 starts in 2014, but that is just how severely injuries ripped through their rotation. He closed in Triple-A in 2013 and that was his fourth straight year as a full-time reliever. He wasn't as bad as his 6.44 ERA would suggest, but three shellackings of seven, nine, and 10 earned runs destroyed him. There was a measure of bad luck involved (namely an impossibly-low 58% LOB rate), but he deserves plenty of the blame for the poor performance. He allowed way too much contact with a 15 percent strikeout rate and was probably fortunate to yield just a .299 BABIP. There were some things to like here, but you are going to have a hard time finding any real fantasy value in him unless your league's player pool includes the Yomiuri Giants. The rights to Mikolas were sold to the Japanese Central League team back in November.
Mikolas acted as Triple-A Tucson's closer in 2013 but was nothing special, posting 26 saves with a 3.25 ERA and 5.9 K/9 in 61 innings (54 outings). As he climbed the minor league ranks, his strikeout rate tailed off, likely spurring the Padres to cut ties with the 25-year-old right-hander. Following his arrival in the Texas organization, he'll provide depth to the bullpen and likely take up residence at Triple-A Tucson after spring training.
Mikolas finally made his MLB debut in 2012 as he pitched 32.1 innings out of the bullpen with results (3.62 ERA) that really don't reflect how poorly he performed (4.52 xFIP). In the minors his control became less and less sharp as he moved up in levels. His strikeout rate stayed fairly consistent throughout these stops, but has never been anything special. Overall, he's got fringe command and should not be expected to factor into late-game situations in 2013 for the Padres.
More Fantasy News