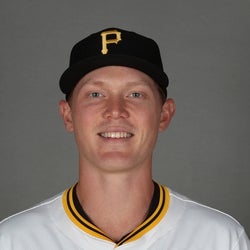 Rest-of-Season Projections
2023 Fantasy Outlook
Through his first seven starts of 2022, Keller had a 6.61 ERA. After he was briefly demoted to a relief role, it appeared the Keller was on a continued trajectory of an underwhelming MLB career. However, the narrative quickly took a turn, as Keller re-entered the rotation and closed the campaign by maintaining a 3.22 ERA across his last 120.1 innings. He turned into a contact-heavy pitcher in that span by maintaining only a 20.7 K%, but that also allowed him to fill the strike zone and maintain an 8.8 BB% (career 9.7 BB%). Even more of a revelation was Keller's ability to keep batted balls on the ground, as his GB% spiked to 49.4% and HR/9 fell to 0.7. While those exact numbers may not be replicable, the positive results were made more believable by a tangible change in Keller's pitch mix. He threw his four-seam fastball less in exchange for introducing a sinker, so the tradeoff of swings and misses for groundballs is sensible. While his role once seemed to be in danger, Keller is locked in as a top-three pitcher in the Pirates' rotation, and he could be capable of turning in solid ratios without much strikeout or win upside.
Read Past Outlooks
$Signed a one-year, $2.44 million contract with the Pirates in January of 2023.

Keller (6-1) picked up the win Friday over the Mariners, allowing six runs on seven hits and two walks while striking out eight over six-plus innings.
ANALYSIS
Keller versus
George Kirby
looked like a pitchers' duel on paper, but it ended up being a slugfest in practice. Keller was taken deep twice in his worst start since Opening Day, but he was still the better of the two starters. He's rarely one to give up many homers, having allowed just seven across 11 starts this season. The rough outing raised Keller's ERA to 3.01 with a 1.02 WHIP and 85:16 K:BB through 68.2 innings. He'll look to put this one behind him next week in San Francisco.
Read More News
Pitching Stats
Loading Pitching Stats...
2023 MLB Game Log

Calculate Stats Over Time
Just click on any two dates.
Scoring
FanDuel
DraftKings
Yahoo DFS
Loading Pitching Game Log...
2022 MLB Game Log

Calculate Stats Over Time
Just click on any two dates.
Scoring
FanDuel
DraftKings
Yahoo DFS
Loading Pitching Game Log...
2021 MLB Game Log

Calculate Stats Over Time
Just click on any two dates.
Scoring
FanDuel
DraftKings
Yahoo DFS
Loading Pitching Game Log...
2020 MLB Game Log

Calculate Stats Over Time
Just click on any two dates.
Scoring
FanDuel
DraftKings
Yahoo DFS
Loading Pitching Game Log...
2019 MLB Game Log

Calculate Stats Over Time
Just click on any two dates.
Scoring
FanDuel
DraftKings
Yahoo DFS
Loading Pitching Game Log...
Minor League Game Log

Calculate Stats Over Time
Just click on any two dates.
Loading Minor League Pitching Game Log...
Pitching Appearances Breakdown
How many pitches does Mitch Keller generally throw?
What part of the game does Mitch Keller generally pitch?
% Games Reaching Innings Threshold
% Games By Number of Innings Pitched
Left/Right Pitching Splits
BAA
K
BB
H
HR
Since 2021

vs Left

.284
138
71
177
11
Since 2021

vs Right

.261
177
54
170
20
2023

vs Left

.213
50
10
29
4
2023

vs Right

.205
35
6
25
3
2022

vs Left

.276
55
34
80
5
2022

vs Right

.257
83
26
82
9
2021

vs Left

.345
33
27
68
2
2021

vs Right

.300
59
22
63
8
More Splits

→

View More Split Stats
Home/Away Pitching Splits
ERA
WHIP
IP
K/9
BB/9
Since 2021

Home

4.84
1.50
180.1
8.1
3.6
Since 2021

Away

3.89
1.36
148.0
9.2
3.2
2023

Home

2.18
0.82
33.0
10.4
1.4
2023

Away

3.79
1.21
35.2
11.9
2.8
2022

Home

3.72
1.40
87.0
7.6
3.5
2022

Away

4.13
1.39
72.0
8.1
3.3
2021

Home

7.91
2.01
60.1
7.8
4.9
2021

Away

3.57
1.46
40.1
8.9
3.6
More Splits

→

View More Split Stats
Stat Review
How does Mitch Keller compare to other starting pitchers?
This section compares his stats with all starting pitcher seasons from the previous three seasons (minimum 120 innings)*. The bar represents the player's percentile rank. For example, if the bar is halfway across, then the player falls into the 50th percentile for that stat and it would be considered average.
* Exit Velocity, Barrels/BBE %, Balls Hit 95+ MPH %, and Spin Rate are benchmarked against 2019 data (min 120 IP).
See here for more exit velocity/barrels stats
plus an explanation of current limitations with that data set.
K/BB

Strikeout to walk ratio.

K/9

Average strikeouts per nine innings.

BB/9

Average walks per nine innings.

HR/9

Average home runs allowed per nine innings.

Fastball

Average fastball velocity.

ERA

Earned run average. The average earned runs allowed per nine innings.

WHIP

Walks plus hits per inning pitched.

BABIP

Batting average on balls in play. Measures how many balls in play against a pitcher go for hits.

GB/FB

Groundball to flyball ratio. The higher the number, the more likely a pitcher is to induce groundballs.

Left On Base

The percentage of base runners that a pitcher strands on base over the course of a season.

Exit Velocity

The speed of the baseball as it comes off the bat, immediately after a batter makes contact.

Barrels/BBE

The percentage of batted ball events resulting in a Barrel. A Barrel is a batted ball with similar exit velocity and launch angle to past ones that led to a minimum .500 batting average and 1.500 slugging percentage.

Spin Rate

Spin Rate is the rate of spin on a baseball after it is released. It is measured in revolutions per minute (rpm).

Balls Hit 95+ MPH

The percentage of batted balls hit that met or exceeded the 95 MPH threshold.

Swinging Strike

The percentage of pitches that result in a swing and a miss.
Prospect Rankings History
Advanced Pitching Stats
Loading Advanced Pitching Stats...
Loading MLB Defensive Stats...
Our full team depth charts are reserved for RotoWire subscribers.
Subscribe Now
Recent RotoWire Articles Featuring Mitch Keller
See More
Past Fantasy Outlooks
2022
2021
2020
2019
2018
2017
2016
2015
Keller's fastball velocity was up this spring and with it, his ADP. Typically a righty with a fairly straight mid-90s fastball, Keller was touching 99 mph this spring. He will need to command the pitch and his quality secondaries, as big-league hitters have no trouble catching up to that velocity when it lacks movement and isn't located properly. However, there is clear post-hype breakout potential here, especially since Keller is a lock to make the rotation.
Keller's 2019 debut didn't go well, so he spent the offseason working on his spin efficiency, hoping to add movement to his 95-mph fastball. Unfortunately, the jury is still out as the righty missed six weeks with a sore oblique, limiting him to five starts. Keller's 2.91 ERA implies he pitched well when healthy, but 18 walks and 16 strikeouts in 21.2 innings beg to differ. The early results on Keller's fastball are tempered by sample-size caveats, but encouraging. He missed more bats with his four-seamer in 2019, but he gave up much softer contact in 2020, which is more important as his slider and curveball can be the strikeout offerings. Keller's velocity and spin dropped last season, but the key is he was getting useful spin. Keller enters his age-25 season the same as last year. He's still a potential mid-rotation starter with spotty control. Keller profiles as a low-end streamer, with a great home park.
After his 11-start rookie campaign, FIP pegged his deserved ERA at a strong 3.19, a far cry from the actual 7.13 ERA he recorded. Keller's 28.6% strikeout rate and 7.1% walk rate were right in line with his numbers in 19 Triple-A starts, where he posted a 3.56 ERA. His 59.6% strand rate and .475 BABIP stand out as clear explanations for the large discrepancy between his ERA and FIP in the big leagues. Statcast doesn't suggest that Keller is at fault for those numbers, giving him an expected opposing batting average of .256, slightly below par but nowhere near the .343 opposing average he actually allowed. Scouts projected Keller as a mid-rotation starter, and the underlying numbers indicate that he still could be that guy going forward despite his awful rookie ERA. Armed with a plus fastball, plus slider and above-average curveball, he is a lock for the Pirates rotation and could have a breakout year.
The Pirates continued their slow, methodical approach to Keller's development in 2018. Keller encountered little resistance at any point during his time with Double-A Altoona -- he allowed more than three runs just twice in 14 starts -- but nonetheless the team waited until the final day of June to bump him up to the next level. While the results took a turn for the worse after the leap to Triple-A, the peripherals were fine (24.2 K%, 0.52 HR/9). Keller's walk rates haven't been especially good at the higher levels, but he commands the fastball well. Fastball command is something a lot of young arms struggle with upon arrival to the big leagues, but that shouldn't be too much of a concern with Keller. He can keep the ball on the ground and the strikeout totals should be useful, if unexciting. Considering his path to this point, it seems likely that Keller will spend much of the first half back at Triple-A before finally cracking the big-league rotation.
Keller commands one of the best fastballs in the minors -- a mid-90s weapon with late life that can miss bats in and out of the zone. The pitch is so good that it's all he needs to get through a minor-league lineup once and sometimes even twice. He also features a potentially plus curveball that works as an out pitch, but his changeup lags well behind as a fringe offering. His top two pitches and excellent command will carry him to the majors, but he needs to improve his changeup to reach his ceiling as a top-of-the-rotation horse. A back strain caused him to throw fewer innings in 2017 than in 2016, but he went to the Arizona Fall League to build up his innings in advance of what is likely to be his final season in the minors. He had a chance to generate a lot of hype in the AFL, a la Brent Honeywell last season, but evaluators weren't particularly impressed by his showing, even though the stats were impressive.
The Pirates 2016 Minor League Pitcher of the Year, Keller compiled a 9-5 mark with a 2.35 ERA and 1.09 WHIP in 130.1 innings split between Low-A and High-A. Perhaps even more impressively, he posted a 138:19 K:BB. The 20-year-old didn't allow a single run in six of his last seven starts, including two postseason outings. He offers a mid-90s fastball, above-average curveball and a solid changeup that serves as his third-best pitch. He struggled with his control as a rookie in 2015 (16 walks in 19.2 innings) but control wasn't an issue last year. Additionally, he managed to stay healthy in 2016 after forearm issues sidelined him for most of his second professional season. Keller will likely start 2017 at High-A Bradenton with a potential midseason move to Double-A. The 2014 second-round pick is as exciting as organization mate Tyler Glasnow, but for different reasons. Glasnow's top selling point is his ceiling while Keller's is his mid-rotation floor.
A second-round pick in 2014, Keller appeared in only 19.2 innings for Bristol last year because of forearm tightness. The results weren't promising (5.49 ERA, 16 walks) but it's possible the 20-year-old righty might be suffering from a more severe injury. He showed promise in 2014, registering a 1.98 ERA in 27.1 innings, but the fact that he saw so little action last summer gives cause for concern. Keller offers swing-and-miss stuff, but he needs to stay on the diamond throughout 2016 to maintain his prospect status.
A second-round pick in the 2014 draft, Keller got his first taste of professional action in the Gulf Coast League. The 18-year-old right-hander registered a 1.98 ERA and 1.17 WHIP in 27.1 innings with a 29:13 K:BB ratio. He reaches the mid-90s with his fastball, but struggles with control issues. Keller, who received a $1 million signing bonus, is expected to pitch in rookie ball for Morgantown in 2015.
More Fantasy News