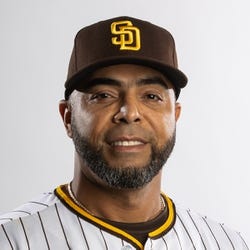 Out
Injury Eye
Est. Return 2/1/2023
2023 Fantasy Outlook
There was no outlook written for Nelson Cruz in 2023. Check out the latest news below for more on his current fantasy value.
#

Overall
$Signed a one-year, $15 million contract with the Nationals in March of 2022. Nationals declined $16 million team option for 2023 in November of 2022.

ANALYSIS
Per the terms of the deal he signed with the Nationals last March, Cruz will receive a $3 million buyout and net $15 million in total for his lone season in Washington. After years of defying the aging curve, the 42-year-old Cruz slowed down in 2022. He slashed .234/.313/.337 in 507 plate appearances while ending with an 85 wRC+, his first time finishing below 100 since 2007. Cruz underwent surgery earlier this offseason to address an infection in his left eye that prevented him from playing in the Nationals' final 20 games, but he should be ready to resume baseball activities in December. The designated hitter thus far hasn't signaled that he plans to retire, and his strong track record prior to last season could be enough for him to land a one-year MLB deal in free agency this winter.
Read More News
Batting Stats
2022
2021
2020
2019
2018
2017
2022 MLB Game Log

Calculate Stats Over Time
Just click on any two dates.
Scoring
FanDuel
DraftKings
Yahoo DFS
FantasyDraft
Head2Head
Loading Batting Game Log...
2021 MLB Game Log

Calculate Stats Over Time
Just click on any two dates.
Scoring
FanDuel
DraftKings
Yahoo DFS
FantasyDraft
Head2Head
Loading Batting Game Log...
2020 MLB Game Log

Calculate Stats Over Time
Just click on any two dates.
Scoring
FanDuel
DraftKings
Yahoo DFS
FantasyDraft
Head2Head
Loading Batting Game Log...
2019 MLB Game Log

Calculate Stats Over Time
Just click on any two dates.
Scoring
FanDuel
DraftKings
Yahoo DFS
FantasyDraft
Head2Head
Loading Batting Game Log...
2018 MLB Game Log

Calculate Stats Over Time
Just click on any two dates.
Scoring
FanDuel
DraftKings
Yahoo DFS
FantasyDraft
Head2Head
Loading Batting Game Log...
2017 MLB Game Log

Calculate Stats Over Time
Just click on any two dates.
Scoring
FanDuel
DraftKings
Yahoo DFS
FantasyDraft
Head2Head
Loading Batting Game Log...
Minor League Game Log

Calculate Stats Over Time
Just click on any two dates.
Loading Minor League Batting Game Log...
Batting Order Slot Breakdown
#1
#2
#3
#4
#5
#6
#7
#8
#9
#1
#2
#3
#4
#5
#6
#7
#8
#9
Left/Right Batting Splits
OPS
PA
HR
RBI
AVG
Since 2020

vs Left

.902
417
21
66
.306
Since 2020

vs Right

.735
877
37
117
.238
2022

vs Left

.727
174
5
27
.248
2022

vs Right

.611
330
5
37
.227
2021

vs Left

.913
192
10
28
.316
2021

vs Right

.791
388
22
58
.240
2020

vs Left

1.456
51
6
11
.465
2020

vs Right

.863
159
10
22
.259
More Splits

→

View More Split Stats
Home/Away Batting Splits
OPS
PA
HR
RBI
AVG
Since 2020

Home

.748
649
24
92
.254
Since 2020

Away

.826
649
34
91
.264
2022

Home

.683
266
6
42
.246
2022

Away

.613
238
4
22
.221
2021

Home

.747
275
12
36
.243
2021

Away

.906
305
20
50
.285
2020

Home

.915
108
6
14
.305
2020

Away

1.072
106
10
19
.300
More Splits

→

View More Split Stats
Stat Review
How does Nelson Cruz compare to other hitters?
This section compares his stats with all batting seasons from the previous three seasons (minimum 400 plate appearances)*. The bar represents the player's percentile rank. For example, if the bar is halfway across, then the player falls into the 50th percentile for that stat and it would be considered average.
* Exit Velocity and Barrels/PA % are benchmarked against 2019 data (min 400 PA) and Hard Hit Rate is benchmarked against last season's data (min 400 PA).
See here for more exit velocity/barrels stats
plus an explanation of current limitations with that data set.
BB/K

Walk to strikeout ratio

BB Rate

The percentage of plate appearances resulting in a walk.

K Rate

The percentage of plate appearances resulting in a strikeout.

BABIP

Batting average on balls in play. Measures how many of a batter's balls in play go for hits.

ISO

Isolated Power. Slugging percentage minus batting average. A computation used to measure a batter's raw power.

AVG

Batting average. Hits divided by at bats.

OBP

On Base Percentage. A measure of how often a batters reaches base. Roughly equal to number of times on base divided by plate appearances.

SLG

Slugging Percentage. A measure of the batting productivity of a hitter. It is calculated as total bases divided by at bats.

OPS

On base plus slugging. THe sum of a batter's on-base percentage and slugging percentage.

wOBA

Weighted on-base average. Measures a player's overall offensive contributions per plate appearance. wOBA combines all the different aspects of hitting into one metric, weighting each of them in proportion to their actual run value.

Exit Velocity

The speed of the baseball as it comes off the bat, immediately after a batter makes contact.

Hard Hit Rate

A measure of contact quality from Sports Info Solutions. This stat explains what percentage of batted balls were hit hard vs. medium or soft.

Barrels/PA

The percentage of plate appearances where a batter had a batted ball classified as a Barrel. A Barrel is a batted ball with similar exit velocity and launch angle to past ones that led to a minimum .500 batting average and 1.500 slugging percentage.

Expected BA

Expected Batting Average.

Expected SLG

Expected Slugging Percentage.

Sprint Speed

The speed of a runner from home to first, in feet per second.

Ground Ball %

The percentage of balls put in play that are on the ground.

Line Drive %

The percentage of balls put in play that are line drives.

Fly Ball %

The percentage of balls put in play that are fly balls.
Advanced Batting Stats
Loading Advanced Batting Stats...
Games By Position
Defensive Stats
Loading Games Played by Position...
Loading MLB Defensive Stats...
Batted Ball Stats
Loading Batted Ball Stats...
Stats Vs Upcoming Pitchers
Recent RotoWire Articles Featuring Nelson Cruz
Past Fantasy Outlooks
2022
2021
2020
2019
2018
2017
2016
2015
2014
2013
2012
2011
2010
2009
2008
2007
2006
2005
When evaluating older players, it's always tricky deciphering if a decline in performance is due to Father Time or simply variance. Last season, Cruz's average exit velocity dropped. That said, while his flyball exit velocity was lower than usual, it still well above league average. His strikeout rate fell, but so did his walk rate. Complicating matters is a July trade, after which Cruz struggled. He was slashing a typical .294/.370/.537 before the Twins shipped him to Tampa, then he batted only .226/.283/.442. Tropicana Field is tough on batters, helping to explain some of the second half swoon. If a younger player posted a similar season, it would be chalked up to variance with a rebound expected. However, Cruz is embarking on his age-41 campaign. There's risk, but there is also a solid chance Cruz rebounds and his market price reflects last season's suppressed numbers.
Cruz didn't lose a step despite turning 40 last season. His .992 OPS was fourth in the AL and his 16 home runs were tied for fifth. His underlying skill set was strong as he was 18th in MLB in Barrels per plate appearance and in the 87th percentile in exit velocity, according to Baseball Savant. His strikeout rate continues to rise (career-high 27.1%) but is offset by a strong walk rate (11.7%). Cruz's fantasy value is lessened by his UT-only status, as he hasn't played in the field since 2018. He only missed seven games last season, though a 60-game season likely reduced the off days he'd need over a full 162 games. Cruz has been remarkably consistent late in his career as his pro-rated stats would have him hitting over 30 home runs for a seventh consecutive season. Though he's showing no signs of decline, there have been only a handful of players who sustained his level of success past 40 years of age.
Cruz had perhaps the best season of his career at age 39 as he established a new career high in OPS (1.031) while racking up 108 RBI in just 120 games. He led MLB in Barrels/PA, was 10th in maximum exit velocity and first by FanGraphs' hard-hit rate. An increase in his strikeout out rate to the second-worst mark in his career (25.2%) was offset by a rise in his walk rate (10.8%) and the harder contact. Cruz did miss time with a ruptured tendon in his left wrist which at one point looked like a potential season-ending injury, but he was able to play through the issue. Cruz's fantasy value is slightly reduced by the fact that he's UTIL-only, as he didn't play a game in the field last season. While Cruz will eventually decline, he has been a model of consistency, hitting over 30 home runs in six consecutive seasons. Everything in the profile checks out. It's just a matter of when his body will betray him.
Cruz continued to hit for elite power as he turned 38 years old; the 37 homers were his fewest since 2013, but it was still a top-10 total in the major leagues. He got there despite spending some time on the disabled list with a sprained ankle early in the season. He ranked among the elite in exit velocity and his plate skills held steady too -- Cruz struck out 20.6% of the time (22.4% for career) and walked at a 9.3% clip (career 8.6%). His batting average ended up falling more than 30 points to .256, but his xBA was .284 according to Statcast. Eventually, the collapse will come, but there is virtually nothing in the underlying profile to suggest Cruz won't be able to keep up a similar level of production for at least one more season. He's UTIL-only now and will serve as Minnesota's everyday DH, playing in a similar lineup and park as he did in Seattle.
Cruz fell one home run shy of hitting 40 homers for a fourth consecutive season in 2017. At 37, we cannot even say he is aging gracefully because he has shown no signs of aging. The overall numbers have been very consistent this decade and there have been no signs of him slowing down as he serves as a full-time DH. It is a testament to his power that there has been no dropoff in production since he left the comforts of Globe Life Park and Camden Yards for the more spacious Safeco Field. Cruz has played in 150 or more games in five of the past six seasons thanks in part to not having to take the field any longer. Cruz and Nolan Arenado were to the only two player last year with at least 35 homers, 90 runs driven in, 90 runs scored and a .285 average. He's a good bet to make it four straight years in each of those departments.
Many fantasy players have expected Cruz, who turned 36 in July, to lose power. Keep waiting: He topped 40 home runs for the third straight season. Considering his infield flyball rate was his lowest since 2012, he's getting plenty out of his hits in the air. Proving age ain't nothing but a number, he ranked third with a 26.2 percent HR/FB (none below 20.4 since 2012) and second in average exit velocity (96.2 mph, per MLB Statcast). His hard contact and high walk rates say his recent batting averages look real, but his age and batted-ball splits say to be more realistic with something closer to his .275 career clip. Safeco Field hasn't hurt him; he's hit 17 homers at home in each of the last two years, and 15 in 2014. Fantasy players drafting him solely for power won't be disappointed with expectations of 30 homers. The vet still has tools for a top-50 fantasy season, but lower his floor a bit with another year gone.
Cruz far surpassed expectations of probably even the most optimistic last season. He finished second in the majors in homers, first in HR/FB with a career-high 30.3% mark, and was the only player other than Bryce Harper with at least 35 homers and a .300 average. Safeco Field didn't slow him too much, either. While his road OPS was nearly 100 points higher, an .892 OPS and 17 homers at home plays. What hurt most was the team around him. Cruz had the fewest RBI in major league history of any player with at least 44 homers, aside from Barry Bonds in 2003 (90). Inflated by a .351 BABIP, his batting average, his highest since 2010, likely isn't sustainable, as his strikeout rate jumped to an eight-year high 25 percent, while his contact rate tied a career low at 72 percent. Cruz is expected to DH more this year after 80 games in right field last season, which should help keep him healthy, but it's probably wise to pay for 30 homers rather than 40.
Cruz may have been the biggest bargain on the market in free agency last winter when the Orioles picked him up for $8 million on a one-year contract. Under the cloud of a 50-game suspension for his connection to Biogenesis in 2013, and with rapidly diminishing defensive skills to boot, the interest in Cruz was understandably tepid. Staying healthy for the third consecutive year, Cruz posted career-highs in home runs (40), RBI (108) and runs (87) while pushing his average to .271 – his highest mark since 2010. Oddly enough, Cruz had much better numbers on the road last season, including a .930 OPS and 25 of his 40 home runs. Seeking right-handed power, the Mariners signed him to a four-year deal during the offseason. He's ideally suited to DH regularly at this stage of his career, although less time spent in the outfield should significantly reduce the wear and tear on his legs. Last season may go down as the best campaign in the back half of his career, but Cruz's raw power should make him a threat to continue pushing 25 home runs annually – even while playing half of his games at Safeco Field, where he's hit .234/.309/.440 in 52 career games.
Cruz missed the final 50 games of the regular season due to his inclusion in the Biogenesis investigation, but still managed 27 homers and 76 RBI in just 109 games. Texas extended him a qualifying offer for 2014, which Cruz rejected, so he finds himself on the free agent market for the first time in his career. He's battled injuries in the past and will turn 34 in July, making him a poor choice for a long-term contract, but the Orioles were willing to forfeit a draft pick after signing Cruz to a one-year, $8 million deal in February. He'll likely see time in left field and as the team's primary DH, with an opportunity to provide more power and depth to an already steady Baltimore offense.
Cruz managed to avoid the leg-related injuries that had limited for the past several seasons, so his .260-24-90-8 line takes on greater disappointment considering it spanned a full season. His days of being a marginal 30-20 threat are well behind him as his downward trend on the basepaths continued. He swatted just six homers on the road, resulting in a .388 slugging percentage, and while his name hasn't come up often in trade rumors, his .411 slugging percentage on the road in 2011 further illustrates what kind of player one might expect to see in a run-neutral home park. You would be hard-pressed to find a player that benefited more from his home park than Cruz has the past few seasons.
Cruz nearly reached 30 homers despite missing more time with recurring leg issues. It's clear that he's going to miss 30 games a year due to injury, and he's seen his stolen-base totals decline as a result. Despite the flaws, he's all but a lock for 30 homers, but his days of flirting with 20 steals appear behind him. An injury-riddled slugger who hits .260 and doesn't eclipse 90 RBI fits his profile in two of his past three seasons, so be careful when going the extra buck here, and don't pay a premium for the electric power display he had in the postseason.
"Boomstick" was limited to just 108 games due to a season-long nagging hamstring injury, but still managed solid numbers (.318 average, 22 homers, 17 steals) when in the lineup. Vladimir Guerrero's presence in the DH spot limited how often Cruz could rest, a situation that may repeat in 2011 with the signing of Adrian Beltre pushing Michael Young to DH. He's a legitimate 30-20 threat when healthy, and he's a good bet to eclipse last season's run production with anything resembling a healthy campaign.
Cruz finally had the season many expected from him, swatting 33 homers and stealing 20 bases. He struggled at times with an ankle injury, which ended up limiting him to 126 games on the season. He posted .955-plus OPS figures in three different months, though he drove in just 23 runs after the All-Star break as he battled injuries. There's a good deal to like as long as he remains with Texas, and his 2007 flop becomes a more distant memory with each passing year. He'll be a regular presence in the middle of the order, and could see an uptick in his RBI totals with better seasons from Ian Kinsler and Josh Hamilton.
Cruz's assault of Triple-A pitching (.342/.429/.695 at Triple-A) earned him a late-season look with Texas where his hitting continued (.330/.421/.609 in 31 games). The assault has continued in the Dominican Winter League for good measure (.385/.447/.800 in 65 at-bats), and he'll be part of Texas' starting outfield to start the 2009 season. His major-league flop in 2007 can't be ignored, but it's getting further and further in the distance, and those that snagged him cheap late last season could end up with an absolute steal for 2009.
Cruz managed to hit his way back to the minors after a poor start to the season (.188/.245/.306 in 144 at-bats), proceeded to destroy Triple-A hurlers (.352/.428/.698 in 162 at-bats), and then struggled in the majors again (.235/.292/.316 in 98 August at-bats) before seeing his playing time reduced in September. There are major contact issues (87 K in 307 at-bats), and his role for 2008 will largely hinge on Texas' activity in the free-agent market this winter and Cruz's performance next spring.
Cruz enjoyed a nice season at Triple-A Nashville before being included in the trade to Texas along with Carlos Lee. He didn't do much in an everyday role in September (.256/.295/.422), but he's being looked at as an everday outfielder for 2007.
Cruz destroyed Double-A Huntsville before a midseason promotion to Triple-A Nashville, where he continued to play well. Combined, he hit 27 HR, showed good on-base skills and stole 11 bases. The downside is that he turns 26 this summer and has a tendency to strike out too much. There's a chance he'll win a bench spot for the Brewers this spring; he could be a sleeper if he gets playing time due to an injury.
Between Single-A Midland and Double-A Modesto in 2004, Cruz hit a combined .329 with 41 2B, 3 3B, and 25 HR in 523 AB. He drew 50 walks, which is acceptable, but did strike out 142 times. Mix in 16 steals in 23 attempts, and you have a decent roto prospect, though he turned 24 in July of this past year. He'll need to improve rapidly at Triple-A in 2005 if he wants to be considered a legit full-time prospect.
More Fantasy News