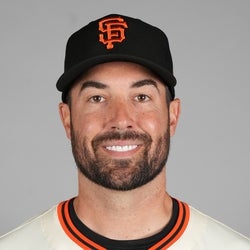 15-Day IL
Injury Elbow
Est. Return 7/1/2024
Rest-of-Season Projections
2023 Fantasy Outlook
Fresh off winning the AL Cy Young with Toronto in 2021, Ray joined Seattle on a five-year, $115 million deal helped his new team break a 20-year playoff drought. However, the left-hander saw his effectiveness drop across the board and finished 2022 with a 3.71 ERA, 1.19 WHIP and 212:67 K:BB over 189 innings. He surrendered four runs in three frames during the wild-card round, and he then took a loss out of the bullpen in the ALDS without recording an out. It was an unceremonious end to the campaign as he surrendered 21 earned runs in his final 31 frames between the regular season and playoffs. Still, Ray had a solid 8.0 percent walk rate, which illustrates that his improved control from 2021 wasn't a one-year fluke. Now 31 years old, he likely won't be in contention for another Cy Young Award, but he should remain a strong mid-rotation piece for the Mariners if he can continue to keep the walks down.
Read Past Outlooks
$Signed a five-year, $115 million contract with the Mariners in November of 2021. Contract includes opt-out clause after 2024 season.

Undergoes Tommy John surgery
ANALYSIS
The procedure was performed by Dr. Keith Meister in Texas at the TMI Sports Medicine facility. Ray will travel to Arizona in a few weeks following his initial recovery to begin his rehab. The left-hander has already been ruled out for the remainder of the 2023 season, and it's very likely that Ray will miss time to begin the 2024 campaign as well.
Read More News
Pitching Stats
Loading Pitching Stats...
2023
2022
2021
2020
2019
2018
2017
2023 MLB Game Log

Calculate Stats Over Time
Just click on any two dates.
Scoring
FanDuel
DraftKings
Yahoo DFS
Loading Pitching Game Log...
2022 MLB Game Log

Calculate Stats Over Time
Just click on any two dates.
Scoring
FanDuel
DraftKings
Yahoo DFS
Loading Pitching Game Log...
2021 MLB Game Log

Calculate Stats Over Time
Just click on any two dates.
Scoring
FanDuel
DraftKings
Yahoo DFS
Loading Pitching Game Log...
2020 MLB Game Log

Calculate Stats Over Time
Just click on any two dates.
Scoring
FanDuel
DraftKings
Yahoo DFS
Loading Pitching Game Log...
2019 MLB Game Log

Calculate Stats Over Time
Just click on any two dates.
Scoring
FanDuel
DraftKings
Yahoo DFS
Loading Pitching Game Log...
2018 MLB Game Log

Calculate Stats Over Time
Just click on any two dates.
Scoring
FanDuel
DraftKings
Yahoo DFS
Loading Pitching Game Log...
2017 MLB Game Log

Calculate Stats Over Time
Just click on any two dates.
Scoring
FanDuel
DraftKings
Yahoo DFS
Loading Pitching Game Log...
Minor League Game Log

Calculate Stats Over Time
Just click on any two dates.
Loading Minor League Pitching Game Log...
Pitching Appearances Breakdown
How many pitches does Robbie Ray generally throw?
What part of the game does Robbie Ray generally pitch?
% Games Reaching Innings Threshold
% Games By Number of Innings Pitched
Left/Right Pitching Splits
BAA
K
BB
H
HR
Since 2021

vs Left

.203
91
13
56
10
Since 2021

vs Right

.226
372
107
261
55
2023

vs Left

.400
3
1
2
0
2023

vs Right

.250
0
4
2
0
2022

vs Left

.212
44
5
29
4
2022

vs Right

.236
168
57
134
28
2021

vs Left

.187
44
7
25
6
2021

vs Right

.216
204
46
125
27
More Splits

→

View More Split Stats
Home/Away Pitching Splits
ERA
WHIP
IP
K/9
BB/9
Since 2021

Home

2.88
1.01
221.2
10.5
2.4
Since 2021

Away

3.90
1.30
164.0
11.3
3.3
2023

Home

8.10
2.70
3.1
8.1
13.5
2023

Away

0
0
0
0
0
2022

Home

3.02
1.02
110.1
10.0
2.4
2022

Away

4.69
1.42
78.2
10.2
3.8
2021

Home

2.58
0.94
108.0
11.0
2.1
2021

Away

3.16
1.20
85.1
12.2
3.0
More Splits

→

View More Split Stats
Stat Review
How does Robbie Ray compare to other starting pitchers?
This section compares his stats with all starting pitcher seasons from the previous three seasons (minimum 120 innings)*. The bar represents the player's percentile rank. For example, if the bar is halfway across, then the player falls into the 50th percentile for that stat and it would be considered average.
* Exit Velocity, Barrels/BBE %, Balls Hit 95+ MPH %, and Spin Rate are benchmarked against 2019 data (min 120 IP).
See here for more exit velocity/barrels stats
plus an explanation of current limitations with that data set.
K/BB

Strikeout to walk ratio.

K/9

Average strikeouts per nine innings.

BB/9

Average walks per nine innings.

HR/9

Average home runs allowed per nine innings.

Fastball

Average fastball velocity.

ERA

Earned run average. The average earned runs allowed per nine innings.

WHIP

Walks plus hits per inning pitched.

BABIP

Batting average on balls in play. Measures how many balls in play against a pitcher go for hits.

GB/FB

Groundball to flyball ratio. The higher the number, the more likely a pitcher is to induce groundballs.

Left On Base

The percentage of base runners that a pitcher strands on base over the course of a season.

Exit Velocity

The speed of the baseball as it comes off the bat, immediately after a batter makes contact.

Barrels/BBE

The percentage of batted ball events resulting in a Barrel. A Barrel is a batted ball with similar exit velocity and launch angle to past ones that led to a minimum .500 batting average and 1.500 slugging percentage.

Spin Rate

Spin Rate is the rate of spin on a baseball after it is released. It is measured in revolutions per minute (rpm).

Balls Hit 95+ MPH

The percentage of batted balls hit that met or exceeded the 95 MPH threshold.

Swinging Strike

The percentage of pitches that result in a swing and a miss.
Advanced Pitching Stats
Loading Advanced Pitching Stats...
Loading MLB Defensive Stats...
Our full team depth charts are reserved for RotoWire subscribers.
Subscribe Now
Recent RotoWire Articles Featuring Robbie Ray
See More
Past Fantasy Outlooks
2022
2021
2020
2019
2018
2017
2016
2015
2014
A large majority of the baseball world missed on Ray last season, us included. Statistically speaking, there was no case for drafting Ray heading into 2021. He had posted a double-digit walk rate in four consecutive seasons, including a 17.9 BB% during the shortened 2020 campaign, he struggled with homers and his WHIP had been north of 1.33 in all but one of his big-league seasons. However, the lefty provided a valuable reminder that these players are human beings and not static numbers on a spreadsheet. After joining the Blue Jays on a one-year, $8 million deal, Ray went to work on his mechanics, reverting to an old three-quarters arm slot he had used in the past. His adjustments bore immediate fruit in spring training and Ray's dominance continued into the regular season, culminating in an improbable AL Cy Young Award. He was more confident attacking hitters and shaved more than 10 percentage points off his walk rate. The Mariners bought high in the form of a five-year, $115 million contract. You'll have to buy high too if you want him on your fantasy roster this season.
If you came here looking for a case to draft Ray, you've come to the wrong place. Simply put, there is nothing to hang your hat on here. Ray made 12 appearances (11 starts) between Arizona and Toronto last season and went 2-5 with a 6.62 ERA. The lefty gained a tick of velocity but it did not matter; in fact, Ray's already-poor control only worsened, with his walk rate reaching a truly disastrous level at 17.9%. His struggles with the long ball only got worse as Ray served up 2.26 HR/9. He can still get his strikeouts around all the walks and homers, but it's not enough to salvage his fantasy value. The damage he's capable of doing to the ratio categories makes him a dangerous pitcher to have in your active lineup -- you could be left digging out of the hole for weeks. If you have to pick him up to stream him at some point, Godspeed. Try your best not to get to that point.
Pitch inefficiency continues to haunt Ray. His 33 starts tied for the eighth most, but 174.1 innings checked in as 44th most. While an 11.2 BB% in tandem with a 31.5 K% contributed to high pitch counts, a 1.55 HR/9 also led to him hitting the showers early. Ray fanned double-digit hitters seven times, including in his last two starts of the season. However, he also issued at least four free passes 10 times with another 10 allowing multiple homers. Of slight concern is Ray's velocity has dipped for two straight seasons. Still just 28 years old, there's a chance Ray's command and control improve, but if they do not, a further decline could lower strikeouts, his primary fantasy asset. There's no harbinger of a change. Until Ray demonstrates consistently better control and command, he is what he is -- a plus for strikeouts but a big ratio risk, best streamed in favorable matchups.
Ray's season was shortened by injury. He made only 24 starts and fell well short of earning what many fantasy owners invested in him. His 3.93 ERA was a near-perfect settlement between his inflated 4.90 ERA in 2016 and his fortunate 2.89 ERA in 2017. It could have been much better with more credence to the times-through-the-order penalty. Ray's ERA the first time through a lineup was 2.81 and 2.59 the second time through, but ballooned to 9.13 thereafter as 11 of his 19 home runs allowed came that third time through. This has long been a problem for Ray, but one he was able to keep at bay in 2017 for most of the season. Ray's 2018 was a reminder that one season in a new direction does not mean a problem is resolved. He still gets strikeouts late in the game, but his command falters, so his misses become extra-base hits more often than not. He is a three-pitch guy with two strong breaking balls, but a quicker hook would help him in 2019.
2016 Robbie Ray was not as bad as his win-loss record and ERA. Conversely, he was not as good as his 2017 win-loss record and ERA either. The book on Ray has been: he is going to get a ton of strikeouts (12.1 K/9 last season), he is going to struggle with his command (3.9 BB/9) and he'll serve up some homers (1.28 HR/9). The difference between 2016 and 2017 was in his left-on-base percentage, as he stranded 68.7 percent of runners in 2016 but jumped that rate up to 84.5 percent in 2017. That latter rate is what power relievers do and starters struggle to eclipse 80 percent in consecutive seasons. He also avoided the Times Through The Order (TTOP) penalty; after allowing 49 percent of his 2016 earned runs when he was allowed to face batters for a third time, that number fell to 26 percent this past season. Expect the three truisms to continue for the most part, although with the new humidor at Chase Field, Ray should be able to cut down on the long balls.
If fantasy baseball pitchers were measured just in terms of strikeout rate, Ray might be among the first arms taken in drafts. He finished last season with an 11.3 K/9, which ranked second in the majors. Ray struck out 10 or more batters four times. Ray often racked up the strikeouts only to surround them with mediocre overall stats. Walks have been a big part of the issue. Ray walked 3.7 hitters per nine innings last season, which is in line with his career 3.6 BB/9. Ray's propensity for issuing free passes offsets his ability to miss bats and helps explain his 1.45 career WHIP. If -- and this is a big if -- Ray could cut down on the walks, he'd likely take off and post stellar fantasy numbers. Even if he does not improve upon last season's ratios, the strikeouts alone make him a solid middle-round investment in mixed leagues, and he should be particularly appealing for owners looking to supplement a low-ratios/middling-strikeouts starter taken ahead of him in drafts.
Though his win-loss numbers didn't show it, Ray put together a solid 2015 for the Diamondbacks. He struck out 119 batters and compiled a 3.52 ERA (3.53 FIP) across 127.2 innings, and according to his 1.7 WAR, he was second the second best pitcher on the team, trailing only closer Brad Ziegler. It was a marked improvement from 2014, when Ray posted an 8.16 ERA in nine games (six starts) for Detroit. Ray could still probably stand to improve his control - he walked 3.5 batters per nine innings in 2015, which matched his 2014 rate. While he didn't join the rotation for good until June last year, Ray should be a staple in the D-Backs rotation at the outset of 2016. However, this is a team that has cycled through rotation arms with frequency over the past couple seasons, so if Ray struggles there will be another middling option waiting to take his place.
The Tigers were high enough on Ray to make him the key piece in the Doug Fister trade prior to the 2014 season. Unfortunately, Ray's lone season in the Tigers' organization was a rough one. The 23-year-old lefty split time between Triple-A Toledo and Detroit. In 20 appearances for the Mud Hens, Ray went 7-6 with a 4.22 ERA, 1.50 WHIP and 75:44 K:BB ratio in 100.1 innings. His time in Detroit was even bumpier, but on the plus side, Ray did impress in the Arizona Fall League, allowing three earned runs and striking out 12 in 11 innings. Although it was a disappointing year, it was Ray's first taste of Triple-A and major league ball, and with a fastball that touches 93 mph, a changeup and an improving slider, there's reason for optimism heading into his first year with Arizona. Harnessing his control is the biggest obstacle Ray needs to hurdle before the start of the regular season. If Ray can nab the final spot in the Diamondbacks' rotation, he'll garner some interest in deep mixed and NL-only leagues.
Ray broke through at High-A last year and held his own as a 21-year-old after a promotion to Double-A, and the Nationals wasted no time cashing in his new-found prospect status by dealing him for Doug Fister. Ray's control remains a work in progress, and given the Tigers' recent failures to develop left-handers with similar profiles (Exhibit A: Andrew Oliver) he can hardly be considered can't-miss. However, if Ray does build on last year's success, a 2015 major league debut seems likely.
More Fantasy News