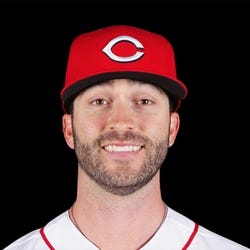 Rest-of-Season Projections
2023 Fantasy Outlook
Naquin was fun while he was getting playing time for a second-division Cincinnati club, but the trade to the Mets mid-season cut into his playing time and now he'll try to win a backup role with the Brewers. He could be an effective platoon partner in the right spot as he can still hit rightes with regular playing time as he showed with Cincy. The Brewers could realistically give Naquin ample playing time against righties, so his draft day value in deep league formats hinges upon his role.
Read Past Outlooks
$Signed a one-year contract with the Brewers in February of 2023. Traded to the White Sox in August of 2023.

ANALYSIS
Naquin has spent all of 2023 at Triple-A Nashville, posting a .766 OPS with six home runs in 40 games. The veteran outfielder will be optioned to Triple-A Charlotte with his new organization but could be a candidate to join the White Sox at some point during the final two months of the season.
Read More News
Batting Stats
2022
2021
2020
2019
2018
2017
2022 MLB Game Log

Calculate Stats Over Time
Just click on any two dates.
Scoring
FanDuel
DraftKings
Yahoo DFS
Loading Batting Game Log...
2021 MLB Game Log

Calculate Stats Over Time
Just click on any two dates.
Scoring
FanDuel
DraftKings
Yahoo DFS
Loading Batting Game Log...
2020 MLB Game Log

Calculate Stats Over Time
Just click on any two dates.
Scoring
FanDuel
DraftKings
Yahoo DFS
Loading Batting Game Log...
2019 MLB Game Log

Calculate Stats Over Time
Just click on any two dates.
Scoring
FanDuel
DraftKings
Yahoo DFS
Loading Batting Game Log...
2018 MLB Game Log

Calculate Stats Over Time
Just click on any two dates.
Scoring
FanDuel
DraftKings
Yahoo DFS
Loading Batting Game Log...
2017 MLB Game Log

Calculate Stats Over Time
Just click on any two dates.
Scoring
FanDuel
DraftKings
Yahoo DFS
Loading Batting Game Log...
Minor League Game Log

Calculate Stats Over Time
Just click on any two dates.
Loading Minor League Batting Game Log...
Left/Right Batting Splits
OPS
PA
HR
RBI
AVG
Since 2021

vs Left

.551
134
3
12
.189
Since 2021

vs Right

.808
654
27
104
.265
2023

vs Left

0
0
0
0
0
2023

vs Right

0
0
0
0
0
2022

vs Left

.534
64
2
6
.180
2022

vs Right

.746
270
9
40
.241
2021

vs Left

.562
70
1
6
.197
2021

vs Right

.853
384
18
64
.283
More Splits

→

View More Split Stats
Home/Away Batting Splits
OPS
PA
HR
RBI
AVG
Since 2021

Home

.814
394
20
72
.256
Since 2021

Away

.716
394
10
44
.249
2023

Home

0
0
0
0
0
2023

Away

0
0
0
0
0
2022

Home

.757
167
7
30
.234
2022

Away

.654
167
4
16
.224
2021

Home

.857
227
13
42
.273
2021

Away

.762
227
6
28
.267
More Splits

→

View More Split Stats
Advanced Batting Stats
Loading Advanced Batting Stats...
Games By Position
Defensive Stats
Loading Games Played by Position...
Loading MLB Defensive Stats...
Batted Ball Stats
Loading Batted Ball Stats...
Stats Vs Upcoming Pitchers
Our full team depth charts are reserved for RotoWire subscribers.
Subscribe Now
Recent RotoWire Articles Featuring Tyler Naquin
See More
MLB clubs will soon be making trades, but Jesse Siegel is more concerned about prospects and their situations.
Jan Levine kicks off the column for 2023 and examines all the NL positional battles.
Past Fantasy Outlooks
2022
2021
2020
2019
2018
2017
2016
2015
2014
2013
Despite a rib injury that forced him out the final three weeks, Naquin enjoyed his healthiest and most productive season since his rookie year, hitting .270/.333/.477 with 19 homers and five stolen bases. Like many Reds hitters, Naquin enjoyed playing at Great American Ballpark, slugging .522 at home as opposed to .432 on the road. Naquin is essentially a platoon player, getting just 70 plate appearances against southpaws last season, while hitting .197/.300/.262 against them. With Nick Castellanos opting out of his contract and likely signing elsewhere, the Reds' outfield is unsettled, but Naquin will likely play likely start in at least a platoon role.
Naquin came to the big leagues with aplomb with an impressive rookie season, showing an ability to hit for average and power, albeit with an excessive strikeout rate. It has all been mostly downhill from there with injury and ineffectiveness save a decent run of platoon production in 2019. Cleveland saw enough in 2020 and decided to move on from the outfielder by non-tendering the 30-year-old outfielder in December. If Naquin finds another big-league job, he will be strictly platooned with someone who can actually hit lefty pitching -- something Naquin is wholly incapable of doing. The downside for him is that there are many outfielders out there who can fill a strong-side platoon, so look for him to settle for a minor-league deal and plan your single-league format reserve rounds accordingly.
Naquin began the season as Cleveland's Opening Day right fielder and appeared in 89 games with a .792 OPS, but he missed the final month of the season after suffering a torn ACL. He finally looked comfortable at the plate after being unable to establish himself in the majors in the previous two seasons following an impressive .296/.372/.514 slash line during his rookie campaign in 2016. Naquin used to be a defensive liability, but has turned himself into a solid defender. He has some pop (.179 ISO), but he remains a non-factor on the basepaths. Naquin should factor into the Indians' outfield situation again in 2020, but he's expected to get a late start to the season as the early timetable for his recovery has him returning between mid-April and mid-June.
The 2016 season happened, and it was great when it did. Unfortunately, it set an impossibly high bar for Naquin's career and it has been a downward spiral since. Every single indicator showed us that what Naquin did that season was unsustainable, but it is tough to write him off given that a .296/.372/.514 line is not too far in the rearview mirror for his career. The largest issue has been health, with hip surgery ending his 2018 season prematurely. We will recall his defensive issues in the 2016 postseason, but the metrics were kinder to him last season when he was on the field. Currently, Naquin is projected to be on the strong side of the platoon in right field with Jordan Luplow taking the at-bats against lefties that Naquin has no hope of hitting. Naquin also has minor-league options remaining, so he could return to Triple-A if Cleveland decides to sign or trade for someone that has more safety in their numbers.
Naquin's 2016 arrival was surprisingly productive, as he was a 2.5-win player (according to FanGraphs) despite grading out as a below-average defender. The Indians sent him to Triple-A Columbus soon after the start of the 2017 season, as he wasn't playing much in Cleveland and it made more sense to get regular at-bats than to serve as a seldom-used bench player. He suffered a back injury in May, and was in the minors until a brief recall in mid-July, but his only prolonged run on the roster with the Indians came after rosters expanded in September. He handled Triple-A pitching capably when he was healthy last season, and there is nothing left for him to prove at that level. As a former first-round pick, he should get an opportunity to stick in Cleveland, or elsewhere, at least as a fourth outfielder in 2018. His key to sticking long term will be cutting back on his strikeouts, as he whiffed at a 30.7 percent clip during his impressive debut campaign.
Naquin's rookie season was a mixed bag of success. He showed a willingness to accept his walks, hit for average, and smash for power as Terry Francona set him up for success in platoon matchups. Naquin does not look comfortable against lefties, so Francona used him nearly exclusively against righties, and he hit .301/.372/.526 over 325 plate appearances. A good bit of that success came from his .411 batting average on balls in play, an extremely high number. The larger issues are the limits to his playing time with the struggles against lefties and his poor outfield defense, the latter of which was on display during the postseason. The 31 percent strikeout rate will need to improve moving forward because the batting average will normalize as his BABIP comes down to a more sustainable rate. As a result, Naquin will also need to prove that his power surge is legitimate skill growth to remain in consideration in mixed formats.
Naquin, a first-round pick of the Indians in 2012 out of Texas A&M, entered camp as a long shot to earn more than a reserve role for Opening Day. With Abraham Almonte on the receiving end of an 80-game suspension, regular playing time opened up in center field for the Tribe and Naquin's performance in Cactus League play has allowed him to push his way into the mix. Most likely, Naquin will share time with Rajai Davis, but considering Davis' ability to hit left-handed pitching much better than right-handed pitching, Naquin may end up on the large side of a platoon if he can carry his success from the spring into the regular season. Injuries limited Naquin to just 84 games last season, and he showed a useful combination of power and speed between Double-A Akron and Triple-A Columbus, showing more home-run power, albeit with a lower batting average after the promotion. If he's able to emerge with the regular at-bats against righties for the entire season, Naquin is a threat to rack up low double-digit totals in home runs and stolen bases.
The former 15th overall pick in the 2012 draft missed the second half of 2014 with a broken hand, and he hadn't done much to distinguish himself prior to the injury. Naquin hit .313 with four home runs and 14 steals in 76 games at Double-A Akron before getting hit on the hand by a pitch in late June, but his .389 BABIP hangs over that production like a dark gray storm cloud. At 6-foot-3, 190 pounds, Naquin doesn't project to hit for much power, and that has been pretty evident in his numbers since he made the jump to Double-A towards the end of the 2013 season. He will likely begin 2015 back at Double-A, and could finish the year in Triple-A, but in the end, he profiles more as a fourth-outfielder/defensive-replacement profile than an average regular.
Naquin has been a mild disappointment since being selected 15th overall in the 2012 draft, but most considered the pick a bit of a reach when the Indians selected him that high. He played well enough at High-A Carolina (.277/.345/.424 in 108 games) to get a taste of Double-A, but he'll quite likely be a better asset to the Indians than he will be as a fantasy contributor. He profiles as more of a line-drive hitter with moderate speed who needs to stay in center field, as he doesn't have the bat for a corner-outfield spot. In general, 22-year-olds from a high profile college like Texas A&M should do more at the High-A level than Naquin did, so he'll need to start producing on the field quickly to avoid being tagged as a first-round bust.
Naquin was the 15th overall selection in the 2012 draft, which many considered a reach. He did not exactly light it up in the New York-Penn League (.270/.379/.380 in 36 games), but it was not a total disaster either. The Indians obviously saw some potential with his bat, but it remains to be seen how high his ceiling might be. He certainly doesn't profile as a big power corner bat, but might eventually display enough patience with decent power and speed from a center fielder. The tools that got him drafted will need to start translating to the field before he registers on most fantasy radars.
More Fantasy News