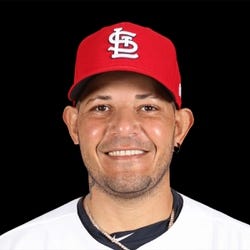 2023 Fantasy Outlook
There was no outlook written for Yadier Molina in 2023. Check out the latest news below for more on his current fantasy value.
RANKS
#

Overall
$Signed a one-year, $10 million contract extension with the Cardinals in August of 2021.

ANALYSIS
After a 2022 season in which he recorded a career-low .535 OPS, Molina will officially close the book on an outstanding career. Over his 19 years in the big leagues, Molina appeared in 10 All-Star games and took home nine Gold Glove awards and a Silver Slugger award. His exit leaves
Andrew Knizner
as the new No. 1 catcher currently on the 40-man roster, though St. Louis could look to the trade or free-agency market to add some competition heading into spring training.
Read More News
Batting Stats
2022
2021
2020
2019
2018
2017
2022 MLB Game Log

Calculate Stats Over Time
Just click on any two dates.
Scoring
FanDuel
DraftKings
Yahoo DFS
FantasyDraft
Head2Head
Loading Batting Game Log...
2021 MLB Game Log

Calculate Stats Over Time
Just click on any two dates.
Scoring
FanDuel
DraftKings
Yahoo DFS
FantasyDraft
Head2Head
Loading Batting Game Log...
2020 MLB Game Log

Calculate Stats Over Time
Just click on any two dates.
Scoring
FanDuel
DraftKings
Yahoo DFS
FantasyDraft
Head2Head
Loading Batting Game Log...
2019 MLB Game Log

Calculate Stats Over Time
Just click on any two dates.
Scoring
FanDuel
DraftKings
Yahoo DFS
FantasyDraft
Head2Head
Loading Batting Game Log...
2018 MLB Game Log

Calculate Stats Over Time
Just click on any two dates.
Scoring
FanDuel
DraftKings
Yahoo DFS
FantasyDraft
Head2Head
Loading Batting Game Log...
2017 MLB Game Log

Calculate Stats Over Time
Just click on any two dates.
Scoring
FanDuel
DraftKings
Yahoo DFS
FantasyDraft
Head2Head
Loading Batting Game Log...
Minor League Game Log

Calculate Stats Over Time
Just click on any two dates.
Loading Minor League Batting Game Log...
Batting Order Slot Breakdown
#1
#2
#3
#4
#5
#6
#7
#8
#9
#1
#2
#3
#4
#5
#6
#7
#8
#9
Left/Right Batting Splits
OPS
PA
HR
RBI
AVG
Since 2020

vs Left

.746
175
6
29
.256
Since 2020

vs Right

.599
719
14
77
.240
2022

vs Left

.605
66
1
8
.254
2022

vs Right

.512
204
4
16
.201
2021

vs Left

.851
80
3
16
.278
2021

vs Right

.631
392
8
50
.247
2020

vs Left

.790
29
2
5
.200
2020

vs Right

.645
123
2
11
.282
More Splits

→

View More Split Stats
Home/Away Batting Splits
OPS
PA
HR
RBI
AVG
Since 2020

Home

.656
459
11
54
.251
Since 2020

Away

.597
435
9
52
.235
2022

Home

.583
158
4
17
.217
2022

Away

.469
112
1
7
.209
2021

Home

.688
218
5
26
.256
2021

Away

.649
254
6
40
.249
2020

Home

.713
83
2
11
.300
2020

Away

.618
69
2
5
.226
More Splits

→

View More Split Stats
Stat Review
How does Yadier Molina compare to other hitters?
This section compares his stats with all batting seasons from the previous three seasons (minimum 400 plate appearances)*. The bar represents the player's percentile rank. For example, if the bar is halfway across, then the player falls into the 50th percentile for that stat and it would be considered average.
* Exit Velocity and Barrels/PA % are benchmarked against 2019 data (min 400 PA) and Hard Hit Rate is benchmarked against last season's data (min 400 PA).
See here for more exit velocity/barrels stats
plus an explanation of current limitations with that data set.
BB/K

Walk to strikeout ratio

BB Rate

The percentage of plate appearances resulting in a walk.

K Rate

The percentage of plate appearances resulting in a strikeout.

BABIP

Batting average on balls in play. Measures how many of a batter's balls in play go for hits.

ISO

Isolated Power. Slugging percentage minus batting average. A computation used to measure a batter's raw power.

AVG

Batting average. Hits divided by at bats.

OBP

On Base Percentage. A measure of how often a batters reaches base. Roughly equal to number of times on base divided by plate appearances.

SLG

Slugging Percentage. A measure of the batting productivity of a hitter. It is calculated as total bases divided by at bats.

OPS

On base plus slugging. THe sum of a batter's on-base percentage and slugging percentage.

wOBA

Weighted on-base average. Measures a player's overall offensive contributions per plate appearance. wOBA combines all the different aspects of hitting into one metric, weighting each of them in proportion to their actual run value.

Exit Velocity

The speed of the baseball as it comes off the bat, immediately after a batter makes contact.

Hard Hit Rate

A measure of contact quality from Sports Info Solutions. This stat explains what percentage of batted balls were hit hard vs. medium or soft.

Barrels/PA

The percentage of plate appearances where a batter had a batted ball classified as a Barrel. A Barrel is a batted ball with similar exit velocity and launch angle to past ones that led to a minimum .500 batting average and 1.500 slugging percentage.

Expected BA

Expected Batting Average.

Expected SLG

Expected Slugging Percentage.

Sprint Speed

The speed of a runner from home to first, in feet per second.

Ground Ball %

The percentage of balls put in play that are on the ground.

Line Drive %

The percentage of balls put in play that are line drives.

Fly Ball %

The percentage of balls put in play that are fly balls.
Advanced Batting Stats
Loading Advanced Batting Stats...
Games By Position
Defensive Stats
Loading Games Played by Position...
Loading MLB Defensive Stats...
Batted Ball Stats
Loading Batted Ball Stats...
Stats Vs Upcoming Pitchers
Recent RotoWire Articles Featuring Yadier Molina
Past Fantasy Outlooks
2022
2021
2020
2019
2018
2017
2016
2015
2014
2013
2012
2011
2010
2009
2008
2007
2006
2005
2004
Spoiler alert: by all accounts, this will be the 18th and final outlook for Molina as he signed a one-year extension to return to St. Louis for what is ostensibly his final season. His 16.7% K% last year would mark the career best for most of the league, but it was Molina's lowest ever. His power declined after the 2019 season but has remained steady since. In fact, according to his average fly ball distance, Molina was shorted two or three homers. Molina's .283 BABIP was 3 points higher that his average BABIP since 2017. Drafting Molina will be more than a token show of respect for his swan song. The veteran backstop isn't leaving at the top of his game, but he's still a plus defender and an option in two-catcher leagues.
For the 16th straight season, Molina served as St. Louis' primary catcher. He was one of the Cardinals diagnosed with COVID-19, so his return following the team shutdown was delayed a few days. While it's unclear if Molina's performance was affected by the illness or aging, his rate stats were his worst since 2015, sunk by a steep drop in average exit velocity and hard-hit rate. Though it was just a tick for each, his strikeouts increased while his walks dropped, but when you rely on contact, every ball in play matters. Through it all, Molina's defense remained solid -- he extinguishing 5 of 11 would-be base stealers. While there are signs Molina is finally succumbing to Father Time, he still appears capable of handling much of the load behind the dish. Assuming he gets the money he wants and does not retire, Molina should see the volume to remain in the mix in two-catcher leagues.
For the third straight season, Molina player fewer games than the previous year. The culprit was lingering thumb woes, sending the veteran to the IL twice. The first was at the end of May, lasting just over the minimum. The tendon strain in his right thumb never fully healed so he returned to the IL on July 11. He was activated Aug. 12, playing the rest of the season and playoffs with no issues. After clubbing a combined 38 homers the previous two campaigns, Molina only managed 10 last year. His thumb could have been the reason, but the numbers point to bad luck. Molina's average flyball distance, a leading indicator for homers, was longer than 2017 and 2018. At some point, the tremendous amount of squatting must catch up to Molina. It likely has, at least in terms of durability. Offensively, he's been the same guy since 2017. It's worth taking advantage if the discount is steep enough.
League-wide power was down in 2018 from 2017, but Molina did not get that memo as he upped his home-run total by two despite 40 fewer plate appearances. The 38 homers Molina has hit over the past two seasons are seven more than he hit over the previous four seasons. Say what you will about launch angle, but Molina turned a 9% average launch angle in 2016 into a 15% average over the past two years to the betterment of his hard contact and home-run totals. Beggars cannot be choosers, especially when it comes to catcher, but it would be nice if Molina reached base more frequently and if his numbers were not so dependent upon his ability to hit the long ball. His batting average has decreased in each of the past two seasons as he gets closer to 40, but that's nitpicking at this point. He has two more years on his latest contract and should continue to compile the stats with a large chunk of playing time.
Catchers can often surprise us in their later years. Carlton Fisk stole 17 bases as a catcher at age 34, and did it again at age 37. A.J. Pierzynski hit .300 in a full season at age 38, a year after we thought he was done. In 2017, Molina fell one shy of hitting as many homers as he had in the entirety of 2015-2017. Molina joined the launch angle parade and turned around a four-year skid of beating the ball into the ground and even threw in nine steals from the catcher position for added fun. We don't get too many five-category contributors from that position, which is what makes Molina a coveted player even at this advanced age. He has not shown any signs of decline despite the excessive workload and the demands on his position. Bet on the power backsliding a bit, but don't bet on him slowing down too much offensively as this is a very safe skill set.
Coming off two consecutive seasons that saw his batting average, on-base percentage, and slugging percentage fall, Molina's start to the season seemed to confirm the fear that the former All-Star's tank was starting to run on empty. Then, seemingly out of nowhere, Molina's bat caught fire as he proceeded to hit .365/.398/.529 following the All-Star break. When all was said and done, he'd played a career-high 147 games and owned a .307/.360/.427 line. Such a resurgent season raises the question, just how much does Molina, who turns 35 in July, have left to offer? It's no secret that Molina is at the latter end of his career, and that he's played over 110 games at an incredibly demanding position every season since 2004 doesn't help his case for longevity. The catcher pool is top-heavy, giving Molina an opportunity to finish as a top-10 or top-15 backstop again.
While Molina posted 450-plus at-bats for the sixth time in seven seasons, he also saw his numbers dip for the second consecutive year. Molina hit .270/.310/.350 in 2015 across 488 at-bats, with the .310 OBP mark being his lowest in nine years, and the AVG and SLG haven't been that low since 2010. Thanks to his non-fantasy intangibles like calling games, defense and holding runners, he'll likely be a safe bet for at-bats for fantasy owners but they shouldn't be expecting too much in those at-bats. It's not out of the question that he could have a huge bounce back season and post something close to the .313/.361/.481 slash line he posted from 2011-2013, but it's far more likely we see a much smaller one and we should be prepared for the possibility that his numbers dip even lower in 2016.
Having been arguably the most reliable catcher over the last near-decade, it was only a matter of time before injuries caught up with Molina. Sure enough, he was limited to just 110 games in 2014 largely due to a thumb injury, his lowest number since his rookie year in 2004. Molina still managed decent numbers, posting a .282/.337/.420 line, but his extremely-low flyball rate of 26.6% (over six percent off his career rate) led to a dip in his power numbers with Molina collecting an XBH in just 6.9% of his at-bats, far below the 10.5% rate he had over his prior two seasons. While he may not be quite the player he has been, he should be fully healthy and rested heading into 2015 and is a very good bet to be a top-five catcher again on an improved Cardinals team.
Molina continued on as one of the best catchers in baseball in 2013 hitting .319 thanks to a somewhat high .338 BABIP (he posted marks of .311 and .316 during the previous two campaigns), but nothing to indicate an overwhelming drop in average is coming. He posted the lowest walk rate of his career at 5.5% and it looks like his power may be fading slightly as his HR/FB rate and ISO dropped. Molina struggled with some nagging injuries during the second half and that likely contributed to those numbers falling. Molina won his sixth straight Gold Glove and should still be a top-five fantasy catcher again heading into 2014, even if manager Mike Matheny elects to give his workhorse more consistent rest throughout the season.
Molina has been the best defensive catcher in the league for years, but he's long past the time when the Cardinals - and fantasy owners - had to merely tolerate his offensive stats. He's now a legitimate fantasy superstar at a shallow position, establishing career highs in nearly every significant offensive category in 2012. Despite a few nicks and bruises in 2012, Molina has been remarkably durable, although heavy workloads behind the plate could become more of an issue as he moves into his 30s. Coming off of a season where he slugged a career-high .501, Molina looks poised to deliver another campaign on par with the league's elite backstops.
Molina notched career-highs in many offensive categories, with his 14 home runs nearly doubling the eight home runs he hit way back in 2005. He cracked .300 for the second time in four years, and his .814 OPS was easily his best figure ever. He's always been a defense-first catcher (he won his fourth Gold Glove in a row last year), but if he can repeat his 2011 offensive numbers, he'll be worth a nice amount again this year.
Although Molina won another well-deserved Gold Glove in 2010, his offense, which had been steadily improving the last few years, took a step back. His slash numbers were his lowest since 2006, and he struck out a career-high 51 times. On the other hand, he also drove in a career-high 62 runs and stole eight bases, so given the lack of options, he's still one of the best fantasy catchers in the National League. He's in line to start about 130 games behind the plate again in 2011.
Molina reached career highs in runs, stolen bases, walks, on-base percentage, and OPS in 2009. It was a far cry from three years ago, when it looked like he couldn't hack it as a major league hitter. Now, in addition to being the best defensive catcher in the game, he has a few offensive skills that will help fantasy teams as well. He should be able to hold off Bryan Anderson for a few more years.
Molina keeps getting better and better. He's already the best defensive catcher in the league, but after hitting .304 with 56 RBI - both career bests - he's starting to show plenty of fantasy relevance as well. He's still just 25, so even though Bryan Anderson should be up in the bigs soon, Molina isn't going anywhere. This could be the year he finally makes the All-Star team.
Lost in an injury-plagued season were improvements across the board for Molina. He hit .275/.340/.368 last year, all career highs. Considering these numbers came on the heels of a miserable .216 campaign in 2006, the Cardinals are happy that Molina's offense is starting to catch up with his outstanding defense. Knee surgery ended his season prematurely, but Molina will be ready to serve as the Cards' top backstop again in 2008.
Molina was one of the worst hitters in the National League in 2006, hitting .216 and scoring only 29 runs in 129 games. He's obviously in the lineup for his defense, but when your own pitchers show more patience and skill with the stick, you know you have a problem. There are some signs that he's not all that bad—he's tough to strike out and he has a little bit of doubles power that could turn into home runs eventually. Ten home runs and a .250 batting average in 2007 wouldn't be a huge surprise, but don't expect it. A $1 catcher with 200 at-bats could end up being more valuable than the full-time Molina.
Molina is a future gold-glover and showed flashes offensively in his first year as the Cardinals backstop. He could develop some power when he matures as a hitter, although the eight homers in 2005 aren't bad after missing six weeks with a fractured hand. You could do worse than taking a flyer on him.
Molina wows with his arm and defense and teases with his bat. He's been major-league ready behind the mask for a couple of years but he's never shown very much with a bat in his hands. Cardinals coaches think he could develop some power and his 13/20 BB/K ratio shows a hitter patient enough to learn how to hit. The Cardinals will likely turn full-time duties over to him after the departure of Mike Matheny. However, Molina may need some more time in the minors to hone his offensive skills.
His stat lines look terrible, but there was some improvement during 2003, and Molina turned 21 at midseason, making him very young for the Southern League. Like his brothers, he gets raves for his work behind the plate. Unlike them, he might someday be an asset at the plate. No fantasy value until 2005, maybe later.
More Fantasy News