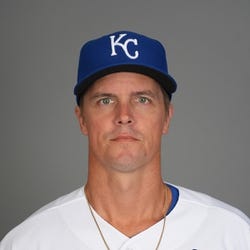 Rest-of-Season Projections
2023 Fantasy Outlook
Greinke's return to Kansas City was a mixed bag. His best asset was a slightly lucky 3.68 ERA as he posted a 1.34 WHIP, his worst since 2006 as well as a career-low 12.5% strikeout rate. Greinke's saving grace was yielding only 14 homers in 137 frames. Even in his salad days, Greinke barely broke 90-mph, so averaging 89.2 mph on his fastball wasn't as crucial as losing some break and depth on his slider, curve and changeup. The veteran was limited to just 26 starts with forearm and elbow issues but ended the season with a 1.91 ERA in five September/October starts, albeit with only nine punchouts in 28.1 stanzas. Greinke will probably land a rotation spot with a club looking to chew up innings, but his lack of strikeouts makes him a huge fantasy risk, even in a streaming capacity.
Read Past Outlooks
$Signed a one-year, $10.75 million contract with the Royals in January of 2023. Contract includes $450,000 bonuses for each additional five innings pitched from 115 to 135 and $300,000 bonuses for each additional five innings pitched from 140 to 185.

No decision yet on pitching in '24
Royals general manager J.J. Picollo said Tuesday that Greinke is still deciding whether or not he will pitch next year,
Jon Morosi of MLB Network
reports.
ANALYSIS
Greinke posted the second-worst ERA (5.06) of his career in 2023 and hit age 40 a couple of weeks ago, but it sounds like there is at least a possibility that the free-agent right-hander could look to return in 2024 for what would be his 21st major-league season. He still has impeccable command and might have a landing spot back in Kansas City if that appeals to him.
Read More News
Pitching Stats
Loading Pitching Stats...
2023
2022
2021
2020
2019
2018
2017
2023 MLB Game Log

Calculate Stats Over Time
Just click on any two dates.
Scoring
FanDuel
DraftKings
Yahoo DFS
Loading Pitching Game Log...
2022 MLB Game Log

Calculate Stats Over Time
Just click on any two dates.
Scoring
FanDuel
DraftKings
Yahoo DFS
Loading Pitching Game Log...
2021 MLB Game Log

Calculate Stats Over Time
Just click on any two dates.
Scoring
FanDuel
DraftKings
Yahoo DFS
Loading Pitching Game Log...
2020 MLB Game Log

Calculate Stats Over Time
Just click on any two dates.
Scoring
FanDuel
DraftKings
Yahoo DFS
Loading Pitching Game Log...
2019 MLB Game Log

Calculate Stats Over Time
Just click on any two dates.
Scoring
FanDuel
DraftKings
Yahoo DFS
Loading Pitching Game Log...
2018 MLB Game Log

Calculate Stats Over Time
Just click on any two dates.
Scoring
FanDuel
DraftKings
Yahoo DFS
Loading Pitching Game Log...
2017 MLB Game Log

Calculate Stats Over Time
Just click on any two dates.
Scoring
FanDuel
DraftKings
Yahoo DFS
Loading Pitching Game Log...
Minor League Game Log

Calculate Stats Over Time
Just click on any two dates.
Loading Minor League Pitching Game Log...
Pitching Appearances Breakdown
How many pitches does Zack Greinke generally throw?
What part of the game does Zack Greinke generally pitch?
% Games Reaching Innings Threshold
% Games By Number of Innings Pitched
Left/Right Pitching Splits
BAA
K
BB
H
HR
Since 2021

vs Left

.268
101
38
197
26
Since 2021

vs Right

.275
189
48
282
43
2023

vs Left

.322
35
10
82
14
2023

vs Right

.248
62
13
76
11
2022

vs Left

.286
21
13
64
4
2022

vs Right

.286
52
14
93
10
2021

vs Left

.199
45
15
51
8
2021

vs Right

.285
75
21
113
22
More Splits

→

View More Split Stats
Home/Away Pitching Splits
ERA
WHIP
IP
K/9
BB/9
Since 2021

Home

3.59
1.29
228.0
5.6
1.8
Since 2021

Away

5.02
1.22
222.1
6.0
1.6
2023

Home

3.62
1.34
77.0
5.4
1.9
2023

Away

6.75
1.19
65.1
7.0
1.0
2022

Home

1.91
1.17
66.0
4.8
1.4
2022

Away

5.32
1.51
71.0
4.8
2.2
2021

Home

4.87
1.33
85.0
6.5
2.1
2021

Away

3.45
1.01
86.0
6.2
1.7
More Splits

→

View More Split Stats
Stat Review
How does Zack Greinke compare to other starting pitchers?
This section compares his stats with all starting pitcher seasons from the previous three seasons (minimum 120 innings)*. The bar represents the player's percentile rank. For example, if the bar is halfway across, then the player falls into the 50th percentile for that stat and it would be considered average.
* Exit Velocity, Barrels/BBE %, Balls Hit 95+ MPH %, and Spin Rate are benchmarked against 2019 data (min 120 IP).
See here for more exit velocity/barrels stats
plus an explanation of current limitations with that data set.
K/BB

Strikeout to walk ratio.

K/9

Average strikeouts per nine innings.

BB/9

Average walks per nine innings.

HR/9

Average home runs allowed per nine innings.

Fastball

Average fastball velocity.

ERA

Earned run average. The average earned runs allowed per nine innings.

WHIP

Walks plus hits per inning pitched.

BABIP

Batting average on balls in play. Measures how many balls in play against a pitcher go for hits.

GB/FB

Groundball to flyball ratio. The higher the number, the more likely a pitcher is to induce groundballs.

Left On Base

The percentage of base runners that a pitcher strands on base over the course of a season.

Exit Velocity

The speed of the baseball as it comes off the bat, immediately after a batter makes contact.

Barrels/BBE

The percentage of batted ball events resulting in a Barrel. A Barrel is a batted ball with similar exit velocity and launch angle to past ones that led to a minimum .500 batting average and 1.500 slugging percentage.

Spin Rate

Spin Rate is the rate of spin on a baseball after it is released. It is measured in revolutions per minute (rpm).

Balls Hit 95+ MPH

The percentage of batted balls hit that met or exceeded the 95 MPH threshold.

Swinging Strike

The percentage of pitches that result in a swing and a miss.
Advanced Pitching Stats
Loading Advanced Pitching Stats...
Loading MLB Defensive Stats...
Recent RotoWire Articles Featuring Zack Greinke
See More
Past Fantasy Outlooks
2022
2021
2020
2019
2018
2017
2016
2015
2014
2013
2012
2011
2010
2009
2008
2007
2006
2005
2004
2003
It took four or five tries, but those avoiding Greinke because, "I'd rather be a year too early than too late," were finally rewarded. His 4.16 ERA was its highest since 2016. In a vacuum, that doesn't seem so bad, but a 4.54 SIERA and 4.71 FIP suggest Lady Luck helped the veteran fend off Father Time. Greinke's strikeout rate was its lowest since 2005, leading to his worst K-BB% since 2006. His signature curve lost vertical break, resulting in more hangers. Greinke has had a great run, leading MLB in innings pitched since 2008. Now 38 years old, Greinke may have a swan song season in his quiver, but the indicators are finally pointing in the wrong direction, so expecting a return to form is an overly optimistic outlook.
After giving up six runs in his first five starts of the season, Greinke struggled down the stretch, surrendering three or more runs in his last seven starts. As a result, he posted a 4.03 ERA and 1.13 WHIP over 67 innings, his worst marks since the 2016 campaign. The right-hander finished with a 3-3 record and a 67:9 K:BB on the year, proving that he still has the pinpoint command that has made him successful on the back end of his career. Greinke's fastball velocity was noticeably down in 2020, sitting just over 87 mph, but with the help of his command and secondary pitches, the 37-year-old remains effective. With that said, the 18th hole may be on the horizon for the seasoned veteran, who has nearly 3,000 innings under his belt. Despite this, he'll likely open 2021 as the team's ace with teammate Justin Verlander set to miss the entire season following Tommy John surgery.
The last memory we have of Greinke was his heroic effort in Game 7 of the World Series as he did all he could to keep the Astros in the game before Howie Kendrick killed the dream. Greinke has had double-digit win totals for 12 consecutive seasons, bested only by teammate Justin Verlander. Outside the one hiccup in 2016, Greinke's ERA has remained strong and his worst WHIP in the past decade was the 1.27 number that same season. The move to the American League mid-year did not put too much of a dent into his production, as he changed his pitching approach. He became more of a groundball pitcher with Houston. You may not think of him as a staff ace, but you best draft him as one if you want to get him on your roster. If you think he'll be there in the fourth round, you will be mistaken. He is not the staff ace in Houston with JV there, but Greinke can absolutely be your staff ace with his track record.
Note to self: when Greinke exhibits reduced velocity, ignore it. It's become a rite of spring. Greinke struggles in the exhibition season only to kick things into gear when the games count. One of these years, Father Time will catch up, but that keeps his cost of acquisition low for those willing to take the chance for one more season. The veteran has topped 200 innings in four of the last five seasons. After struggling in the desert his first year with the Diamondbacks, he's posted nearly identical seasons. His ERA estimators portended a little higher than his 3.21 mark from 2018, but not much. Skills-wise, Greinke posted strikeout and walk rates in line with recent campaigns. There is undeniable age-related risk, as Greinke has amassed a ton of innings and only averages 90 mph with his fastball. However, he is being drafted as an SP2 in mixed leagues after finishing in the top 12 among starting pitchers in all but one season since 2014.
It certainly appears 2016 was an outlier as even with that tumultuous campaign, Greinke's 2.93 ERA over the past three seasons is fourth best among starters with at least 500 innings pitched. The primary reason for Greinke's bounce-back season was a sharp increase in strikeout rate (9.6 K/9), supported by a career-best swinging strike rate (12.4 percent). Greinke's velocity dropped a tick while his overall pitch mix was fundamentally the same. He threw fewer first-pitch strikes, also throwing fewer overall strikes. Perhaps it was sequencing or just confidence after spending a year in the desert, but Greinke's change and slider were much better pitches his second season with the Diamondbacks. He's still a fantasy ace, but at 34, with a lot of mileage on his arm, it's best to expect a give-back in terms of strikeouts. Though, with the humidor installed at Chase Field, any ERA correction from fewer whiffs should be mitigated with a subsequent drop in homers.
In the first year of a six-year, $206.5 million deal with Arizona, Greinke failed to meet understandably lofty expectations. Expecting a repeat of 2015 (1.66 ERA, 0.84 WHIP, 19 wins, 200 strikeouts) was unrealistic, but Greinke's 4.37 ERA was his worst since his 2005 rookie season, and his 1.27 WHIP was his worst since 2008. Injuries to his oblique and shoulder played a role, as Greinke only made 26 starts and tossed just 158.2 innings, his lowest total since 2007. The move from Dodger Stadium to the more hitter-friendly Chase Field likely had an impact, as did swapping a top-third defense for a bottom-third defense. We might not see the pitcher who dazzled in three seasons with the Dodgers, but the Diamondbacks and his fantasy owners should expect more from Greinke in 2017. Given his track record, a rebound seems likely, and he could come at a slight discount given his subpar 2016. He's still a very valuable fantasy asset.
Greinke had a season for the ages in 2015, posting the lowest ERA (1.66) of any starting pitcher since Greg Maddux's 1.63 in 1995. The rest of the numbers were pretty good as well, including a 19-3 record, a league-leading 0.84 WHIP, 30 quality starts and for the fourth time in five years, 200-plus strikeouts. Greinke experienced some elbow soreness in March, but a lubricating injection again did wonders and the elbow was never again an issue. He started throwing a few more changeups last year, and that seemed to help quite a bit against left-handers, who hit just .194 against him after 2014's .246 batting average against. Greinke opted out of his deal with the Dodgers and cashed in with a six-year, $206 million deal with Arizona, making him the highest paid player in MLB history in terms of AAV. The change in parks could hurt him some, but Greinke remains a fantasy ace heading into 2016.
Greinke has evolved into one of baseball's best pitchers and oddly, he doesn't really get much attention for it. Part of that is the presence of Clayton Kershaw, but Greinke seems to have been lost in the shuffle a bit with the emergence of so many incredible arms. Unfortunately, this doesn't usually pay any fantasy dividends, because while he doesn't get as much as ink as his rotation mate or a lot of the other stud arms in the National League, that doesn't usually drop his price at the draft table. It is almost as if he has just become boringly awesome, kinda like Mike Mussina. You were never overwhelmingly excited to roster Mussina, but he carried a rightfully high draft price each year and consistently delivered on that investment. On the field, Greinke took his strikeout rate back up (25.2%) after a dip in 2013, while also dropping a career-best walk rate (5.2%) on the league. Expect another big season from the Dodgers' second ace and don't be afraid to pay market value for his services.
Only the incident with Carlos Quentin prevented Greinke from a top-five Cy Young finish, as the Dodgers' No. 2 starter finished 15-4 with a 2.63 ERA in 28 starts. Pitching for his fourth team in four years in the first year of a lucrative six-year deal, Greinke was all that was advertised and more, solidifying the top of the Dodgers' rotation and giving the team arguably the top 1-2 punch in baseball. Greinke has never had a serious arm injury, and assuming there are no more odd injuries in his near future, he should be a top-10 or top-15 starting pitcher in 2014.
Greinke had yet another impressive season in 2012, splitting the year between Milwaukee and Anaheim and finishing with a 15-5 record, 3.48 ERA, and 200:54 K:BB. As good as his numbers have been the past few years, they would probably be much better if he had more consistent defenses behind him. The Dodgers gave him a six-year, $147 million deal to work as their No. 2 starter in December, while the move back to the National League should give him an opportunity to push his strikeout rate back into the batter-per-inning range after that mark dipped to 7.9 K/9 following his trade to Anaheim last season. The Dodgers' improved lineup should provide steady run support, putting Greinke in position to rack up plenty of wins for his new club in 2013.
Greinke's strikeouts and walks indicate that he pitched better than his ERA shows for 2011. He finished with an ERA of 3.83, but had a career high 10.54 K/9IP while walking just 2.36 BB/9. The long ball was a bit of a problem for him and he also ran into some bad luck. Greinke is still one of the better pitchers in the National League, so don't be fooled by his ERA and look for better numbers during his second season with the Brewers.
The 2009 Cy Young Award winner came back to earth in 2010, but it was hardly a crash. His strikeout rate dipped to his 2006 level, and his HR/FB rate spiked after he posted a career-low in 2009. Greinke might not match his 2009 brilliance again, but his stuff is better than last year's 4.17 ERA, and his xFIP of 3.76 wasn't much higher than his 2009 mark. Now with the Brewers, Greinke will get a chance to pitch for a team ready to contend and in a market that shouldn't overwhelm a player that has dealt with a social anxiety disorder in the past.
Greinke topped off a tremendous season by being named the 2009 American League Cy Young Award winner. The face of the Royals' franchise, Greinke dominated the opposition en route to a 16-8 record with a 2.16 ERA and 242 strikeouts in 229.1 innings. He's a complete pitcher, being able to throw any pitch in any count, and his arsenal features a mid-90s fastball and a devastating slider. Despite being a power pitcher, Greinke has supreme control (4.75 K/BB). Expectations will be at an all-time high in 2010 for the 26-year-old, but Greinke is the clear-cut ace of the Royals' staff and someone management is looking to build around in the years to come.
In a word, finally. Greinke finally reached 200 innings in a season and he finally showed signs of being the ace we thought he would be. He tied for fifth in the AL in strikeouts in 2008 and his 3.47 ERA ranked 10th. The mental problems that hounded him early in his career should no longer be an issue. Note that his BABIP was .318 (right above his career average, and a little worse than the norm), but he frequently stranded the runners that got on, causing us not to worry about a possible regression. He should be KC's No. 1 or 2 starter entering 2009, and will likely improve as he nears his prime.
Greinke exercised his 2006 demons in 2007 and showed his capability as both a starter and a reliever. After some early-season struggles in the rotation, he was moved to the bullpen where he posted a 55:15 K:BB ratio in 53.1 innings. He dominated in seven late-season starts, posting a 1.85 ERA and turning in a 10-strikeout performance against the White Sox. He's got four pitches he can spot for strikes, and he enters the 2008 season as the team's No. 3 starter.
The 2006 season was a lost one for Greinke, who began the year on the disabled list for "personal issues" and then remained in Double-A until September. The personal issues were described as anxiety around groups and an unnatural drive for baseball. The Royals allowed the young phenom to fight his demons and didn't pressure him to return. That pressure will increase in 2007, with the Royals hoping some tough love will put him back on track to become the ace of the staff. It may be important to note that Greinke was good but not dominant in Wichita after returning.
The free-spirited Greinke downplayed a poor spring, saying he couldn't get excited about games that don't matter. Maybe that's why his 2005 season was so poor, because very few of the Royals' games mattered. Even so, it was the worst season of his life, finishing 5-17 and avoiding a 20-loss season only through the Royals' effective rotation management and a couple strong late starts. His carefree nature and obvious talent will help him bounce back from this debacle possibly as quickly as this season.
A deceptive thrower with enough pitches, speeds and locations to frustrate most batters. The key for Greinke and the Royals will be to keep the youngster – not 22 until after the 2005 season – healthy and confident as the expected bumps in the road come along. Many point to his maturity as a strength, but outings like the four home runs he allowed to Baltimore in late July and to Seattle in August would get to anyone. He claims to have an upper-90s fastball but doesn't let it go because control is an issue. Should he add that to his arsenal, he might just become the next Greg Maddux.
Greinke dominated high Single-A and pitched well in Double-A. He will be given his first chance at a major-league job this spring but is probably destined for another season in the minors. His control and power pitching could make him a special player. The Royals know this and are being very careful with him.
Greinke was chosen by the Royals in the 2002 draft as a pitcher but could have easily been chosen as a third basemen. He hit in excess of .400 every year in high school, but his strong arm is what caused Kansas City to make him their first round pick. Possessing four pitches, he's yet to develop one that stands out but he's only 19. He works his fastball in the low 90's, but scouts believe developing arm strength may result in an increase in velocity, which would catapult his prospects. Other than athleticism, the Royals feel he is exceptionally polished for a player one year out of high school because of high intellect, and a strong work ethic. He'll begin 2003 at High Class-A, a steep level for a player with less than one-year professional experience. He should advance quickly through the system, particularily if he can find a little more velocity on the fastball, and show the maturity to use his other pitches in crucial situations.
More Fantasy News