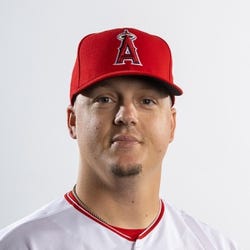 Rest-of-Season Projections
2023 Fantasy Outlook
There was no outlook written for Aaron Loup in 2023. Check out the latest news below for more on his current fantasy value.
$Signed a two-year, $15 million contract with the Angels in November of 2021. Contract includes $7.5 million team option ($2 million buyout) for 2024.

The Angels
reinstated
Loup (hamstring) off the 15-day injured list Sunday.
ANALYSIS
Loup was scheduled to pitch a simulated game Monday as a final test of his health in his recovery from a hamstring injury, but the Angels were evidently comfortable enough with his progress from the injury to bring him back early. Prior to landing on the shelf, Loup collected four holds and pitched to a 7.00 ERA and 2.11 WHIP in nine innings over 11 appearances.
Read More News
Pitching Stats
Loading Pitching Stats...
2023
2022
2021
2020
2019
2018
2017
2023 MLB Game Log

Calculate Stats Over Time
Just click on any two dates.
Scoring
FanDuel
DraftKings
Yahoo DFS
Loading Pitching Game Log...
2022 MLB Game Log

Calculate Stats Over Time
Just click on any two dates.
Scoring
FanDuel
DraftKings
Yahoo DFS
Loading Pitching Game Log...
2021 MLB Game Log

Calculate Stats Over Time
Just click on any two dates.
Scoring
FanDuel
DraftKings
Yahoo DFS
Loading Pitching Game Log...
2020 MLB Game Log

Calculate Stats Over Time
Just click on any two dates.
Scoring
FanDuel
DraftKings
Yahoo DFS
Loading Pitching Game Log...
2019 MLB Game Log

Calculate Stats Over Time
Just click on any two dates.
Scoring
FanDuel
DraftKings
Yahoo DFS
Loading Pitching Game Log...
2018 MLB Game Log

Calculate Stats Over Time
Just click on any two dates.
Scoring
FanDuel
DraftKings
Yahoo DFS
Loading Pitching Game Log...
2017 MLB Game Log

Calculate Stats Over Time
Just click on any two dates.
Scoring
FanDuel
DraftKings
Yahoo DFS
Loading Pitching Game Log...
Minor League Game Log

Calculate Stats Over Time
Just click on any two dates.
Loading Minor League Pitching Game Log...
Pitching Appearances Breakdown
How many pitches does Aaron Loup generally throw?
What part of the game does Aaron Loup generally pitch?
% Games Reaching Innings Threshold
% Games By Number of Innings Pitched
Left/Right Pitching Splits
BAA
K
BB
H
HR
Since 2021

vs Left

.223
42
15
41
2
Since 2021

vs Right

.234
76
29
68
3
2023

vs Left

.400
2
1
8
0
2023

vs Right

.313
7
5
10
0
2022

vs Left

.238
20
9
19
1
2022

vs Right

.233
32
13
35
3
2021

vs Left

.167
20
5
14
1
2021

vs Right

.211
37
11
23
0
More Splits

→

View More Split Stats
Home/Away Pitching Splits
ERA
WHIP
IP
K/9
BB/9
Since 2021

Home

2.74
1.17
65.2
8.6
3.3
Since 2021

Away

2.95
1.25
61.0
8.1
3.0
2023

Home

3.00
1.50
6.0
6.0
4.5
2023

Away

11.81
2.81
5.1
8.4
5.1
2022

Home

5.14
1.57
28.0
8.0
4.2
2022

Away

2.64
1.04
30.2
7.9
2.6
2021

Home

0.57
0.76
31.2
9.7
2.3
2021

Away

1.44
1.16
25.0
8.3
2.9
More Splits

→

View More Split Stats
Stat Review
How does Aaron Loup compare to other relievers?
This section compares his stats with all relief pitcher seasons from the previous three seasons (minimum 30 innings)*. The bar represents the player's percentile rank. For example, if the bar is halfway across, then the player falls into the 50th percentile for that stat and it would be considered average.
* Exit Velocity, Barrels/BBE %, Balls Hit 95+ MPH %, and Spin Rate are benchmarked against 2019 data (min 30 IP).
See here for more exit velocity/barrels stats
plus an explanation of current limitations with that data set.
K/BB

Strikeout to walk ratio.

K/9

Average strikeouts per nine innings.

BB/9

Average walks per nine innings.

HR/9

Average home runs allowed per nine innings.

Fastball

Average fastball velocity.

ERA

Earned run average. The average earned runs allowed per nine innings.

WHIP

Walks plus hits per inning pitched.

BABIP

Batting average on balls in play. Measures how many balls in play against a pitcher go for hits.

GB/FB

Groundball to flyball ratio. The higher the number, the more likely a pitcher is to induce groundballs.

Left On Base

The percentage of base runners that a pitcher strands on base over the course of a season.

Exit Velocity

The speed of the baseball as it comes off the bat, immediately after a batter makes contact.

Barrels/BBE

The percentage of batted ball events resulting in a Barrel. A Barrel is a batted ball with similar exit velocity and launch angle to past ones that led to a minimum .500 batting average and 1.500 slugging percentage.

Spin Rate

Spin Rate is the rate of spin on a baseball after it is released. It is measured in revolutions per minute (rpm).

Balls Hit 95+ MPH

The percentage of batted balls hit that met or exceeded the 95 MPH threshold.

Swinging Strike

The percentage of pitches that result in a swing and a miss.
Advanced Pitching Stats
Loading Advanced Pitching Stats...
Loading MLB Defensive Stats...
Our full team depth charts are reserved for RotoWire subscribers.
Subscribe Now
Recent RotoWire Articles Featuring Aaron Loup
See More
Past Fantasy Outlooks
2022
2021
2019
2018
2017
2016
2015
2014
2013
Over the first seven years of his career, Loup recorded a 3.49 ERA and 1.27 WHIP, useful, but far from dominant with only 299 strikeouts in 322.2 innings. However, his performance was trending downward until he missed almost all of 2019 with an elbow injury. Over the past two seasons, Loup has posted a 1.43 ERA and 0.91 WHIP, despite a pedestrian 18.8% K-BB%. They key has been allowing just four homers in 81.2 innings, including just one last season in 56.2 frames, helping to explain his .95 ERA. The Angels signed Loup to a two-year, $17 million contract which is late-inning money. However, while his skills are serviceable, he's likely to get exposed. Raisel Iglesias is entrenched as closer, relegating Loup to leagues scoring holds, as his lack of strikeouts limits allure in standard 5x5 or points-league scoring.
Loup was a steady veteran presence for the Rays' relief corps last season, ranking third on the team with 24 appearances and collecting four holds. He held a 3.95 ERA on Aug. 24 but settled in to close out the regular season on a strong note, yielding only one earned run over his final 11 outings. The southpaw finished with his best ERA (2.52) since 2013 while registering a career-best 0.84 WHIP, albeit over a small sample size. Loup isn't going to wow anyone with his low-90s fastball, and his 22.9 K% was acceptably unimpressive. Where he excelled was in limiting walks (4.2 BB%) and hard contact (24.2 Hard%). The 33-year-old also shrugged off MLB's new rule limiting lefty specialists; he held right-handers to a .192 average, though all three homers against him came from righties. Loup signed a one-year deal with the Mets and projects to be their top lefty reliever.
Loup is a serviceable lefty reliever. Feel free to move along. He made 59 appearances last season between Toronto and Philadelphia, totaling 39.2 innings. The results on the field certainly weren't great, but Loup struck out more than a batter per inning (24 K%) and trimmed his walk rate from 2017 by more than three percentage points (to 7.7%). In the end, his FIP was 3.61. He held same-handed hitters to a .341 SLG (zero home runs allowed, 92 batters faced) and .302 wOBA. Right-handed hitters beat up on Loup and his future should be as a strict LOOGY. Lefty specialists hold plenty of real-world value to major-league teams, but they rarely gain relevance in fantasy leagues. Even in leagues counting holds, Loup's appeal is minimal. There should be better options.
Loup opened the 2016 season on the DL and the results were generally poor following his return, with Loup eventually admitting that he returned several weeks too soon. With better health in 2017, Loup was able to get back to being a viable big-league reliever. Walks were a bigger issue than ever before (4.5 BB/9), but Loup limited the damage from the free passes with a 10.0 K/9 and a big reduction in home-run rate (0.62 HR/9, down from 1.26 in 2016). He got better as the season wore on, posting a 2.73 ERA and .302 wOBA with one hit batsman in 26.1 innings after the All-Star break (4.60 ERA, .328 wOBA, five hit batsman in the first half). Opposing hitters had trouble squaring Loup up, as evidenced by his 22.3 percent hard-hit rate. He could take on more late-inning work in the Blue Jays' bullpen this year and thus has some appeal in leagues that count holds.
An injury quickly derailed Loup's season early in 2016: He hit the disabled list on Opening Day with soreness in his throwing elbow and experienced a setback soon after his recovery began. Once healthy, the 29-year-old notched 26 strikeouts over (20 appearances) while managing a 1.83 ERA at Triple-A Buffalo. While there, he issued just three walks and limited lefties to a .188 average. Unfortunately for Loup, that success didn't translate to his subsequent 21 appearances in the majors. However, he has been successful at the MLB level (3.24 ERA with 191 strikeouts over 225.1 big league innings). With Brett Cecil headed to free agency, Loup could be in for a career-high workload in 2017.
After three strong seasons in a row, Loup regressed a bit in the bullpen. From 2012 to 2014, Loup held a 2.77 ERA and a 1.11 WHIP while holding a 130:45 K:BB ratio in 168.2 innings. Last season, Loup put up a 4.46 ERA with a 1.28 WHIP and a 46:7 K:BB ratio. While he reduced his walk totals significantly, going from a 3.9 walks per nine innings rate to 1.5, he gave up 1.3 home runs per nine innings, more than double the next-highest single-season rate of his career. Loup finds himself as one of the rare lefties in the Toronto bullpen; however, he gave up an identical .275 batting average to both left-handed and right-handed hitters, albeit with all six of his home runs surrendered to right-handed hitters. Loup should slot in as one of the team's middle relievers and one of the two lefties in the bullpen, barring an addition in free agency.
Loup has been a steady option in the Toronto bullpen since getting his first taste of the big leagues in 2012. Lefties couldn't touch him last season, as he held them to a .154/.237/.322 line. Most of his value comes from getting hitters to pound the ball into the ground (career 56.8 GB%), but prior to 2014, Loup demonstrated excellent control. Although he was used to pick up four saves last season, it remains to be seen if the Jays trust him enough against right-handed batters to give him a regular opportunity to close. Working with a three-pitch mix that includes a low-90s fastball, slider and changeup, Loup figures to take on a similar matchup role in the seventh and eighth innings for the Jays in 2015.
Loup followed up his impressive rookie season with another strong year in 2013. He was dominant enough against lefties to finish with a 2.47 ERA, despite surrendering a .286/.321/.455 line to right-handers. Loup wasn't strictly used as a lefty specialist, but may ultimately be best suited to that role. While he doesn't have overpowering stuff (6.9 K/9 in 2013), he also doesn't allow many walks (1.7 BB/9). Loup is all but assured of a spot in the Toronto bullpen, and with the team now boasting some excellent right-handed relievers, it won't be surprising if a higher proportion of Loup's work comes against lefties.
Loup was called up from Double-A in July after numerous injuries to the Toronto pitching staff forced their hand. Pitching 30.2 innings, he recorded a 2.64 ERA, walking only two batters while not allowing any home runs. Loup will be given an opportunity in spring training to earn a spot in the bullpen and could step into a lefty specialist role if Darren Oliver retires.
More Fantasy News