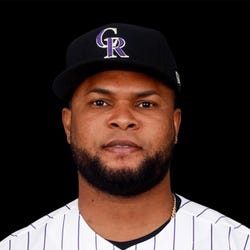 Rest-of-Season Projections
2023 Fantasy Outlook
Colome has 159 career saves and has the most ninth-inning experience of anyone in the Nats' bullpen. While his numbers in 2022 with the Rockies weren't pretty, the 34-year-old right-hander did record 17 saves for the Twins in 2021, albeit with a 4.15 ERA, 1.40 WHIP and weak 20.0 percent strikeout rate. Given that he's only on an NRI deal in camp, there's no guarantee Colome even makes the Opening Day roster. However, he could still be in the mix for saves given his experience if he makes the roster.
Read Past Outlooks
$Signed a one-year contract with the White Sox in April of 2023.

The White Sox
outrighted
Colome to Triple-A Charlotte on Friday.
ANALYSIS
Colome passed through waivers unclaimed after being designated for assignment Wednesday. The veteran reliever had surrendered four runs -- two earned -- on two hits and three walks through three innings of work with Chicago.
Read More News
Pitching Stats
Loading Pitching Stats...
2023
2022
2021
2020
2019
2018
2017
2023 MLB Game Log

Calculate Stats Over Time
Just click on any two dates.
Scoring
FanDuel
DraftKings
Yahoo DFS
Loading Pitching Game Log...
2022 MLB Game Log

Calculate Stats Over Time
Just click on any two dates.
Scoring
FanDuel
DraftKings
Yahoo DFS
Loading Pitching Game Log...
2021 MLB Game Log

Calculate Stats Over Time
Just click on any two dates.
Scoring
FanDuel
DraftKings
Yahoo DFS
Loading Pitching Game Log...
2020 MLB Game Log

Calculate Stats Over Time
Just click on any two dates.
Scoring
FanDuel
DraftKings
Yahoo DFS
Loading Pitching Game Log...
2019 MLB Game Log

Calculate Stats Over Time
Just click on any two dates.
Scoring
FanDuel
DraftKings
Yahoo DFS
Loading Pitching Game Log...
2018 MLB Game Log

Calculate Stats Over Time
Just click on any two dates.
Scoring
FanDuel
DraftKings
Yahoo DFS
Loading Pitching Game Log...
2017 MLB Game Log

Calculate Stats Over Time
Just click on any two dates.
Scoring
FanDuel
DraftKings
Yahoo DFS
Loading Pitching Game Log...
Minor League Game Log

Calculate Stats Over Time
Just click on any two dates.
Loading Minor League Pitching Game Log...
Pitching Appearances Breakdown
How many pitches does Alex Colome generally throw?
What part of the game does Alex Colome generally pitch?
% Games Reaching Innings Threshold
% Games By Number of Innings Pitched
Left/Right Pitching Splits
BAA
K
BB
H
HR
Since 2021

vs Left

.291
47
26
55
7
Since 2021

vs Right

.266
45
22
72
7
2023

vs Left

.333
1
1
1
1
2023

vs Right

.111
1
2
1
0
2022

vs Left

.275
19
10
22
1
2022

vs Right

.318
13
12
35
4
2021

vs Left

.302
27
15
32
5
2021

vs Right

.237
31
8
36
3
More Splits

→

View More Split Stats
Home/Away Pitching Splits
ERA
WHIP
IP
K/9
BB/9
Since 2021

Home

5.02
1.53
57.1
7.2
3.0
Since 2021

Away

4.68
1.51
57.2
7.2
4.5
2023

Home

18.00
3.00
1.0
9.0
9.0
2023

Away

0.00
1.00
2.0
4.5
9.0
2022

Home

5.40
1.59
23.1
6.2
3.1
2022

Away

6.08
1.77
23.2
6.1
5.3
2021

Home

4.36
1.45
33.0
7.9
2.7
2021

Away

3.94
1.34
32.0
8.2
3.7
More Splits

→

View More Split Stats
Stat Review
How does Alex Colome compare to other relievers?
This section compares his stats with all relief pitcher seasons from the previous three seasons (minimum 30 innings)*. The bar represents the player's percentile rank. For example, if the bar is halfway across, then the player falls into the 50th percentile for that stat and it would be considered average.
* Exit Velocity, Barrels/BBE %, Balls Hit 95+ MPH %, and Spin Rate are benchmarked against 2019 data (min 30 IP).
See here for more exit velocity/barrels stats
plus an explanation of current limitations with that data set.
K/BB

Strikeout to walk ratio.

K/9

Average strikeouts per nine innings.

BB/9

Average walks per nine innings.

HR/9

Average home runs allowed per nine innings.

Fastball

Average fastball velocity.

ERA

Earned run average. The average earned runs allowed per nine innings.

WHIP

Walks plus hits per inning pitched.

BABIP

Batting average on balls in play. Measures how many balls in play against a pitcher go for hits.

GB/FB

Groundball to flyball ratio. The higher the number, the more likely a pitcher is to induce groundballs.

Left On Base

The percentage of base runners that a pitcher strands on base over the course of a season.

Exit Velocity

The speed of the baseball as it comes off the bat, immediately after a batter makes contact.

Barrels/BBE

The percentage of batted ball events resulting in a Barrel. A Barrel is a batted ball with similar exit velocity and launch angle to past ones that led to a minimum .500 batting average and 1.500 slugging percentage.

Spin Rate

Spin Rate is the rate of spin on a baseball after it is released. It is measured in revolutions per minute (rpm).

Balls Hit 95+ MPH

The percentage of batted balls hit that met or exceeded the 95 MPH threshold.

Swinging Strike

The percentage of pitches that result in a swing and a miss.
Advanced Pitching Stats
Loading Advanced Pitching Stats...
Loading MLB Defensive Stats...
Our full team depth charts are reserved for RotoWire subscribers.
Subscribe Now
Recent RotoWire Articles Featuring Alex Colome
See More
Past Fantasy Outlooks
2022
2021
2020
2019
2018
2017
2016
2015
2014
2013
2012
2011
After saving a dozen games for the White Sox in the abbreviated 2020 campaign, the Twins signed Colome to shore up the back end of their bullpen, ticketed to share closing duties with Taylor Rogers. Over his first nine appearances, Colome logged two saves, but blew three others and was saddled with three losses. He posted a 8.31 ERA and 1.96 WHIP in those 8.2 innings, fanning 10 but walking five. Colome was then used in a middle relief capacity where he recorded a 3.64 ERA and 1.35 WHIP with five holds over his next 29.2 frames. After Hansel Robles was dealt at the trade deadline, Colome was reinstated at closer, logging 15 saves over the final two months while registering a 3.38 ERA and 1.27 WHIP in his last 26.2 stanzas. Colome should be the favorite to close in Colorado after signing a one-year deal, but his low strikeout rate leaves him vulnerable to poor stretches. He had a 53.7 percent groundball rate in 2021 which would play well at Coors Field, but there won't be much room for error.
Colome recorded double-digit saves for the fifth straight season, shutting the door successfully in 12 of his 13 opportunities. He did a remarkable job keeping runs off the board, allowing just three (two earned) in 22.1 innings to finish with a 0.81 ERA. He benefited from plenty of good luck to get to that number, however, as seen in his .200 BABIP, 86.4% strand rate and 0.0% HR/FB rate. His 4.26 xFIP paints a far more pessimistic picture, though it's worth noting that he's outperformed his xFIP by over a run over the course of his eight-year career. There are still reasons to worry, however. While he's never been a high strikeout guy, seeing his K% plummet from 22.1% to 17.8% is concerning, and he lost a tick of velocity on his cutter. He made up for those things with a career-high 52.4% groundball rate, but it's certainly possible his non-traditional closer profile collapses in his age-32 season.
The easiest path to saves is keeping the role. In 2018, Colome was traded from Tampa Bay to Seattle and moved from closer to setup man in front of Edwin Diaz. At the time of the deal, he had 11 saves and he finished 2018 with 12 saves. The trade to Chicago put him back in the closer role, and he picked up where he left off in Tampa Bay, grabbing 30 saves with solid ratios and an average strikeout rate for a reliever. He was 30-for-33 in save opportunities in 2019 as mostly a one-pitch guy who now leans heavily on his above-average cutter. The best closers have two good pitches, but if they have one really good one like Colome does, they just throw the hell out of it and can still succeed. The lower strikeout rate and the likelihood of Colome being traded in his final year before free agency hold down his value a bit, but you could still get 20 saves before a July trade.
A move out of Tampa Bay seemed likely for Colome in 2018 after the Rays shopped him around last winter, and indeed a trade materialized with the Rays finding a trade partner in the Mariners by late May. After he racked up 11 saves over the first two months, Colome got just one more over the remainder of the season as M's closer Edwin Diaz turned in a historic season at the back end for Seattle and kept Colome confined to setup duty. The skills bounced back considerably -- Colome's K-BB% rebounded from 12.5% in 2017 to 18.1% as his first-pitch strike and swinging-strike rates both improved. He continued to pour his fastball in at 95 mph on average. It looks like 2016 will forever be the outlier in terms of ratios, but following a November trade to the White Sox, Colome may get a chance to close again. He will have to beat out Kelvin Herrera for the job.
The Rays' penchant last season for playing closely contested games worked to the benefit of Colome, who converted an MLB-high 47 saves in 53 chances. However, the 29-year-old wasn't nearly as effective during his second season as the Rays' closer compared to his first year as the team's ninth-inning man. Colome saw his strikeout and walk rates dip in undesirable directions, with his K/BB rate nearly getting cut in half. Unsurprisingly, the weakened control resulted in his ERA jumping more than a full run and his WHIP ticking up to 1.20, leaving Colome more dependent on the lofty save total for his fantasy utility than owners anticipated. A 4.37 xFIP suggests that Colome was fortunate his ERA wasn't more of an eyesore, and since the downturn in performance was accompanied by velocity declines in all of his pitches, a bounceback isn't a given. Perhaps in recognition of Colome's value plunging further, the Rays shopped him over the winter, an indication that he's not guaranteed to stick around throughout the season.
Colome was one of the few pleasant stories for the Rays in 2016 following his sudden induction into the closer's role after Brad Boxberger suffered an abdominal injury in spring training. The 27-year-old impressively notched 37 saves in 40 chances, successfully converting 21 consecutive save chances to begin the campaign. Colome's body of work firmly entrenched Boxberger in a setup role upon his eventual return, and the same pecking order will apply entering next spring. Colome posted elite metrics in the categories of K/9 (11.3) and K/BB (4.73), while regularly firing a mid-90s fastball. Control was certainly another strong point, as the right-hander generated a solid 2.4 BB/9 and 1.02 WHIP. His upside may only be capped by the Rays' inability to frequently enter the late innings with leads to protect, but even a modest improvement overall could vault Colome into the elite 45-plus save range in 2017.
Colome has followed a very familiar path to this point in his career. He has a live arm, which pushed the Rays to use him as a starter, but he struggled with command and was hit hard while struggling to work deep into games. Upon moving to the bullpen, he became completely dominant to the point of raising questions about why he was ever used as a starter. That's Colome in a nutshell. He has the changeup that many others with that story lack, but he doesn't have a great third pitch and the lack of command hurts him as well. His fastball was better in relief and the results speak for themselves. He had a 1.41 WHIP and a 15 percent strikeout rate as a starter, and a 1.13 WHIP with a 27 percent strikeout rate as a reliever. It is rumored that the Rays have both Brad Boxberger and Jake McGee on the market to see what they can bring back. If either one goes, Colome goes right into the eighth-inning role with the potential to be the closer at some time in 2016.
The Rays traded away Jeremy Hellickson this offseason, leaving a gap in the rotation where Colome or Nate Karns could fill in until Matt Moore is back from his Tommy John surgery. Colome, a 6-foot-2 righty, profiles as the more exciting option, as he has a 1.30 ERA in six big league starts (34.2 innings). That is a small sample size, and his 25:14 K:BB ratio in those starts is disconcerting, but the early returns need to be acknowledged. If he had a better command profile, there would be no doubt about Colome's ability to stick in a rotation. He has a plus fastball that sits in the mid-90s, with three secondary offerings that all have above-average potential. In his age-26 season, Colome has a chance to establish himself as a mid-rotation arm, and if that happens, the Rays should be able to find a way to keep him in the mix, even after Moore returns.
Colome put together a solid season with Triple-A Durham, posting a 3.07 ERA while averaging 9.2 K/9 over 14 starts. He had a few successful spot starts with the Rays, but his season ended after the promotion when he was placed on the disabled list with an elbow strain. He features a big fastball with solid movement that he uses to induce groundballs and his secondary pitches are developing. Injuries have limited him to fewer than 20 starts in both of the last two seasons. The Rays are expected to have a crowded rotation again in 2014, so he could begin the season with Durham if he does not win a spot in the spring, but he could convert to the bullpen in the future.
Colome missed about a month in the early part of the season with an oblique injury before returning strong for Double-A Montgomery. In 14 starts he posted an 8-3 record with a 3.48 ERA and averaged 9.0 K/9. He earned a promotion to Triple-A Durham in August, where made three starts before a shoulder injury shut him down early. He is still a very intriguing prospect for the Rays given his electric fastball paired with a solid curveball. Since he's currently a starter on a team stocked with pitching talent, he will likely be stuck at Triple-A in 2013 for the whole season, but could be used to help the Rays' bullpen in September or earlier if there are injuries on the pitching staff.
Colome started the season at High-A Charlotte where he had a respectable 3.58 ERA and a 7.84 K/9IP. As should be expected, he struggled more after a promotion in late July to Double-A Montgomery. His strikeout rate dropped by more than 2.0 K/9IP while his walk rate increased by more than 1.0 BB/9IP. Colome has a sizzling fastball that can work in the upper-90s and is developing a curveball to complement the heater. He'll likely begin at Double-A Montgomery and work on his command issues with a likely mid-to-late season promotion to Durham if he continues his development. Look for him to enter the Rays pitching picture some time in 2013 given their depth.
Colome fared well during a 2010 campaign spent mostly at Low-A Bowling Green. As evidenced by the strikeout rate (9.3 K/9IP), he has good stuff, but the issue to this point has been consistently controlling it. While the ceiling here is high, he's far from a finished product and it's unlikely that he'll advance past Double-A this season. Beyond that, the Rays' deep farm system will ensure that he gets the necessary time to develop. Consider him worthy of a spot in deeper keeper leagues, but Colome may not get a chance to start for the Rays until 2013.
More Fantasy News