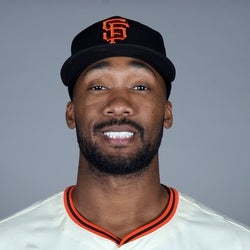 Rest-of-Season Projections
2023 Fantasy Outlook
Garrett continues to be proficient as a LOOGY, stifling lefty swingers to a mere .106 batting average in 2022 and .158 BA since 2020. After allowing nine long balls in 2021, the southpaw didn't give up a home run all season, as his slider and 4-seamer were better than the year before. Garrett struck out 49 over 45.2 innings, but walked 32 for a career-worst 16.3% walk rate. He didn't record a save, but could still come across a few chances in 2023 if the matchups are right in the ninth inning. However, one look at his career 5.08 ERA and 1.42 WHIP is all the reminder we need to look elsewhere.
Read Past Outlooks
$Signed a one-year, minor-league contract with the Guardians in July of 2023. Released by the Guardians in August of 2023.

ANALYSIS
Garrett signed a minor-league deal with Cleveland in late July and will now once again enter the open market. The 31-year-old lefty surrendered three runs over 4.2 innings with Triple-A Columbus and should be able to secure another minor-league deal elsewhere.
Read More News
Pitching Stats
Loading Pitching Stats...
2023
2022
2021
2020
2019
2018
2017
2023 MLB Game Log

Calculate Stats Over Time
Just click on any two dates.
Scoring
FanDuel
DraftKings
Yahoo DFS
Loading Pitching Game Log...
2022 MLB Game Log

Calculate Stats Over Time
Just click on any two dates.
Scoring
FanDuel
DraftKings
Yahoo DFS
Loading Pitching Game Log...
2021 MLB Game Log

Calculate Stats Over Time
Just click on any two dates.
Scoring
FanDuel
DraftKings
Yahoo DFS
Loading Pitching Game Log...
2020 MLB Game Log

Calculate Stats Over Time
Just click on any two dates.
Scoring
FanDuel
DraftKings
Yahoo DFS
Loading Pitching Game Log...
2019 MLB Game Log

Calculate Stats Over Time
Just click on any two dates.
Scoring
FanDuel
DraftKings
Yahoo DFS
Loading Pitching Game Log...
2018 MLB Game Log

Calculate Stats Over Time
Just click on any two dates.
Scoring
FanDuel
DraftKings
Yahoo DFS
Loading Pitching Game Log...
2017 MLB Game Log

Calculate Stats Over Time
Just click on any two dates.
Scoring
FanDuel
DraftKings
Yahoo DFS
Loading Pitching Game Log...
Minor League Game Log

Calculate Stats Over Time
Just click on any two dates.
Loading Minor League Pitching Game Log...
Pitching Appearances Breakdown
How many pitches does Amir Garrett generally throw?
What part of the game does Amir Garrett generally pitch?
% Games Reaching Innings Threshold
% Games By Number of Innings Pitched
Left/Right Pitching Splits
BAA
K
BB
H
HR
Since 2021

vs Left

.184
61
39
33
5
Since 2021

vs Right

.248
77
42
63
8
2023

vs Left

.241
6
12
7
2
2023

vs Right

.246
22
8
15
2
2022

vs Left

.106
20
12
7
0
2022

vs Right

.228
29
20
21
0
2021

vs Left

.226
35
15
19
3
2021

vs Right

.267
26
14
27
6
More Splits

→

View More Split Stats
Home/Away Pitching Splits
ERA
WHIP
IP
K/9
BB/9
Since 2021

Home

5.55
1.61
61.2
10.2
5.8
Since 2021

Away

4.53
1.40
55.2
11.0
6.6
2023

Home

3.86
1.97
11.2
10.8
8.5
2023

Away

2.84
1.50
12.2
9.9
6.4
2022

Home

5.32
1.39
23.2
9.5
4.9
2022

Away

4.57
1.25
21.2
10.0
7.9
2021

Home

6.49
1.63
26.1
10.6
5.5
2021

Away

5.48
1.50
21.1
12.7
5.5
More Splits

→

View More Split Stats
Stat Review
How does Amir Garrett compare to other relievers?
This section compares his stats with all relief pitcher seasons from the previous three seasons (minimum 30 innings)*. The bar represents the player's percentile rank. For example, if the bar is halfway across, then the player falls into the 50th percentile for that stat and it would be considered average.
* Exit Velocity, Barrels/BBE %, Balls Hit 95+ MPH %, and Spin Rate are benchmarked against 2019 data (min 30 IP).
See here for more exit velocity/barrels stats
plus an explanation of current limitations with that data set.
K/BB

Strikeout to walk ratio.

K/9

Average strikeouts per nine innings.

BB/9

Average walks per nine innings.

HR/9

Average home runs allowed per nine innings.

Fastball

Average fastball velocity.

ERA

Earned run average. The average earned runs allowed per nine innings.

WHIP

Walks plus hits per inning pitched.

BABIP

Batting average on balls in play. Measures how many balls in play against a pitcher go for hits.

GB/FB

Groundball to flyball ratio. The higher the number, the more likely a pitcher is to induce groundballs.

Left On Base

The percentage of base runners that a pitcher strands on base over the course of a season.

Exit Velocity

The speed of the baseball as it comes off the bat, immediately after a batter makes contact.

Barrels/BBE

The percentage of batted ball events resulting in a Barrel. A Barrel is a batted ball with similar exit velocity and launch angle to past ones that led to a minimum .500 batting average and 1.500 slugging percentage.

Spin Rate

Spin Rate is the rate of spin on a baseball after it is released. It is measured in revolutions per minute (rpm).

Balls Hit 95+ MPH

The percentage of batted balls hit that met or exceeded the 95 MPH threshold.

Swinging Strike

The percentage of pitches that result in a swing and a miss.
Advanced Pitching Stats
Loading Advanced Pitching Stats...
Loading MLB Defensive Stats...
Past Fantasy Outlooks
2022
2021
2020
2019
2018
2017
2016
2015
The 29-year-old lefty has shown flashes of brilliance since making the full-time move to the bullpen in 2018, but he's often struggled to string together extended stretches of quality appearances. Even so, in a Kansas City bullpen lacking in impact arms, Garrett will likely get a look in a late-inning setup role to begin the season. Garrett's career 26.8 K% would make him an intriguing fantasy option if he can cut down his walk and home-run rates and eventually challenge incumbent Scott Barlow for the closer's role.
With Raisel Iglesias traded to the Angels, the Reds will really be counting on AG, potentially to fill the closer role. Garrett has said that he is intent on taking the job, and the skills support the idea he could be a quality major-league closer. The 6-foot-5 lefty has made the slider his primary pitch the past two seasons, throwing it roughly 56% of the time compared to 44% four-seamers, and the result has been a big uptick in swinging strikes and overall strikeout rate (career-high 37.7 K% in 2020). Among 173 qualifying relievers in 2020, Garrett's 18.1 SwStr% ranked ninth. He also shaved four percentage points off his BB%. All four homers he served up were to right-handed hitters and he had some homer problems against righties in 2019 as well (1.50 HR/9); those issues could prevent him from getting the full-time role, but he seems to have the mindset. As far as a floor, 8-to-10 saves seems reasonable.
Garrett's 2019 season will be best remembered for the brawl with Pittsburgh, when Garrett charged the dugout and tried to take on the entire Pirates team. Needless to say, Garrett endeared himself to his fellow Redlegs with his bold defense of a teammate. The big southpaw has also endeared himself to fantasy players in leagues counting holds, racking up at least 21 in each of the past two seasons while blowing a combined five leads during that time. He tweaked his pitch mix in 2019, adding more sliders, actually making that his primary pitch. The result was an uptick in strikeouts (31.7%) but also a big dip in Zone% and a corresponding jump in walks (14.2%) and WHIP. His splits were more pronounced in 2019 and that could work against him closing if something were to happen to Raisel Iglesias, but Garrett would likely be on the short list for opportunities as the top lefty in the Reds' bullpen.
The Reds seemed to answer the question whether Garrett was a starter or a reliever last season, though we'll see if new manager David Bell has a different opinion on the matter. If he stays in the bullpen, can Garrett carve out a fantasy-friendly role? While there's some reason to be concerned about Raisel Iglesias, there's no indication that Garrett would be near the top of the pecking order to assume closing duties should Iglesias falter. Naturally, while becoming a full-time reliever his velocity increased significantly, and with that his strikeout rate. But he's still walking batters at a 9.5% rate and giving up 1.14 homers per nine innings. He has two factors working in his favor: he's capable of facing both lefties and righties, and his non-traditional path to full-time baseball gives him a greater probability of improving in his age-27 year. He is a good candidate to acquire holds if your league uses them in any capacity.
Jeff Zimmerman eerily predicted Garrett's downfall in a FanGraphs article written on April 20 -- he broke down the video of an earlier start at a time when Garrett had a 1.83 ERA, 0.86 WHIP and had just struck out 12 Orioles in seven innings. He noticed that Garrett's fastball was 2-4 mph slower than previously billed, and deadly straight. He suggested that would come back to haunt him, and sure enough, Garrett's next start against Milwaukee was a 10-run (nine earned) disaster over 3.1 innings. As with other Reds starters, Garrett's fastball turned out to be a huge albatross over the course of the season (-19.7 runs below average, according to FanGraphs), while his slider and changeup generated much better results. Unfortunately, Garrett couldn't correct those issues after getting sent down to Triple-A Louisville, posting a 5.72 ERA and 1.53 WHIP in 67.2 innings there. If Garrett is going to cobble together a big-league career, he needs to fix his fastball.
A 22nd-round pick in 2011, he has put himself on the fast track since deciding to give up his hoop dream and focus on his baseball career. Garrett was fantastic starting out the season at Double-A, earning a promotion to Triple-A for the first time. While he didn't enjoy quite as much success after the call up -- the 25-year-old struggled a bit keeping the ball in the yard and with control/command -- he still posted a respectable 3.46 ERA in 12 appearances (11 starts). With the Reds in rebuilding mode, they can afford to be patient with the lefty, but Cincinnati is heading into spring training with Garrett in mind for the fifth spot in the rotation. A bullpen role is also on the table, although it seems more likely that Garrett would continue his development as a starter in the minors if he were to fail to win a starting job in camp.
Garrett continued to climb prospect charts in 2015 with a strong season at High-A Daytona. The former collegiate basketball player is now exclusively a baseball player, and that decision is bearing fruit. He maintained his 8.5 K/9 despite moving up a level while not walking batters at a higher rate. He'll move to Double-A Pensacola in 2016, where his ability to command his secondary pitches will be put to the test.
After three years of juggling his responsibilities as a pro baseball player and college basketball player, Garrett finally decided in August to give up the hardwood and "marry the game" of baseball. The decision came in the midst of an outstanding second half with Low-A Dayton, during which Garrett posted a 2.86 ERA, .190 BAA and 78:26 K:BB over 14 starts (72.1 innings), a significant improvement over his pre-All-Star break numbers (4.57 ERA, 49:25 K:BB). Standing 6-foot-5, 210 pounds, the athletic Garrett easily generates mid-90s velocity with his fastball, and there's hope that his curveball and changeup can develop more quickly with his focus shifted exclusively to baseball moving forward. The Reds were forced to add the lefty to their 40-man roster in November to protect him from the Rule 5 draft, and it's possible they could take a trial-by-fire approach to Garrett's development in 2015 to find out what he's truly made of.
More Fantasy News