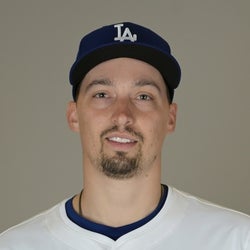 Rest-of-Season Projections
2023 Fantasy Outlook
A groin injury cost Snell the first quarter of the season, but when he was able to take the hill, Snell picked up where he left off in 2021, throwing fewer changeups while relying more on his four-seam fastball and curveball. Snell made 24 starts, registering the second highest strikeout rate and K-BB% of his career. Snell's 8.4% HR/FB mark was a bit lucky and needed since he yielded a career-high 43% fly balls. However, a .307 BABIP was high, especially considering so many fly balls staying in the yard. Durability and control remain issues as Snell has only eclipsed 180 inning once in his career. He's ticketed for a spot in the middle of the Padres rotation. When healthy, Snell piles up punch outs while providing a solid ERA. Walks buoy a high WHIP, so plan accordingly.
Read Past Outlooks
$Signed a five-year, $50 million contract extension with the Rays in March of 2019. Traded to the Padres in December of 2020.

Strong again in no-decision
Snell allowed four hits and two walks while striking out seven over six scoreless innings in a no-decision versus the Giants on Monday.
ANALYSIS
Snell was again sharp, firing his fifth scoreless outing of six or more innings in his last six starts. He ended up with a second straight no-decision after the Giants got to
Robert Suarez
in the eighth inning. Snell lowered his ERA to 2.25 with a 1.19 WHIP and 234:99 K:BB through 180 innings over 32 starts this season. He's tentatively lined up for a road start versus the White Sox this weekend, but the Padres may not push their ace for one more outing since their playoff hopes are hanging by a thread after Monday's loss.
Read More News
Pitching Stats
Loading Pitching Stats...
2023
2022
2021
2020
2019
2018
2017
2023 MLB Game Log

Calculate Stats Over Time
Just click on any two dates.
Scoring
FanDuel
DraftKings
Yahoo DFS
Loading Pitching Game Log...
2022 MLB Game Log

Calculate Stats Over Time
Just click on any two dates.
Scoring
FanDuel
DraftKings
Yahoo DFS
Loading Pitching Game Log...
2021 MLB Game Log

Calculate Stats Over Time
Just click on any two dates.
Scoring
FanDuel
DraftKings
Yahoo DFS
Loading Pitching Game Log...
2020 MLB Game Log

Calculate Stats Over Time
Just click on any two dates.
Scoring
FanDuel
DraftKings
Yahoo DFS
Loading Pitching Game Log...
2019 MLB Game Log

Calculate Stats Over Time
Just click on any two dates.
Scoring
FanDuel
DraftKings
Yahoo DFS
Loading Pitching Game Log...
2018 MLB Game Log

Calculate Stats Over Time
Just click on any two dates.
Scoring
FanDuel
DraftKings
Yahoo DFS
Loading Pitching Game Log...
2017 MLB Game Log

Calculate Stats Over Time
Just click on any two dates.
Scoring
FanDuel
DraftKings
Yahoo DFS
Loading Pitching Game Log...
Minor League Game Log

Calculate Stats Over Time
Just click on any two dates.
Loading Minor League Pitching Game Log...
Pitching Appearances Breakdown
How many pitches does Blake Snell generally throw?
What part of the game does Blake Snell generally pitch?
% Games Reaching Innings Threshold
% Games By Number of Innings Pitched
Left/Right Pitching Splits
BAA
K
BB
H
HR
Since 2021

vs Left

.193
114
40
58
5
Since 2021

vs Right

.204
462
179
262
37
2023

vs Left

.204
38
21
21
2
2023

vs Right

.176
196
78
94
13
2022

vs Left

.241
28
9
21
1
2022

vs Right

.212
144
42
83
10
2021

vs Left

.144
48
10
16
2
2021

vs Right

.235
122
59
85
14
More Splits

→

View More Split Stats
Home/Away Pitching Splits
ERA
WHIP
IP
K/9
BB/9
Since 2021

Home

2.87
1.11
238.2
12.4
3.8
Since 2021

Away

3.50
1.38
198.0
11.2
5.4
2023

Home

2.52
1.16
89.1
12.3
4.7
2023

Away

1.99
1.21
90.2
11.1
5.2
2022

Home

3.56
1.19
81.0
12.0
2.9
2022

Away

3.06
1.23
47.0
12.1
4.8
2021

Home

2.50
0.95
68.1
13.0
3.6
2021

Away

6.12
1.74
60.1
10.6
6.3
More Splits

→

View More Split Stats
Stat Review
How does Blake Snell compare to other starting pitchers?
This section compares his stats with all starting pitcher seasons from the previous three seasons (minimum 120 innings)*. The bar represents the player's percentile rank. For example, if the bar is halfway across, then the player falls into the 50th percentile for that stat and it would be considered average.
* Exit Velocity, Barrels/BBE %, Balls Hit 95+ MPH %, and Spin Rate are benchmarked against 2019 data (min 120 IP).
See here for more exit velocity/barrels stats
plus an explanation of current limitations with that data set.
K/BB

Strikeout to walk ratio.

K/9

Average strikeouts per nine innings.

BB/9

Average walks per nine innings.

HR/9

Average home runs allowed per nine innings.

Fastball

Average fastball velocity.

ERA

Earned run average. The average earned runs allowed per nine innings.

WHIP

Walks plus hits per inning pitched.

BABIP

Batting average on balls in play. Measures how many balls in play against a pitcher go for hits.

GB/FB

Groundball to flyball ratio. The higher the number, the more likely a pitcher is to induce groundballs.

Left On Base

The percentage of base runners that a pitcher strands on base over the course of a season.

Exit Velocity

The speed of the baseball as it comes off the bat, immediately after a batter makes contact.

Barrels/BBE

The percentage of batted ball events resulting in a Barrel. A Barrel is a batted ball with similar exit velocity and launch angle to past ones that led to a minimum .500 batting average and 1.500 slugging percentage.

Spin Rate

Spin Rate is the rate of spin on a baseball after it is released. It is measured in revolutions per minute (rpm).

Balls Hit 95+ MPH

The percentage of batted balls hit that met or exceeded the 95 MPH threshold.

Swinging Strike

The percentage of pitches that result in a swing and a miss.
Advanced Pitching Stats
Loading Advanced Pitching Stats...
Loading MLB Defensive Stats...
Our full team depth charts are reserved for RotoWire subscribers.
Subscribe Now
Recent RotoWire Articles Featuring Blake Snell
See More
Past Fantasy Outlooks
2022
2021
2020
2019
2018
2017
2016
2015
2014
Snell went into the break with a 4.99 ERA and 1.55 WHIP. Coming out of the break, he all but bagged his changeup for more four-seam fastballs. He continued to struggle but then went on a tear, finishing the season with a 1.83 ERA and 0.77 WHIP over his last eight starts, fanning 65 over his final 44.1 innings. Snell's control and home run prevention also markedly improved over the second half. It took a groin injury in a September 12 start against the Dodgers to thwart Snell's second half surge. The two outs he collected in that game were the final pair of his season, though he could have come back had the Padres made the playoffs. While altering his pitch mix is a tangible cause for Snell's strong stretch run, he has a history of spotty control and it's a risk to expect he maintains a lower walk rate. That said, he checks enough other boxes (strikeouts, favorable home park, good run support) to find out.
Snell's 2020 will always be remembered for how it ended. He was quite good during his time on the mound, posting a 3.16 ERA and 100:32 K:BB over 79.2 innings (postseason included). The long ball was a problem; Snell served up 15 HR in total. His HR/FB during the regular season was all the way up at 29.4% after he was consistently in the 10-15% range the three seasons prior. Eight of the 10 homers he allowed during the regular season were against the fastball, leading to an ugly .326 BA and .663 SLG against the pitch, but we're talking about a sample of 50 innings with those stats. Snell's curveball remains a great put-away pitch and he's still just a few years removed from winning the Cy Young pitching in a brutal AL East. The trade from Tampa Bay to San Diego looks like a net positive as Snell will be pitching for another good team and may be allowed to go deeper into games, in theory padding wins and Ks.
Regression was expected for the 2018 AL Cy Young Award winner as Snell's 1.89 ERA was lower than his 3.16 xFIP and 3.30 SIERA. Sure enough, his 4.29 ERA last year was significantly higher than the 3.31 xFIP and 3.56 SIERA. In terms of skills, Snell was essentially the same pitcher he was the year he took home the hardware. Perhaps if Snell didn't miss about two months after surgery to remove loose bodies from his elbow, his ERA would have corrected, but it didn't have the chance. The encouraging news is that when Snell returned in September, his velocity was just a tick below normal, so he should be 100% heading into 2020. The only blemish is a high walk rate, resulting in an elevated WHIP. However, a strikeout rate north of 30% helps mitigate the impact. Snell may fall a couple dozen innings short of the elite, but he's still a fantasy ace. Invest with confidence.
James Clear, in his book Atomic Habits, references The Plateau of Latent Potential. We expect all progress to be linear, and that it will come quickly. In reality, the results get delayed and we enter into the valley of disappointment. That aptly describes Snell from mid-2016 through the end of July 2017. For all the talent, the results were not there. Wise owners noticed changes Snell made over the final six weeks of the season and bought back in on Snell last season and were rewarded with a Cy Young-winning effort. Snell made outstanding gains across the board, both statistically and in his approach to the game, specifically his ability to command his pitches and throw non-fastballs for strikes early to force batters to chase pseudo-strikes later in the count. The ERA will regress, and the wins will come down, but Snell is now a staff ace.
Snell has mostly struggled so far at the highest level, failing to meet the hype as a former top prospect, but he made strides late in 2017 and may be on the verge of a breakout. The young left-hander shaved a full walk from his BB/9 from the previous season (to 4.1) and got sharper as the season wore on, posting a 2.9 BB/9 in the second half. Meanwhile, Snell added to his strikeout percentage in each of the season's final three months, finishing with a 26.5-percent mark in September, while also trimming his HR/9 from 1.21 to 0.93 from the first half to the second half. It's not uncommon for pitchers to struggle with fastball command like Snell did with the jump to the big leagues; Snell seems to have regained his trust in the pitch, but continuing to locate well will be critical to his success moving forward. With plenty of owners disappointed by his struggles last season, Snell's second-half improvement may not be baked into his price on draft day.
Snell's eagerly anticipated major league debut was by and large a successful one. The young southpaw posted five quality starts overall but was also lifted before the fourth inning on five occasions, a perfect example of the inconsistencies a rookie pitcher can often display, regardless of their talent level. The one major blemish that Snell carried over from the minors was an issue with control, as he posted a bloated 5.2 BB/9 and 1.62 WHIP at the big league level. He was as stingy as ever with the long ball, however, generating a minuscule 0.5 HR/9 that essentially mirrored or represented an improvement on his figure in that category at his various minor league stops. With a full offseason to prepare for the grind of a major league campaign, Snell could take a formidable leap forward in 2017 and has plenty of proven strikeout upside, having tallied a double-digit K/9 from High-A to Triple-A. Control will presumably still be an issue for the time being, but the talented southpaw still has plenty to offer in several other fantasy categories.
There aren't enough superlatives to describe Snell's 2015 season. Across three levels, the lefty went 15-4 with a 1.41 ERA, a 1.02 WHIP, and struck out 163 batters in 134 innings and seemed to look better with each level. At Triple-A Durham, he went 6-2 with a 1.83 ERA, a 0.95 WHIP, and struck out 57 batter while allowing 29 hits in 44.1 innings of work. That type of resume would normally be a lock for a job in a rotation the next season, but he pitches for Tampa Bay. Like Hellickson and Price before him, he'll return to Durham for (insert made up BS reason here) until arbitrary Super 2 date passes. The Rays have a set rotation of Archer, Smyly, Odorizzi, Moore, and Ramirez as the roster stands now even after dealing Karns, so they do at least have a legit reason to send him back to the minors. Unless there is a trade or an injury, don't look for him sometime in June, at the earliest.
It is said that lefties take a bit longer to develop, especially with their command. That may be the case for Snell. He pitched at two levels last season and struck out 119 batters in 115.2 innings of work while permitting just 95 hits and two home runs. He also walked 56 batters, including 37 in just 75 innings of work in High-A ball. He throws in the low 90s and the team really likes his changeup, which is a required pitch to move up in the organization. He will likely report to Double-A Montgomery in 2015 and should be watched to see how his progression continues.
Snell put together a successful first year in full-season baseball with Low-A Bowling Green. In 23 starts, he went 4-9 with a 4.27 ERA and had 106 strikeouts in 99 innings. A tall left-hander, he features a big fastball that can hover in the mid-90s. A 2011 draft selection out of high school, the Rays have brought Snell along slowly to build up his innings and preserve his arm. He had a very high walk rate of 6.6 BB/9 in 2013, which can be expected of most young pitchers. He features an interesting set of pitches and is expected to develop those and continue to work as a starter. He will likely start 2014 with High-A Charlotte, as he makes a bid to surpass 100 innings for the first time in his professional career.
More Fantasy News