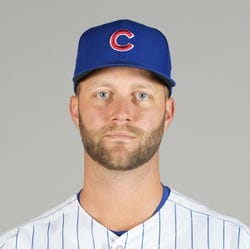 Out
Injury Forearm
Est. Return 2/1/2024
Rest-of-Season Projections
2023 Fantasy Outlook
Boxberger continues to be an asset in leagues that reward holds, as he's registered 52 of them over the past two seasons. The veteran ranked second in the category last year with 29, while logging most of his innings during the seventh inning. Boxberger signed a one-year, $2 million deal with the Cubs and becomes their most experienced reliever by far. Chicago is a fringe contender in the National League, so they may attempt to boost Boxberger's trade value by giving him the majority save share during the first half, as they've done with Craig Kimbrel and David Robertson on expiring deals the past two years. Even if they elect to roll with a closer committee, Boxberger should still see some save chances while racking up plenty of holds. Just don't reach too much for him in drafts, as his skills are declining.
Read Past Outlooks
$Signed a one-year, $2 million contract with the Cubs in December of 2022. The Contract includes $5 million mutual option ($800,000 buyout) for 2024.

ANALYSIS
Boxberger will get an $800,000 buyout as he moves into free agency. The veteran reliever logged only 5.1 major-league innings in the second half of the 2023 season due to nagging forearm issues, but he compiled a 3.15 ERA over 141 appearances with Milwaukee the prior two years and could be a bounce-back candidate for a team seeking bullpen help.
Read More News
Pitching Stats
Loading Pitching Stats...
2023
2022
2021
2020
2019
2018
2017
2023 MLB Game Log

Calculate Stats Over Time
Just click on any two dates.
Scoring
FanDuel
DraftKings
Yahoo DFS
Loading Pitching Game Log...
2022 MLB Game Log

Calculate Stats Over Time
Just click on any two dates.
Scoring
FanDuel
DraftKings
Yahoo DFS
Loading Pitching Game Log...
2021 MLB Game Log

Calculate Stats Over Time
Just click on any two dates.
Scoring
FanDuel
DraftKings
Yahoo DFS
Loading Pitching Game Log...
2020 MLB Game Log

Calculate Stats Over Time
Just click on any two dates.
Scoring
FanDuel
DraftKings
Yahoo DFS
Loading Pitching Game Log...
2019 MLB Game Log

Calculate Stats Over Time
Just click on any two dates.
Scoring
FanDuel
DraftKings
Yahoo DFS
Loading Pitching Game Log...
2018 MLB Game Log

Calculate Stats Over Time
Just click on any two dates.
Scoring
FanDuel
DraftKings
Yahoo DFS
Loading Pitching Game Log...
2017 MLB Game Log

Calculate Stats Over Time
Just click on any two dates.
Scoring
FanDuel
DraftKings
Yahoo DFS
Loading Pitching Game Log...
Minor League Game Log

Calculate Stats Over Time
Just click on any two dates.
Loading Minor League Pitching Game Log...
Pitching Appearances Breakdown
How many pitches does Brad Boxberger generally throw?
What part of the game does Brad Boxberger generally pitch?
% Games Reaching Innings Threshold
% Games By Number of Innings Pitched
Left/Right Pitching Splits
BAA
K
BB
H
HR
Since 2021

vs Left

.186
75
35
46
5
Since 2021

vs Right

.226
93
28
65
12
2023

vs Left

.147
11
6
5
2
2023

vs Right

.263
6
5
10
1
2022

vs Left

.248
26
12
26
2
2022

vs Right

.203
42
15
26
4
2021

vs Left

.139
38
17
15
1
2021

vs Right

.240
45
8
29
7
More Splits

→

View More Split Stats
Home/Away Pitching Splits
ERA
WHIP
IP
K/9
BB/9
Since 2021

Home

4.73
1.36
78.0
10.2
4.7
Since 2021

Away

1.91
0.96
70.2
10.2
2.8
2023

Home

4.97
1.42
12.2
6.4
5.7
2023

Away

4.91
1.09
7.1
9.8
3.7
2022

Home

4.06
1.42
31.0
9.6
5.5
2022

Away

1.91
1.06
33.0
9.5
2.2
2021

Home

5.24
1.28
34.1
12.1
3.7
2021

Away

1.19
0.82
30.1
11.0
3.3
More Splits

→

View More Split Stats
Stat Review
How does Brad Boxberger compare to other relievers?
This section compares his stats with all relief pitcher seasons from the previous three seasons (minimum 30 innings)*. The bar represents the player's percentile rank. For example, if the bar is halfway across, then the player falls into the 50th percentile for that stat and it would be considered average.
* Exit Velocity, Barrels/BBE %, Balls Hit 95+ MPH %, and Spin Rate are benchmarked against 2019 data (min 30 IP).
See here for more exit velocity/barrels stats
plus an explanation of current limitations with that data set.
K/BB

Strikeout to walk ratio.

K/9

Average strikeouts per nine innings.

BB/9

Average walks per nine innings.

HR/9

Average home runs allowed per nine innings.

Fastball

Average fastball velocity.

ERA

Earned run average. The average earned runs allowed per nine innings.

WHIP

Walks plus hits per inning pitched.

BABIP

Batting average on balls in play. Measures how many balls in play against a pitcher go for hits.

GB/FB

Groundball to flyball ratio. The higher the number, the more likely a pitcher is to induce groundballs.

Left On Base

The percentage of base runners that a pitcher strands on base over the course of a season.

Exit Velocity

The speed of the baseball as it comes off the bat, immediately after a batter makes contact.

Barrels/BBE

The percentage of batted ball events resulting in a Barrel. A Barrel is a batted ball with similar exit velocity and launch angle to past ones that led to a minimum .500 batting average and 1.500 slugging percentage.

Spin Rate

Spin Rate is the rate of spin on a baseball after it is released. It is measured in revolutions per minute (rpm).

Balls Hit 95+ MPH

The percentage of batted balls hit that met or exceeded the 95 MPH threshold.

Swinging Strike

The percentage of pitches that result in a swing and a miss.
Advanced Pitching Stats
Loading Advanced Pitching Stats...
Loading MLB Defensive Stats...
Recent RotoWire Articles Featuring Brad Boxberger
See More
Past Fantasy Outlooks
2022
2021
2019
2018
2017
2016
2015
2014
2013
2012
After signing a minor-league contract with the Brewers last offseason, Boxberger failed to secure an Opening Day roster spot out of spring training, but still ended up joining Milwaukee's bullpen in early April. In a setup role to Josh Hader, Boxberger tied his career-high with 64.2 innings in 71 appearances. The 33-year-old had a successful season in high-leverage, logging five wins, four saves and 23 holds while improving across many pitching categories, though his 9.4% walk rate was steadily high and in line with prior years. Boxberger was especially tough on left-handed hitters, holding them to a .139 batting average compared to .240 against right-handed bats. The veteran reliever proved he can still contribute in the late innings. He signed a one-year, $2.5 million deal to return to the Brewers in March.
Boxberger's velocity was up in spring training and given his past closing experience it was not hard to envision the right-hander earning some saves in Miami. It was not to be as Brandon Kintzler dominated the ninth for the Marlins in 2020. Boxberger finished with his best ERA since 2014, although the estimators say he was essentially the same guy we saw in prior seasons, deserving of a mark closer to 5.00 than 3.00. The velocity returning should help keep Boxberger around the big leagues and you never know when a former closer might get another chance at the end of games. That said, it's a long shot to think he will ever receive consistent save opportunities again.
Boxberger ran with the Diamondbacks' closer job for a long while after joining Arizona via trade from Tampa Bay. The righty made the road tough on himself, posting his highest BB/9 in a season with 50-plus innings (5.4) and his worst HR/9 overall (1.52). He also turned in his worst hard-hit rate (38.2%) and average exit velocity (89 mph), per Statcast. Left-handed batters owned him (.349 wOBA), and his fastball velocity dipped nearly one mph from 2017. It wasn't until after his seventh blown save of the season Sept. 9 that the Diamondbacks had finally seen enough. Yoshihisa Hirano wasn't great after stepping in, but the team was never going to make a lateral move back to Boxberger and they simply declined to tender him a contract. Boxberger landed in Kansas City, which is the spot in which he could get another chance to close, but manager Ned Yost has suggested he might mix and match rather than go with one set endgamer.
Boxberger led the American League with 41 saves for the Rays in 2015, but he missed 115 days due to groin surgery and later an oblique injury in 2016. A strained lat muscle then cost him about three months to start 2017. He returned to post his best ERA (3.38) since 2014. It came with rebounds in strikeouts, with his 12.3 K/9 up from 8.1 in 2016, and walks, to a 3.4 per nine, respectable for a K-happy reliever. The right-hander posted his best percentage of pitches in the strike zone (51.2 percent) since 2014, which shows he gained confidence working around the plate. Home runs still bug him -- he's allowed at least 1.11 per nine in the last five years -- and Chase Field may make matters worse in that regard. However, his arrival with the Diamondbacks rejuvenates hope for a return to closing duties. Archie Bradley and Jimmie Sherfy represent significant his biggest road blocks to the ninth inning.
Boxberger's season got off on the wrong foot with a spring training abdominal injury. His absence at the beginning of the season allowed Alex Colome to take over and subsequently thrive in the closer's role, leaving Boxberger to help with setup duty upon his return in late May. An oblique injury then sent him back to the DL after just one appearance, but the right-hander was finally able to settle in for an uninterrupted stretch of action from July 31 onward. He finished with four victories and seven holds, but also three blown saves. Boxberger saw notable regression in his strikeout and walk rates, with his 8.1 K/9 and 7.0 BB/9 representing career-worst marks by a significant margin. Colome's emergence, coupled with Boxberger's uneven performance, could render the latter an afterthought in 2017 drafts.
People wanted Boxberger to get the closer role in 2014, and he got it in 2015 when Jake McGee needed offseason surgery and Kevin Cash let Boxy keep the job. Cash used him quite a bit in save situations and close games to the point where Boxberger whined a bit to the media about his non-traditional usage being a reason why his performance suffered in 2015. Boxberger's strikeout rate fell from an absurd 14.5 K/9 to a solid 10.6, but his walk rate spiked and he continued to allow the long ball. Boxberger never lost the job, mainly because the team was never seriously in contention in the second half of the season. With McGee now gone following an offseason trade, it looks like Boxberger will have the closer job pretty much all to himself once again. But it would be good if the Rays found some way to reduce Boxberger's workload, because his command then improves so he stops hanging pitches.
The Rays liked Boxberger when they got him from San Diego, but nobody saw him breaking out in the manner he did in 2014. He held opposing batters to a .155 average and struck out 104 of the 247 batters he faced (42.1%). Over the second half of the season, he struck out 51 of the 108 batters he faced and held the opposition to a .144 average. The only flaw in Boxberger's game is that he can give up the occasional home run, and did so nine times in 2014, four of which came off his secondary pitches. More often than not, he's going to get the swing and miss the team needs and he will resume his high leverage work in 2015 to help get the ball to whoever closes for the team in 2015. Boxberger has the skills to fill that role himself, and he may get that chance to begin the year thanks to Jake McGee's expected absence on Opening Day following elbow surgery.
Boxberger shuttled between Triple-A Tucson and San Diego multiple times last season, ultimately making 18 appearances with the big club. His 24:13 K:BB ratio wasn't particularly distinguished, but with a 9.8 K/9, he displayed a consistent ability to punch out batters, in spite of 1.2 HR/9. If the right-hander can hone in his control, as he did in 42 games with Tucson (89:19 K:BB ratio in 57.1 innings), he could factor into the late innings for the Rays after being acquired as part of a seven-player trade with the Padres in January.
Boxberger spent the first half of the 2012 season at Triple-A Tucson, before making his MLB debut in mid-June. What came afterwards was a 2.60 ERA that was the largely the work of smoke and mirrors. Yes, he struck out nearly 28 percent of the batters he faced, but he also walked 15 percent of them as well. Pitching like this can be a recipe for disaster as his 4.52 xFIP shows. If he can refine his control, Boxberger will likely find success in 2013, but that would go against history for him as he routinely walked more than 10 percent of the batters he faced through out the minors. If he can harness his control, Boxberger could eventually become an option for high-leverage situations as part of the bridge to closer Huston Street.
Taken in the supplemental first round of the 2009 draft, Boxberger has since converted to the bullpen and could be on the verge of making the team out of spring training. Since moving to the bullpen, Boxberger has junked his curveball and added some velocity as a max-effort short reliever. The results are promising so far - he struck out 93 batters in 62 minor league innings in 2011 before holding his own in the Arizona Fall League. Boxberger needs to tighten his control, and while Huston Street is going to open the year as the Padres closer, the job could belong to the former Reds farmhand in 2013; or sooner if Street is traded this season.
More Fantasy News