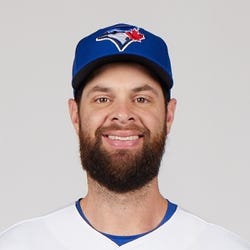 Rest-of-Season Projections
2023 Fantasy Outlook
Belt suddenly started hitting for more power in 2020 and maintained that boost in 2021, though his injury problems returned. Last year, the injuries persisted while the power boost faded away, leading to the weakest season of his 12-year career. His .213/.326/.350 line was good for a career-worst 96 wRC+, and he only appeared in 78 games between three separate trips to the injured list, once with COVID-19 and twice due to knee injuries. Chronic inflammation in his right knee eventually led to surgery in early September. Those knee troubles likely deserve much of the blame for the fact that his OPS dropped by 299 points, making him an interesting late lottery ticket for those betting on an optimistic outcome from his surgery. Given his extensive injury history and the fact that he's heading into his age-35 season, however, pessimism might be the wiser approach. Belt joined the Blue Jays on a one-year, $9.3 million deal for 2023, and he's poised to serve as the team's primary designated hitter, which could help him stay healthy.
Read Past Outlooks
$Signed a one-year, $9.3 million contract with the Blue Jays in January of 2023.

In two hole again Wednesday
Belt is starting at designated hitter and batting second Wednesday in Game 2 of the AL Wild Card Series against the Twins,
Keegan Matheson of MLB.com
reports.
ANALYSIS
The Blue Jays are rolling out the same lineup that they featured in Game 1 as they try to stave off elimination. That includes Belt in the two spot, which is where he hit in his final three starts of the regular season. For what it's worth, Belt is 0-for-8 with a 3:1 K:BB in nine career plate appearances versus Twins starter
Sonny Gray
.
Read More News
Batting Stats
2023
2022
2021
2020
2019
2018
2017
2023 MLB Game Log

Calculate Stats Over Time
Just click on any two dates.
Scoring
FanDuel
DraftKings
Yahoo DFS
Loading Batting Game Log...
2022 MLB Game Log

Calculate Stats Over Time
Just click on any two dates.
Scoring
FanDuel
DraftKings
Yahoo DFS
Loading Batting Game Log...
2021 MLB Game Log

Calculate Stats Over Time
Just click on any two dates.
Scoring
FanDuel
DraftKings
Yahoo DFS
Loading Batting Game Log...
2020 MLB Game Log

Calculate Stats Over Time
Just click on any two dates.
Scoring
FanDuel
DraftKings
Yahoo DFS
Loading Batting Game Log...
2019 MLB Game Log

Calculate Stats Over Time
Just click on any two dates.
Scoring
FanDuel
DraftKings
Yahoo DFS
Loading Batting Game Log...
2018 MLB Game Log

Calculate Stats Over Time
Just click on any two dates.
Scoring
FanDuel
DraftKings
Yahoo DFS
Loading Batting Game Log...
2017 MLB Game Log

Calculate Stats Over Time
Just click on any two dates.
Scoring
FanDuel
DraftKings
Yahoo DFS
Loading Batting Game Log...
Minor League Game Log

Calculate Stats Over Time
Just click on any two dates.
Loading Minor League Batting Game Log...
Batting Order Slot Breakdown
#1
#2
#3
#4
#5
#6
#7
#8
#9
#1
#2
#3
#4
#5
#6
#7
#8
#9
Left/Right Batting Splits
OPS
PA
HR
RBI
AVG
Since 2021

vs Left

.682
196
5
21
.217
Since 2021

vs Right

.885
887
51
104
.256
2023

vs Left

.572
39
0
3
.235
2023

vs Right

.890
365
19
40
.256
2022

vs Left

.599
82
1
7
.182
2022

vs Right

.702
216
7
16
.223
2021

vs Left

.832
75
4
11
.246
2021

vs Right

1.008
306
25
48
.280
More Splits

→

View More Split Stats
Home/Away Batting Splits
OPS
PA
HR
RBI
AVG
Since 2021

Home

.878
527
26
52
.264
Since 2021

Away

.822
556
30
73
.236
2023

Home

.848
206
8
17
.260
2023

Away

.870
198
11
26
.247
2022

Home

.855
132
5
11
.279
2022

Away

.536
166
3
12
.161
2021

Home

.925
189
13
24
.258
2021

Away

1.024
192
16
35
.290
More Splits

→

View More Split Stats
Stat Review
How does Brandon Belt compare to other hitters?
This section compares his stats with all batting seasons from the previous three seasons (minimum 400 plate appearances)*. The bar represents the player's percentile rank. For example, if the bar is halfway across, then the player falls into the 50th percentile for that stat and it would be considered average.
* Exit Velocity and Barrels/PA % are benchmarked against 2019 data (min 400 PA) and Hard Hit Rate is benchmarked against last season's data (min 400 PA).
See here for more exit velocity/barrels stats
plus an explanation of current limitations with that data set.
BB/K

Walk to strikeout ratio

BB Rate

The percentage of plate appearances resulting in a walk.

K Rate

The percentage of plate appearances resulting in a strikeout.

BABIP

Batting average on balls in play. Measures how many of a batter's balls in play go for hits.

ISO

Isolated Power. Slugging percentage minus batting average. A computation used to measure a batter's raw power.

AVG

Batting average. Hits divided by at bats.

OBP

On Base Percentage. A measure of how often a batters reaches base. Roughly equal to number of times on base divided by plate appearances.

SLG

Slugging Percentage. A measure of the batting productivity of a hitter. It is calculated as total bases divided by at bats.

OPS

On base plus slugging. THe sum of a batter's on-base percentage and slugging percentage.

wOBA

Weighted on-base average. Measures a player's overall offensive contributions per plate appearance. wOBA combines all the different aspects of hitting into one metric, weighting each of them in proportion to their actual run value.

Exit Velocity

The speed of the baseball as it comes off the bat, immediately after a batter makes contact.

Hard Hit Rate

A measure of contact quality from Sports Info Solutions. This stat explains what percentage of batted balls were hit hard vs. medium or soft.

Barrels/PA

The percentage of plate appearances where a batter had a batted ball classified as a Barrel. A Barrel is a batted ball with similar exit velocity and launch angle to past ones that led to a minimum .500 batting average and 1.500 slugging percentage.

Expected BA

Expected Batting Average.

Expected SLG

Expected Slugging Percentage.

Sprint Speed

The speed of a runner from home to first, in feet per second.

Ground Ball %

The percentage of balls put in play that are on the ground.

Line Drive %

The percentage of balls put in play that are line drives.

Fly Ball %

The percentage of balls put in play that are fly balls.
Advanced Batting Stats
Loading Advanced Batting Stats...
Games By Position
Defensive Stats
Loading Games Played by Position...
Loading MLB Defensive Stats...
Batted Ball Stats
Loading Batted Ball Stats...
Stats Vs Upcoming Pitchers
Recent RotoWire Articles Featuring Brandon Belt
See More
Past Fantasy Outlooks
2022
2021
2020
2019
2018
2017
2016
2015
2014
2013
2012
2011
Belt has always been a flyball hitter, but last season he took it to a new level, hitting them half the time. He also sported a career high average exit velocity on flyballs, yielding a personal best 27% HR/FB mark. On the other hand, he posted his highest strikeout rate since 2014. Belt crushed righthanders with a 1.008 OPS. Even though he handled southpaws reasonably well with a .832 OPS, Belt was subjected to Gabe Kapler's platoon style, often sitting against lefthanders. The veteran's season was cut short a week with a fractured thumb, though he's expected to be healthy this season. Belt accepted the Giants qualifying offer, so he'll return to San Francisco, likely in a similar platoon capacity, though with a designated spot, Belt could pick up a few more pate appearances. Even so, he'll have a hard time matching last season's power surge, though he could combat regression with fewer strikeouts.
We normally do not get breakout seasons from 32-year-old players, but that is exactly what we got from Belt in 2020. His overall upside had long been capped by his splits against left-handed pitching and his home ballpark. San Francisco made some adjustments to the park and did some wind studies, and Belt must have gotten an early advance of the notes because he thrived at home to the tune of a .384/.511/.726 slash line. He had not posted an OPS over .900 at home since the 2012 season. Hitting lefties is still something he struggles with (.115 in 2020), so he has to make the most of his chances against righties as he did with a .350/.456/.659 line last season. Bake in some regression and beware Belt may not be ready for Opening Day after undergoing surgery to remove a bone spur from his heel last October. If healthy, Belt should be a fine Plan C at first base in 2021 heading into free agency.
What if Belt had played anywhere but Oracle Park (formerly AT&T Park)? We might look at him in a completely different light. Alas, the fact is Belt has been limited by his home park, and as he's pushed into his 30s, he's become the face of the waiver wire; a player freely available in most mixed leagues who occupies a spot on nine different rosters throughout the course of the year. Belt moved his K% and BB% both in the right direction last season -- close to three percentage points each way -- but his BA dipped regardless as his average exit velocity ranked in the bottom 15th percentile. For his career, Belt has 47 home runs at home compared to 82 on the road. Even in San Francisco, he's not that far behind the Joey Votto/Eric Hosmer tier of 1B fillers, and he could leap those names with a trade. For now, Belt should be left for a final bench spot or the free-agent pool.
After a concussion cost Belt the final two months of the 2017 season, he missed most of the second half of 2018 with a knee injury which ultimately required surgery. Belt also missed a chunk of time following an appendectomy and fell short of 115 games for the second straight season. When on the field, Belt was once again an above-average offensive contributor, though he did most of his damage against right-handed pitching, slashing just .221/.312/.316 against lefties. Throughout much of his career, AT&T Park has dampened Belt's production -- he's topped out at 18 home runs in a season -- but he actually had better numbers all around at home in 2018. The batting eye and physical ability seem to be mostly still intact as Belt nears his 31st birthday, but the rigors of a full major-league season have proven to be too much for his body.
Belt missed most of the final two months of the season with a concussion -- the fourth of his career -- curtailing what was likely going to be his first 20-homer season as a big-league player. The gains Belt made with his plate discipline in 2016 continued, as he kept his strikeout rate under 25 percent while walking nearly 15 percent of the time. Surprisingly, his batting average tumbled, but that may have been the result of a combination of bad luck, and a slight drop in the number of balls he hit to the opposite field. The good news on the health front is that Belt was fully cleared for offseason workouts soon after the conclusion of the regular season. There is 25-homer power in his bat, but the concerns are two fold: health leads the way, but the quality of the offense around him is another area of intrigue as the Giants attempt to reshape their roster after finishing 14th out of 15 National League teams in runs scored last season.
Belt took another step forward as a professional hitter in 2016, but it was tough to notice from a fantasy perspective. The noticeable improvement was in his plate discipline, finishing with a .394 on-base percentage, good enough for fourth among all first basemen. Unless his owners participated in leagues that count on-base percentage, then they were likely left wanting more from Belt. He'll never be the power threat many thought he would be when he broke into the league, but he will get on-base at an elite clip and provide mid-level counting stats. The only potential for improvement would be if manager Bruce Bochy elects to move him to second in the batting order (something he experimented with for seven games last season), or if he begins to steal bases again. The former would create more potential for runs if he can get on in front of Buster Posey, Hunter Pence and Brandon Crawford.
Belt turned in one of his best seasons from an offensive standpoint in 2015, though he went through a series of hot and cold streaks throughout the season, providing immense fantasy value when hot, but close to nothing during his dry spells. One can really see his polarizing value when looking at his monthly splits from 2015. In the months of April, June, and September, Belt batted .242 with just three home runs; in the months of May, July, and August, he batted .320 with 15 homers. So while his overall numbers suggest a steady, multi-category contributor (i.e. Eric Hosmer), Belt was more of a feast-or-famine asset. Looking towards 2016, Belt should continue to see the majority of the starts at first base, and the occasional start in left when Buster Posey needs a day off. In roto leagues, Belt is a mid-level first baseman to target, but for those in head-to-head leagues, it would be best to let another team draft him and deal with the ups and downs
Last year was the second consecutive season in which Belt hit at least 10 homers. That's about the only positive that can be taken from a season in which he first missed eight weeks with a thumb injury and then had to deal with concussion symptoms in the second half. Belt had a weird season statistically in that 10 of his 12 homers came against righties, but his batting average was 30 points better against lefties. Historically, he does not have splits in terms of batting average, but 33 of his 45 career home runs have come against righties. It feels like Belt is on the verge of a career breakout as he has flashed the skills necessary to be a productive player, but injuries in 2014 derailed that progress. Perhaps that will hold down his draft value so savvy owners can pounce on a player who has .280/25/100 potential.
It was a tale of two seasons for Belt in 2013, as he got off to a slow start, while being hampered by an illness and a minor neck injury. He really turned things around after the All-Star break, though, putting together an impressive .326/.390/.525 line in 247 second-half plate appearances. Just when we thought we had Belt figured out –- a patient hitter with light power and light speed -- he showed a spike in power, with a .193 ISO this past season compared to .146 in 2012. The improvement in the power department may not be a fluke, as his HR/FB ratio in 2013 was a maintainable 10.6 percent and was actually lower than the 15.8 percent he posted when he burst onto the scene in 2011. Because of the disparity between his first and second halves, Belt will likely be a polarizing asset come draft day, but there is upside here, if he continues to build on the expanded power output that he displayed last season.
Belt improved in his second season with the Giants posting a stronger wOBA of .339 and a 116 wRC+, however his HR/FB ratio dropped from 15.8 to 6.2 percent. Additionally, his ISO dropped from .187 to .146 as his flyball rate dropped from 43.8 to 36.6 percent. The drop in flyballs was a result in his increased line drive rate (25.6 percent), which helped propel him to a .351 BABIP. Belt will finally have first base all to himself heading into 2013, but his average is likely to drop considering his swinging-strike rate (12.8 percent). It is unlikely he will keep his strikeout rate at 22.5 percent if he continues to whiff that often, leaving plenty of risk here in the batting average department barring improvement.
A slow start with the Giants last season resulted in a trip back to the minors for Belt, who once again tore up the inferior competition, posting a .320/.461/.528 line with a 47:48 BB:K ratio. After he was finally recalled, he suffered a wrist injury and was jerked around in the lineup, rarely seeing regular playing time. Belt is clearly the Giants' best prospect and would likely be the team's third-best hitter if they left him alone and gave him a full-time job in 2012, but unfortunately, that's still no guarantee. He'll enter spring training likely battling Nate Schierholtz for the right-field job, though first base (his natural position) could just as easily once again become an option if Aubrey Huff doesn't bounce back. Belt is a fantasy sleeper since the hype has mostly worn off by now.
Taken in the fifth round of the 2009 draft, Belt has quickly developed into one of the better prospects in baseball and certainly the best in the Giants organization. He hit .352/.455/.620 with a 93:99 BB:K ratio throughout the minors last season, including holding his own at Triple-A (.956 OPS) at age 22. The left-hander has more gap power than 40-homer potential, but that will play just fine at AT&T Park. While he may spend the first couple of months of 2010 in Triple-A getting more seasoning, Belt is fully expected to be given a chance to win an everyday job with San Francisco in spring training. He's the future at first base for the Giants and is a sleeper in fantasy leagues.
More Fantasy News