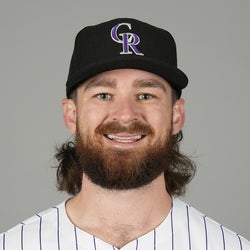 Out
Injury Shoulder
Est. Return 8/1/2023
2023 Fantasy Outlook
Rodgers has seemingly been on the scene forever, yet he is now entering his age 25 season. The journey here has been marred with mulitple injuries, and 2022 was his first "full" season in the big leagues but even it saw him play fewer than 140 games. His hitting profile is one much like other Colorado players: rakes at home (.317/.388/.511) while struggling mightily on the road (.239/.292/.354.) He does not have any one fantasy skill to target as you look to build your roster as he does not do anything particularly well. His ability to reach base is very much built on the volatility of his batting average which limits his run scoring while his next stolen base will be the first one of his career. For all the hype coming up in his prep days and his days in the minors, we are left wanting much more from him. Youth is still on his side, but your impatience is warranted.
Read Past Outlooks
$Signed a one-year, $2.7 million contract with the Rockies in January of 2023.

Could need season-ending surgery
Rodgers was determined to have suffered significant damage to the capsule in his left shoulder following an MRI on Wednesday and could be facing season-ending surgery,
Thomas Harding of MLB.com
reports.
ANALYSIS
Rodgers was initially diagnosed with a dislocated left shoulder when he dove hard for a ball in a Cactus League game Tuesday against the Rangers, but follow-up tests have revealed a more serious injury than anticipated. Harding notes that doctors are still reviewing the full scope of the issue, so it may be several days before a determination on surgery is made one way or the other. The 26-year-old had been in line to serve as the Rockies' everyday second baseman in 2023, but his expected absence will force Colorado to alter its plans.
Ryan McMahon
could move over from third base to man the keystone, or Colorado could roll with
Harold Castro
or
Alan Trejo
at the position. Either way, Rodgers appears destined for an extended absence, and his expected absence for a large chunk of the season -- if not all of it -- is a major blow for the Rockies organization.
Read More News
Batting Stats
2022 MLB Game Log

Calculate Stats Over Time
Just click on any two dates.
Scoring
FanDuel
DraftKings
Yahoo DFS
FantasyDraft
Head2Head
Loading Batting Game Log...
2021 MLB Game Log

Calculate Stats Over Time
Just click on any two dates.
Scoring
FanDuel
DraftKings
Yahoo DFS
FantasyDraft
Head2Head
Loading Batting Game Log...
2020 MLB Game Log

Calculate Stats Over Time
Just click on any two dates.
Scoring
FanDuel
DraftKings
Yahoo DFS
FantasyDraft
Head2Head
Loading Batting Game Log...
2019 MLB Game Log

Calculate Stats Over Time
Just click on any two dates.
Scoring
FanDuel
DraftKings
Yahoo DFS
FantasyDraft
Head2Head
Loading Batting Game Log...
Minor League Game Log

Calculate Stats Over Time
Just click on any two dates.
Loading Minor League Batting Game Log...
Batting Order Slot Breakdown
#1
#2
#3
#4
#5
#6
#7
#8
#9
#1
#2
#3
#4
#5
#6
#7
#8
#9
Left/Right Batting Splits
OPS
PA
HR
RBI
AVG
Since 2020

vs Left

.912
316
16
47
.310
Since 2020

vs Right

.676
701
12
69
.251
2022

vs Left

.899
201
8
28
.317
2022

vs Right

.647
380
5
35
.239
2021

vs Left

.983
106
8
19
.317
2021

vs Right

.733
309
7
32
.273
2020

vs Left

.333
9
0
0
.111
2020

vs Right

.167
12
0
2
.083
More Splits

→

View More Split Stats
Home/Away Batting Splits
OPS
PA
HR
RBI
AVG
Since 2020

Home

.802
512
13
69
.296
Since 2020

Away

.696
505
15
47
.243
2022

Home

.875
297
10
46
.313
2022

Away

.588
284
3
17
.218
2021

Home

.723
207
3
21
.280
2021

Away

.873
208
12
30
.289
2020

Home

.250
8
0
2
.125
2020

Away

.231
13
0
0
.077
More Splits

→

View More Split Stats
Stat Review
How does Brendan Rodgers compare to other hitters?
This section compares his stats with all batting seasons from the previous three seasons (minimum 400 plate appearances)*. The bar represents the player's percentile rank. For example, if the bar is halfway across, then the player falls into the 50th percentile for that stat and it would be considered average.
* Exit Velocity and Barrels/PA % are benchmarked against 2019 data (min 400 PA) and Hard Hit Rate is benchmarked against last season's data (min 400 PA).
See here for more exit velocity/barrels stats
plus an explanation of current limitations with that data set.
BB/K

Walk to strikeout ratio

BB Rate

The percentage of plate appearances resulting in a walk.

K Rate

The percentage of plate appearances resulting in a strikeout.

BABIP

Batting average on balls in play. Measures how many of a batter's balls in play go for hits.

ISO

Isolated Power. Slugging percentage minus batting average. A computation used to measure a batter's raw power.

AVG

Batting average. Hits divided by at bats.

OBP

On Base Percentage. A measure of how often a batters reaches base. Roughly equal to number of times on base divided by plate appearances.

SLG

Slugging Percentage. A measure of the batting productivity of a hitter. It is calculated as total bases divided by at bats.

OPS

On base plus slugging. THe sum of a batter's on-base percentage and slugging percentage.

wOBA

Weighted on-base average. Measures a player's overall offensive contributions per plate appearance. wOBA combines all the different aspects of hitting into one metric, weighting each of them in proportion to their actual run value.

Exit Velocity

The speed of the baseball as it comes off the bat, immediately after a batter makes contact.

Hard Hit Rate

A measure of contact quality from Sports Info Solutions. This stat explains what percentage of batted balls were hit hard vs. medium or soft.

Barrels/PA

The percentage of plate appearances where a batter had a batted ball classified as a Barrel. A Barrel is a batted ball with similar exit velocity and launch angle to past ones that led to a minimum .500 batting average and 1.500 slugging percentage.

Expected BA

Expected Batting Average.

Expected SLG

Expected Slugging Percentage.

Sprint Speed

The speed of a runner from home to first, in feet per second.

Ground Ball %

The percentage of balls put in play that are on the ground.

Line Drive %

The percentage of balls put in play that are line drives.

Fly Ball %

The percentage of balls put in play that are fly balls.
Prospect Rankings History
Advanced Batting Stats
Loading Advanced Batting Stats...
Games By Position
Defensive Stats
Loading Games Played by Position...
Loading MLB Defensive Stats...
Batted Ball Stats
Loading Batted Ball Stats...
Stats Vs Upcoming Pitchers
Our full team depth charts are reserved for RotoWire subscribers.
Subscribe Now
Recent RotoWire Articles Featuring Brendan Rodgers
See More
Drew Silva checks out the MLB win totals market and identifies his favorite bets as Opening Day nears. Can Corbin Carroll fuel a big season in Arizona?
Erik Siegrist explains three different approaches to steals this season, including the path he took in his TGFBI draft.
Erik Halterman tackles the biggest risers and fallers around the league since spring training games began, starting with Jazz Chisholm who comes with some risk but potentially offers a huge payout.
Past Fantasy Outlooks
2022
2021
2020
2019
2018
2017
2016
Rodgers is one of the few Rockies hitters who might actually be worth starting on the road. After struggling for years with injuries, he's finally getting a chance to play every day. While he won't steal bases (his last stolen base attempt was back in 2018), he should provide some pop with a decent batting average. One issue is that he hits a few too many groundballs, but Rodgers did lower the rate from 58% in May to 50% in September. His production could really take off if he could drop that rate by another 10 percentage points. Besides lofting a few more batted balls, it would be nice to see him be more selective at the plate and improve on his walk rate. Also, he might be able to square up some more pitches if he weren't reaching for every pitch. If he just repeats his 2021 performance, he's a nice player and there are a few areas he could improve.
The lack of minor-league games in 2020 meant that many young players got more of a chance at the big-league level than they otherwise would have. Rodgers was not one of those. He failed to break camp in the majors and appeared in just seven games before suffering a season-ending shoulder injury. The shoulder strain was considered fairly minor, but it was surgery on that same shoulder that cost him the majority of the 2019 season, so there could be reason to worry moving forward. More worrisome, perhaps, is that he's been dreadful at the plate in 102 plate appearances thus far, hitting .196/.235/.227. That's a small sample, but it sure would have been nice to see a player of his talent show at least something. He still has his prospect hype and the potential to one day be a regular at Coors Field to keep him interesting, but he has no clear role and comes with significant injury and performance questions.
This is the first offseason since Rodgers entered pro ball in which he is not an overrated dynasty asset. He made his big-league debut in May, was awful (25 wRC+, 27:4 K:BB) in 25 games and then needed season-ending surgery to repair a torn labrum in his throwing shoulder. Rodgers' approach has been dreadful at times, but he posted excellent numbers (147 wRC+, .273 ISO, 16.9 K%, 8.8 BB%) in a return trip to the Pacific Coast League. Given that it was a 37-game sample and they were using the juiced ball in the already hitter-friendly PCL, we can't say with any confidence that Rodgers has turned a corner. His 31.0 Hard% and 22.1 Soft% were middling marks for a 22-year-old slugger, but his 25.0 LD% and 31.4 Oppo% were impressive and he had his best walk rate since rookie ball. Rodgers should enter spring training as the underdog in a competition with Ryan McMahon and Garrett Hampson for time at second base.
The last time Rodgers' performance appeared to match his pedigree (No. 3 overall in 2015) and dynasty-league hype, he was taking advantage of the extreme hitter-friendly conditions of Lancaster in 2017. He was productive in a return trip to Double-A (129 wRC+), but his aggressive, pull-heavy approach was exposed after a promotion to Triple-A, where he had a 16:1 K:BB in 72 PA. Were it not for the existence of Coors Field, his struggles against quality breaking balls and good sequencing would portend a sub-.250 average in the majors. Rodgers was assigned to the Arizona Fall League, but was scratched from the roster with shoulder tightness. He will return to Triple-A while Garrett Hampson gets a crack at cementing himself as Colorado's second baseman. Rodgers' pedigree will motivate the Rockies to give him big-league opportunities soon, but betting on a quality batting average to go with his plus power is simply a bet on his home park.
This should serve as the all-time reminder of how wonderful it is to hit at Lancaster. In the JetHawks' home park, Rodgers slashed .461/.488/.809 with eight home runs in 26 games. After his promotion to Hartford, however, he was barely a league-average hitter (104 wRC+). Rodgers still carries the status of an elite prospect in most circles, largely due to the hype that surrounded him when he was the No. 3 overall pick in 2015, but he is not without flaws. He hit just .245/.330/.362 against right-handed pitching at Double-A and had 14 walks all season. It remains unclear if he will end up at shortstop or second base long term. He will likely head back to Double-A as a 21-year-old with above-average power and the potential for an above-average hit tool. Rodgers is a better prospect than Trevor Story or DJ LeMahieu were, but he likely won't be able to match LeMahieu's batting average or Story's power. Still, the sum of his tools could equate to the best middle infielder the Rockies have had since Troy Tulowitzki.
Rodgers tied for fifth across all of Low-A and was second among teenagers at the level with 19 home runs. Believed to have an above-average hit tool and plus power when he was selected third overall in the 2015 draft, Rodgers has lived up to his billing so far as a professional, but it is worth noting that he took great advantage of the hitter-friendly home park in Asheville. Rodgers slashed .318/.376/.597 with 13 home runs in 51 home games and .247/.310/.372 with six home runs in 59 road contests. Also of note: Rodgers started 24 games at second base, something that rarely happens at Low-A with high-end prospects who are going to stick at shortstop. The Rockies' affiliates above Low-A are also extremely hitter-friendly, as is Coors Field, so his numbers could be environmentally bolstered for the foreseeable future. Additionally, shortstop is no longer the wasteland it was a couple years ago, so for fantasy purposes, it is not a huge deal if Rodgers ends up at the keystone.
The No. 3 overall pick in last year's draft handled his first professional assignment well, slashing .273/.340/.420 with three home runs and four steals (on seven attempts) in 37 games in the Pioneer League. He will undoubtedly be compared to the first overall pick, Dansby Swanson, as the two shortstops rise through the minor league ranks, in part because they have somewhat contrasting profiles. Swanson was the safe option out of college, while Rodgers was the high upside prep shortstop teams could dream on. Dynasty league owners will be faced with the same predicament this offseason. Rodgers has more upside in the power department, thanks to a quick bat and loft-generating swing, and it is easy to get excited about him calling Coors Field home someday. Rodgers' 37:15 K:BB was quite palatable, so batting average should not be a major concern, although Swanson probably has the edge there. The one knock on Rodgers is that he is probably four years away from the big leagues.
More Fantasy News