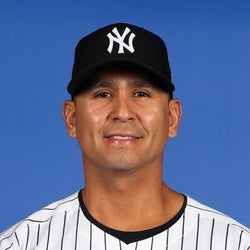 Out
Injury Finger
Est. Return 2/1/2024
Rest-of-Season Projections
2023 Fantasy Outlook
Carrasco's first season with the Mets in 2021 was a disaster as injuries limited him to 12 starts, and he struggled when available with a 6.04 ERA. The right-hander bounced back last season and picked up 15 wins with a 3.97 ERA and 152:41 K:BB across 152 innings (29 starts). He improved both his strikeout (23.6 percent) and walk rates (6.9 percent), and his 46 percent groundball rate was his best since 2018. Carrasco is entering his age-36 season, and his availability can't be guaranteed given his extensive injury history. However, he remains a strong back-end piece for the Mets' rotation after the team exercised his $14 million club option for 2023.
Read Past Outlooks
$Signed a four-year, $47 million contract extension with the Indians in December of 2018. Traded to the Mets in January of 2021. Mets exercised $14 million team option for 2023 in November of 2022.

Carrasco was placed on the 15-day injured list Tuesday with a fracture of his right fifth finger and is expected to be sidelined 4-to-6 weeks,
Pat Ragazzo of SI.com
reports.
ANALYSIS
Carrasco had been listed as the probable starter for Wednesday's series finale at Washington, but the Mets will now have to pivot after the veteran right-hander fractured the pinky on his throwing hand Sunday in a weight room incident. It'll be a season-ending setback for Carrasco, who finishes with an ugly 6.80 ERA, 1.70 WHIP and 66:38 K:BB across 90 innings (20 starts) with New York. He is scheduled to become a free agent in November.
Read More News
Pitching Stats
Loading Pitching Stats...
2023
2022
2021
2020
2019
2018
2017
2023 MLB Game Log

Calculate Stats Over Time
Just click on any two dates.
Scoring
FanDuel
DraftKings
Yahoo DFS
Loading Pitching Game Log...
2022 MLB Game Log

Calculate Stats Over Time
Just click on any two dates.
Scoring
FanDuel
DraftKings
Yahoo DFS
Loading Pitching Game Log...
2021 MLB Game Log

Calculate Stats Over Time
Just click on any two dates.
Scoring
FanDuel
DraftKings
Yahoo DFS
Loading Pitching Game Log...
2020 MLB Game Log

Calculate Stats Over Time
Just click on any two dates.
Scoring
FanDuel
DraftKings
Yahoo DFS
Loading Pitching Game Log...
2019 MLB Game Log

Calculate Stats Over Time
Just click on any two dates.
Scoring
FanDuel
DraftKings
Yahoo DFS
Loading Pitching Game Log...
2018 MLB Game Log

Calculate Stats Over Time
Just click on any two dates.
Scoring
FanDuel
DraftKings
Yahoo DFS
Loading Pitching Game Log...
2017 MLB Game Log

Calculate Stats Over Time
Just click on any two dates.
Scoring
FanDuel
DraftKings
Yahoo DFS
Loading Pitching Game Log...
Minor League Game Log

Calculate Stats Over Time
Just click on any two dates.
Loading Minor League Pitching Game Log...
Pitching Appearances Breakdown
How many pitches does Carlos Carrasco generally throw?
What part of the game does Carlos Carrasco generally pitch?
% Games Reaching Innings Threshold
% Games By Number of Innings Pitched
Left/Right Pitching Splits
BAA
K
BB
H
HR
Since 2021

vs Left

.261
114
55
136
19
Since 2021

vs Right

.302
154
42
199
28
2023

vs Left

.288
25
26
46
7
2023

vs Right

.327
41
12
69
11
2022

vs Left

.250
68
20
65
9
2022

vs Right

.288
84
21
96
8
2021

vs Left

.245
21
9
25
3
2021

vs Right

.296
29
9
34
9
More Splits

→

View More Split Stats
Home/Away Pitching Splits
ERA
WHIP
IP
K/9
BB/9
Since 2021

Home

5.23
1.47
161.2
8.6
3.3
Since 2021

Away

5.17
1.45
134.0
7.6
2.6
2023

Home

8.48
1.86
40.1
8.0
4.5
2023

Away

5.44
1.57
49.2
5.4
3.3
2022

Home

3.56
1.37
91.0
9.1
2.9
2022

Away

4.57
1.26
61.0
8.9
1.8
2021

Home

5.93
1.25
30.1
8.0
3.0
2021

Away

6.17
1.67
23.1
8.9
3.1
More Splits

→

View More Split Stats
Stat Review
How does Carlos Carrasco compare to other starting pitchers?
This section compares his stats with all starting pitcher seasons from the previous three seasons (minimum 120 innings)*. The bar represents the player's percentile rank. For example, if the bar is halfway across, then the player falls into the 50th percentile for that stat and it would be considered average.
* Exit Velocity, Barrels/BBE %, Balls Hit 95+ MPH %, and Spin Rate are benchmarked against 2019 data (min 120 IP).
See here for more exit velocity/barrels stats
plus an explanation of current limitations with that data set.
K/BB

Strikeout to walk ratio.

K/9

Average strikeouts per nine innings.

BB/9

Average walks per nine innings.

HR/9

Average home runs allowed per nine innings.

Fastball

Average fastball velocity.

ERA

Earned run average. The average earned runs allowed per nine innings.

WHIP

Walks plus hits per inning pitched.

BABIP

Batting average on balls in play. Measures how many balls in play against a pitcher go for hits.

GB/FB

Groundball to flyball ratio. The higher the number, the more likely a pitcher is to induce groundballs.

Left On Base

The percentage of base runners that a pitcher strands on base over the course of a season.

Exit Velocity

The speed of the baseball as it comes off the bat, immediately after a batter makes contact.

Barrels/BBE

The percentage of batted ball events resulting in a Barrel. A Barrel is a batted ball with similar exit velocity and launch angle to past ones that led to a minimum .500 batting average and 1.500 slugging percentage.

Spin Rate

Spin Rate is the rate of spin on a baseball after it is released. It is measured in revolutions per minute (rpm).

Balls Hit 95+ MPH

The percentage of batted balls hit that met or exceeded the 95 MPH threshold.

Swinging Strike

The percentage of pitches that result in a swing and a miss.
Advanced Pitching Stats
Loading Advanced Pitching Stats...
Loading MLB Defensive Stats...
Recent RotoWire Articles Featuring Carlos Carrasco
See More
Past Fantasy Outlooks
2022
2021
2020
2019
2018
2017
2016
2015
2014
2013
2012
2011
2010
2009
2008
2007
2006
Carrasco was limited to 12 due to injury during his first year with the Mets and finished with a 6.04 ERA and 21.1 percent strikeout rate over 53.2 innings, but he's entering 2022 in good shape after undergoing surgery early in the offseason. The 35-year-old will be featured at the back end of New York's rotation thanks to the offseason additions of Max Scherzer and Chris Bassitt, so he shouldn't be expected to pitch exceptionally deep on the regular. Carrasco had a 2.91 ERA during the shortened 2020 campaign and could be a good value this season, but he'll need to significantly improve upon his results from last year.
Seeing Carrasco pitch at even a decent level would have been quite encouraging after he struggled to a 5.29 ERA in 2019 while battling leukemia. In that context, his 2.91 ERA in 12 starts last season, his lowest mark since 2014, is even more impressive than it otherwise would be. The veteran righty's supporting stats aren't quite as positive, though they were still quite strong. His 29.3 K% was right in line with his numbers from previous season, but he posted a 9.6 BB% rate after coming in below 6% in that category in each of the previous six campaigns. That led to a 3.65 xFIP, his worst mark since 2013. That said, that's not a remotely poor figure, and if his ERA regresses to that range (or slightly worse, given that he's heading into his age-34 season) he'll still be quite a useful fantasy option, even if he can't feast on AL Central hitters after being traded to the Mets in January.
It goes without saying his entire 2019 season should be looked at with a big grain of salt given Carrasco received a Leukemia diagnosis, went through treatment and came back to pitch in the same season. Carrasco had a 4.98 ERA before the diagnosis and stay on the injured list. The strikeout and walk rate skills held up very well in those 12 starts, but Carrasco struggled mightily with the super happy fun ball and gave up 14 homers in 65 innings. He came back to pitch 15 innings in relief to close out the season, but had the same issues as before the illness, and his velocity was not all the way back. At the end of the day, the performance skills are worthy of an SP2 spot on your staff. He is someone you can roster at a discount early this winter because his value will rise every week with better news about his recovery and as we get ballpark data on his velocity readings.
Carrasco's 2018 season was stellar overall, but his second half in particular was especially brilliant. He was borderline untouchable coming out of the All-Star break and finished with a 2.52 ERA, 1.07 WHIP and 12.0 K/9 in the second half. His 27.3 K-BB% after the break ranked fifth among qualified starters, behind Justin Verlander, Max Scherzer, Jacob deGrom and German Marquez. Though he still has just one 200-inning season to his name, those once-prevalent durability question marks have largely faded into the background with Carrasco as he has surpassed 180 innings in three of the last four years, which in today's game qualifies him as a workhorse. He did miss a brief stretch during the summer, but that was the result of a line drive off the forearm. Carrasco is going to be 32 on Opening Day, so the downturn may be coming, but he's shown no signs of falling off so far and thus Carrasco should be treated as a fantasy ace.
Carrasco has delivered ace-level production since late 2014, but it wasn't until his DL-free 2017 season that fantasy owners were able to reap the full benefits of his talents. The right-hander shook off durability concerns to reach 200 innings for the first time while churning out a 22.6 K-BB percentage that ranked sixth among qualified starters. Carrasco curbed the home-run issues that occasionally dogged him in 2016, with his 12.4 percent HR/FB representing his best showing in the category since 2011. Carrasco's improvement in that regard is rendered more impressive considering the league-wide power context and offers optimism about his ability to sustain ERAs in the low 3.00s going forward. Now on the wrong side of 30 years old, Carrasco's past injury issues shouldn't be completely forgotten, but there isn't much reason to doubt him continuing to pitch at a high level.
The final numbers for Carrasco look well and good, but his owners were left wondering; what might have been? Carrasco missed more than month after suffering a hamstring strain in his fourth start of the season, and a non-displaced hand fracture ended his season prematurely in September. He wasn't quite as dominant when on the mound, as his strikeout rate fell from 29.6 percent to 25.0 percent, while his hard-hit and HR/9 rates leaped considerably (to 36.4 percent and 1.29, respectively). His fastball and slider velocity averages were down a tick overall from 2015, but Carrasco regained some of those losses late in the year. Further, his walk and groundball rates remain excellent, and his strikeout rate was still strong for a starting pitcher. If he can stay healthy and reduce the amount of hard contact allowed, Carrasco could return to borderline ace status. Unfortunately, he's not off to a good start with the "stay healthy" part, having come down with some swelling in his elbow during spring training. The Indians say there is no structural damage.
Carrasco was one of the biggest gambles in 2015. Not only was his 134-inning sample from 2014 small by itself, but it was really the 69 innings to close the season that ramped up his cost, so an already-small sample was parsed even further to make him a top-30 starter. The result was a top-15 starter despite adding more than a run to his ERA. His skills remained elite for 30 starts with some poor defense and a comebacker that hit him being the only obstacles in his way. In fact, once Francisco Lindor and Giovanny Urshela shored up the left side of the infield, Carrasco had a 3.12 ERA in 110 innings (4.38 in 74 prior). Carrasco is one of four pitchers with a 25-plus percent K-rate, 50-plus percent groundball rate, and 4.0-plus K/BB since the start of 2014, along with Clayton Kershaw, Jake Arrieta and Felix Hernandez. These skills are worthy of much better than a 3.63 ERA.
If you have ever wondered why those guys with prospect pedigree get several chances even when it seems hopeless, Carrasco's 2014 is an example of how well it can pan out when it does finally come together. That doesn't mean you will always see it coming, as Carrasco had a 5.29 ERA in 238 major league innings along with a Tommy John surgery under his belt before this breakout. Then he kicked off 2014 with a 6.95 ERA in his first four starts, which only further suggested that it just wasn't going to work. He spent the next three-plus months cultivating a slider in the bullpen before returning to the rotation and pitching as arguably the best arm in baseball. His 1.30 ERA upon returning to the rotation was baseball's best while his 0.81 WHIP was third-best. Elite velocity and three bankable secondary pitches fueled the success and leave many encouraged for a full season in the rotation in 2015. There's still risk betting on a 69-inning sample, but there is a lot to love here and Carrasco could be Cleveland's next stud.
Carrasco struggled with the Indians in a starting role but excelled at Triple-A (3-1, 3.14 ERA, 1.12 WHIP in 14 starts) after missing the entire 2012 season following Tommy John surgery. He should get a look at the back end of the rotation following the departures of Ubaldo Jimenez and Scott Kazmir, but could shift into a late-inning relief role if he's unable to crack the starting rotation. Although the results in the big leagues were disappointing, Carrasco saw a significant spike in the velocity of his fastball, which averaged a career-high 94.9 mph in 2013. The raw tools remain intriguing, but perhaps a max-effort relief role would mitigate his issues with hard contact while reducing the impact of his secondary offerings.
Carrasco missed the entire season following Tommy John surgery, but showed some nice velocity in his rehab appearances in September, touching the low-90s with his fastball. The Indians fully expect him to compete for a rotation spot this spring. He's struggled at times (1.47 WHIP, 6.3 K/9 in 33 career starts) but has shown some glimpses of promise as well. He could make for a nice upside play in deeper formats after missing all of last season, especially considering his age and the Indians' need for viable arms in their rotation.
Carrasco battled an elbow injury from the start of the season, hitting the DL in April, and eventually requiring Tommy John surgery in August. He wasn't overly effective in the 21 starts he was able to make and hasn't panned out like the Indians had hoped after being acquired as a top prospect from the Phillies farm system as part of the Cliff Lee deal in 2009. He'll miss most, if not all, of the 2012 season recovering from elbow surgery.
Carrasco caught fire in the second half at Triple-A Columbus and earned himself a promotion to the Indians in September. He pitched well enough (2-2, 3.83 ERA, 1.366 WHIP in seven starts) to cement a spot in the starting rotation this year and enters the season as the team's likely No. 3 starter. There's more pedigree here than you might think, as Carrasco was once regarded as the top prospect in the Phillies farm system before the Indians acquired him in the Cliff Lee deal in July 2009. With an ability to induce groundballs (2.27 G/F) and an ample 7.66 K/9IP mark, he could surprise as the rebuilding efforts in Cleveland continue.
Carrasco entered the season as the Phillies' top prospect, struggled at Triple-A Lehigh Valley and found himself as the centerpiece in the Cliff Lee deal. He hit the ground running at Triple-A Columbus (42.1 innings, 31 hits, 36:7 K:BB) and earned himself a callup to the Indians in September. He was a total disaster in five starts (2.284 WHIP, 8.87 ERA) for the Indians but he'll have a chance to win a rotation spot this spring. He needs some ironing out at Triple-A so expect a fair amount of wrinkles if he lands a rotation spot.
After a successful stint in Double-A Reading for much of the 2008 season, Carrasco, the Phillies' 20-year-old top prospect, was promoted to Triple-A Lehigh Valley in early-August and saw continued success. Over the course of the year, Carrasco went 9-9 in 25 starts and finished with a 3.75 ERA, 1.35 WHIP and 155 strikeouts in 151.1 innings pitched. He'll be given a chance in spring training to compete for the No. 5 spot in Philadelphia's starting rotation and given his strikeout potential and strong offensive support, could be a huge sleeper if he wins the job. For owners in particularly deep leagues, he's probably worth stashing on your roster regardless of whether he heads north with the big league club.
Carrasco had his first taste of Double-A at age 20 in 2007. He held his own in Reading, but his command took a turn for the worse (49:46 K:BB ratio with Reading after a 53:22 mark at Clearwater). He has a low-90's fastball and a good changeup, while his curveball improved greatly in 2007. If he can right the ship with his command, a midseason callup is not out of the question. Even if he spends all season in the minors, Carrasco is shaping up to be a 22-year-old with an eye on the Phillies' 2009 Opening Day rotation.
Carrasco broke through in full-season ball in 2006, blowing through the Sally League and pitching in the All-Star Futures Game. He features a good pitcher's frame (6-3, 178 lbs.), a low-90s fastball and a good changeup. Carrasco's breaking ball is still a work in progress and his motion appears to be high maintenance, so give him another year or two before he surfaces in Philly.
Carrasco is a young righthander in the Phillies chain. He throws in the low 90s and has major league potential, although he stumbled in his first try at Class A in 2005. Carrasco will head back to A ball in 2006 and is at least two years from the majors.
More Fantasy News