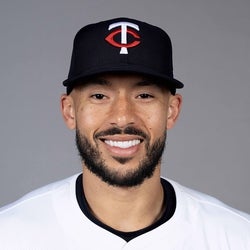 Rest-of-Season Projections
2023 Fantasy Outlook
Correa returns to Minnesota after a wild offseason that saw him agree to $300+ million, 10+ year contracts with the Giants and then Mets only to be negated by concerns over the long-term health of his right ankle during a physical. Correa suffered the injury in the minors in 2014 and had a plate inserted in his ankle. Fantasy managers have given up any hope for steals out of Correa (where the risk to his leg may be a factor), but he is a solid four-category player as long as he remains on the field. A bruised finger kept him on the IL for a spell last season, but he closed the campaign on a high note, finishing with an .853 OPS that was nearly identical to his mark from his last season in Houston. And while the concerns over the long-term risk of his leg prevented him from getting a larger contract, it doesn't appear to be an issue in the short term. Correa's run and RBI totals took a big step back in both categories in 2022 despite enjoying relatively good health, but he could improve if the rest of Minnesota's lineup has better health after an injury-plagued season.
Read Past Outlooks
$Signed a six-year, $200 million contract with the Twins in January of 2023. Contract includes $25 million vesting option or team option for 2029 with 575 plate appearances in 2028, $20 million vesting option or team option for 2030 (with 550 plate appearances in 2029), $15 million vesting option or team option for 2031 (with 525 plate appearances in 2030) and $10 million vesting option or team option for 2032 (with 502 plate appearances in 2031).

Tallies three hits in win
Correa went 3-for-4 with two doubles, three RBI and one walk in Sunday's 6-2 win over the Astros in Game 2 of the ALDS.
ANALYSIS
The star shortstop was an RBI machine in this contest, accounting for half of his team's runs to help tie the series. Correa was preparing himself for a postseason mentality at the end of the regular season, finishing the year with an .840 OPS across 15 games in September, his best mark of any month. That success has translated into October, as he now is slashing .533/.588/.733 across four games this postseason and has also contributed four RBI.
Read More News
Batting Stats
2023
2022
2021
2020
2019
2018
2017
2023 MLB Game Log

Calculate Stats Over Time
Just click on any two dates.
Scoring
FanDuel
DraftKings
Yahoo DFS
Loading Batting Game Log...
2022 MLB Game Log

Calculate Stats Over Time
Just click on any two dates.
Scoring
FanDuel
DraftKings
Yahoo DFS
Loading Batting Game Log...
2021 MLB Game Log

Calculate Stats Over Time
Just click on any two dates.
Scoring
FanDuel
DraftKings
Yahoo DFS
Loading Batting Game Log...
2020 MLB Game Log

Calculate Stats Over Time
Just click on any two dates.
Scoring
FanDuel
DraftKings
Yahoo DFS
Loading Batting Game Log...
2019 MLB Game Log

Calculate Stats Over Time
Just click on any two dates.
Scoring
FanDuel
DraftKings
Yahoo DFS
Loading Batting Game Log...
2018 MLB Game Log

Calculate Stats Over Time
Just click on any two dates.
Scoring
FanDuel
DraftKings
Yahoo DFS
Loading Batting Game Log...
2017 MLB Game Log

Calculate Stats Over Time
Just click on any two dates.
Scoring
FanDuel
DraftKings
Yahoo DFS
Loading Batting Game Log...
Minor League Game Log

Calculate Stats Over Time
Just click on any two dates.
Loading Minor League Batting Game Log...
Batting Order Slot Breakdown
#1
#2
#3
#4
#5
#6
#7
#8
#9
#1
#2
#3
#4
#5
#6
#7
#8
#9
Left/Right Batting Splits
OPS
PA
HR
RBI
AVG
Since 2021

vs Left

.859
517
16
54
.281
Since 2021

vs Right

.777
1293
50
167
.262
2023

vs Left

.781
136
5
14
.248
2023

vs Right

.690
444
13
51
.224
2022

vs Left

.945
160
6
18
.299
2022

vs Right

.794
430
16
46
.289
2021

vs Left

.844
221
5
22
.290
2021

vs Right

.853
419
21
70
.274
More Splits

→

View More Split Stats
Home/Away Batting Splits
OPS
PA
HR
RBI
AVG
Since 2021

Home

.806
870
31
102
.266
Since 2021

Away

.794
940
35
119
.269
2023

Home

.652
271
6
28
.212
2023

Away

.763
309
12
37
.245
2022

Home

.880
288
11
31
.310
2022

Away

.789
302
11
33
.273
2021

Home

.874
311
14
43
.272
2021

Away

.829
329
12
49
.286
More Splits

→

View More Split Stats
Stat Review
How does Carlos Correa compare to other hitters?
This section compares his stats with all batting seasons from the previous three seasons (minimum 400 plate appearances)*. The bar represents the player's percentile rank. For example, if the bar is halfway across, then the player falls into the 50th percentile for that stat and it would be considered average.
* Exit Velocity and Barrels/PA % are benchmarked against 2019 data (min 400 PA) and Hard Hit Rate is benchmarked against last season's data (min 400 PA).
See here for more exit velocity/barrels stats
plus an explanation of current limitations with that data set.
BB/K

Walk to strikeout ratio

BB Rate

The percentage of plate appearances resulting in a walk.

K Rate

The percentage of plate appearances resulting in a strikeout.

BABIP

Batting average on balls in play. Measures how many of a batter's balls in play go for hits.

ISO

Isolated Power. Slugging percentage minus batting average. A computation used to measure a batter's raw power.

AVG

Batting average. Hits divided by at bats.

OBP

On Base Percentage. A measure of how often a batters reaches base. Roughly equal to number of times on base divided by plate appearances.

SLG

Slugging Percentage. A measure of the batting productivity of a hitter. It is calculated as total bases divided by at bats.

OPS

On base plus slugging. THe sum of a batter's on-base percentage and slugging percentage.

wOBA

Weighted on-base average. Measures a player's overall offensive contributions per plate appearance. wOBA combines all the different aspects of hitting into one metric, weighting each of them in proportion to their actual run value.

Exit Velocity

The speed of the baseball as it comes off the bat, immediately after a batter makes contact.

Hard Hit Rate

A measure of contact quality from Sports Info Solutions. This stat explains what percentage of batted balls were hit hard vs. medium or soft.

Barrels/PA

The percentage of plate appearances where a batter had a batted ball classified as a Barrel. A Barrel is a batted ball with similar exit velocity and launch angle to past ones that led to a minimum .500 batting average and 1.500 slugging percentage.

Expected BA

Expected Batting Average.

Expected SLG

Expected Slugging Percentage.

Sprint Speed

The speed of a runner from home to first, in feet per second.

Ground Ball %

The percentage of balls put in play that are on the ground.

Line Drive %

The percentage of balls put in play that are line drives.

Fly Ball %

The percentage of balls put in play that are fly balls.
Advanced Batting Stats
Loading Advanced Batting Stats...
Games By Position
Defensive Stats
Loading Games Played by Position...
Loading MLB Defensive Stats...
Batted Ball Stats
Loading Batted Ball Stats...
Stats Vs Upcoming Pitchers
Our full team depth charts are reserved for RotoWire subscribers.
Subscribe Now
Recent RotoWire Articles Featuring Carlos Correa
See More
Past Fantasy Outlooks
2022
2021
2020
2019
2018
2017
2016
2015
2014
2013
Correa rebounded from an off year in the 2020 truncated campaign, posting a 134 wRC+ along with playing the best defense of his career as his 20 defensive runs saved was tops among shortstops. At the plate, Correa set a personal low with an 18.1% strikeout rate and career best 11.7% walk rate. The improved plate skills helped balance the second lowest average fly ball exit velocity of his career. Correa still managed to set a career high with 26 homers, taking advantage of the pull-friendly nature of Minute Maid Park. Correa's last stolen base attempt was April 9, 2019, adding pressure to find steals elsewhere. After missing just two games in the pandemic season, Correa played in 148 last year, the most since 2016. He's still a health risk, but the draft injury tax has lessened. Without steals, Correa can't be included with the well-populated top tier shortstops, but he's entrenched in the next group.
"A tale of two seasons" is the cliche; the contrast between Correa's regular-season performance and his performance in the 2020 playoffs was so stark that it's only fitting to use. Correa was below league average by wRC+ during the regular season (97) and barely above replacement level in rotisserie baseball ($1.41 earned in 12-team leagues). However, he turned into a different player once the calendar flipped to October and ended up carrying the Astros to one win short of the World Series with a .362/.455/.766 slash line and six homers in the playoffs. Correa's batted-ball profile does little to excite, but he showed that there is still life in his bat. His lengthy injury history is the bigger concern than his regular-season struggles and that dark cloud and the plethora of capable options at the shortstop position should drive his acquisition cost down to lower than it's ever been since he broke into MLB.
On May 22, Correa was slashing .295/.360/.547, well on the way to showing the previous season's performance and injury struggles were behind him. Then, he reported feeling soreness in his ribs, supposedly from an in-home massage gone wrong. Correa was diagnosed with a cracked rib and spent just over eight weeks on the IL. Over the next month or so, Correa posted a .237/.354/.575 line before succumbing to back soreness. He played three games in September before being shut down until the playoffs. While his early-season performance was encouraging and his rib injury was a fluke, the recurrence of back woes is a huge buzzkill. Under the hood, Correa's indicators resembled those from before 2018. He didn't miss a playoff game, though he batted a disappointing .191/.257/.382 in the postseason. Correa remains an impact fantasy player when healthy, but until he shows he's devoid of back issues, he's a health risk.
For the second consecutive year, Correa's season was abbreviated due to injury. Unlike in 2017, his offensive numbers were not good as the problems with his back and oblique area lingered and affected his performance. A hitter is nothing without a healthy core, and Correa proved that in spades last year as he looked like a shadow of the guy we saw at the plate from 2015-17. The injury issue is present now, and tough to overlook given it has happened in back-to-back seasons, but what should be overlooked is last year's struggles. Asking a hitter to perform at a high level without his core is like asking a sprinter to excel while running with plantar fasciitis. The down year presents a buying opportunity we have not yet had for Correa as expectations have been high since he came on the scene. Jump back in with both feet and hope he gets back over 600 plate appearances to maximize his earning potential.
Correa took another big step forward in his age-22 season, setting new career-highs in homers (24), batting average (.315), on-base percentage (.391) and slugging percentage (.550) while cutting his strikeout rate down to 19.1 percent. The counting stats could have been even better if he hadn't lost two months to a thumb injury suffered while he was sliding into home plate in early July. After returning in September, Correa hit just four homers in the final month of the season, but he swatted five in 18 postseason games while doing his part to help the Astros bring home a World Series title. After reaching double-digit stolen bases in each of his first two seasons with Houston, Correa had just two steals in 2017, which is a particularly surprising shift when you consider that he was 27-for-34 (79.4 percent) in his career prior to last season. With an excellent supporting cast returning around him in Houston, Correa could emerge as an MVP candidate with a completely healthy season in 2018.
Correa had a solid 2016 season that may get lost amid his heightened expectations and with so many other shortstops producing at the plate. Correa drew more walks last season, but also struck out a bit more and also did not get as much loft on his batted balls as he did in his rookie season. He also didn't run as frequently as expected, as he attempted just 17 steals. Correa needs to close the gaps in his splits to improve as he has hit for a better average and more power against righties than he has lefties. He could hit anywhere in the top four spots of the lineup in 2017, but hitting between Alex Bregman and Jose Altuve could be huge for his runs and RBI. At just 23, Correa still has time to become the top player at his position and fantasy superstar many envisioned when drafting him in the first round last year.
Correa, who entered 2015 fully healthy after suffering a fractured fibula the year prior, showed he had nothing left to prove in the minors, hitting .335/.407/.600 with 10 home runs, 44 RBI, and 18 stolen bases in 53 games between Double-A Corpus Christi and Triple-A Fresno. He made his big league debut in June as a 20-year-old and never looked back, replacing the injured Jed Lowrie as the Astros' starting shortstop. Correa surpassed his already lofty expectations by hitting .279/.345/.512 with 22 home runs, 68 RBI, and 14 steals in 99 games for Houston. The former No. 1 pick also broke several playoff records for his historic performance (4-for-4, two home runs, 11 total bases) in Game 4 of the ALDS. Fresh off a tremendous debut season, Correa is likely to be the first shortstop taken off the board in 2016 drafts and is justifiable as a first-round pick.
Correa was tremendous for High-A Lancaster, hitting .325/.416/.510 with six home runs, 57 RBI and 20 steals in just 62 games, before he fractured his fibula in late June, ending his season. Now several months removed from the injury, the 20-year-old shortstop is running, fielding grounders and taking part in other baseball-related activities, and should be fully recovered for the start of spring training. Despite the lost development time, Correa is still widely considered one of the top prospects in baseball. He's likely to spend most of the season, if not all of it, with Double-A Corpus Christi.
Correa, the No. 1 overall pick of the 2012 MLB draft, got off to a slow start in April (.221 batting average), but really turned up the heat after that to finish his first full season with an impressive .320/.405/.467 line despite missing time with a pair of hand injuries. He didn't hit for much power (nine home runs), but he tied for sixth in the Midwest League with 33 doubles and ranked fourth with 86 RBI. Those numbers, combined with uncertainty surrounding Correa's long-term defensive position between shortstop and third base, drew comparisons to the Orioles' Manny Machado. Regardless of what position he plays, the 19-year-old Correa has immense upside. For now, he will reside near the top, if not at the very top, of shortstop prospect rankings.
The surprise first overall pick of the 2012 draft struggled a bit in his first Gulf Coast League action, but turned it on when he was promoted to the Appalachian League in early August -- hitting .371/.450/.600 in limited at-bats. Correa looks like he will stick at shortstop, but at just 18, a lot will depend on how his body matures over the next three-to-four years. He will need to work on his endurance as he did not play every day in Puerto Rico. Correa will likely start the year on one of the Astros' short-season teams, but if things go well he should find his way to one of the team's full-season clubs when all is said and done.
More Fantasy News