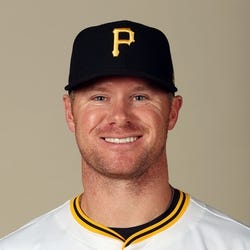 Out
Injury Undisclosed
Est. Return 2/1/2024
Rest-of-Season Projections
2023 Fantasy Outlook
There was no outlook written for Chase Anderson in 2023. Check out the latest news below for more on his current fantasy value.
#

Overall
$Signed a one-year contract with the Reds in February of 2023. Traded to the Rays in May of 2023. Waived by the Rays in May of 2023. Claimed off waivers by the Rockies in May of 2023.

ANALYSIS
The right-hander was penciled in to start the final game of the season for Colorado, but lefty reliever
Brent Suter
will instead open the contest. It's unclear if Anderson suffered some sort of injury or if manager Bud Black simply decided to go in a different direction. The 35-year-old has a 5.42 ERA, 1.42 WHIP and 64:33 K:BB over 86.1 innings this year and will be a free agent this offseason.
Read More News
Pitching Stats
Loading Pitching Stats...
2023
2022
2021
2020
2019
2018
2017
2023 MLB Game Log

Calculate Stats Over Time
Just click on any two dates.
Scoring
FanDuel
DraftKings
Yahoo DFS
Loading Pitching Game Log...
2022 MLB Game Log

Calculate Stats Over Time
Just click on any two dates.
Scoring
FanDuel
DraftKings
Yahoo DFS
Loading Pitching Game Log...
2021 MLB Game Log

Calculate Stats Over Time
Just click on any two dates.
Scoring
FanDuel
DraftKings
Yahoo DFS
Loading Pitching Game Log...
2020 MLB Game Log

Calculate Stats Over Time
Just click on any two dates.
Scoring
FanDuel
DraftKings
Yahoo DFS
Loading Pitching Game Log...
2019 MLB Game Log

Calculate Stats Over Time
Just click on any two dates.
Scoring
FanDuel
DraftKings
Yahoo DFS
Loading Pitching Game Log...
2018 MLB Game Log

Calculate Stats Over Time
Just click on any two dates.
Scoring
FanDuel
DraftKings
Yahoo DFS
Loading Pitching Game Log...
2017 MLB Game Log

Calculate Stats Over Time
Just click on any two dates.
Scoring
FanDuel
DraftKings
Yahoo DFS
Loading Pitching Game Log...
Minor League Game Log

Calculate Stats Over Time
Just click on any two dates.
Loading Minor League Pitching Game Log...
Pitching Appearances Breakdown
How many pitches does Chase Anderson generally throw?
What part of the game does Chase Anderson generally pitch?
% Games Reaching Innings Threshold
% Games By Number of Innings Pitched
Left/Right Pitching Splits
BAA
K
BB
H
HR
Since 2021

vs Left

.220
59
40
58
12
Since 2021

vs Right

.296
63
28
100
18
2023

vs Left

.261
32
19
35
7
2023

vs Right

.282
32
14
55
10
2022

vs Left

.184
11
8
7
1
2022

vs Right

.222
12
7
10
2
2021

vs Left

.174
16
13
16
4
2021

vs Right

.357
19
7
35
6
More Splits

→

View More Split Stats
Home/Away Pitching Splits
ERA
WHIP
IP
K/9
BB/9
Since 2021

Home

4.64
1.37
83.1
7.2
3.9
Since 2021

Away

7.44
1.49
75.0
6.6
3.8
2023

Home

4.21
1.34
51.1
6.8
3.5
2023

Away

7.20
1.54
35.0
6.4
3.3
2022

Home

6.75
1.50
10.2
8.4
5.9
2022

Away

6.08
1.20
13.1
8.8
5.4
2021

Home

4.64
1.36
21.1
7.6
3.8
2021

Away

8.44
1.58
26.2
5.7
3.7
More Splits

→

View More Split Stats
Stat Review
How does Chase Anderson compare to other starting pitchers?
This section compares his stats with all starting pitcher seasons from the previous three seasons (minimum 120 innings)*. The bar represents the player's percentile rank. For example, if the bar is halfway across, then the player falls into the 50th percentile for that stat and it would be considered average.
* Exit Velocity, Barrels/BBE %, Balls Hit 95+ MPH %, and Spin Rate are benchmarked against 2019 data (min 120 IP).
See here for more exit velocity/barrels stats
plus an explanation of current limitations with that data set.
K/BB

Strikeout to walk ratio.

K/9

Average strikeouts per nine innings.

BB/9

Average walks per nine innings.

HR/9

Average home runs allowed per nine innings.

Fastball

Average fastball velocity.

ERA

Earned run average. The average earned runs allowed per nine innings.

WHIP

Walks plus hits per inning pitched.

BABIP

Batting average on balls in play. Measures how many balls in play against a pitcher go for hits.

GB/FB

Groundball to flyball ratio. The higher the number, the more likely a pitcher is to induce groundballs.

Left On Base

The percentage of base runners that a pitcher strands on base over the course of a season.

Exit Velocity

The speed of the baseball as it comes off the bat, immediately after a batter makes contact.

Barrels/BBE

The percentage of batted ball events resulting in a Barrel. A Barrel is a batted ball with similar exit velocity and launch angle to past ones that led to a minimum .500 batting average and 1.500 slugging percentage.

Spin Rate

Spin Rate is the rate of spin on a baseball after it is released. It is measured in revolutions per minute (rpm).

Balls Hit 95+ MPH

The percentage of batted balls hit that met or exceeded the 95 MPH threshold.

Swinging Strike

The percentage of pitches that result in a swing and a miss.
Advanced Pitching Stats
Loading Advanced Pitching Stats...
Loading MLB Defensive Stats...
Our full team depth charts are reserved for RotoWire subscribers.
Subscribe Now
Recent RotoWire Articles Featuring Chase Anderson
See More
Past Fantasy Outlooks
2021
2020
2019
2018
2017
2016
2015
2014
2013
Anderson does not have the velocity to get away with mistakes, so when his command wavers, the results get bad in a hurry. As a member of the Blue Jays in 2020, the right-hander saw the league hit .386 off his fastball and slug .895 with 13 extra-base hits as the pitch lost one mph from 2019. The rest of his pitches performed decently, but there is no success to be found when your primary pitch is getting beaten like a drum in the USC marching band. Anderson has a good changeup and a decent cutter, so he has enough pitches to continue as a starter, although he may find more success working in a Matt Andriese-like long-relief and spot starter role if his velocity is not going to come back. At age 33, Anderson may need to embrace a new role.
Anderson started 112 games for the Brewers over the last four seasons, but the team decided it would rather part ways than pay him the $8.5 million on his contract and traded him to the Blue Jays over the offseason. Anderson shined in 2017 and posted a respectable 3.83 ERA during his time in Milwaukee, but a 4.70 FIP over that span suggests he got a bit lucky, and he also served up home runs at a high clip (1.6 HR/9) the last two years and did not pitch in any of the 11 postseason games the Brewers played in 2018 and 2019. Anderson will now pitch for a third team, and given his salary and the Blue Jays' lack of starting pitching options he figures to open the season at or near the top of the Blue Jays' rotation. Anderson has been better than league average in both ERA and WHIP three years running, but that streak could be in danger heading to a home park where left-handers piled up long balls a season ago.
The Brewers signed Anderson to a contract extension prior to last season, but his performance really slipped, as he had trouble keeping the ball in the park. He lost his spot in the rotation late in the season and was not a factor in the team's postseason hunt. The main source of Anderson's issues were his struggles with the long ball, as he served up a whopping 30 home runs. He still threw his fastball harder than he did earlier in his career, but not as hard as he did in 2017, and last season's ratios fall right in the middle as well. The Brewers have options on Anderson's contract through 2022, so they no doubt are hoping he can regain his form from two seasons ago. Whether or not he does will likely determine if he's a regular in the rotation all season, or winds up in a swing role like last year.
Anderson quietly posted a 3.02 ERA after the All-Star break in 2016, and he did not slow down last year, finishing the season with easily the best ERA and WHIP of his career. An injury he suffered while hitting cost him two months right in the middle of his campaign, but he was a model of consistency over his final 16 starts, giving up more than two earned runs just four times over that span and never giving up more than three runs when he did. Two keys to success for Anderson last year were an improved fastball (93.1 mph) and the best home-run prevention numbers of his career. His strikeouts will not wow fantasy owners, but the Brewers showed their belief in him by inking him to a four-year extension over the offseason. If Anderson can maintain his increased velocity and keep the ball in the park, both the team and fantasy owners will be happy with their investment in 2018.
For the second straight year, Anderson threw just over 150 below-average innings. Anderson was touched up for 28 home runs in 30 starts and has still yet to finish a season with a HR/9 below 1.0. Until he can fix that, it will be hard to believe in Anderson's ability, especially considering he also is the owner of a mediocre 2.5 K/BB. But if there is any reason to believe, it can be seen in his post-All-Star performance. In his final 13 starts of the season, Anderson managed a 3.02 ERA with 53 strikeouts over 65.2 innings. However, even during Anderson's best stretch of the year, hitters still managed 10 home runs and a .460 slugging percentage against him. He'll reliably eat some innings, but Anderson has proven too hittable over the course of his career to believe he'll turn into anything more than a back-end starter at this point.
Anderson was second on the Arizona staff last year with 152.7 innings pitched, though the results were average at best. He went 6-6, while compiling a 4.30 ERA and 1.30 WHIP. His 4.14 FIP and 4.17 xFIP suggest he could be slightly better than he was last season, although he is still not a very exciting fantasy pitcher. His strikeout rate also regressed in his second major league season, falling from 8.3 K/9 in 2014 to 6.5 in 2015. The Brewers saw something they liked, however, and acquired him as part of the haul for Jean Segura. The move increases Anderson's fantasy floor, as he is assured a rotation spot to start the season in Milwaukee, whereas he would have been a bullpen arm in Arizona. However, now that he is with the rebuilding Brewers, wins will be difficult to come by, and he is unlikely to make up for that with ratios and strikeouts.
Anderson spent the bulk of his rookie year with an ERA in the 3.00s, but a pair of six-run outings in his final six starts helped push his final mark up to 4.01. Like so many other Arizona arms, Anderson struggled with home runs, so the low-3.00s ERA he carried through 15 starts felt a bit unstable, though, interestingly, he didn't give up a single homer in either of those six-run meltdowns late in the season. Already 27, he is a bit of a late bloomer, which makes it tough to add any real projection to what we saw in 2014. He missed enough bats to contribute in the category, but there was too much traffic on the basepaths -- a factor that makes the home run troubles even more concerning. The former ninth-round pick is penciled in for a rotation spot, but if the team adds outside options or a prospect proves ready sooner than expected, Anderson will be among the first to lose his spot.
Anderson spent the 2013 campaign at the Triple-A level in Reno in the tough Pacific Coast League. It was a year of regression for the 26-year-old, who walked more batters (33) in fewer innings (88) than he did in 2012 (25 walks in 104 innings). Control has been his strong suit in his career so far, but he has a lot of other young pitchers within the organization to compete with to make the big league roster out of spring training.
Anderson went to the Arizona Fall League to build up his workload following a Double-A season that was cut to 104 innings because of an elbow injury. Although he turned 25 in November, Anderson's age is less of a concern than it might be otherwise as he pitched in college and has been slowed by injuries throughout his professional career. If his 97:25 K:BB with Double-A Mobile is any indication, there's a big league future here, although he's often left out of conversations about the organization's supply of young pitching talent. Anderson does not throw hard, but he boasts a four-pitch arsenal that he controls well. As a result, he may become an option for the back of the Arizona rotation.
More Fantasy News