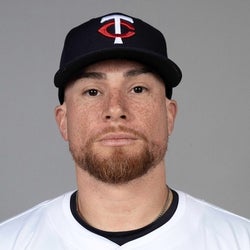 Rest-of-Season Projections
2023 Fantasy Outlook
Vazquez was acquired by the Astros at the trade deadline to boost their offensive production at catcher, but he never found his footing in Houston and had a .586 OPS across only 35 games as Martin Maldonado remained the primary backstop. Vazquez also struggled in 2021 with a 76 wRC+, but he still had a strong first half for Boston last season with a .282/.327/.432 slash line, eight homers and 42 RBI in 84 contests. The latter numbers are more in line with his production over the past few years, and he's hit north of .270 in four of the past six seasons. He clubbed 23 homers in 2019 but hasn't reached double digits in any other big-league campaign, so he shouldn't be expected to provide more than a handful of long balls. Vazquez got a three-year, $30 million deal from Minnesota, where he will likely be ahead of Ryan Jeffers, at least early in the season. His defense makes him a much more valuable real-life player than he is in fantasy.
Read Past Outlooks
$Signed a three-year, $30 million contract with the Twins in December of 2022.

Not starting again in Game 2
ANALYSIS
Vazquez and
Ryan Jeffers
basically alternated starts at catcher during the regular season, but it's been Jeffers behind the plate for each of the first two games of the postseason. The only tweak the Twins made in their lineup from Game 1 to Game 2 was flip-flopping Jeffers and
Matt Wallner
in the batting order, with the former moving down to eighth and the latter up to seventh.
Read More News
Batting Stats
2023
2022
2021
2020
2019
2018
2017
2023 MLB Game Log

Calculate Stats Over Time
Just click on any two dates.
Scoring
FanDuel
DraftKings
Yahoo DFS
Loading Batting Game Log...
2022 MLB Game Log

Calculate Stats Over Time
Just click on any two dates.
Scoring
FanDuel
DraftKings
Yahoo DFS
Loading Batting Game Log...
2021 MLB Game Log

Calculate Stats Over Time
Just click on any two dates.
Scoring
FanDuel
DraftKings
Yahoo DFS
Loading Batting Game Log...
2020 MLB Game Log

Calculate Stats Over Time
Just click on any two dates.
Scoring
FanDuel
DraftKings
Yahoo DFS
Loading Batting Game Log...
2019 MLB Game Log

Calculate Stats Over Time
Just click on any two dates.
Scoring
FanDuel
DraftKings
Yahoo DFS
Loading Batting Game Log...
2018 MLB Game Log

Calculate Stats Over Time
Just click on any two dates.
Scoring
FanDuel
DraftKings
Yahoo DFS
Loading Batting Game Log...
2017 MLB Game Log

Calculate Stats Over Time
Just click on any two dates.
Scoring
FanDuel
DraftKings
Yahoo DFS
Loading Batting Game Log...
Minor League Game Log

Calculate Stats Over Time
Just click on any two dates.
Loading Minor League Batting Game Log...
Batting Order Slot Breakdown
#1
#2
#3
#4
#5
#6
#7
#8
#9
#1
#2
#3
#4
#5
#6
#7
#8
#9
Left/Right Batting Splits
OPS
PA
HR
RBI
AVG
Since 2021

vs Left

.688
344
10
35
.252
Since 2021

vs Right

.650
935
11
98
.254
2023

vs Left

.776
76
5
10
.250
2023

vs Right

.547
279
1
22
.216
2022

vs Left

.823
108
3
13
.304
2022

vs Right

.677
318
6
39
.264
2021

vs Left

.555
160
2
12
.219
2021

vs Right

.710
338
4
37
.277
More Splits

→

View More Split Stats
Home/Away Batting Splits
OPS
PA
HR
RBI
AVG
Since 2021

Home

.704
631
12
74
.266
Since 2021

Away

.619
648
9
59
.241
2023

Home

.632
173
2
19
.241
2023

Away

.566
182
4
13
.207
2022

Home

.802
217
7
29
.294
2022

Away

.621
209
2
23
.253
2021

Home

.663
241
3
26
.259
2021

Away

.655
257
3
23
.256
More Splits

→

View More Split Stats
Stat Review
How does Christian Vazquez compare to other hitters?
This section compares his stats with all batting seasons from the previous three seasons (minimum 400 plate appearances)*. The bar represents the player's percentile rank. For example, if the bar is halfway across, then the player falls into the 50th percentile for that stat and it would be considered average.
* Exit Velocity and Barrels/PA % are benchmarked against 2019 data (min 400 PA) and Hard Hit Rate is benchmarked against last season's data (min 400 PA).
See here for more exit velocity/barrels stats
plus an explanation of current limitations with that data set.
BB/K

Walk to strikeout ratio

BB Rate

The percentage of plate appearances resulting in a walk.

K Rate

The percentage of plate appearances resulting in a strikeout.

BABIP

Batting average on balls in play. Measures how many of a batter's balls in play go for hits.

ISO

Isolated Power. Slugging percentage minus batting average. A computation used to measure a batter's raw power.

AVG

Batting average. Hits divided by at bats.

OBP

On Base Percentage. A measure of how often a batters reaches base. Roughly equal to number of times on base divided by plate appearances.

SLG

Slugging Percentage. A measure of the batting productivity of a hitter. It is calculated as total bases divided by at bats.

OPS

On base plus slugging. THe sum of a batter's on-base percentage and slugging percentage.

wOBA

Weighted on-base average. Measures a player's overall offensive contributions per plate appearance. wOBA combines all the different aspects of hitting into one metric, weighting each of them in proportion to their actual run value.

Exit Velocity

The speed of the baseball as it comes off the bat, immediately after a batter makes contact.

Hard Hit Rate

A measure of contact quality from Sports Info Solutions. This stat explains what percentage of batted balls were hit hard vs. medium or soft.

Barrels/PA

The percentage of plate appearances where a batter had a batted ball classified as a Barrel. A Barrel is a batted ball with similar exit velocity and launch angle to past ones that led to a minimum .500 batting average and 1.500 slugging percentage.

Expected BA

Expected Batting Average.

Expected SLG

Expected Slugging Percentage.

Sprint Speed

The speed of a runner from home to first, in feet per second.

Ground Ball %

The percentage of balls put in play that are on the ground.

Line Drive %

The percentage of balls put in play that are line drives.

Fly Ball %

The percentage of balls put in play that are fly balls.
Advanced Batting Stats
Loading Advanced Batting Stats...
Games By Position
Defensive Stats
Loading Games Played by Position...
Loading MLB Defensive Stats...
Batted Ball Stats
Loading Batted Ball Stats...
Stats Vs Upcoming Pitchers
Our full team depth charts are reserved for RotoWire subscribers.
Subscribe Now
Recent RotoWire Articles Featuring Christian Vazquez
See More
Past Fantasy Outlooks
2022
2021
2020
2019
2018
2017
2016
2015
2014
2013
2012
2011
Coming off a pair of strong seasons, Vazquez disappointed with his performance in 2021. His power production dropped precipitously, as he hit one fewer home run than in the 2020 season despite registering 309 more plate appearances. He maintained a strong contact rate (16.9 K%) and still lifted the ball regularly (37.8 FB%), the problem was simply a drop in the quality of contact. Vazquez's barrel rate shrunk to 2.6% (sixth percentile) as did his hard contact (30.9%, ninth percentile). Perhaps a sneakier problem was an inflated infield-flyball rate, as Vazquez has popped up at a 14.1% clip across the last two seasons. Looking toward 2022, Vazquez will be back as Boston's primary backstop after the club picked up his option. He lacks the power potential of most primary catchers, but Vazquez has hit .270 over the last three seasons and has chipped in four-plus steals in each of those seasons, and therein lies his fantasy appeal.
The 30-year-old had a breakout 2019 season with .797 OPS and 23 home runs in 138 games, and he followed up with a .801 OPS and seven homers in 47 contests during the shortened 2020 campaign. He also increased his walk rate to 6.3% and 8.5% over the past two years after hovering around 5.0% in previous seasons. Vazquez remains a strong presence behind the plate, which provides a solid base for his playing time even when slumping offensively. He may have already seen his peak over the past two seasons, but a minor dip offensively would still leave him as a reliable backstop both on the field and for fantasy purposes. The Red Sox were listening to offers ahead of the trade deadline, but for now Vazquez remains the No.1 catcher and a solid bat in the middle of their lineup.
In 2018, Vazquez underperformed his batting average by 40 points according to the expected stats, but everything else was as expected. In 2019, nothing that happened was expected. He increased his homer total by 20, although his average exit velocity and launch angles in 2019 were identical to what he had done the previous season. Yes, he made more hard contact, but there was no demonstrable change in his flyball rate, or his pull rate. He simply went from hitting one of every 25 flyballs for a home run to one of every six for a home run. It's almost like something was up with the baseball last year. The xStats are bearish on Vazquez for 2020 because his actual batting average and slugging percentage were both nearly 50 points above his expected numbers. Bake in two scoops of regression with your Vazquez expectations. Last season was fun for those who threw the dart.
Lost in the euphoria of the Red Sox championship was the utter futility from the catcher position, at least offensively. It's easy to rationalize a club wanting mostly defense from its catchers, especially when it's winning, but some modicum of production is desired. Coming off a season in which he hit .290, the hope was that Vazquez had finally translated solid contact skills into a consistently high average. However, he doesn't hit the ball with much authority so 2017's bloated .348 BABIP was due for a big downturn. Sure enough, Vazquez posted a .237 mark last season, resulting in an anemic .207 average. His defense remained above average as the primary receiver when neither Chris Sale nor Rick Porcello were on the mound, leaving that to Sandy Leon. Vazquez should still receive a little more than half the run behind the dish, but even with the weak catcher pool, he doesn't offer ample help anywhere to warrant mixed-league consideration.
Sandy Leon was the widely-drafted Red Sox catcher last season, but Vazquez ended up being significantly more valuable in both real life and fantasy. Granted his fantasy value was tied closely to a .290 average, and that number was buoyed by an inflated .348 BABIP. However, Vazquez was a big plus behind the dish and should get a chance to build on his run and RBI totals with more playing time in 2018, assuming the Red Sox don't bring in a more potent bat to serve as the primary backstop. Vazquez doesn't walk much (4.9 percent last season) or get the ball in the air very often (28 percent flyball rate), but he runs more than most catchers (7-for-9 in stolen base attempts) and can work the ball the other way (33.3 opposite-field percentage). As of now it appears Vazquez will open the year atop the depth chart, and that puts him in the discussion as a low-end first catcher.
Coming off of Tommy John surgery, Vazquez started the 2016 season in Triple-A Pawtucket, playing just five games before earning a callup. The 26-year-old was named the starter after being called up, starting 49 games behind the plate before losing his starting catcher role to Sandy Leon after he couldn't seem to find his form at the plate. Vazquez struggled mightily, slashing .226/.278/.305 in 51 games before being sent back down to Triple-A. Despite his continuing offensive struggles, he proved he is still an elite backstop, gaining 1.53 extra strikes per game, which was fourth best in the majors in 2016. Although he wasn't used, his defense earned him a callup before the playoffs, showing how much his glove is valued. Vazquez is currently locked in as a backup, but all it will take for the righty to become a starter is for his bat to produce numbers closer to the league average.
Vazquez was preparing last spring to be Boston's starting catcher in 2015 when an elbow injury eventually led to Tommy John surgery, forcing him to miss the entire season. The history of catchers who have undergone this procedure is a short one. Most notably is Baltimore's Matt Wieters, who had the surgery in June 2014 and returned roughly one year later. He played 75 games, catching 55 of them. Other catchers that have undergone the procedure say they don't feel they're fully back until year two. Vazquez was expected to get some ramp up time in winter ball, but his team folded and he's not getting the expected at-bats leading up to spring training. It's all a big question mark for Vazquez. He's probably not going to be ready to go full-time when the season starts, so the Red Sox may have him spend some time at Triple-A Pawtucket, while the combination of Blake Swihart and Ryan Hanigan open the season in Boston.
Vazquez began last season as the starting catcher for Triple-A Pawtucket and finished the season as the starting catcher for Boston. He's about a half year ahead of schedule, but the A.J. Pierzynski signing backfired on the Red Sox and Vazquez was promoted in July. He hit .240/.308/.309 in 201 plate appearances. The question remains whether or not he'll hit consistently enough in the majors, though his defense will keep him employed in MLB for as long as he wants. The same thing was said about Yadier Molina -- a frequent Vazquez comparison. If there are enough quality bats in the lineup, the Red Sox can live with a .230 hitter at the bottom of the order. Vazquez did a credible job hitting with men on base or in scoring position, and showed a knack for moving runners along, so there are some encouraging signs. Projected to open the season as the Red Sox's starting catcher, Vazquez tore his UCL during spring training and will miss the entire season following Tommy John surgery.
Vazquez's prospect status is on the rise, largely due to his defensive abilities, and particularly his ability to control the opposing running game. He threw out 46 percent of would-be base-stealers and his pop-up time when throwing to second base is gaining notoriety. Though he can be a streaky hitter, Vazquez has improved offensively over the years, and he had a career-best OBP and reduced his strikeouts from 79 to 44 in 2013. Vazquez's defense has him headed for the major leagues. If he maintains/develops his improved plate approach and continues to make consistent contact, he figures to be a full-time starter. Look for him to start the season at Triple-A Pawtucket and possibly get a crack at the big leagues later in the season.
Vazquez, a ninth-round selection in 2008 at the age of 17, has worked his way up to the Double-A level largely on his glove. He was able to hit enough in the lower levels to get by while his improvements defensively and as a leader has garnered attention in the organization. He was added to Boston's 40-man roster in the offseason. He has the ability to control an opponent's running game. There's a sense that his glove alone will carry him to the major leagues. The bat, on the other hand, may be problematic. He'll return to Double-A Portland where he'll work on the more advanced aspects of catching: working with pitchers, game calling and varying pitch sequences.
Vazquez spent his second straight season in the Low-A South Atlantic League for Greenville, becoming the Drive's primary backstop in 2011. The defensive side of the game made impressive strides, though some improvement in mechanics are still needed. Vazquez is a work in progress as a hitter, but improved mechanics gave him greater bat speed and he generated more power than we expected. His swing will be challenged more as he advances levels in the organization. He'll likely land at High-A Salem where he'll see less mistakes, so a power drop is expected. Continued work on quickening his swing and maintaining good contact rates will be a key for hitting success in 2012.
Vazquez, a ninth-round draft pick in 2008, shows some agility behind the plate but still needs work in other defensive aspects (quicker release, blocking balls). He's got the attitude to improve. He's not very advanced with the bat, but has some power potential and could evolve into an adequate hitter. He'll likely be placed at Low-A Greenville.
More Fantasy News