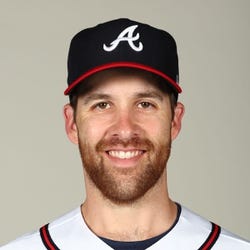 15-Day IL
Injury Shoulder
Est. Return 10/7/2023
Rest-of-Season Projections
2023 Fantasy Outlook
McHugh threw mostly sliders (48.7% pitch usage) and cutters (48%) last season while occasionally mixing in a curve. Remarkably, the veteran struck out nine batters on only 26 curveballs thrown all season. Between that and the slider, which has been his bread and butter over the past four seasons, he turned in another solid year, his first with Atlanta. McHugh racked up 69.1 innings across 58 appearances with a 2.60 ERA (2.70 FIP), 0.94 WHIP, three wins and a career-high 17 holds. His 5.1% walk rate was 15th among qualified relievers, while his 22.4% K-BB percentage ranked 35th. With only one career save across 10 big league seasons, we can safely rule out the possibility of McHugh contributing in the category. However, he should be in line for plenty of holds in the sixth and seventh innings as part of the bridge to Raisel Iglesias. McHugh's consistency in recent years makes him a solid target for ratio stability in deeper leagues and draft-and-hold formats.
Read Past Outlooks
$Signed a two-year, $10 million contract with the Braves in March of 2022. Contract includes $6 million team option for 2024.

ANALYSIS
McHugh should be able to return to Atlanta's bullpen by the end of the week, following maybe one or two appearances on the farm. The 36-year-old multi-inning reliever was placed on the 15-day injured list Sept. 6 due to right shoulder inflammation.
Read More News
Pitching Stats
Loading Pitching Stats...
2023
2022
2021
2020
2019
2018
2017
2023 MLB Game Log

Calculate Stats Over Time
Just click on any two dates.
Scoring
FanDuel
DraftKings
Yahoo DFS
Loading Pitching Game Log...
2022 MLB Game Log

Calculate Stats Over Time
Just click on any two dates.
Scoring
FanDuel
DraftKings
Yahoo DFS
Loading Pitching Game Log...
2021 MLB Game Log

Calculate Stats Over Time
Just click on any two dates.
Scoring
FanDuel
DraftKings
Yahoo DFS
Loading Pitching Game Log...
2020 MLB Game Log

Calculate Stats Over Time
Just click on any two dates.
Scoring
FanDuel
DraftKings
Yahoo DFS
Loading Pitching Game Log...
2019 MLB Game Log

Calculate Stats Over Time
Just click on any two dates.
Scoring
FanDuel
DraftKings
Yahoo DFS
Loading Pitching Game Log...
2018 MLB Game Log

Calculate Stats Over Time
Just click on any two dates.
Scoring
FanDuel
DraftKings
Yahoo DFS
Loading Pitching Game Log...
2017 MLB Game Log

Calculate Stats Over Time
Just click on any two dates.
Scoring
FanDuel
DraftKings
Yahoo DFS
Loading Pitching Game Log...
Minor League Game Log

Calculate Stats Over Time
Just click on any two dates.
Loading Minor League Pitching Game Log...
Pitching Appearances Breakdown
How many pitches does Collin McHugh generally throw?
What part of the game does Collin McHugh generally pitch?
% Games Reaching Innings Threshold
% Games By Number of Innings Pitched
Left/Right Pitching Splits
BAA
K
BB
H
HR
Since 2021

vs Left

.196
95
21
60
4
Since 2021

vs Right

.262
101
27
109
9
2023

vs Left

.233
27
10
27
2
2023

vs Right

.350
20
12
43
3
2022

vs Left

.182
36
6
20
2
2022

vs Right

.220
39
8
31
3
2021

vs Left

.163
32
5
13
0
2021

vs Right

.230
42
7
35
3
More Splits

→

View More Split Stats
Home/Away Pitching Splits
ERA
WHIP
IP
K/9
BB/9
Since 2021

Home

3.00
1.11
99.0
8.4
2.0
Since 2021

Away

2.52
1.15
93.0
10.1
2.5
2023

Home

4.22
1.63
32.0
6.8
2.8
2023

Away

4.39
1.50
26.2
7.8
4.1
2022

Home

3.25
1.00
36.0
8.5
2.0
2022

Away

1.89
0.87
33.1
11.1
1.6
2021

Home

1.45
0.71
31.0
9.9
1.2
2021

Away

1.64
1.15
33.0
10.9
2.2
More Splits

→

View More Split Stats
Stat Review
How does Collin McHugh compare to other relievers?
This section compares his stats with all relief pitcher seasons from the previous three seasons (minimum 30 innings)*. The bar represents the player's percentile rank. For example, if the bar is halfway across, then the player falls into the 50th percentile for that stat and it would be considered average.
* Exit Velocity, Barrels/BBE %, Balls Hit 95+ MPH %, and Spin Rate are benchmarked against 2019 data (min 30 IP).
See here for more exit velocity/barrels stats
plus an explanation of current limitations with that data set.
K/BB

Strikeout to walk ratio.

K/9

Average strikeouts per nine innings.

BB/9

Average walks per nine innings.

HR/9

Average home runs allowed per nine innings.

Fastball

Average fastball velocity.

ERA

Earned run average. The average earned runs allowed per nine innings.

WHIP

Walks plus hits per inning pitched.

BABIP

Batting average on balls in play. Measures how many balls in play against a pitcher go for hits.

GB/FB

Groundball to flyball ratio. The higher the number, the more likely a pitcher is to induce groundballs.

Left On Base

The percentage of base runners that a pitcher strands on base over the course of a season.

Exit Velocity

The speed of the baseball as it comes off the bat, immediately after a batter makes contact.

Barrels/BBE

The percentage of batted ball events resulting in a Barrel. A Barrel is a batted ball with similar exit velocity and launch angle to past ones that led to a minimum .500 batting average and 1.500 slugging percentage.

Spin Rate

Spin Rate is the rate of spin on a baseball after it is released. It is measured in revolutions per minute (rpm).

Balls Hit 95+ MPH

The percentage of batted balls hit that met or exceeded the 95 MPH threshold.

Swinging Strike

The percentage of pitches that result in a swing and a miss.
Advanced Pitching Stats
Loading Advanced Pitching Stats...
Loading MLB Defensive Stats...
Our full team depth charts are reserved for RotoWire subscribers.
Subscribe Now
Recent RotoWire Articles Featuring Collin McHugh
See More
Past Fantasy Outlooks
2022
2021
2020
2019
2018
2017
2016
2015
2014
2013
After opting out of the 2020 season McHugh signed with Tampa Bay, the ideal landing spot as the Rays have a knack for handling pitchers of his ilk. After struggling in 2019, McHugh reverted to 2018 form. Tampa used him exclusively as a reliever, or short-stint opener, so he was able to optimize his pitch mix by throwing mostly sliders with some cutters and fastballs with the occasional curve. Considering his injury history and lack of work since 2019, it's surprising he only lost two weeks of the season on the IL to arm fatigue. His 1.55 ERA was aided by a 81.3% LOB mark, though if he ERA were closer to his 3.06 xFIP or 2.87 SIERA, he'd still be a top reliever. McHugh's 30.0% strikeout rate is closer material, though it remains to be seen what capacity he works in this season. Even so, McHugh's arm is mixed-league worthy, then let the rest take care of itself.
McHugh underwent what is known as a tenex procedure at the end of 2019 to relieve discomfort in his right elbow. The Red Sox brought him in, but McHugh later opted out of playing in 2020. He suggested at the time that his arm had not progressed as he had hoped, and with COVID on top of that, he felt it was best to go home. McHugh has not appeared in the majors since Aug. 30, 2019. He had a showcase scheduled for Jan. 16, 2021, but unlike some of the other showcases this winter, McHugh's failed to generate much hype. Given his track record and the results from his prime years with Houston, McHugh's a safe bet to resurface in the big leagues if he can eventually turn the page on this elbow problem.
After dominating as a reliever in 2018, McHugh began last season in the starting rotation and notched a 1.96 ERA through four starts. Disaster struck in his fifth outing, however, as McHugh allowed nine earned runs in 3.1 innings, setting off a four-start stretch in which the right-hander posted an unsightly 12.00 ERA. The slump cost McHugh a spot in the rotation that he never reclaimed. As a reliever, McHugh was mostly effective, though he battled elbow issues throughout the season and was shut down for good at the end of August. Overall, the veteran posted solid strikeout numbers (25.9 K%), but his home-run rate (1.45 HR/9) nearly doubled and his walk rate (9.5%) set a career high. McHugh will hit free agency in the offseason and is likely to covet a chance to start. He's enjoyed success in that role in the past, but he'll be a risky investment considering his elbow troubles and inconsistency last season.
McHugh is probably the best starting pitcher who didn't make a single start last season. After McHugh turned in four straight years with a FIP under 4.00, the Astros, with their embarrassment of riches on the pitching side, moved McHugh to the bullpen in 2018. He excelled there to the tune of a 1.99 ERA in 72.1 innings. Notably, his strikeout rate spiked from 22.9% to 33.2% thanks to a small velocity bump and increased slider usage, while he held his walk rate steady at 7.4%. He'd likely give back some of those gains should he return to a starting role, but starting would mean more innings, more strikeouts and more chances at wins. McHugh is talented enough to remain a fantasy factor even if he remains in the bullpen, as he can help anchor your ratios.
McHugh's 2017 campaign got off to an ominous start as an early-spring dead arm turned into a right elbow impingement, delaying his debut until July 22. He started 12 contests, providing a timely shot in the arm to the Astros over the second half. McHugh's numbers were an improvement over his disappointing 2016, in part due to allowing only seven homers in 63.1 innings. He also significantly improved versus right-handed batters (.694 OPS against in 2017 versus .777 in 2016), incorporating a slider to complement the cutter he throws versus lefties. McHugh's career 22 percent strikeout rate and seven percent walk rate are both better than league average, portending success if he can continue minimizing homers. McHugh will contend for a spot in a crowded Astros rotation, but the acquisition of Gerrit Cole probably means he'll start the season working out of the bullpen like he did during the 2017 postseason. Unless his role is clarified in the spring, don't pay for more than 125-130 innings.
Those who bought in on McHugh in 2016 were left mostly disappointed as he turned in damaging ratios along with modest totals in wins and strikeouts. However, it was not a disastrous season by any means, and he in fact improved in several areas, most notably with his strikeout rate (22.2 percent) -- a rebound supported by his third straight season with a swinging-strike rate north of 10 percent. Unfortunately, a pair of disastrous outings (13 combined earned runs over the span of two innings) marred his overall numbers. He threw roughly 20 fewer innings than he did in 2015 despite making one additional start as manager A.J. Hinch was quick to give him the hook on his off nights. Home runs were a problem (25 allowed), but an improvement there in 2017 could return McHugh to mixed-league prominence. While there is some uncertainty at the back of the Houston rotation, McHugh should be secure in his role entering spring training.
After a 2014 breakout that put him in the AL Rookie of the Year conversation, McHugh entered last season with an assured rotation spot with the Astros. The 28-year-old picked up right where he left off, going 3-0 with a 2.92 ERA in April before suffering his first loss of the season on May 12. McHugh wasn't at his best from May through July, but a strong August (1.89 ERA) and four wins in September attributed to solid numbers overall, as he finished 19-7 with a 3.89 ERA, 1.28 WHIP and 171:53 K:BB ratio over 203.2 innings. While his 19 wins were tied for third-best in the majors, his strikeout rate (7.6 K/9) dipped slightly, but that may be attributed to less use of his curveball and slider. The right-hander will open 2016 in the upper half of Houston's rotation after earning his first postseason victory with a win over the Royals in Game 1 of the ALDS.
McHugh opened 2014 in the minors after a disastrous spring (14.29 ERA), but he received a quick call from Houston when Scott Feldman's injury opened up a spot in the rotation. Once he arrived, he never looked back, going 11-9 with a 2.73 ERA, 1.02 WHIP and 157:41 K:BB in 154.2 innings (25 starts). His curveball and slider were particularly effective, attributing to a career-best 9.1 K/9 ratio. McHugh's impressive season put him in the AL Rookie of the Year conversation, and while he didn't win the award, he definitely assured himself a spot in the Astros' starting rotation to open 2015.
The fifth spot in the Rockies' rotation was a continual trouble spot throughout the second half of the season, and McHugh was arguably the worst of those who filled the role, going 0-3 with a 9.95 ERA in his three starts. Despite his quality minor league numbers, McHugh has been abysmal over his 47 innings in the big leagues, with his strikeout rate bottoming out and an inability to avoid the long ball proving to be his biggest pitfalls. McHugh will compete for an Opening Day roster spot, in a role to be determined, with the Astros during spring training after being claimed off waivers in December.
McHugh held his own after a promotion to Triple-A Buffalo last season, carrying a 70:29 K:BB and finding a way to retire hitters without an overpowering arsenal. After throwing 129 innings between two levels in 2011, McHugh was likely out of gas by the time he broke through to the big leagues, having already logged 148.1 innings over 25 starts between Binghamton and Buffalo. If there are any openings in the rotation when the season begins, McHugh figures to be in the mix to handle a temporary spot as the team's fifth starter, but he will have to fend off Jeremy Hefner and youngsters Jenrry Mejia, Jeurys Familia and Zack Wheeler to keep that spot.
More Fantasy News