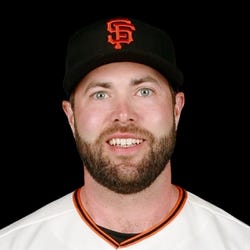 Rest-of-Season Projections
2023 Fantasy Outlook
Ruf drew the ire of Mets fans with his performance down the stretch (.152/.216/.197). It didn't help that J.D. Davis -- part of the trade to acquire Ruf -- posted an .857 OPS following the move. Of course it's ridiculous to blame Ruf for the Mets losing hold of the division lead, but for some he embodies the collapse. His first couple seasons back from the Korea Baseball Organization were largely successful. He mashed left-handed pitching to the tune of a .283/.414/.593 line in 2021 and the Mets will be betting on a rebound from Ruf in a short-side platoon role. His walk rate plummeted following the trade (from 12.7% to 6.8%) -- a sign he was pressing. It's hard to imagine it can get worse for him than it was in Queens last season, though if he gets off to a slow start, the pressure will mount again quickly.
Read Past Outlooks
$Signed a one-year contract with the Brewers in May of 2023.

Ruf (knee) will begin a minor-league rehab assignment Tuesday with Triple-A Nashville,
Adam McCalvy of MLB.com
reports.
ANALYSIS
Ruf has been sidelined since early June due to a non-displaced fracture in his right kneecap, so he'll probably need several rehab games to get back up to speed. The 37-year-old holds a weak .224/.333/.286 batting line in 57 major-league plate appearances this season between San Francisco and Milwaukee.
Read More News
Batting Stats
2023 MLB Game Log

Calculate Stats Over Time
Just click on any two dates.
Scoring
FanDuel
DraftKings
Yahoo DFS
Loading Batting Game Log...
2022 MLB Game Log

Calculate Stats Over Time
Just click on any two dates.
Scoring
FanDuel
DraftKings
Yahoo DFS
Loading Batting Game Log...
2021 MLB Game Log

Calculate Stats Over Time
Just click on any two dates.
Scoring
FanDuel
DraftKings
Yahoo DFS
Loading Batting Game Log...
2020 MLB Game Log

Calculate Stats Over Time
Just click on any two dates.
Scoring
FanDuel
DraftKings
Yahoo DFS
Loading Batting Game Log...
Minor League Game Log

Calculate Stats Over Time
Just click on any two dates.
Loading Minor League Batting Game Log...
Batting Order Slot Breakdown
#1
#2
#3
#4
#5
#6
#7
#8
#9
#1
#2
#3
#4
#5
#6
#7
#8
#9
Left/Right Batting Splits
OPS
PA
HR
RBI
AVG
Since 2021

vs Left

.841
363
18
51
.247
Since 2021

vs Right

.666
394
9
40
.220
2023

vs Left

.678
40
0
3
.242
2023

vs Right

.485
17
0
0
.188
2022

vs Left

.753
183
9
27
.222
2022

vs Right

.548
205
2
18
.188
2021

vs Left

1.007
140
9
21
.283
2021

vs Right

.824
172
7
22
.262
More Splits

→

View More Split Stats
Home/Away Batting Splits
OPS
PA
HR
RBI
AVG
Since 2021

Home

.738
408
12
49
.241
Since 2021

Away

.761
349
15
42
.222
2023

Home

.741
23
0
2
.300
2023

Away

.535
34
0
1
.172
2022

Home

.715
214
7
28
.233
2022

Away

.555
174
4
17
.166
2021

Home

.768
171
5
19
.245
2021

Away

1.067
141
11
24
.303
More Splits

→

View More Split Stats
Stat Review
How does Darin Ruf compare to other hitters?
This section compares his stats with all batting seasons from the previous three seasons (minimum 400 plate appearances)*. The bar represents the player's percentile rank. For example, if the bar is halfway across, then the player falls into the 50th percentile for that stat and it would be considered average.
* Exit Velocity and Barrels/PA % are benchmarked against 2019 data (min 400 PA) and Hard Hit Rate is benchmarked against last season's data (min 400 PA).
See here for more exit velocity/barrels stats
plus an explanation of current limitations with that data set.
BB/K

Walk to strikeout ratio

BB Rate

The percentage of plate appearances resulting in a walk.

K Rate

The percentage of plate appearances resulting in a strikeout.

BABIP

Batting average on balls in play. Measures how many of a batter's balls in play go for hits.

ISO

Isolated Power. Slugging percentage minus batting average. A computation used to measure a batter's raw power.

AVG

Batting average. Hits divided by at bats.

OBP

On Base Percentage. A measure of how often a batters reaches base. Roughly equal to number of times on base divided by plate appearances.

SLG

Slugging Percentage. A measure of the batting productivity of a hitter. It is calculated as total bases divided by at bats.

OPS

On base plus slugging. THe sum of a batter's on-base percentage and slugging percentage.

wOBA

Weighted on-base average. Measures a player's overall offensive contributions per plate appearance. wOBA combines all the different aspects of hitting into one metric, weighting each of them in proportion to their actual run value.

Exit Velocity

The speed of the baseball as it comes off the bat, immediately after a batter makes contact.

Hard Hit Rate

A measure of contact quality from Sports Info Solutions. This stat explains what percentage of batted balls were hit hard vs. medium or soft.

Barrels/PA

The percentage of plate appearances where a batter had a batted ball classified as a Barrel. A Barrel is a batted ball with similar exit velocity and launch angle to past ones that led to a minimum .500 batting average and 1.500 slugging percentage.

Expected BA

Expected Batting Average.

Expected SLG

Expected Slugging Percentage.

Sprint Speed

The speed of a runner from home to first, in feet per second.

Ground Ball %

The percentage of balls put in play that are on the ground.

Line Drive %

The percentage of balls put in play that are line drives.

Fly Ball %

The percentage of balls put in play that are fly balls.
Advanced Batting Stats
Loading Advanced Batting Stats...
Games By Position
Defensive Stats
Loading Games Played by Position...
Loading MLB Defensive Stats...
Batted Ball Stats
Loading Batted Ball Stats...
Stats Vs Upcoming Pitchers
Recent RotoWire Articles Featuring Darin Ruf
See More
Past Fantasy Outlooks
2022
2021
2017
2016
2015
2014
2013
In just around 300 plate appearances, Ruf had a good 2021 season while on the short side of the Giants' outfield and first-base platoons. Over his career, he's dominated lefties (.940 OPS vs .696 OPS against righties), and that trend continued last season (1.007 OPS vs .824 OPS). It was frustrating to roster him in weekly lineup leagues since he sat half of the time. With PA being king in shallow leagues, he needs to remain on the waiver wire except for those few weeks when the Giants face five lefties. In daily lineup leagues, he was productive because he could be shuffled in and out of the lineup whenever he started. It's tough to value platoon bats because if they see more of the pitcher handedness they struggle against, their batting average will take a hit, but their counting stats will go up. Unless it's an NL-only or a draft-and-hold league, he can probably be left alone as fantasy managers need to be taking shots at full-time bats on draft day.
Following three seasons with the Samsung Lions of the KBO, Ruf returned stateside last year on a minor-league deal with the Giants. He was mashing before spring training was paused and showed enough in summer camp to secure a spot on the expanded Opening Day roster. Of Ruf's 24 starts in 2020, 22 came against left-handed pitching as the outfielder was firmly stuck on the short side of a platoon. The improved patience Ruf displayed in the KBO carried over, and Ruf fared surprisingly well in his limited exposure to righty pitching, but it was 35 PA without the platoon edge -- not enough of a sample to draw any meaningful conclusions. At age 34 (35 this summer), Ruf is unlikely to break out, but those ahead of him on the Giants' roster are old too and Ruf could be an injury or two away from more regular playing time.
Ruf opened last season in a platoon with Ryan Howard at first base. He failed to capitalize on Howard's early-season struggles by also getting off to a slow start at the dish. By mid-May he was headed back to Triple-A Lehigh Valley, and any chance of a return to the majors was thrown out the window by the emergence of Tommy Joseph at first base. Ruf did produce while back in Triple-A, hitting 20 home runs and crushing lefties to the tune of a .331 average and 1.013 OPS. He likely deserves another shot as a platoon option at first base, and he may get that chance with the Dodgers, who acquired him from the Phillies this offseason and could deploy him to rest Adrian Gonzalez against tough southpaws. He could also work his way into the short side of a left field platoon if Andrew Toles does not pick up where he left off in 2016.
Ruf saw limited action for the Phillies early last season, but benefited from increased playing time once the team benched Ryan Howard against lefties. Ruf was deserving of a shot as Howard's platoon partner after hitting .295 with three home runs and a .916 OPS against lefties in 2014. He was even more potent against lefties last season with a .371 average, eight home runs and a 1.107 OPS in 97 at-bats. The problem for Ruf is his struggles against righties when given opportunities. The Phillies will likely open the year with Howard and Ruf in a platoon again. If they can find a taker for Howard at some point, the team could give Ruf a shot as a regular at first. That makes him an interesting sleeper in leagues that go deep into the player pool.
Ruf was able to log some at-bats in the majors last season despite missing time with an oblique injury and a small fracture in his wrist. Manager Ryne Sandberg had planned to give Ruf a look at first base in place of the struggling Ryan Howard around midseason before Phillies management stepped in and forced him to reverse course. Instead, Ruf was used to occasionally platoon at first and in left. He was productive against lefties with three home runs and a .916 OPS in 61 at-bats, and should enter this season with a chance to fill a similar platoon role. Ruf did have some success against righties in 2013, and perhaps deserves a shot beyond a platoon role, but his defensive limitations and the current construction of the Phillies' roster will likely preclude him from receiving that shot.
Ruf joined the Phillies in July after Ryan Howard was lost for the season with a knee injury. He saw time at first base and in left field before the Phils turned right field over to him following the release of Delmon Young. Ruf hit 14 home runs in his 251 at-bats, displaying the power production that put him on the prospect radar in 2012, when he hit 38 home runs at Double-A. His .247 average last season was OK, but that was inflated a bit thanks to a slightly high BABIP. His low contact rate and lofty strikeout rate mean that his batting average will likely be a liability. Ruf enters the 2014 season as a reserve after the Phillies signed Marlon Byrd to be their everyday right fielder. It is not ideal for Ruf's value entering the season, but he could see plenty of playing time if Howard or Byrd miss time in 2014. Even if both stay healthy, Ruf should be able to accumulate around 300 at-bats by making occasional starts in the corner-outfield spots, first base, and as a DH during interleague play.
Ruf earned the nickname "Babe" last season after crushing 38 home runs for Double-A Reading as a 26-year-old. He received a cup of coffee in September and hit three home runs in 33 at-bats with the Phillies. Ruf then went on to play in the Venezuelan Winter League where he continued to hit bombs at an impressive rate. The Phillies are working to convert Ruf to left field as he is blocked at first base by Ryan Howard. Reviews of his defense have been mixed thus far, but the Phillies have seen enough promise to continue with the conversion. Ruf has always been old for his level in the minors since being drafted out of Creighton in 2009. That raises some red flags about his ability to keep hitting in the majors. The Phillies are expected to give Ruf a chance to earn a roster spot this spring. He'll be an interesting sleeper if he wins a job.
More Fantasy News