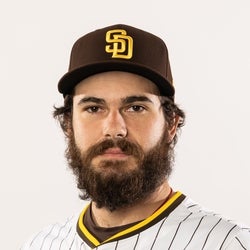 Rest-of-Season Projections
2023 Fantasy Outlook
Cease followed up 2021's breakthrough campaign with an even better season, finishing a distant second to Justin Verlander in the AL Cy Young voting. Cease started 32 games for the second straight season, finishing with a career-high 184 innings. It wasn't by much, but Cease's K% ticked down while his BB% inched up. A .260 BABIP and 82.3% LOB mark resulted in a 2.20 ERA, over a run below the associated 3.50 xFIP and 3.48 SIERA. Cease is being drafted ahead of starters with similar or better skills, but with a longer track record. If he can lower his 10% walk rate, Cease could be one of the best pitchers in the league. There is a pathway as Cease uses his fastball 47% of the time but throws it for a strike at a low 62% rate. Cease is a prime example of how pitchers can be both lucky and good. Dreaming of a lower walk rate is tempting, but the regression monster is looming with nightmare intentions.
Read Past Outlooks
$Signed a one-year, $5.7 million contract with the White Sox in January of 2023.

Allows one run in tough-luck loss
Cease (7-9) took the loss Friday, allowing one run on four hits and two walks over five innings against the Padres. He struck out seven.
ANALYSIS
Cease was highly effective but far from efficient in needing 104 pitches to complete five frames. The only run he allowed came in the fifth, when
Matthew Batten
struck out but advanced all the way to second base on a wild pitch. He then took third on another wild pitch before being driven in by a
Xander Bogaerts
sac fly. While Cease's season total of 214 strikeouts is elite, the 27-year-old has struggled to a 4.58 ERA and 1.42 WHIP in 177 innings. He finished strong with a 1.93 ERA, 1.01 WHIP and 31 strikeouts across 23.1 innings over his final four starts, however.
Read More News
Pitching Stats
Loading Pitching Stats...
2023 MLB Game Log

Calculate Stats Over Time
Just click on any two dates.
Scoring
FanDuel
DraftKings
Yahoo DFS
Loading Pitching Game Log...
2022 MLB Game Log

Calculate Stats Over Time
Just click on any two dates.
Scoring
FanDuel
DraftKings
Yahoo DFS
Loading Pitching Game Log...
2021 MLB Game Log

Calculate Stats Over Time
Just click on any two dates.
Scoring
FanDuel
DraftKings
Yahoo DFS
Loading Pitching Game Log...
2020 MLB Game Log

Calculate Stats Over Time
Just click on any two dates.
Scoring
FanDuel
DraftKings
Yahoo DFS
Loading Pitching Game Log...
2019 MLB Game Log

Calculate Stats Over Time
Just click on any two dates.
Scoring
FanDuel
DraftKings
Yahoo DFS
Loading Pitching Game Log...
Minor League Game Log

Calculate Stats Over Time
Just click on any two dates.
Loading Minor League Pitching Game Log...
Pitching Appearances Breakdown
How many pitches does Dylan Cease generally throw?
What part of the game does Dylan Cease generally pitch?
% Games Reaching Innings Threshold
% Games By Number of Innings Pitched
Left/Right Pitching Splits
BAA
K
BB
H
HR
Since 2021

vs Left

.239
302
104
236
30
Since 2021

vs Right

.204
365
121
201
25
2023

vs Left

.268
91
30
96
13
2023

vs Right

.230
123
49
76
6
2022

vs Left

.219
98
44
70
6
2022

vs Right

.163
129
34
56
10
2021

vs Left

.226
113
30
70
11
2021

vs Right

.220
113
38
69
9
More Splits

→

View More Split Stats
Home/Away Pitching Splits
ERA
WHIP
IP
K/9
BB/9
Since 2021

Home

3.20
1.20
286.2
11.1
3.8
Since 2021

Away

3.94
1.32
240.0
11.8
3.9
2023

Home

4.20
1.44
94.1
9.9
4.6
2023

Away

5.01
1.39
82.2
12.0
3.4
2022

Home

2.35
1.02
107.1
11.2
3.2
2022

Away

2.00
1.24
76.2
10.9
4.7
2021

Home

3.18
1.18
85.0
12.2
3.8
2021

Away

4.69
1.33
80.2
12.4
3.6
More Splits

→

View More Split Stats
Stat Review
How does Dylan Cease compare to other starting pitchers?
This section compares his stats with all starting pitcher seasons from the previous three seasons (minimum 120 innings)*. The bar represents the player's percentile rank. For example, if the bar is halfway across, then the player falls into the 50th percentile for that stat and it would be considered average.
* Exit Velocity, Barrels/BBE %, Balls Hit 95+ MPH %, and Spin Rate are benchmarked against 2019 data (min 120 IP).
See here for more exit velocity/barrels stats
plus an explanation of current limitations with that data set.
K/BB

Strikeout to walk ratio.

K/9

Average strikeouts per nine innings.

BB/9

Average walks per nine innings.

HR/9

Average home runs allowed per nine innings.

Fastball

Average fastball velocity.

ERA

Earned run average. The average earned runs allowed per nine innings.

WHIP

Walks plus hits per inning pitched.

BABIP

Batting average on balls in play. Measures how many balls in play against a pitcher go for hits.

GB/FB

Groundball to flyball ratio. The higher the number, the more likely a pitcher is to induce groundballs.

Left On Base

The percentage of base runners that a pitcher strands on base over the course of a season.

Exit Velocity

The speed of the baseball as it comes off the bat, immediately after a batter makes contact.

Barrels/BBE

The percentage of batted ball events resulting in a Barrel. A Barrel is a batted ball with similar exit velocity and launch angle to past ones that led to a minimum .500 batting average and 1.500 slugging percentage.

Spin Rate

Spin Rate is the rate of spin on a baseball after it is released. It is measured in revolutions per minute (rpm).

Balls Hit 95+ MPH

The percentage of batted balls hit that met or exceeded the 95 MPH threshold.

Swinging Strike

The percentage of pitches that result in a swing and a miss.
Prospect Rankings History
Advanced Pitching Stats
Loading Advanced Pitching Stats...
Loading MLB Defensive Stats...
Our full team depth charts are reserved for RotoWire subscribers.
Subscribe Now
Recent RotoWire Articles Featuring Dylan Cease
See More
Past Fantasy Outlooks
2022
2021
2020
2019
2018
2017
2016
Cease truthers were rewarded with the breakthrough season, but let's pump the fantasy ace brakes just a tad. The righthander made 32 starts and his 3.96 ERA was pegged a little lower by the estimators. The long-expected spike in strikeouts manifested, keyed by a slider with a 22.4% swinging strike rate. The yellow flags are a high walk rate and a flyball lean. The latter isn't necessarily an issue, but it can be when combined with excess free passes and a homer-friendly home venue. To be fair, Cease's BB% dropped to 9.6%, but that was still the second highest among qualified starters, resulting in averaging just 5.2 innings per start, the lowest among qualified starters. Youth is Cease's ally as he's entering his age-26 season. He may improve his control even more but paying for it is a risk. The upside is indeed elite, but there's also a chance Cease is a ratio buzzkill.
The unique circumstances surrounding the 2020 campaign weren't conducive for young arms to exhibit growth. Still, Cease's season was a big disappointment. His skills fell back across the board; he fanned fewer and walked more while allowing harder contact. Cease's 4.01 ERA was spared further harm by a .238 BABIP and 81.7 LOB%, both touched by Lady Luck, with a 5.87 xFIP and 5.86 SIERA more indicative of his true skill level. Command and control are Cease's primary issues. His pitch mix remained close to 2019, but he traded a few curves for sliders, his most effective offering. Last year, the right-hander threw his fastball for a strike just 61% of the time. Until he can locate his four-seamer better, he's just a guy with velocity. Entering his age-25 season, Cease is still young enough to prove he's more. However, other than youth and the reading on the radar gun, there's little reason for optimism.
There's hope that Cease's command will come along, but right now, it's lacking. STATS LLC's new Command+ metric, which attempts to judge a pitcher's intent on each throw, had Cease's command at 88 in his debut season (100 is average). His Zone% was 39.4, per FanGraphs, and Cease battled walk (10.7%) and home run (1.85 HR/9) issues during his time in the majors. The free passes were nothing new, as Cease hasn't had a BB rate below 10% at any stop. The good news is that his raw stuff is excellent. With a fastball that averages north of 96 mph, a plus breaking ball and a potential plus changeup, Cease is able to miss bats at a well-above-average clip (24.9 K%, 11.0 SwStr%). There's upside here if he ever figures out how to put the ball where he wants it. In the meantime, Cease should be viewed as a streamer, one with more favorable matchups than most given the weakness of his division.
Blessed with special arm speed, Cease has had a high-leverage reliever floor (with reasonable health) since entering pro ball, but in 2018 he made massive strides to show that his future may be atop a rotation. He tallied over 100 innings (124) for the first time, notched a career-best 3.6 BB/9 and improved his secondary pitches. His mid-90s fastball touches 98 mph and was more of a worm killer last year (1.14 GO/AO) than in 2017 (0.88 GO/AO). Cease's curveball is his second-best pitch -- a potentially plus offering -- and his changeup emerged as a viable third pitch, thanks largely to the strength of his fastball. His command may never be better than fringe average, but with his stuff, it doesn't need to be. The most impressive aspect of Cease's season was that he improved after his promotion to Double-A, posting career bests in FIP (1.72), WHIP (0.99) and K-BB% (27.7). He should open at Triple-A and could make his big-league debut this summer.
Cease is entering his age-22 season, has never pitched above Low-A and has never logged more than 93.1 innings in a season. Yet, his stuff is some of the filthiest in the minors. The 6-foot-2 righty sits in the mid-90s and can touch triple digits with his fastball. He also throws a curveball that can look like a monster putaway pitch when it's on. His changeup is a distant third pitch, but that's hardly the biggest knock on his chances of making it as a starter. He has been coddled ever since the Cubs drafted him in the sixth round in 2014. Cease was the secondary piece the White Sox received when they sent Jose Quintana across town, and he had to be shut down at the end of the season with shoulder fatigue. While he made significant strides with his command and control last season, that area of his game is still a weakness. His fragility and command issues point to a future as an impactful late-inning arm, but even that outcome requires patience.
The minor leagues are lighter on high probability impact talent than they have been in recent years, so this may be a good time to gamble on a player with extreme upside and extreme risk. Cease fits the bill. He has the potential for two monster pitches, yet his fringe-average changeup, below-average control and significant durability concerns should scare off most risk-averse owners. Prospect aficionados are aware of his fastball that sits in the upper-90s and can touch 101 mph with some armside run. He also features a potentially plus curveball that can be devastating when hitters sit on his heater. However, his to-do list for 2017 is long and arduous. Atop that list is improving his command and control after walking 13.7 percent of short-season batters. Cease, who underwent Tommy John surgery after the Cubs drafted him in the fourth round of the 2014 draft, also needs to build up his workload and show more feel for his changeup. His potential outcomes range from frontline starter to high-leverage reliever. This is a very exciting young arm.
A sixth-round pick in 2014, Cease made his pro debut last year for the rookie-level Cubs after missing 2014 following Tommy John surgery. With 25 strikeouts and a .145 BAA in 24 innings, he holds some promise. However, he walked 16 and hit two more, so he has a long way to go. He's still just 20 though, so he has time and the Cubs will be patient with him. Cease has a very high ceiling (he can touch 100 mph), but he's a risk given his prior elbow problems and control issues. However, that frontline upside makes him someone worth gambling on in dynasty leagues that roster 200 prospects. He may not make it to a full-season league in 2016, but the training wheels should come off in 2017, at which point he could start cruising up the organizational ladder.
More Fantasy News