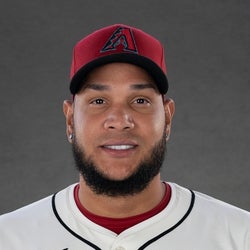 Rest-of-Season Projections
2022 Fantasy Outlook
Coming off a career-best season in 2019 with a 3.81 ERA and 1.33 WHIP in 203.1 innings, Rodriguez missed the 2020 season with myocarditis. In 2021, Rodriguez tossed his second-highest innings total (157.2) with a 4.74 ERA and 1.39 WHIP. However, the BABIP boomed to .363 with a career rate of .311, plus the LOB% dipped to 68.9% versus 74% in his career. If the BABIP and LOB% regress to the career norms, the ratios should improve. Meanwhile, Rodriguez posted the best K-BB% (20.4%) in his career, with the four-seamer reaching a career-best 13.9% SwStr% in 2021. The changeup remained effective with a 15.3% SwStr% but lower than the career SwStr% of 18.2%. Look for Rodriguez to bounce back in a pitcher-friendly ballpark with at least two quality pitches, plus the BABIP and strand rate regressing. A fair expectation involves an ERA around 3.80 with a healthy chunk of strikeouts in 2022 as the Tigers' ace.
Read Past Outlooks
$Signed a five-year, $77 million contract with the Tigers in November of 2021.

Rodriguez (5-5) tossed 6.2 scoreless innings to earn the win Thursday against the Royals. He allowed five hits and four walks while striking out three.
ANALYSIS
The four walks were a bit high, but it was otherwise a stellar outing for Rodriguez. The lefty has now registered three straight quality starts, with wins in two of those games. Rodriguez was out due to personal reasons for about two and half months, so he's only made 16 starts to date in his first season with the Tigers. He could be primed for a strong 2023 campaign if he makes 30 or more starts, which he did in his previous two seasons heading into this year. Rodriguez is lined up to make one final 2022 start Tuesday against the Mariners.
Read More News
Pitching Stats
Loading Pitching Stats...
2022
2021
2020
2019
2018
2017
2022 MLB Game Log

Calculate Stats Over Time
Just click on any two dates.
Scoring
FanDuel
DraftKings
Yahoo DFS
FantasyDraft
Head2Head
Loading Pitching Game Log...
2021 MLB Game Log

Calculate Stats Over Time
Just click on any two dates.
Scoring
FanDuel
DraftKings
Yahoo DFS
FantasyDraft
Head2Head
Loading Pitching Game Log...
2020 MLB Game Log

Calculate Stats Over Time
Just click on any two dates.
Scoring
FanDuel
DraftKings
Yahoo DFS
FantasyDraft
Head2Head
Loading Pitching Game Log...
2019 MLB Game Log

Calculate Stats Over Time
Just click on any two dates.
Scoring
FanDuel
DraftKings
Yahoo DFS
FantasyDraft
Head2Head
Loading Pitching Game Log...
2018 MLB Game Log

Calculate Stats Over Time
Just click on any two dates.
Scoring
FanDuel
DraftKings
Yahoo DFS
FantasyDraft
Head2Head
Loading Pitching Game Log...
2017 MLB Game Log

Calculate Stats Over Time
Just click on any two dates.
Scoring
FanDuel
DraftKings
Yahoo DFS
FantasyDraft
Head2Head
Loading Pitching Game Log...
Minor League Game Log

Calculate Stats Over Time
Just click on any two dates.
Loading Minor League Pitching Game Log...
Pitching Appearances Breakdown
How many pitches does Eduardo Rodriguez generally throw?
What part of the game does Eduardo Rodriguez generally pitch?
% Games Reaching Innings Threshold
% Games By Number of Innings Pitched
Left/Right Pitching Splits
BAA
K
BB
H
HR
Since 2020

vs Left

.275
60
15
53
8
Since 2020

vs Right

.264
190
65
200
21
2022

vs Left

.311
13
10
19
3
2022

vs Right

.231
52
23
62
7
2021

vs Left

.258
47
5
34
5
2021

vs Right

.282
138
42
138
14
2020

vs Left

0
0
0
0
0
2020

vs Right

0
0
0
0
0
More Splits

→

View More Split Stats
Home/Away Pitching Splits
ERA
WHIP
IP
K/9
BB/9
Since 2020

Home

5.02
1.43
109.1
9.5
3.4
Since 2020

Away

4.05
1.33
133.1
9.1
2.6
2022

Home

3.80
1.42
47.1
7.0
4.2
2022

Away

4.30
1.25
37.2
6.7
2.6
2021

Home

5.95
1.44
62.0
11.3
2.8
2021

Away

3.95
1.36
95.2
10.1
2.6
2020

Home

0
0
0
0
0
2020

Away

0
0
0
0
0
More Splits

→

View More Split Stats
Stat Review
How does Eduardo Rodriguez compare to other starting pitchers?
This section compares his stats with all starting pitcher seasons from the previous three seasons (minimum 120 innings)*. The bar represents the player's percentile rank. For example, if the bar is halfway across, then the player falls into the 50th percentile for that stat and it would be considered average.
* Exit Velocity, Barrels/BBE %, Balls Hit 95+ MPH %, and Spin Rate are benchmarked against 2019 data (min 120 IP).
See here for more exit velocity/barrels stats
plus an explanation of current limitations with that data set.
K/BB

Strikeout to walk ratio.

K/9

Average strikeouts per nine innings.

BB/9

Average walks per nine innings.

HR/9

Average home runs allowed per nine innings.

Fastball

Average fastball velocity.

ERA

Earned run average. The average earned runs allowed per nine innings.

WHIP

Walks plus hits per inning pitched.

BABIP

Batting average on balls in play. Measures how many balls in play against a pitcher go for hits.

GB/FB

Groundball to flyball ratio. The higher the number, the more likely a pitcher is to induce groundballs.

Left On Base

The percentage of base runners that a pitcher strands on base over the course of a season.

Exit Velocity

The speed of the baseball as it comes off the bat, immediately after a batter makes contact.

Barrels/BBE

The percentage of batted ball events resulting in a Barrel. A Barrel is a batted ball with similar exit velocity and launch angle to past ones that led to a minimum .500 batting average and 1.500 slugging percentage.

Spin Rate

Spin Rate is the rate of spin on a baseball after it is released. It is measured in revolutions per minute (rpm).

Balls Hit 95+ MPH

The percentage of batted balls hit that met or exceeded the 95 MPH threshold.

Swinging Strike

The percentage of pitches that result in a swing and a miss.
Advanced Pitching Stats
Loading Advanced Pitching Stats...
Loading MLB Defensive Stats...
Our full team depth charts are reserved for RotoWire subscribers.
Subscribe Now
Recent RotoWire Articles Featuring Eduardo Rodriguez
Past Fantasy Outlooks
2021
2020
2019
2018
2017
2016
2015
2014
Rodriguez did not pitch in 2020 after testing positive for COVID-19 in July. He was later diagnosed with myocarditis, an inflammation of the heart muscle which was a result of the coronavirus. It was not until months later that Rodriguez was cleared for walking and other light exercises. Despite the lack of activity throughout the summer months, the Red Sox expressed optimism that Rodriguez would be able to have a "normal" offseason. He seemed to be finally blossoming into one of the top left-handed starters in the AL before the lost season, racking up 213 strikeouts in 2019 with his four-seamer-changeup-cutter-sinker mix, with a better O-Swing% than the likes of Yu Darvish, Luis Castillo and Aaron Nola that year. He's always been a WHIP liability, but Rodriguez has created some distance from his past knee issues and should be a top Comeback Player of the Year candidate if he's able to stay on the field.
The way you hear this much-maligned pitcher described, you would be stunned to see he won 19 games with a sub-4.00 ERA. The WHIP was high, and a 78% strand rate kept those runners from scoring. The 16.1 K-BB% is a decent number, but it represented a backslide from 2018. The problem with Rodriguez is inconsistency; he allowed 10 of his 24 home runs the first time through the lineup last year. He has a history of right knee injuries but did not miss a start last year and worked a career high in innings. Seeing his workload jump so much from one year to the next is a bit of a concern given his health issues in the past. Last year looked a lot like the previous two seasons at a skill level, but staying healthy for the first time was the noticeable difference that led to him realizing the potential he has flashed for three-plus seasons. As long as he is healthy, he is good, just not elite.
The signs are pointing up for Rodriquez with the dreaded caveat: if he can stay healthy. While the lefty has started at least 20 games the past four seasons, 24 is his career high, posted in 2017, accruing a career-best 137.1 innings. The optimist insists most of the time lost was from a knee issue surgically repaired last spring. The pessimist notes he lost around six weeks after spraining his ankle in a collision while covering first. The optimist emphasizes he hasn't had a major arm injury. On the mound, Rodriguez's strikeout rate has increased each season of his career while his walk rate has dropped the last two, the root of the glass-half-full outlook. Other than staying healthy, Rodriguez needs to be better the third time through the order if he wants to take the next step. Rodriguez enters 2019 entrenched in the Red Sox rotation. His wins and whiffs project to be fantasy friendly. Accept the injury discount and hope his DL visits are over.
Rodriguez again teased top-of-the-rotation skills, but fell short of a breakout season. Unfortunately, if 2018 is going to be the year, he'll have to overcome a late start as he's out until May or June after undergoing reconstructive surgery on the patellofemoral ligament in his right knee in October. Knee woes are not new to Rodriguez -- he made a 45-day visit to the disabled list after hurting his right knee while warming up for his June 1 start. When he returned, he admittedly altered his mechanics, helping explain a 2.77 ERA and 1.12 WHIP pre-June 1 compared to 5.16/1.39 after. Rodriguez will be just 25 when he returns next season, and his plus changeup is a great weapon against right-handers. He has the stuff to whiff a hitter an inning, so if Rodriguez can shave off a couple walks and do a better job of keeping the ball in the yard, he could pay off handsomely as a stash.
A spring training knee injury kept Rodriguez on the disabled list to start the season, then his recovery took longer than anyone expected. It took him some time to develop confidence in the knee, and once he did, the left-hander was hit hard, wasn't throwing breaking balls, and experienced yet another bout of pitch-tipping. After spending some time at Triple-A Pawtucket mid-summer eliminating the pitch-tipping, Rodriguez was summoned back to Boston after the All-Star break. In 14 second-half starts, he posted a 3.24 ERA and 1.13 WHIP while striking out 9.15 batters per nine innings. While the overall numbers weren't pretty, overcoming the first-half adversity was a real positive. He's expected to open the season in the rotation, though he tweaked his knee during winter ball and will not pitch again until the spring. Make sure to keep tabs on his availability during drafts, as this was the same knee that delayed his debut last season.
Boston's plan to go with a starting rotation that didn't feature a true "ace" was fraught with problems and those problems showed up early. Starters got hit hard, they weren't going deep into games, and relievers were getting taxed. The organization reached into its minor leagues, where they had three prospect left-handers pitching at Triple-A Pawtucket, including Rodriguez. He got a spot start late in May when Boston went to a temporary six-man rotation and he pitched so well, that he stayed in the rotation for the rest of the season. Rodriguez is poised on the mound, and used an above-average three-pitch mix in allowing just one run in his first three starts. In his fourth start, Rodriguez had problems tipping his pitches - something that recurred a few more times during the season, but overall it was a good first season. He finished up allowing just one earned run in five of his last seven starts. He dislocated his kneecap early in camp, and appears unlikely to make his regular season debut until late April, so he should be slightly discounted on draft day.
Rodriguez entered the 2014 season ranked as a top prospect in the Orioles' organization, so expectations were high when he was Double-A Bowie's Opening Day starter. However, the smooth lefty was roughed up early on and he suffered a sprained knee that kept him out until late May. He had some spotty success after his return, but issued too many walks overall and wasn't getting deep into games. His fortunes changed when he was dealt to Boston for left-handed reliever Andrew Miller. Rodriguez credited advice from Double-A Portland's pitching coach, Bob Kipper, for his strong finish. Kipper encouraged Rodriguez to use his changeup and slider to both sides of the plate as well as administering some mechanical adjustments. The end result was a 3-1 record with a microscopic 0.96 ERA and 39 strikeouts in 37.1 innings. The Red Sox may have gotten the steal of the trade deadline, landing a potential ace for a three-month rental on a reliever. Rodriguez should open the 2015 season at Triple-A Pawtucket, where he finished up the 2014 season, pitching one game in the playoffs.
Rodriguez continues to shoot up Baltimore's prospect chart after a year in which he topped out at Double-A as a 20-year-old. He throws three pitches and missed more bats after moving from High-A (7.0 K/9, 2.6 BB/9) to Double-A (8.9 K/9, 3.6 BB/9). The Orioles are stocked with aging pitching prospects and Rodriguez is the only starter who might have a shot of making his MLB debut this season. Look for Rodriguez to begin the season in Double-A Bowie and possibly debut before the end of the season if he continues to pitch well in his ascent through the Orioles' system.
More Fantasy News