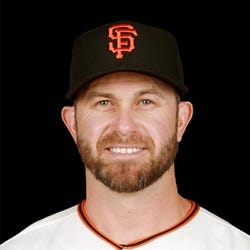 Rest-of-Season Projections
2023 Fantasy Outlook
Longoria's debut was delayed a month after surgery on a ligament in his index finger. After playing through shoulder and hamstring soreness, Longoria was felled by an oblique injury, costing him a 10-day IL stint. After returning, it didn't take Longoria long to suffer a Grade 1 hamstring sprain, requiring another IL stint. Fittingly, Longoria missed the last few games with a fractured thumb. In between the injuries, he posted a 115 wRC+ and a 47% Hard Hit rate, so there is still some juice left in Longoria's bat. However, he did fan at a career high 28% clip while exhibiting below average defense. Longoria is clearly in the twilight of his career so he's probably looking at a platoon job with a lefty-heavy Diamondbacks lineup. Even if he does secure a starting gig, health is a problem and his skills aren't worth stashing, so he's only viable in leagues with a separate IL.
Read Past Outlooks
$Signed a one-year, $4 million contract with the Diamondbacks in December of 2022.

Longoria went 1-for-4 with a two-run home run in Tuesday's 5-1 win over the Rockies.
ANALYSIS
Longoria's first-inning home run provided all the cushion starter
Zac Gallen
would need. It was the veteran third baseman's seventh homer in 92 at-bats. Longoria's part-time role -- starts at 3B or DH against lefties -- puts a cap on what he can offer fantasy managers.
Read More News
Batting Stats
2023
2022
2021
2020
2019
2018
2017
2023 MLB Game Log

Calculate Stats Over Time
Just click on any two dates.
Scoring
FanDuel
DraftKings
Yahoo DFS
Loading Batting Game Log...
2022 MLB Game Log

Calculate Stats Over Time
Just click on any two dates.
Scoring
FanDuel
DraftKings
Yahoo DFS
Loading Batting Game Log...
2021 MLB Game Log

Calculate Stats Over Time
Just click on any two dates.
Scoring
FanDuel
DraftKings
Yahoo DFS
Loading Batting Game Log...
2020 MLB Game Log

Calculate Stats Over Time
Just click on any two dates.
Scoring
FanDuel
DraftKings
Yahoo DFS
Loading Batting Game Log...
2019 MLB Game Log

Calculate Stats Over Time
Just click on any two dates.
Scoring
FanDuel
DraftKings
Yahoo DFS
Loading Batting Game Log...
2018 MLB Game Log

Calculate Stats Over Time
Just click on any two dates.
Scoring
FanDuel
DraftKings
Yahoo DFS
Loading Batting Game Log...
2017 MLB Game Log

Calculate Stats Over Time
Just click on any two dates.
Scoring
FanDuel
DraftKings
Yahoo DFS
Loading Batting Game Log...
Minor League Game Log

Calculate Stats Over Time
Just click on any two dates.
Loading Minor League Batting Game Log...
Batting Order Slot Breakdown
#1
#2
#3
#4
#5
#6
#7
#8
#9
#1
#2
#3
#4
#5
#6
#7
#8
#9
Left/Right Batting Splits
OPS
PA
HR
RBI
AVG
Since 2021

vs Left

.914
269
16
43
.292
Since 2021

vs Right

.715
419
18
57
.219
2023

vs Left

.911
58
4
8
.283
2023

vs Right

.531
41
3
4
.128
2022

vs Left

.812
129
6
22
.282
2022

vs Right

.731
169
8
20
.215
2021

vs Left

1.088
82
6
13
.318
2021

vs Right

.739
209
7
33
.241
More Splits

→

View More Split Stats
Home/Away Batting Splits
OPS
PA
HR
RBI
AVG
Since 2021

Home

.830
306
17
46
.250
Since 2021

Away

.763
382
17
54
.245
2023

Home

.823
50
4
7
.239
2023

Away

.680
49
3
5
.196
2022

Home

.825
131
8
21
.243
2022

Away

.722
167
6
21
.245
2021

Home

.835
125
5
18
.262
2021

Away

.831
166
8
28
.260
More Splits

→

View More Split Stats
Stat Review
How does Evan Longoria compare to other hitters?
This section compares his stats with all batting seasons from the previous three seasons (minimum 400 plate appearances)*. The bar represents the player's percentile rank. For example, if the bar is halfway across, then the player falls into the 50th percentile for that stat and it would be considered average.
* Exit Velocity and Barrels/PA % are benchmarked against 2019 data (min 400 PA) and Hard Hit Rate is benchmarked against last season's data (min 400 PA).
See here for more exit velocity/barrels stats
plus an explanation of current limitations with that data set.
BB/K

Walk to strikeout ratio

BB Rate

The percentage of plate appearances resulting in a walk.

K Rate

The percentage of plate appearances resulting in a strikeout.

BABIP

Batting average on balls in play. Measures how many of a batter's balls in play go for hits.

ISO

Isolated Power. Slugging percentage minus batting average. A computation used to measure a batter's raw power.

AVG

Batting average. Hits divided by at bats.

OBP

On Base Percentage. A measure of how often a batters reaches base. Roughly equal to number of times on base divided by plate appearances.

SLG

Slugging Percentage. A measure of the batting productivity of a hitter. It is calculated as total bases divided by at bats.

OPS

On base plus slugging. THe sum of a batter's on-base percentage and slugging percentage.

wOBA

Weighted on-base average. Measures a player's overall offensive contributions per plate appearance. wOBA combines all the different aspects of hitting into one metric, weighting each of them in proportion to their actual run value.

Exit Velocity

The speed of the baseball as it comes off the bat, immediately after a batter makes contact.

Hard Hit Rate

A measure of contact quality from Sports Info Solutions. This stat explains what percentage of batted balls were hit hard vs. medium or soft.

Barrels/PA

The percentage of plate appearances where a batter had a batted ball classified as a Barrel. A Barrel is a batted ball with similar exit velocity and launch angle to past ones that led to a minimum .500 batting average and 1.500 slugging percentage.

Expected BA

Expected Batting Average.

Expected SLG

Expected Slugging Percentage.

Sprint Speed

The speed of a runner from home to first, in feet per second.

Ground Ball %

The percentage of balls put in play that are on the ground.

Line Drive %

The percentage of balls put in play that are line drives.

Fly Ball %

The percentage of balls put in play that are fly balls.
Advanced Batting Stats
Loading Advanced Batting Stats...
Games By Position
Defensive Stats
Loading Games Played by Position...
Loading MLB Defensive Stats...
Batted Ball Stats
Loading Batted Ball Stats...
Stats Vs Upcoming Pitchers
Our full team depth charts are reserved for RotoWire subscribers.
Subscribe Now
Recent RotoWire Articles Featuring Evan Longoria
See More
Past Fantasy Outlooks
2022
2021
2020
2019
2018
2017
2016
2015
2014
2013
2012
2011
2010
2009
2008
2007
Longoria dealt with shoulder and hand injuries that limited him to 291 PA in 2021. When on the field, Longoria reversed a trend of four consecutive seasons of average to below-average production with the bat. His vintage performance appeared to be spurred by strong discipline, as Longoria's overall swing rate dipped to a career-low 42.3%, yet his zone-swing rate jumped to a near career-high 67.5%. The result was his highest walk rate (12%) since 2011 and only his second season with an ISO above .200 (.221) since 2014. It is worth noting that the majority of Longoria's production came against left-handed pitching, as he connected for six home runs and a .318 ISO with the handedness advantage. Given the way the Giants aggressively platoon their bats, Longoria could enter into a time share at third base with right handers on the mound and his cleanest path to a full season of at-bats could be with the addition of a designated hitter in the National League.
It has now been three seasons since the Rays traded the face of the franchise to the West Coast to relieve themselves of his financial burden. Longoria has posted three similar compilation seasons for the Giants, and while others seemed to take to the new way Oracle Park played, Longoria was not one of them. You would never know the run environment in his home park changed if you looked at his stats as they were essentially a fractional production of his previous full-season efforts. Defensively, he still holds up well at the hot corner, but he is 35 years old going on 40 at the plate. We haven't seen any offensive upside in five seasons, and even the health has been an issue with stints on the IL in two of the past three seasons. A .250/.320/.450 slash line would be a likely ceiling for Longo in 2021, but that slash line at the corner is rather easy to find elsewhere.
Longoria's production in 2019 was up from 2018, but that's not saying much. Last season, Longoria hit 20 home runs and managed to record 69 RBI despite a lack of quality bats around him. He posted a career-high hard-hit rate but only 41 extra-base hits, a seven-year low for Longoria. His 8.5 BB% was a six-year high, although he also struck out at a higher rate in 2019 (22.0%) than he did the year before (19.7%). He made contact with pitches in the zone at a career-low clip and chased roughly one-third of the pitches he saw out of the zone. The 34-year-old will likely continue to have a role in the Giants' lineup thanks to his veteran presence, contract status and abilities relative to the alternative options. However, his fantasy upside has a firm cap on it as he enters his age-34 season given the lineup and park, the worst park in the National League for right-handed power.
After losing thump at age 32, Longoria faced another giant obstacle in 2018: his new home, Oracle Park (formerly AT&T Park). Twelve of Longo's 16 home runs came on the road. He also missed time with a fractured hand. While his 30 AB/HR nearly matched 2017, Longoria's now posted an ISO below .170 in four of the past five years, and his plate skills are also slipping. Never an OBP star, his 4.3% walk rate was a career low and his .281 OBP ranked last among qualified NL hitters. On another team, he could perhaps offer steady production in the heart of the order, but San Francisco's offense ranked last with an 82 wRC+ last season and sadly, Longoria's 16 homers led the team. His above-average defense and albatross contract will keep him in the lineup, but his diminishing pop, utter lack of speed, thin supporting cast and cavernous home digs should leave him on the fantasy clearance rack.
While Longoria took a significant step back from his stellar 2016, his 2017 campaign wasn't a disaster by any means. He trimmed his strikeout rate by nearly five full percentage points, lowering it to 16.7 percent, while hitting 20 homers for the fifth straight year. He's driven in at least 86 runs in four of his last five seasons, and he's steadily been in the .260-.270 range in that time; certainly not great, but he's not a big drag in the category. The groundball spike from a year ago is concerning -- Longoria's groundball rate went from 31.9 percent in 2016 to 43.4 percent, while his flyball rate fell from 46.8 percent to 36.8 percent -- but he still made hard contact with more than one third of his batted balls. More consistent elevation could pay dividends although the move to San Francisco in the offseason should temper expectations for a power rebound.
Longoria turned back the clock in 2016, blasting a career-high 36 homers, tallying his best RBI total (98) and ISO (.248) since 2011, and his best slugging percentage (.521) since 2012. He was as durable as ever, playing 160 games for the second straight season, and he's now only missed six games in the last four seasons overall. There's no reason to believe an encore isn't possible despite the somewhat drastic jump in his home run totals, especially after he posted a near six-percent jump in hard contact in 2016. While his strikeout rate did see a slight bump up to 21.0 percent, Longoria's bat speed proved to be as healthy as ever last season given his power numbers, and he'll therefore profile as a top-10 fantasy option at third base in any format heading into the coming season. Overly aggressive bidders may regret raising his baseline, though.
The old knock on Longoria was that he could put up huge numbers if he could finally stay healthy. Quietly, over the past three seasons, Longoria has only missed four games, but his offensive production continues to suffer from a combination of excessive playing time and playing half of his games on the artificial turf at Tropicana Field. Longoria barely got over the 20-homer plateau with a late-season surge, but he failed to drive in at least 80 runs or score 80 times for the first time in any full season of his career. His days of .200-plus ISO are a thing of the past, and while his defense still remains quite strong at the hot corner, maybe 2016 is the season where people finally separate the real player value from the fantasy player value. After all, he was being drafted 50 spots ahead of Chris Davis this time last year whereas now, that should be reversed and then some.
One of the knocks on Longoria in recent years was, "If he could only stay healthy." He missed time in 2011 and 2012, but answered critics with a strong 2013 season. In 2014, he played in every single game, but he had the worst statistical season of his career. The most concerning part of his numbers was that his slugging percentage fell 94 points from 2013, as he needed a big final week just to get over the .400 mark. Early on, he was struggling to turn and burn on pitches on the inner half, which has always been something he has excelled at. Around mid-June, he got back to pulling pitches, but got away from hitting the other way and pitchers neutralized him with stuff away-away-away. For the season, he had a .590 OPS on pitches away where his previous career low was .758. Stop drafting him in the first five rounds; he's not worth it.
After an injury-shortened campaign in 2012, Longoria proved in 2013 what he can bring to the Rays' offense. While a .269 batting average may not seem overly impressive, he posted an .842 OPS and had the third 30-homer season of his career. His RBI total fell to 88 and his strikeout rate rose to 23.4%, but he managed to play in a career-high 160 games. He brings big power to the middle of the order for the Rays and was a finalist for a Gold Glove Award for his prowess defensively. The dip in RBI production is likely not too concerning, since he hit .284/.375/.453 with runners on base. Longoria will enter his age-28 season as an elite option at the hot corner. If he remains healthy, the developing power talent of Wil Myers near him in the lineup will only help him see better pitches to hit. He is a solid bet most seasons to hit 30 home runs with 100 RBI.
Longoria was off to one of the best starts in the league in April when he had a line of .329/.433/.561 until an awkward slide into second base led to a hamstring injury that knocked him out until early August. After struggling initially in his return, he slugged 11 home runs and 26 RBI over the final 34 games of the season and finished the season with a pace in line with his full-season averages. Even with playing in just 74 games, he posted a career-high .896 OPS. His walk rate dropped and his strikeout rate rose slightly from the previous season, but with a smaller sample size, this should not indicate difficulties moving forward. If he can avoid injuries, expect Longo to again be a premier fantasy third baseman for 2013.
Longoria might have been the biggest part of what was arguably the most dramatic final day of the regular season after hitting a walk-off home run to give the Rays the wild card in the American League. Longoria's overall numbers from last season, other than his career-low .244 batting average, were similar to his last three seasons. However, there are reasons to be very bullish on him going forward. He missed time back in April due to an oblique injury which not only led to a slow start but led to 87 fewer plate from the previous season. Longoria's strikeout rate dropped for the third straight season while his walk rate increased by three percent. This improved plate discipline didn't cost him any power as he homered once in every 18.5 plate appearances -- the best mark of his career. His production improved as the season went on, culminating in some gaudy stats over the season's final two months. Longoria finished those two months with 17 home runs, 46 RBI and a 37:37 K:BB ratio over 203 at-bats. His .244 batting average can be explained as being unlucky when considering his .239 BABIP was a career-low by 70 points. The only disappointment for fantasy owners was the stolen-base total which was down from 15 in 2010 to only three in 2011. One of the better fielding third baseman in the game, look for Longoria to be one of the first at the position off the board when your fantasy draft rolls around.
Longoria disappointed fantasy owners last year, hitting 11 fewer home runs (22) than the previous season. On a positive note he stole 15 bases which was unexpected and hit for a career-high .294 average. So while the power outage may have left a bad taste for fantasy owners, there's a lot to like about Longoria heading into this season. For the third straight year, Longoria lowered his strikeout rate by nearly three percent. As noted, he stole 15 bases on 20 attempts suggesting that yearly totals in double-digit steals is reasonable. With Carl Crawford leaving, Longoria should hit cleanup instead of third, providing him with more RBI opportunities. He'll only be 25 this season, so chances are we haven't seen the best of him yet. Hope that the lost home runs drop his stock on draft day and be prepared to take advantage.
Longoria put together another solid season at the hot corner for the Rays, finishing with 33 home runs, 113 RBI and nine stolen bases. Only 24, he's got an MVP-caliber season somewhere in the near future. He still strikes out a lot (140 times in 584 at-bats) but improved his contact rate while increasing his walk rate last season. Possibly the best fielding third baseman, his UZR rating of 14.9 was tops for the position. Don't be afraid to spend the extra dollar on him; he'll continue to be a solid power producer and have plenty of RBI opportunities with B.J. Upton and Carl Crawford setting the table ahead of him.
After a mid-April callup from Triple-A, Longoria was unanimously voted American League Rookie of the Year, finishing in the top 10 of all players (not just rookies) in both slugging and at-bats per home run (16.6). Longoria missed about a month of action due to a fracture in his ulna near the wrist, but he was fine after his return and during the postseason, so he's not a health concern. He'll rank second only to Alex Rodriguez on the offseason American League cheat sheet at third base.
Tampa Bay's top draft pick in 2006 impressed at both Double-A and Triple-A in 2007, showing power, strike-zone judgement and good defense at third base as well. The Rays intend to move Akinori Iwamura from third to second this spring, opening up third base for Longoria; the star prospect will get the opportunity to start on Opening Day if he shows he's ready in the spring. Conversely, if Longoria has a tough spring, the Rays won't mind delaying his arbitration clock a year by sending him back to Triple-A for a month or two. Longoria was one of the leaders of Team USA this fall and starred in the World Cup gold medal game win over Cuba; the Rays have every right to believe he can be a heart-of-the-order leader for the club for years to come.
Will marry the Spurs' Tony Parker in August . . . whoops, that's Eva, not Evan. Furthermore, Tampa Bay's top 2006 draft pick showed no desperation in his pro debut. While his cup-of-coffee numbers at Double-A show he still has to work on strike zone judgment, his power at high-A was a pleasant surprise. He should make the major leagues by early 2008 at the latest, and perhaps later this season. Will he play third when he gets there?
More Fantasy News