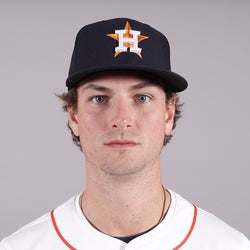 60-Day IL
Injury Lat
Est. Return 2/1/2024
Rest-of-Season Projections
2023 Fantasy Outlook
Whitley was supposed to be an established big leaguer by now and one of the more dominant starters in baseball. Instead, he's been sidetracked by multiple injuries and control problems and has yet to make his major-league debut. Whitley made his season debut last July after completing his Tommy John surgery rehab but posted a 7.09 ERA with 25 walks in 33 Triple-A innings before his year ended with shoulder trouble. The good news is that the shoulder issue was deemed minor and the 25-year-old's stuff looked as it did when he was viewed as one of the top pitching prospects in the game. The upside with Whitley is still there if he can stay healthy and throw strikes, but it's been a while since he's done either with consistency.
Read Past Outlooks
$Signed a one-year contract with the Astros in March of 2023.

May serve as reliever once healthy
Astros general manager Dana Brown confirmed Sunday that Whitley (lat) could be an option to join the major-league squad as a reliever once he's healthy and activated from Triple-A Sugar Land's 7-day injured list,
Chandler Rome of The Athletic
reports.
ANALYSIS
Though he's been regarded as one of the Astros' top pitching prospects for more than a half decade, Whitley has yet to make his MLB debut, with multiple setbacks on the health front having stalled his development. Now on the mend from a right lat strain that's expected to keep him shelved for around 3-to-4 months, Whitley likely won't have enough time to get stretched back out for a starting role at Triple-A even if he meets the short end of that recovery timeline. The Astros still believe the 25-year-old right-hander possesses the sort of arsenal that can make him an effective weapon out of the bullpen, so if he's quickly able to reclaim command and velocity upon returning from the injury, he could make his long-awaited MLB debut at some point during the final month of the season.
Read More News
Pitching Stats
Loading Pitching Stats...
Minor League Game Log

Calculate Stats Over Time
Just click on any two dates.
Loading Minor League Pitching Game Log...
Prospect Rankings History
Advanced Pitching Stats
Loading Advanced Pitching Stats...
Loading MLB Defensive Stats...
Our full team depth charts are reserved for RotoWire subscribers.
Subscribe Now
Recent RotoWire Articles Featuring Forrest Whitley
See More
Past Fantasy Outlooks
Whitley looked as good as he has in years during Astros summer camp before suffering an undisclosed arm injury that eliminated his chances of contributing in 2020. Since the start of the 2018 season, Whitley has thrown 137 innings, with 51 of those coming in two stints in the Arizona Fall League. He reworked his delivery in 2019 to improve his posture and lessen the stress on his arm. With three 70-grade offerings and two 60-grade offerings, Whitley still has the best pure stuff in the minors, but it has seemingly been one step forward and two steps back every year since his breakout 2017 season. More than anything, he needs to stay healthy for a 15-20 start stretch in order to make strides with his command and pitchability. The Astros said they expect him to be healthy for spring training, but we should believe that when we see it. Health will dictate the course of his 2021 season.
After missing seven weeks with shoulder fatigue, Whitley adjusted his delivery to incorporate better upper-body posture that would lessen the stress on his arm and allow him to throw more strikes. The growing pains while making those adjustments were significant, but perhaps inevitable for a 6-foot-7 pitcher changing a delivery he had used for the past seven years. He walked 25 in 35 IP after coming off the injured list but also struck out 53 over that stretch. With his ace-level arsenal in tact, the lean, athletic righty went to the Arizona Fall League and finished the year on a high note (2.88 ERA, 1.24 WHIP, 32:9 K:BB in 25 innings). Whitley still has the best pure stuff in the minors. His fastball, changeup and curveball can all be 70-grade pitches and he has a plus slider and cutter. Still just 22, Whitley will need to show he can consistently command his pitches before joining the Astros' rotation.
An athletic, 6-foot-7 righty, Whitley is the undisputed top pitching prospect in the game. He has five plus pitches, including two 70-grade offerings in his fastball and changeup. It is the most dominant minor-league arsenal in recent memory. The question is, how many innings will he log in the big leagues this season? He was suspended for the first 50 games of 2018 for violating the minor-league drug program (Adderall is the rumored drug) and then missed over five weeks with a mild oblique strain. When factoring in the Texas League playoffs and the Arizona Fall League, Whitley threw just 55 innings. This is the most important statistic to consider when evaluating him for redraft leagues. He has never pitched at Triple-A and will likely be limited to around 110 innings, so even if he is healthy and dominant, Whitley may only log around 15 starts in the majors. He will be awesome when he pitches, just be aware of the workload limitations.
Whitley joined Clayton Kershaw, Zack Greinke, Dylan Bundy and Chad Billingsley as the only prep first rounders over the last 20 years to reach Double-A in their first full season. He accomplished the feat in style, getting better as the year went on (23.6 K-BB% at Low-A, 31.8 K-BB% at High-A, 39.3 K-BB% at Double-A). At 6-foot-7, 240 pounds, he has the frame to eat innings and uses his length to get excellent extension on his pitches, allowing his 92-94 mph fastball to play up as a plus pitch. This is usually where we discuss which secondary pitches need to improve for a 20-year-old to eventually profile in the rotation, but Whitley already has a complete four-pitch repertoire. His curveball is a second plus offering, and he commands a quality changeup and improving slider. It was announced in late February that he will be suspended for the first 50 games of 2018 for testing positive for a drug of abuse. This won't have a major impact on his long-term prospects, but could delay his big-league debut.
A 6-foot-7, 240-pound prep righty, Whitley draws physical comparisons to Josh Johnson. He fell to the Astros with the 17th pick, and they happily gave him an over-slot $3.15 million bonus. Whitley has a mid-90s fastball that receives plus-plus grades thanks to superb late life, and he features three secondary offerings -- something that separates him from most hard-throwing 19-year-olds. His hammer curveball is his second-best pitch, but his slider also shows plus potential. Given his age and size, the fact that he already has feel for a changeup is another mark in his favor. Excluding a 1.1-inning relief appearance where Whitley gave up four earned runs, he notched a 3.12 ERA and 24:5 K:BB in 17.1 innings across stops in the Gulf Coast and Appalachian leagues. He should receive an assignment to the Midwest League to start 2017. There is plenty of risk in investing in 6-foot-7 prep arms, and there will undoubtedly be bumps along the developmental road, but Whitley has the tools and physical traits to be a special pitcher for a long time.
More Fantasy News