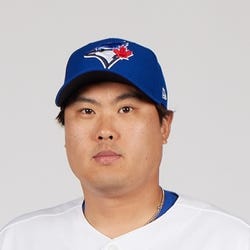 Rest-of-Season Projections
2023 Fantasy Outlook
Ryu got off to a horrid start in 2022 with 11 runs allowed in his first two outings, and he made just four more starts before he suffered a UCL injury and required Tommy John surgery in June. The veteran left-hander missed the rest of the season and is likely to be sidelined for at least the first half of 2023. Ryu is targeting a return in July, but even once healthy he's not guaranteed to be a fantasy asset.
Read Past Outlooks
$Signed a four-year, $80 million contract with the Blue Jays in December of 2019.

Excluded from wild-card roster
ANALYSIS
Ryu wasn't going to get a start in the series and has made just one relief appearance in his entire career, so his exclusion from the roster isn't a surprise. He could potentially be added should the Jays advance to the ALDS.
Read More News
Pitching Stats
Loading Pitching Stats...
2023
2022
2021
2020
2019
2018
2017
2023 MLB Game Log

Calculate Stats Over Time
Just click on any two dates.
Scoring
FanDuel
DraftKings
Yahoo DFS
Loading Pitching Game Log...
2022 MLB Game Log

Calculate Stats Over Time
Just click on any two dates.
Scoring
FanDuel
DraftKings
Yahoo DFS
Loading Pitching Game Log...
2021 MLB Game Log

Calculate Stats Over Time
Just click on any two dates.
Scoring
FanDuel
DraftKings
Yahoo DFS
Loading Pitching Game Log...
2020 MLB Game Log

Calculate Stats Over Time
Just click on any two dates.
Scoring
FanDuel
DraftKings
Yahoo DFS
Loading Pitching Game Log...
2019 MLB Game Log

Calculate Stats Over Time
Just click on any two dates.
Scoring
FanDuel
DraftKings
Yahoo DFS
Loading Pitching Game Log...
2018 MLB Game Log

Calculate Stats Over Time
Just click on any two dates.
Scoring
FanDuel
DraftKings
Yahoo DFS
Loading Pitching Game Log...
2017 MLB Game Log

Calculate Stats Over Time
Just click on any two dates.
Scoring
FanDuel
DraftKings
Yahoo DFS
Loading Pitching Game Log...
Minor League Game Log

Calculate Stats Over Time
Just click on any two dates.
Loading Minor League Pitching Game Log...
Pitching Appearances Breakdown
How many pitches does Hyun Jin Ryu generally throw?
What part of the game does Hyun Jin Ryu generally pitch?
% Games Reaching Innings Threshold
% Games By Number of Innings Pitched
Left/Right Pitching Splits
BAA
K
BB
H
HR
Since 2021

vs Left

.256
40
15
51
4
Since 2021

vs Right

.264
157
40
204
34
2023

vs Left

.275
7
6
11
2
2023

vs Right

.253
31
8
42
7
2022

vs Left

.222
3
1
4
0
2022

vs Right

.308
13
3
28
5
2021

vs Left

.255
30
8
36
2
2021

vs Right

.259
113
29
134
22
More Splits

→

View More Split Stats
Home/Away Pitching Splits
ERA
WHIP
IP
K/9
BB/9
Since 2021

Home

4.90
1.34
134.0
6.8
2.1
Since 2021

Away

3.63
1.14
114.0
7.6
1.9
2023

Home

3.45
1.36
28.2
6.0
1.9
2023

Away

3.47
1.20
23.1
7.3
3.1
2022

Home

7.27
1.38
17.1
6.2
1.0
2022

Away

2.79
1.24
9.2
3.7
1.9
2021

Home

4.91
1.33
88.0
7.2
2.4
2021

Away

3.78
1.11
81.0
8.1
1.6
More Splits

→

View More Split Stats
Stat Review
How does Hyun Jin Ryu compare to other starting pitchers?
This section compares his stats with all starting pitcher seasons from the previous three seasons (minimum 120 innings)*. The bar represents the player's percentile rank. For example, if the bar is halfway across, then the player falls into the 50th percentile for that stat and it would be considered average.
* Exit Velocity, Barrels/BBE %, Balls Hit 95+ MPH %, and Spin Rate are benchmarked against 2019 data (min 120 IP).
See here for more exit velocity/barrels stats
plus an explanation of current limitations with that data set.
K/BB

Strikeout to walk ratio.

K/9

Average strikeouts per nine innings.

BB/9

Average walks per nine innings.

HR/9

Average home runs allowed per nine innings.

Fastball

Average fastball velocity.

ERA

Earned run average. The average earned runs allowed per nine innings.

WHIP

Walks plus hits per inning pitched.

BABIP

Batting average on balls in play. Measures how many balls in play against a pitcher go for hits.

GB/FB

Groundball to flyball ratio. The higher the number, the more likely a pitcher is to induce groundballs.

Left On Base

The percentage of base runners that a pitcher strands on base over the course of a season.

Exit Velocity

The speed of the baseball as it comes off the bat, immediately after a batter makes contact.

Barrels/BBE

The percentage of batted ball events resulting in a Barrel. A Barrel is a batted ball with similar exit velocity and launch angle to past ones that led to a minimum .500 batting average and 1.500 slugging percentage.

Spin Rate

Spin Rate is the rate of spin on a baseball after it is released. It is measured in revolutions per minute (rpm).

Balls Hit 95+ MPH

The percentage of batted balls hit that met or exceeded the 95 MPH threshold.

Swinging Strike

The percentage of pitches that result in a swing and a miss.
Advanced Pitching Stats
Loading Advanced Pitching Stats...
Loading MLB Defensive Stats...
Our full team depth charts are reserved for RotoWire subscribers.
Subscribe Now
Recent RotoWire Articles Featuring Hyun Jin Ryu
See More
Past Fantasy Outlooks
2022
2021
2020
2019
2018
2017
2016
2015
2014
2013
After three straight seasons with expected ERAs all in the same ballpark, Ryu took a step back last year as his signature changeup lost effectiveness. It's unclear if this is a delayed result after moving to the AL East, age catching up or just happenstance. Ryu's swinging strike mark was tightly bunched between 10.9% and 11.6% from 2017-2020, but it dipped to 9.7% last season, lowering his K% to its lowest since 2017. Ryu's groundball rate also dropped, helping to fuel Ryu's highest home run rate since 2017. If Ryu were five years younger, he'd merit the benefit of the doubt with a rebound expected. However, he's embarking on his age-35 campaign so some decline should be anticipated. However, even with the slippage last season, his ERA estimators nestled around 4.00 which is still viable in mixed leagues. Ryu offers no upside, but if he's available at a (likely) discount, there is profit potential.
Ryu didn't fall short of expectations during his first season as a Blue Jay, posting a 2.69 ERA, 1.15 WHIP and a 72:17 K:BB across 67 innings of work. He finished the year with a solid 5-2 record, helping his squad to a playoff berth. The 33-year-old was up to his old tricks in 2020, showcasing his pinpoint command while also mixing his pitches effectively to rack up punchouts. Ryu surrendered just six homers and finished with more strikeouts than innings pitched for the first time in his big-league career. He relied on his fastball just 34.7% of the time in 2020 and kept hitters guessing by mixing in his cutter (24.3%) and changeup (27.8%). With his fastball velocity sitting around 90 mph for the majority of his career, Ryu will need to continue to use deception and his impressive command to find success atop Toronto's starting rotation. He's certainly had few issues with over the last three years.
Coming off a season in which Ryu made only 15 starts but pitched to a 1.97 ERA and 1.01 WHIP, the prudent play was drafting Ryu with an injury discount and having a replacement ready. The ploy paid off in spades as Ryu was essentially his own replacement, repeating the low WHIP with a slightly-higher 2.32 ERA in 29 starts. For much of the year, Ryu was on pace for another season below 2.00, but a four-game stretch with a 9.95 mark spoiled those plans. Spin rate is all the rage, but Ryu's success comes from lack of spin, adding extra action to his changeup while giving a different look to his fastball. He exhibits pinpoint control and command with all his pitches, walking just 24 in 182.2 innings while allowing a stingy 17 homers. Ryu parlayed a rare healthy season into a four-year, $80 million deal with Toronto. His stuff will play in any park, but the move to the AL East is far from ideal.
Ryu only made 15 starts on the season, but made such an impression with the Dodgers that they extended him a qualifying offer, which he accepted. He will make $17.9 million this season while trying to exceed the 150-inning threshold for the first time since 2014. Ryu outpitched his peripherals for a second consecutive season as his ERA and FIP were a full run apart once again -- he has been able to strand more than 80% of runners in each of the past two seasons. Ryu improved his K-BB% 10 percentage points over 2017 by cutting his walk rate nearly in half while upping his strikeouts. Ryu's swinging-strike rate has risen each "full" season he has pitched in the majors. The 192 innings he threw as a rookie remains his high water mark and will likely stay that way for his career. Eventually, the peripherals and the outcomes will collide, but even a full run rise would still leave him with a strong ERA.
Ryu was limited to just one start combined from 2015-2016 due to left shoulder and elbow issues that required surgery, so the fact that he was healthy enough to make 24 starts and pitch 126.2 innings last season is a victory in itself. He still spent a little over a month on the disabled list, but those issues weren't arm related (hip and foot injuries). The southpaw ended up posting a respectable 3.77 ERA, but his 4.74 FIP suggests there was some luck at play (3.2 BB/9, 1.56 HR/9). His command issues can likely be chalked up to rust, as he didn't see a significant dip in velocity on any pitch other than his slider, which he threw significantly less often last season in favor of a newly added cutter. Ryu figures to slot into the back end of the Dodgers' rotation next season, though it seems inevitable that he will have at least a few turns skipped given the team's starting pitching depth and DL games.
Ryu dealt with setbacks in his recovery from a torn labrum in his left shoulder, an injury that cost him the entire 2015 campaign, but he pushed his way through the rehab to return to the mound for the Dodgers in early July. Unfortunately, his comeback was short-lived, as he experienced discomfort in his pitching elbow and did not appear in another game for the rest of the season. During the final week of the regular season, Ryu had an arthroscopic procedure on his elbow to remove damaged tissue from his elbow. It's expected that he will be ready to return during spring training, but with one start under his belt since the end of the 2014 campaign, nothing is guaranteed. If he's healthy, Ryu will take on one of the Dodgers' rotation spots, but he will need to show his pre-injury velocity in order to return to his initial level as a quality mid-rotation starter (3.17 ERA, 1.20 WHIP from 2013-2014).
Ryu was shut down in March after experiencing soreness in his left shoulder. He was originally expected to return in May, but the discomfort lingered, and Ryu ultimately underwent surgery to repair his labrum. Labrum repairs can be tricky, but Ryu started a throwing program in October and the organization expressed optimism that he would return to his prior form. That form has yielded a career 3.17 ERA in 56 starts and solid peripherals - 7.7 K/9 and 2.0 BB/9. Ryu relies on a 90-92 mph fastball, slider, and excellent changeup. The shoulder issue has lingered into camp, and he is expected to be out until at least mid-May. The Dodgers hope he can be their No. 4 or at worst, No. 5 starter in 2016 when he returns, but counting on him to return in May is a big gamble, considering how things unfolded last season.
Ryu enters 2015 as a mainstay in the Dodgers' rotation. He had a fantastic stateside debut in 2013 with the skills to back it up and suggest another such season in 2014 was coming. A pair of disastrous outings, during which he allowed 13 earned runs in just 4.1 innings, ruined what could have been a substantial jump in production. Without those starts, his ERA would have essentially matched his excellent FIP (2.62). Of course, you can't pick and choose which starts to take, but it's not like his 3.38 ERA was problematic. The only thing that really stopped him was a pair of injuries that cost him over a month of time. The shoulder issue cropped up again in the postseason, which puts some risk in the equation going forward. Thankfully, his price tag didn't shoot up after 2013 and it's unlikely to do so after another strong effort, so the discount you should apply for potential shoulder issues in 2015 is built in.
A huge success in his first major league season, Ryu solidified the middle of the Dodgers' rotation, going 14-8 with a 3.00 ERA in 192 innings. With a fastball that sits in the low-90s, Ryu isn't an overpowering guy by any means, but his ratios were solid (7.2 K/9, 2.3 BB/9) and the southpaw has a smooth and easy delivery that would seem to make a repeat appear inevitable. He's a near-lock to start the team's third game of the season, especially since the Dodgers can alternate lefties and righties with Clayton Kershaw, Zack Greinke and Dan Haren locked into the other top-four spots in the rotation.
Ryu has been regarded as one of the most dominant pitchers in Korea for the past six years. He was the 2006 MVP in the Korean Baseball Organization as a rookie, was the winning starting pitcher for the 2008 South Korean Olympic team in the gold medal game against Cuba and was a top starter for South Korea in the 2009 WBC. While he was just 9-9 last season for the Hanwha Eagles, he had a 2.66 ERA with 210 strikeouts and 46 walks in 182.2 innings. The stocky (6-foot-1, 220 pound) left-handed starter has a four-pitch arsenal with a fastball that sits at 88-91 mph, but will reach 94 mph. While several Korean players have become stars in the US, Ryu will be the first player to directly move from the KBO to MLB. As a result, it is hard to know how he will adapt to the changing environment, but he will get a chance to win a spot in a MLB rotation after the Dodgers paid a $25.7 million posting fee and then signed him to a six-year, $36 million contract in December.
More Fantasy News