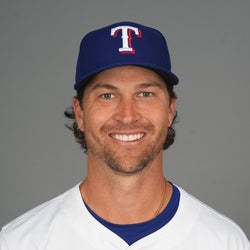 60-Day IL
Injury Elbow
Est. Return 8/1/2024
Rest-of-Season Projections
2023 Fantasy Outlook
Coming off a season where deGrom made only 15 starts while dealing with elbow issues, it took only one spring start before he experienced shoulder soreness. It was soon diagnosed as a stress reaction in his right scapula, which sidelined him until August 2, though that latest injury didn't stop the Rangers from doling out a $185 million contract. The oft-injured right-hander gathered 64.1 inning over 11 starts in 2022, with typically dominant results. He was able to throw all his pitches, again relying on a 99-mph fastball about half of the time. There isn't a bigger wild card in fantasy drafts than deGrom. The pinnacle is the top pitcher in the game, and if he pitches anywhere close to his usual level, deGrom only needs around 150 frames to achieve No. 1 status. He's going to be drafted as one of the first 10 starters off the board, and if he has good spring, it could be top three. Just keep in mind, he'll be 35 years old and including rehab, deGrom has only thrown 182 innings over the last two seasons
Read Past Outlooks
$Signed a five-year, $185 million contract with the Rangers in December of 2022. Contract includes conditional $20 million team option for 2028. Contract can increase to $30 million or $37 million for 2028 based on innings pitched and Cy Young Award finishes.

Rangers manager Bruce Bochy said that the Tommy John surgery that deGrom (elbow) underwent Monday went well, the
Associated Press
reports.
ANALYSIS
Rangers team physician Dr. Keith Meister performed the reconstructive procedure on deGrom's UCL, marking the second time the soon-to-be 35-year-old has had Tommy John surgery after he first required the elbow operation in October 2010. Though no new ligament damage or inflammation was seemingly detected during Monday's surgery, deGrom will still face the typical 12-to-14-month recovery timeline and could struggle to return to elite form, given his advanced age along with the sketchy track record of pitchers who have had two Tommy John procedures. DeGrom likely won't be cleared to start a throwing program before the end of 2023 and probably shouldn't be expected to be ready to rejoin the Texas rotation until midsummer 2024 in a best-case scenario. He'll be heading into the second season of a five-year, $185 million deal in 2024.
Read More News
Pitching Stats
Loading Pitching Stats...
2023
2022
2021
2020
2019
2018
2017
2023 MLB Game Log

Calculate Stats Over Time
Just click on any two dates.
Scoring
FanDuel
DraftKings
Yahoo DFS
Loading Pitching Game Log...
2022 MLB Game Log

Calculate Stats Over Time
Just click on any two dates.
Scoring
FanDuel
DraftKings
Yahoo DFS
Loading Pitching Game Log...
2021 MLB Game Log

Calculate Stats Over Time
Just click on any two dates.
Scoring
FanDuel
DraftKings
Yahoo DFS
Loading Pitching Game Log...
2020 MLB Game Log

Calculate Stats Over Time
Just click on any two dates.
Scoring
FanDuel
DraftKings
Yahoo DFS
Loading Pitching Game Log...
2019 MLB Game Log

Calculate Stats Over Time
Just click on any two dates.
Scoring
FanDuel
DraftKings
Yahoo DFS
Loading Pitching Game Log...
2018 MLB Game Log

Calculate Stats Over Time
Just click on any two dates.
Scoring
FanDuel
DraftKings
Yahoo DFS
Loading Pitching Game Log...
2017 MLB Game Log

Calculate Stats Over Time
Just click on any two dates.
Scoring
FanDuel
DraftKings
Yahoo DFS
Loading Pitching Game Log...
Minor League Game Log

Calculate Stats Over Time
Just click on any two dates.
Loading Minor League Pitching Game Log...
Pitching Appearances Breakdown
How many pitches does Jacob deGrom generally throw?
What part of the game does Jacob deGrom generally pitch?
% Games Reaching Innings Threshold
% Games By Number of Innings Pitched
Left/Right Pitching Splits
BAA
K
BB
H
HR
Since 2021

vs Left

.146
144
14
47
9
Since 2021

vs Right

.159
149
9
52
8
2023

vs Left

.155
24
4
9
0
2023

vs Right

.189
21
0
10
2
2022

vs Left

.165
51
4
19
5
2022

vs Right

.184
51
4
21
4
2021

vs Left

.128
69
6
19
4
2021

vs Right

.130
77
5
21
2
More Splits

→

View More Split Stats
Home/Away Pitching Splits
ERA
WHIP
IP
K/9
BB/9
Since 2021

Home

1.99
0.61
122.0
14.4
1.0
Since 2021

Away

2.09
0.74
64.2
13.6
1.4
2023

Home

3.08
0.84
26.1
13.7
1.0
2023

Away

0.00
0.25
4.0
11.3
2.3
2022

Home

2.52
0.59
35.2
15.9
0.8
2022

Away

3.77
0.94
28.2
12.2
1.6
2021

Home

1.20
0.52
60.0
13.8
1.1
2021

Away

0.84
0.63
32.0
15.2
1.1
More Splits

→

View More Split Stats
Stat Review
How does Jacob deGrom compare to other starting pitchers?
This section compares his stats with all starting pitcher seasons from the previous three seasons (minimum 120 innings)*. The bar represents the player's percentile rank. For example, if the bar is halfway across, then the player falls into the 50th percentile for that stat and it would be considered average.
* Exit Velocity, Barrels/BBE %, Balls Hit 95+ MPH %, and Spin Rate are benchmarked against 2019 data (min 120 IP).
See here for more exit velocity/barrels stats
plus an explanation of current limitations with that data set.
K/BB

Strikeout to walk ratio.

K/9

Average strikeouts per nine innings.

BB/9

Average walks per nine innings.

HR/9

Average home runs allowed per nine innings.

Fastball

Average fastball velocity.

ERA

Earned run average. The average earned runs allowed per nine innings.

WHIP

Walks plus hits per inning pitched.

BABIP

Batting average on balls in play. Measures how many balls in play against a pitcher go for hits.

GB/FB

Groundball to flyball ratio. The higher the number, the more likely a pitcher is to induce groundballs.

Left On Base

The percentage of base runners that a pitcher strands on base over the course of a season.

Exit Velocity

The speed of the baseball as it comes off the bat, immediately after a batter makes contact.

Barrels/BBE

The percentage of batted ball events resulting in a Barrel. A Barrel is a batted ball with similar exit velocity and launch angle to past ones that led to a minimum .500 batting average and 1.500 slugging percentage.

Spin Rate

Spin Rate is the rate of spin on a baseball after it is released. It is measured in revolutions per minute (rpm).

Balls Hit 95+ MPH

The percentage of batted balls hit that met or exceeded the 95 MPH threshold.

Swinging Strike

The percentage of pitches that result in a swing and a miss.
Advanced Pitching Stats
Loading Advanced Pitching Stats...
Loading MLB Defensive Stats...
Our full team depth charts are reserved for RotoWire subscribers.
Subscribe Now
Recent RotoWire Articles Featuring Jacob deGrom
See More
Past Fantasy Outlooks
2022
2021
2020
2019
2018
2017
2016
2015
2014
It's a shame we'll never know what would have happened if deGrom didn't deal with multiple injuries. Unfortunately, right lat inflammation, right flexor tendinitis, shoulder soreness and a partial UCL tear had other plans. In his 92 frames, deGrom recorded a 45.1 K% and 3.4 BB%, resulting in a 41.7 K-BB% mark which would have been the best in history for a qualified starting pitcher. Even though his ERA estimators were still well below 2.00, it's hard to imagine deGrom would have finished the year with a 1.08 mark. It is encouraging he could have returned down the stretch if the Mets were in playoff contention, but deGrom still turns 34 years old in June and he's coming off an injury-riddled campaign. The scary part is deGrom needs only 120 innings to be a top-10 starter. This one isn't about next-level analytics; it's a matter of confidence in his health and risk tolerance.
DeGrom nearly pulled off the Cy Young three-peat, posting a sub-2.50 ERA for the third straight year and once again finishing as a finalist in the National League. He ultimately placed third in the voting, but he would have been a worthy winner, with the only real knock being one-and-a-half missed starts due to neck and hamstring issues. The right-hander dialed his fastball up a tick to 98.6 mph on average and saw a corresponding increase in strikeout rate to a career-high 38.8%. His previous high was 32.2% set in 2018. It's worth noting that his opponents' barrel rate and average exit velocity jumped to 9.6% and 88.2 mph, respectively, up from 5.0% and 86.5 mph in 2019. Further, the velocity spike could be seen as slightly worrying given they are sometimes a precursor to injury. These are relatively minor factors to consider when splitting hairs in the first round of 2021 fantasy drafts.
For the second straight season, deGrom won the National League Cy Young Award. Remarkably, he's won just 21 games over that span, but his pristine ratios have properly swayed the voters to do the right thing. Like all great pitchers, deGrom constantly adapts. His fastball velocity ticked up for the fourth consecutive campaign, so deGrom threw it a little more. He also increased slider usage while cutting back on his curve and bagging the sinker. The result was a 26.2 K-BB%, fourth best in the league. The main difference between 2019 and the previous season was deGrom's home-run rate doubled, accounting for the bump in ERA to 2.43 after a 1.70 mark in 2018. With Max Scherzer's health a concern, deGrom is a candidate to be the first pitcher off the board, along with Gerrit Cole and Justin Verlander. If wins weren't still an issue, deGrom would likely be the consensus top pick among hurlers.
If deGrom had not won the NL Cy Young Award, it would have been a damn shame. DeGrom shoved all season and pitched with a laughable amount of run support. His average pitch velocities went up across the board, and combined with precision command, explain how he was able to dominate hitters in nearly every single outing of 2018. DeGrom had 21 starts in which he allowed one or zero runs and he had nine wins to show for his efforts in those outings. He had just one game in which he allowed more than three runs. He should have won 25, but won 10. He has strikeouts and ratios in spades, and the Mets' additions to the lineup and the bullpen should lead to more wins in 2019.
After undergoing ulnar nerve surgery at the end of the 2016 season, deGrom regained his velocity and stepped up as the Mets' best starter last season. For the first time in his career, he eclipsed 200 innings, and parlayed the increased workload and an improved strikeout rate (10.7 K/9) into a career-high 239 punchouts. Little changed with his pitch mix, although deGrom used his slider at a 22.7 percent rate, the most he's thrown that offering to this point in his career, and the adjustment came at the expense of fewer fastballs. He was more willing than ever to challenge hitters within the strike zone (51.5 percent), and despite that, hitters made contact on those pitches at a career-low 73.5 percent rate against him. If the improved walk rate he carried in the second half (2.1 BB/9) is maintained over a full season with the increase in strikeouts, deGrom has the tools necessary to contend for the Cy Young Award in 2018.
New York's super rotation held together for all of a year as two of the three aces suffered through injuries that eventually required surgery. DeGrom's season was markedly better than Matt Harvey's, but he imploded late and missed the final month of the season thanks to ulnar nerve surgery. Through 21 starts, he had a 2.30 ERA and 1.05 WHIP with 129 strikeouts, all of which is peak deGrom. The surgery was a clean-up around the nerve while the nerve itself was healthy and in good shape. This all bodes well for a strong recovery and winter reports suggest deGrom won't be limited in spring training. Don't be surprised if deGrom's price rises throughout spring as he proves himself healthy during the Grapefruit League and earns back the confidence of drafters. He was a 6th-7th round bargain in some winter drafts, but could wind up back in the 4th-5th round area where more frontliners are going for 2017. With health, buy in bulk.
While deGrom's season ended on a disappointing note — he gave up four runs in the fifth inning of a Game 2 loss to the Royals in the World Series — it did not detract from what was an absolutely stellar campaign for the 27-year-old. DeGrom improved upon his already excellent strikeout and walk rates, with his 22.2% K-BB% ranking seventh among all qualified starters in Major League Baseball, ahead of Jake Arrieta, Chris Archer, David Price, and teammate Matt Harvey. He gained a couple ticks on each of his four offerings, with his fastball consistently reaching the mid-90s, and was able to get more swings at pitches outside of the strike zone. The Mets took measures late in the year to limit his workload, and he acknowledged in the postseason that he was fatigued, but deGrom is now five years removed from Tommy John surgery and should be unrestricted in 2016.
This is why the prospecting game is so difficult. DeGrom was never seen as much of a prospect, especially if the list in question stopped at 10 names. His excellent 2014 shocked everyone. He never had that carrying tool or standout plus pitch, but instead was just kind of solid across-the-board. He is the embodiment of the Bill James adage that is usually applied to a team construct: if you grade average everywhere, the package winds up being very good. He has four reliable pitches (all thrown at least 10% of the time) with the fastball leading the way (61%), a slider he features against righties, a changeup that he uses against lefties and a curveball that he throws at hitters on both sides of the plate. This isn't some soft-tossing non-prospect who caught lightning in a bottle, though. He has a strong 93-95 mph fastball that yielded the third-lowest OPS-against in the league (.585) and third-highest strikeout rate (27.4%). The fact that he doesn't overly rely on any of his four pitches for his 26.0% strikeout rate bodes well for it holding firm. Don't pay for a repeat, especially if the hardware he won drives the price up, but he should be a very useful asset again in 2015.
DeGrom began the year at High-A St. Lucie, but ascended to Triple-A Las Vegas before the season concluded. He struck out 63 batters over 75.2 innings in Triple-A ball, finishing the season with a 4-2 record for the 51s. DeGrom throws strikes consistently, using a low-90s fastball, average breaking pitch and solid changeup. He underwent Tommy John surgery, missing all of the 2011 season, but has been a fast riser since returning to action. DeGrom was added to the 40-man roster in November to protect him from the Rule 5 draft and he will likely start the year in Las Vegas, but he could see Citi Field during the upcoming season.
More Fantasy News