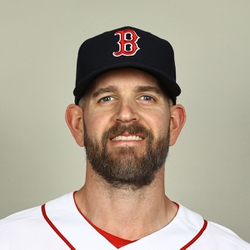 Rest-of-Season Projections
2023 Fantasy Outlook
Paxton spent most of 2022 rehabbing from Tommy John surgery, and he suffered a lat strain in August after just one minor-league rehab outing. The left-hander has thrown just 21.2 innings across the past three seasons, but he'll be back with the Red Sox for 2023 after he exercised his $4 million player option. He's likely to have some serious workload restrictions given his limited action over the last few years. Paxton pitched well for the Yankees back in 2019 with a 3.82 ERA across 150.2 innings, but it's unclear if he'll be able to rediscover that form while entering his age-34 season.
Read Past Outlooks
$Signed a one-year, $6 million contract with the Red Sox in November of 2021. Exercised $4 million player option for 2023 in November of 2022. Contract includes $13 million team option for 2024.

Paxton (1-1) took the loss Wednesday, allowing five runs on four hits and three walks over three innings against the Angels. He struck out five.
ANALYSIS
Paxton surrendered just three runs across his first two starts of the season after missing the first six weeks with a hamstring issue, but he struggled Wednesday and recorded just nine outs. The 34-year-old's last full season was 2019, when he produced a 3.82 ERA and 186 strikeouts in 150.2 innings. However, he's made only nine starts since due to multiple injuries, making his reliability a question mark.
Read More News
Pitching Stats
Loading Pitching Stats...
2023
2022
2021
2020
2019
2018
2017
2023 MLB Game Log

Calculate Stats Over Time
Just click on any two dates.
Scoring
FanDuel
DraftKings
Yahoo DFS
Loading Pitching Game Log...
2022 MLB Game Log

Calculate Stats Over Time
Just click on any two dates.
Scoring
FanDuel
DraftKings
Yahoo DFS
Loading Pitching Game Log...
2021 MLB Game Log

Calculate Stats Over Time
Just click on any two dates.
Scoring
FanDuel
DraftKings
Yahoo DFS
Loading Pitching Game Log...
2020 MLB Game Log

Calculate Stats Over Time
Just click on any two dates.
Scoring
FanDuel
DraftKings
Yahoo DFS
Loading Pitching Game Log...
2019 MLB Game Log

Calculate Stats Over Time
Just click on any two dates.
Scoring
FanDuel
DraftKings
Yahoo DFS
Loading Pitching Game Log...
2018 MLB Game Log

Calculate Stats Over Time
Just click on any two dates.
Scoring
FanDuel
DraftKings
Yahoo DFS
Loading Pitching Game Log...
2017 MLB Game Log

Calculate Stats Over Time
Just click on any two dates.
Scoring
FanDuel
DraftKings
Yahoo DFS
Loading Pitching Game Log...
Minor League Game Log

Calculate Stats Over Time
Just click on any two dates.
Loading Minor League Pitching Game Log...
Pitching Appearances Breakdown
How many pitches does James Paxton generally throw?
What part of the game does James Paxton generally pitch?
% Games Reaching Innings Threshold
% Games By Number of Innings Pitched
Left/Right Pitching Splits
BAA
K
BB
H
HR
Since 2021

vs Left

.222
3
2
2
1
Since 2021

vs Right

.229
18
5
11
3
2023

vs Left

.250
3
2
2
1
2023

vs Right

.244
16
4
11
3
2022

vs Left

0
0
0
0
0
2022

vs Right

0
0
0
0
0
2021

vs Left

.000
0
0
0
0
2021

vs Right

.000
2
1
0
0
More Splits

→

View More Split Stats
Home/Away Pitching Splits
ERA
WHIP
IP
K/9
BB/9
Since 2021

Home

4.26
0.95
6.1
15.6
2.8
Since 2021

Away

6.00
1.56
9.0
10.0
5.0
2023

Home

3.60
1.00
5.0
16.2
1.8
2023

Away

6.00
1.56
9.0
10.0
5.0
2022

Home

0
0
0
0
0
2022

Away

0
0
0
0
0
2021

Home

6.75
0.75
1.1
13.5
6.8
2021

Away

0
0
0
0
0
More Splits

→

View More Split Stats
Stat Review
How does James Paxton compare to other starting pitchers?
This section compares his stats with all starting pitcher seasons from the previous three seasons (minimum 120 innings)*. The bar represents the player's percentile rank. For example, if the bar is halfway across, then the player falls into the 50th percentile for that stat and it would be considered average.
* Exit Velocity, Barrels/BBE %, Balls Hit 95+ MPH %, and Spin Rate are benchmarked against 2019 data (min 120 IP).
See here for more exit velocity/barrels stats
plus an explanation of current limitations with that data set.
K/BB

Strikeout to walk ratio.

K/9

Average strikeouts per nine innings.

BB/9

Average walks per nine innings.

HR/9

Average home runs allowed per nine innings.

Fastball

Average fastball velocity.

ERA

Earned run average. The average earned runs allowed per nine innings.

WHIP

Walks plus hits per inning pitched.

BABIP

Batting average on balls in play. Measures how many balls in play against a pitcher go for hits.

GB/FB

Groundball to flyball ratio. The higher the number, the more likely a pitcher is to induce groundballs.

Left On Base

The percentage of base runners that a pitcher strands on base over the course of a season.

Exit Velocity

The speed of the baseball as it comes off the bat, immediately after a batter makes contact.

Barrels/BBE

The percentage of batted ball events resulting in a Barrel. A Barrel is a batted ball with similar exit velocity and launch angle to past ones that led to a minimum .500 batting average and 1.500 slugging percentage.

Spin Rate

Spin Rate is the rate of spin on a baseball after it is released. It is measured in revolutions per minute (rpm).

Balls Hit 95+ MPH

The percentage of batted balls hit that met or exceeded the 95 MPH threshold.

Swinging Strike

The percentage of pitches that result in a swing and a miss.
Advanced Pitching Stats
Loading Advanced Pitching Stats...
Loading MLB Defensive Stats...
Our full team depth charts are reserved for RotoWire subscribers.
Subscribe Now
Recent RotoWire Articles Featuring James Paxton
See More
Past Fantasy Outlooks
2022
2021
2020
2019
2018
2017
2016
2015
2014
2013
2012
Paxton pitched 1.1 innings for Seattle in 2021 before requiring Tommy John surgery in April. The 33-year-old should be ready to pitch for Boston sometime in June or July.
When Paxton underwent surgery to remove a cyst from his back in early February, it appeared that he would miss a significant chunk of the season. The pandemic-necessitated delay to the campaign seemed to give the southpaw time to fully recover, but Paxton never looked right, experiencing a steep velocity drop on his fastball and posting a 6.64 ERA through five starts. Paxton managed a 28.9 K% despite losing over three mph on his four-seamer, but that was about the only positive takeaway from a forgettable string of starts in which he was knocked to the tune of a 10.7% barrel rate. Those five appearances were the extent of Paxton's season as a left forearm flexor strain suffered in mid-August ended his campaign. The 32-year-old's strikeout potential and past success could make him a sneaky pickup in fantasy leagues now that he's an endgame pick, but all the caveats still apply.
While not disappointing, Paxton's first season in pinstripes fell short of expectations. As a flyball pitcher, WHIP should be low relative to ERA. However, an increased walk rate catapulted his WHIP to 1.28 after consecutive seasons of 1.10 with the Mariners. A 29.4 K% helped mitigate the damage and a 14.1% HR/FB mark was very good considering Yankee Stadium and the funky baseball. Despite teasing a change in repertoire to include a changeup to combat right-handed batters, Paxton's arsenal remained essentially the same, with a few more cutters at the expense of his sinker and curve. The extra baserunners in tandem with strikeouts led to Paxton averaging just over five innings a start, by far his lowest. There's a good chance Paxton's WHIP reverts closer to previous levels, adding innings and whiffs, so don't be afraid to invest in him as a low-end SP2 or high-end SP3.
Big Maple's season was highlighted by a no-hitter in his home country, but it was somewhat abbreviated due to a tired shoulder in the summer that limited him to 160.1 innings. He improved his strikeout rate for a fourth consecutive season (to 32.3%), which is impressive for a pitcher with no true offspeed pitch. Yet, he has made a transition from a heavy groundball pitcher to a flyball one, and the transition has impacted his home-run rate. That rate doubled last season (to 1.29 HR/9), which was a significant factor in his ERA rising three quarters of a run over 2017. Health remains the risk with Paxton as the 160.1 innings last season were a career high. He went into the offseason with a commitment to bring a changeup into 2019, so watch for it in spring training -- he needs it. Twenty of his homers allowed were hit by righties, so adding a pitch that fades from them is needed, especially with the relocation to Yankee Stadium and the American League East.
When healthy, Paxton pitched like an ace for the Mariners in 2017, posting an ERA under 3.00 for the first time as a full-time member of the big-league rotation. The changes were fueled by an adjustment to his pitch mix, as he nearly stopped throwing his changeup, opting to use his curveball a career-high 21.3 percent of the time. Paxton posted the best swinging-strike rate of his career (12.5 percent), en route to an increased strikeout rate (28.3 percent), while maintaining good walk and home-run rates. There is little reason to doubt Paxton's core skills as elite, but he enters his age-29 campaign without a 200-inning season under his belt as a professional (he reached 171.2 between Tacoma and Seattle in 2016). He lost time last season to forearm and pectoral strains, marking the third straight year he's required a DL stint due to an arm injury. Ideally, he can be drafted as a No. 2 fantasy starter while being paired with a more durable No. 1.
Paxton used to have a distinct delivery, in which he leaned back during his stride and pointed his glove high toward the sky. It was an aspect of his mechanics for years, but he made a major adjustment that improved his balance by largely eliminating the lean-back in his delivery, and the glove came down in conjunction. With these improved upper-body mechanics, Paxton was able to better line up the gears of rotation for his fastball, and the result was the fastest average heater (97.3 mph) of his career by nearly two full ticks. Overall, he threw his most pro innings since 2013, trimmed the walks and maintained nearly a strikeout per inning. The 28-year-old Paxton is beyond the point where we can call him a post-hype sleeper, but the improvements that he made last year appear to be legit, giving him significant upside that may still be lurking under the radar.
Paxton made the rotation out of spring training the last two years and both years missed nearly four months with an injury. In 2014, it was a lat strain. Last season, it was a strained middle finger tendon sustained in late May. He finally returned in mid-September but tore a fingernail in his third start back and was shut down for the season. When healthy, he was effective -- 12 of his 29 earned runs came in two games, leaving him with a 2.63 ERA in his other 11 starts. A groundball pitcher, Paxton has a 94-95 mph fastball, a plus curve and a good changeup. But for the second year in a row, he struggled with control (3.90 BB/9). Inconsistency has limited his K:BB to an ugly sub-2.00, and better command would likely improve his 7.5 K/9. Paxton will be back in the rotation this year as long as he's healthy, but he's 27 now and needs to take the next step with his control and command to fulfill his potential.
Paxton earned a rotation job last season after a solid spring, but just two starts into the year he suffered a lat strain that sidelined him the next four months. When he returned, he justified his prospect status, allowing two runs or fewer in nine of 11 starts. A nine-run, six-walk disaster against the Blue Jays in late September ruined his final numbers, but overall he had a promising season. Paxton's fastball averaged 94.8 mph, and his curveball proved to be the plus pitch that was expected. A groundball pitcher, Paxton needs to continue to improve his control. The Mariners would like to add another starting pitcher this season, but Paxton should still have a place in the rotation.
Paxton had an up-and-down year at Triple-A Tacoma, but it only took him four September starts with Seattle to show that he belongs in the 2014 rotation. Small sample size, yes, but the left-hander pitched two scoreless outings, including a four-hit, 10-strikeout, seven-inning shutout of the Royals in his final start. Paxton is a groundball pitcher with a mid-90s fastball. When he keeps the ball down, he's tough to hit, as right-handers found out to the tune of a .141 BAA last year. He gets into trouble when he loses command of the fastball, which is what caused his headaches in Tacoma last year, but he did not show any command issues with Seattle last season. His curveball is a potential plus-pitch, and he mixes in an effective changeup. Whether Paxton actually makes the rotation depends on various factors – the team's offseason moves, spring training, etc. But there's little doubt he is ready.
Paxton's path to the majors was a bit steeper last year than perhaps first thought heading into spring training. A knee injury caused him missed time and problems early in the year. He struggled with control and saw his command within the strikezone lacking as well, unable to consistently hit his spots. Once he got healthy, though, he looked every bit the top-prospect pitcher most expected. In the second half, he posted a a 58:22 K:BB ratio over 11 starts with a 2.40 ERA at Double-A Jackson. Paxton overpowers batters with a mid-90s fastball, but it was the development of his curve and changeup last season that really impressed. He heads to spring training this season with a legitimate chance of making the big-league rotation. The Mariners, though, have plenty of in-house options, which likely will leave Paxton at Triple-A waiting for his chance in Seattle.
One of the organization's top prospects, Paxton made his pro debut last season at Low-A Clinton and blew away the competition with 80 strikeouts in 56 innings. He then made a seamless transition from the Midwest League to Double-A Jackson in July, totaling 51 strikeouts in 39 innings with a 1.85 ERA. The 23-year-old lefty has a strong fastball/curveball combination and induces his share of groundballs, posting a 1.53 GO/AO last season. Paxton enters 2012 with a shot at the major league rotation in spring training. The Mariners likely will let him percolate at Triple-A Tacoma to at least start the year. Don't be surprised, though, if he's in Seattle by summer. Keep track of his progress and get ready to pounce, as the 6-foot-4 Paxton has tremendous upside.
More Fantasy News