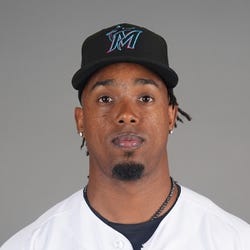 Rest-of-Season Projections
2023 Fantasy Outlook
Segura sustained a fractured finger in late May and was limited to 98 games in 2022, and he was solid when healthy with 10 home runs and 13 stolen bases for a 105 wRC+. The injury resulted in him playing the fewest games of his career as he had previously never played fewer than 125 contests, not counting his rookie campaign and the shortened 2020 season. He continues to provide an above-average bat at second base, but his counting stats have dwindled over the past few years. He had a 15.0 percent strikeout rate and .305 BABIP, which is in line with his career numbers. Segura should be able to maintain that batting profile for at least another year, though his fantasy potential remains limited beyond a strong batting average. He should have an everyday role after signing with the Marlins, though he's set to work at third base, where his bat doesn't play as well relative to the position.
Read Past Outlooks
$Signed a two-year, $17 million contract with the Marlins in December of 2022. Traded to the Guardians in August of 2023. Released by the Guardians in August of 2023.

ANALYSIS
The 33-year-old and
Kahlil Watson
were sent to Cleveland in exchange for
Josh Bell
, but Segura will instead head straight to the open market. Segura has struggled at the plate with a .219/.277/.279 slash line in 326 plate appearances this season, but it's still somewhat of a surprise to see the Guardians let him go with well over $10 million left on his contract.
Read More News
Batting Stats
2023
2022
2021
2020
2019
2018
2017
2023 MLB Game Log

Calculate Stats Over Time
Just click on any two dates.
Scoring
FanDuel
DraftKings
Yahoo DFS
Loading Batting Game Log...
2022 MLB Game Log

Calculate Stats Over Time
Just click on any two dates.
Scoring
FanDuel
DraftKings
Yahoo DFS
Loading Batting Game Log...
2021 MLB Game Log

Calculate Stats Over Time
Just click on any two dates.
Scoring
FanDuel
DraftKings
Yahoo DFS
Loading Batting Game Log...
2020 MLB Game Log

Calculate Stats Over Time
Just click on any two dates.
Scoring
FanDuel
DraftKings
Yahoo DFS
Loading Batting Game Log...
2019 MLB Game Log

Calculate Stats Over Time
Just click on any two dates.
Scoring
FanDuel
DraftKings
Yahoo DFS
Loading Batting Game Log...
2018 MLB Game Log

Calculate Stats Over Time
Just click on any two dates.
Scoring
FanDuel
DraftKings
Yahoo DFS
Loading Batting Game Log...
2017 MLB Game Log

Calculate Stats Over Time
Just click on any two dates.
Scoring
FanDuel
DraftKings
Yahoo DFS
Loading Batting Game Log...
Minor League Game Log

Calculate Stats Over Time
Just click on any two dates.
Loading Minor League Batting Game Log...
Batting Order Slot Breakdown
#1
#2
#3
#4
#5
#6
#7
#8
#9
#1
#2
#3
#4
#5
#6
#7
#8
#9
Left/Right Batting Splits
OPS
PA
HR
RBI
AVG
Since 2021

vs Left

.804
368
11
37
.290
Since 2021

vs Right

.667
911
16
75
.259
2023

vs Left

.533
72
0
5
.221
2023

vs Right

.560
253
3
16
.219
2022

vs Left

.855
114
5
11
.301
2022

vs Right

.669
273
5
22
.267
2021

vs Left

.882
182
6
21
.313
2021

vs Right

.738
385
8
37
.279
More Splits

→

View More Split Stats
Home/Away Batting Splits
OPS
PA
HR
RBI
AVG
Since 2021

Home

.730
671
13
55
.282
Since 2021

Away

.682
609
14
57
.253
2023

Home

.603
171
1
10
.247
2023

Away

.504
155
2
11
.190
2022

Home

.749
202
6
15
.282
2022

Away

.695
185
4
18
.272
2021

Home

.789
298
6
30
.302
2021

Away

.778
269
8
28
.276
More Splits

→

View More Split Stats
Stat Review
How does Jean Segura compare to other hitters?
This section compares his stats with all batting seasons from the previous three seasons (minimum 400 plate appearances)*. The bar represents the player's percentile rank. For example, if the bar is halfway across, then the player falls into the 50th percentile for that stat and it would be considered average.
* Exit Velocity and Barrels/PA % are benchmarked against 2019 data (min 400 PA) and Hard Hit Rate is benchmarked against last season's data (min 400 PA).
See here for more exit velocity/barrels stats
plus an explanation of current limitations with that data set.
BB/K

Walk to strikeout ratio

BB Rate

The percentage of plate appearances resulting in a walk.

K Rate

The percentage of plate appearances resulting in a strikeout.

BABIP

Batting average on balls in play. Measures how many of a batter's balls in play go for hits.

ISO

Isolated Power. Slugging percentage minus batting average. A computation used to measure a batter's raw power.

AVG

Batting average. Hits divided by at bats.

OBP

On Base Percentage. A measure of how often a batters reaches base. Roughly equal to number of times on base divided by plate appearances.

SLG

Slugging Percentage. A measure of the batting productivity of a hitter. It is calculated as total bases divided by at bats.

OPS

On base plus slugging. THe sum of a batter's on-base percentage and slugging percentage.

wOBA

Weighted on-base average. Measures a player's overall offensive contributions per plate appearance. wOBA combines all the different aspects of hitting into one metric, weighting each of them in proportion to their actual run value.

Exit Velocity

The speed of the baseball as it comes off the bat, immediately after a batter makes contact.

Hard Hit Rate

A measure of contact quality from Sports Info Solutions. This stat explains what percentage of batted balls were hit hard vs. medium or soft.

Barrels/PA

The percentage of plate appearances where a batter had a batted ball classified as a Barrel. A Barrel is a batted ball with similar exit velocity and launch angle to past ones that led to a minimum .500 batting average and 1.500 slugging percentage.

Expected BA

Expected Batting Average.

Expected SLG

Expected Slugging Percentage.

Sprint Speed

The speed of a runner from home to first, in feet per second.

Ground Ball %

The percentage of balls put in play that are on the ground.

Line Drive %

The percentage of balls put in play that are line drives.

Fly Ball %

The percentage of balls put in play that are fly balls.
Advanced Batting Stats
Loading Advanced Batting Stats...
Games By Position
Defensive Stats
Loading Games Played by Position...
Loading MLB Defensive Stats...
Batted Ball Stats
Loading Batted Ball Stats...
Stats Vs Upcoming Pitchers
Recent RotoWire Articles Featuring Jean Segura
See More
Past Fantasy Outlooks
2022
2021
2020
2019
2018
2017
2016
2015
2014
2013
2012
2011
Segura had a down season in his first year in Philadelphia back in 2019, with his 91 wRC+ representing his lowest mark since 2015, but he's since rebounded with a pair of solid campaigns. He's now almost exclusively a second baseman, which raises the offensive bar slightly, but his .283/.348/.432 slash line (good for a 108 wRC+) over the last two years clears it adequately enough. Heading into his age-32 season, Segura should still have at least a year or two as a competent everyday player ahead of him, but his fantasy appeal is diminishing. He still makes a ton of contact, with his 13.8 K% helping him to a .290 average, but that's about all he does. He only managed 14 homers, with his .388 xSLG suggesting that his actual .436 slugging percentage was an overachievement. He also doesn't run much any more, topping out at 10 steals over his last three seasons, including just nine in 2021.
Segura's disappointed in his Phillies debut in 2019, producing his first below-average batting line since 2015 while playing fairly poor defense. That led the Phillies to bring in Didi Gregorius over the winter, pushing Segura to third base and putting his everyday role at risk. He bounced back last season, however, hitting a solid .266/.347/.422. He was good on the defensive side of the ball as well, grading out as above-average both at third base and later at second following the arrival of Alec Bohm. In addition to showcasing adaptability on defense, Segura also changed up his approach at the plate, as his career-best 10.6 BB% more than doubled his career average, though he also saw his strikeout rate spike from 11.8% to 20.7%. If that approach holds, however, it might keep his batting average rather mediocre in the future, which hurts his fantasy value, as does the fact that he stole just two bases.
A move to a more hitter-friendly home park and a stronger lineup was supposed to boost Segura's fantasy value in his first season in Philadelphia. Instead, his production tailed off a bit from the .304/.341/.415 line he posted with Seattle the season prior. More significant for fantasy owners: his steals dropped from 20 to 10, while his stolen-base attempts dropped even more dramatically from 31 to 12. It's possible that was a strategic decision that could change this year with a new manager, but Segura is also slowing down as he enters his age-30 season. His value in 2020 will be tied closely to how much he runs. If he steals 20 bases, he'll be a solid mid-tier starter given how few steals there are in the modern game. If his production on the basepaths slips again, he'll offer little more than an empty batting average and duel eligibility, which he will gain early on following a move to second base.
Segura put together another quality campaign in 2018, hitting .300 for the third year in a row and just falling short of the career-high 64 RBI he tallied in 2016. He was one of six hitters to hit .300 with 20-plus steals. The Mariners elected to trade him as part of their rebuild -- he will spend 2019 with the Phillies. It remains to be seen where Segura will hit, but chances are he will either lead off or hit second. His stolen-base total dropped for the second year in a row, and he can no longer carry a fantasy team in that category. Segura has hit double-digit home runs in three straight years, and could improve on last year's total in that category (10) with the move to hitter-friendly Citizens Bank Park. He will see plenty of at-bats while hitting at or near the top of the order and serving as the Phillies' everyday shortstop. Another season at or above .300 could be in store, as both his contact rate and BB:K improved for the third year in a row.
Predictably, Segura came back to Earth in 2017 after a career year in 2016, but he was still a highly valuable contributor at the shortstop position. His strikeout and walk rates hardly budged (14.7 percent strikeout rate, 6.0 percent walk rate), and those contact skills allowed him to hit .300 for a second straight season. The move from Arizona to Seattle hurt Segura's power output, with his ISO falling more than 50 points to .128, but he was a long shot to get back to 20 homers again anyway given his heavy groundball tendencies (54.3 percent last season). While Segura missed a few weeks in June due to an ankle injury, he appeared in at least 142 games in each of the previous four seasons, so he has a track record of good health. A top-of-the-order hitter with a 20-steal floor and double-digit homer power at the shortstop position? They don't grow on trees.
Entering 2016, Segura was being labeled a disappointment after being traded by Milwaukee in the offseason following poor showings in 2014 and 2015. He proceeded to set career highs in nearly every major offensive category in his first season with Arizona, and he was one of just four players to record at least 30 steals and 20 home runs (Paul Goldschmidt, Jose Altuve and Mike Trout were the others). He was aided by a career-high .355 BABIP (he was under .300 the previous two seasons), so some regression to his .319 batting average is inevitable. Nobody is expecting a repeat of his 2016 performance, especially after he was dealt to the Mariners this offseason, as he will be in a much worse park and will have to deal with a league switch. Some owners will fade him entirely, so while he will cost a lot more to obtain in 2017, the price tag won't come close to reflecting what he did last season.
Segura followed up a disappointing 2014 season with more of the same in 2015, as his OPS climbed from .614 to just .616 last year. Segura's contact skills are still excellent, as his 15.9% strikeout rate was far better than league average, but he's not doing anything with the ball when he puts it in play. His groundball rate was 59 percent for the third straight season as Segura just has not figured out how to get the ball in the air with consistency against major league pitching. Nonetheless, the Diamondbacks traded for him this offseason, and he will head to a similar ballpark while being surrounded by a more talented lineup. The talent in his glove is obvious, but Nick Ahmed is still the superior defender. However, the D-Backs have said that Segura will play almost every day if he can also show an aptitude to play the keystone on days when Ahmed is in the lineup. Currently, Segura's only fantasy asset is his legs – he stole 25 bases and now has at least 20 in each of the past three seasons, but if he were to find his way to the leadoff role hitting in front of A.J. Pollock and Paul Goldschmidt, he could also set a career high in runs scored.
Segura had a trying 2014 season, as he was forced to deal with a personal tragedy and several injuries, and his numbers took a significant dip following an impressive rookie season. He did hit .271 after the All-Star break and .319 in September, so all hope should not be lost, particularly with a fresh start in 2015. Segura won't be ranked as highly on the cheat sheets as he was entering last season, but he still stole 20 bases in a down year and is an obvious bounce-back candidate in his age-25 campaign.
Segura began hitting late in the 2012 season and didn't look back, tearing up the Arizona Fall League and posting a .294 batting average in his first full major league season. Segura earned an All-Star berth by posting an .850 OPS in the first half, but he hit the dreaded Rookie Wall after the break, posting an unsightly .583 OPS. Despite the late-season struggles, Segura still managed to reach double digits in all three extra-base hit categories, and his stolen base total ranked fourth in all of baseball. Segura's stamina should improve in his second season, and he will be among the top options at the shortstop position.
After trading away both J.J. Hardy and Alcides Escobar in years prior, the Brewers targeted a young, talented shortstop when they shopped Zack Greinke around last year's trade deadline. They found one - and a good one in that - when they picked up Segura, who had been the top prospect in the Angels' organization outside of Mike Trout. Segura got off to a slow start at the big league level, but he finished strong by posting a .785 OPS over his final 25 games. Segura should continue to improve offensively, and though he does not have much pop, he should still hit for a good average and steal some bases.
Segura was well on his way to a productive 2011 season before missing three months with a hamstring injury. Though he appeared in just 44 total games last year, the Angels still decided to add him to the 40-man roster in the offseason. Segura's impressive minor league numbers - an .819 OPS and 80.3 percent stolen-base percentage - make him one of the Angels' top prospects.
While Mike Trout understandably collects the bulk of the hype in the Angels' system, Segura is a nice prospect in his own right. As a 20-year-old last season, Segura posted excellent numbers in the Midwest League with Low-A Cedar Rapids including 50 steals. Further, his impressive slash line is supported by a good skill set, including an 86 percent contact rate and eight percent walk rate. It's rare to find a young player with plus speed and the requisite tools to utilize it, but he offers that with pop in his bat (46 extra-base hits) as well.
More Fantasy News