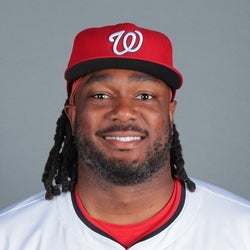 Rest-of-Season Projections
2023 Fantasy Outlook
As fantasy managers, we want all the data we can get to analyze how a player will perform. One thing we cannot measure is what happens when you disrupt a player's situation with a midseason trade and we saw that come to pass with Bell last season. The first baseman was having a terrific fantasy season for managers who bought back in at a great price this past winter until the deadline deal to the Padres where he slipped back into 2020 levels of production without the excuse of a pandemic at its peak to blame. His performance simply cratered out west dropping from a 143 wRC+ with the Nationals to a 79 wRC+ with the Padres. The pre-trade performance was some of the best production we have seen from Bell while the performance with the Padres was a return to the 2020 season which tanked his value he established during the happy fun ball season of 2019. His 2021 numbers are a more realistic expectation of what the 30 year old free agent can do in a full season, but he is on his third team in less than a year after signing with the Guardians to be their designated hitter.
Read Past Outlooks
$Signed a one-year, $16.5 million contract with the Guardians in December of 2022. Traded to the Marlins in August of 2023. Contract includes $16.5 million player option for 2024.

Bell went 3-for-4 with a solo home run in Sunday's 6-1 victory over the Brewers.
ANALYSIS
Bell popped a 379-foot homer off
Freddy Peralta
in the third inning for his 22nd of the year. He has enjoyed a nice turnaround since joining the Marlins from the Guardians at the trade deadline, hitting .276 with 11 home runs, 26 runs and 21 RBI over 48 games. Bell had previously hit .233 with 11 home runs, 26 runs and 48 RBI over 97 games in Cleveland.
Read More News
Batting Stats
2023
2022
2021
2020
2019
2018
2017
2023 MLB Game Log

Calculate Stats Over Time
Just click on any two dates.
Scoring
FanDuel
DraftKings
Yahoo DFS
Loading Batting Game Log...
2022 MLB Game Log

Calculate Stats Over Time
Just click on any two dates.
Scoring
FanDuel
DraftKings
Yahoo DFS
Loading Batting Game Log...
2021 MLB Game Log

Calculate Stats Over Time
Just click on any two dates.
Scoring
FanDuel
DraftKings
Yahoo DFS
Loading Batting Game Log...
2020 MLB Game Log

Calculate Stats Over Time
Just click on any two dates.
Scoring
FanDuel
DraftKings
Yahoo DFS
Loading Batting Game Log...
2019 MLB Game Log

Calculate Stats Over Time
Just click on any two dates.
Scoring
FanDuel
DraftKings
Yahoo DFS
Loading Batting Game Log...
2018 MLB Game Log

Calculate Stats Over Time
Just click on any two dates.
Scoring
FanDuel
DraftKings
Yahoo DFS
Loading Batting Game Log...
2017 MLB Game Log

Calculate Stats Over Time
Just click on any two dates.
Scoring
FanDuel
DraftKings
Yahoo DFS
Loading Batting Game Log...
Minor League Game Log

Calculate Stats Over Time
Just click on any two dates.
Loading Minor League Batting Game Log...
Batting Order Slot Breakdown
#1
#2
#3
#4
#5
#6
#7
#8
#9
#1
#2
#3
#4
#5
#6
#7
#8
#9
Left/Right Batting Splits
OPS
PA
HR
RBI
AVG
Since 2021

vs Left

.835
578
24
85
.263
Since 2021

vs Right

.759
1249
42
148
.256
2023

vs Left

.854
186
8
27
.265
2023

vs Right

.697
429
14
47
.239
2022

vs Left

.816
210
7
32
.276
2022

vs Right

.768
434
10
39
.261
2021

vs Left

.838
182
9
26
.245
2021

vs Right

.815
386
18
62
.268
More Splits

→

View More Split Stats
Home/Away Batting Splits
OPS
PA
HR
RBI
AVG
Since 2021

Home

.839
884
36
115
.279
Since 2021

Away

.730
943
30
118
.238
2023

Home

.758
297
11
34
.257
2023

Away

.730
318
11
40
.237
2022

Home

.890
322
13
39
.293
2022

Away

.679
322
4
32
.240
2021

Home

.870
265
12
42
.289
2021

Away

.782
303
15
46
.237
More Splits

→

View More Split Stats
Stat Review
How does Josh Bell compare to other hitters?
This section compares his stats with all batting seasons from the previous three seasons (minimum 400 plate appearances)*. The bar represents the player's percentile rank. For example, if the bar is halfway across, then the player falls into the 50th percentile for that stat and it would be considered average.
* Exit Velocity and Barrels/PA % are benchmarked against 2019 data (min 400 PA) and Hard Hit Rate is benchmarked against last season's data (min 400 PA).
See here for more exit velocity/barrels stats
plus an explanation of current limitations with that data set.
BB/K

Walk to strikeout ratio

BB Rate

The percentage of plate appearances resulting in a walk.

K Rate

The percentage of plate appearances resulting in a strikeout.

BABIP

Batting average on balls in play. Measures how many of a batter's balls in play go for hits.

ISO

Isolated Power. Slugging percentage minus batting average. A computation used to measure a batter's raw power.

AVG

Batting average. Hits divided by at bats.

OBP

On Base Percentage. A measure of how often a batters reaches base. Roughly equal to number of times on base divided by plate appearances.

SLG

Slugging Percentage. A measure of the batting productivity of a hitter. It is calculated as total bases divided by at bats.

OPS

On base plus slugging. THe sum of a batter's on-base percentage and slugging percentage.

wOBA

Weighted on-base average. Measures a player's overall offensive contributions per plate appearance. wOBA combines all the different aspects of hitting into one metric, weighting each of them in proportion to their actual run value.

Exit Velocity

The speed of the baseball as it comes off the bat, immediately after a batter makes contact.

Hard Hit Rate

A measure of contact quality from Sports Info Solutions. This stat explains what percentage of batted balls were hit hard vs. medium or soft.

Barrels/PA

The percentage of plate appearances where a batter had a batted ball classified as a Barrel. A Barrel is a batted ball with similar exit velocity and launch angle to past ones that led to a minimum .500 batting average and 1.500 slugging percentage.

Expected BA

Expected Batting Average.

Expected SLG

Expected Slugging Percentage.

Sprint Speed

The speed of a runner from home to first, in feet per second.

Ground Ball %

The percentage of balls put in play that are on the ground.

Line Drive %

The percentage of balls put in play that are line drives.

Fly Ball %

The percentage of balls put in play that are fly balls.
Advanced Batting Stats
Loading Advanced Batting Stats...
Games By Position
Defensive Stats
Loading Games Played by Position...
Loading MLB Defensive Stats...
Batted Ball Stats
Loading Batted Ball Stats...
Stats Vs Upcoming Pitchers
Our full team depth charts are reserved for RotoWire subscribers.
Subscribe Now
Recent RotoWire Articles Featuring Josh Bell
See More
Past Fantasy Outlooks
2022
2021
2020
2019
2018
2017
2016
2015
2014
2013
2012
Bell was acquired by the Nationals prior to the 2021 season to add some thump to the lineup. He finished the season 18% better than league average by wRC+, but did not reach the levels of production which got most excited back in 2019. The overall quality of contact remained strong, but the 13% Barrel rate which fueled the 2019 season fell back to his 8-9% career range. His Statcast page remains loaded with red ink and he is slotted to hit behind Juan Soto, which should provide ample RBI chances as the league pitches around the wunderkind. Bell is in his final year of team control, so should the Nationals fall out of contention, Bell becomes a primary trade target of a contender looking for a run producer in the top half of the lineup. Expect Bell to have another solid season with an outside chance of another spectacular one.
Bell was quite an interesting option last offseason coming off a campaign in which he posted career highs in average (.277), homers (37) and RBI (116). Even a regression back to the .260/.348/.436 hitter he was over his first three seasons would have made him useful enough, but he wound up falling far short of even that modest level, hitting a very poor .226/.305/.364. He seemingly can't blame bad luck, as his .229 xBA was easily his career low. His K% spiked from 19.2 to 26.5, while his BB% fell from 12.1 to 9.9. There's really no positive spin to put on his overall awful season, but an offseason deal that freed him from a tough home park in Pittsburgh and the weak Pirates lineup offers a path to a rebound as the Nationals' new starting first baseman, and Bell's strong 2019 season means he's demonstrated a higher performance level than most hitters available in his range.
Following a year in which Bell hit just 12 homers, the 27-year-old first baseman broke out for 37 long balls, 116 RBI and 94 runs scored over 143 contests. He went ice cold after the All-Star break, batting .188 without a homer in his first 24 games of the second half, and missed the final couple weeks of the season with a groin injury. However, he still finished with a 135 wRC+ and 2.5 fWAR. Bell's power surge in 2019 was fueled by a more aggressive approach at the plate and helped by an inflated 23.9% HR/FB (9.2% in 2018). While he had a sizable platoon split, Bell was not far below league average against lefties, and his poor defense is not going to cost him playing time in Pittsburgh. Despite the late slide, he is still in the conversation to go top 10 among first basemen in 2020 drafts, though he'll need to put together another strong campaign to prove 2019 was not a fluke.
There were some positives in Bell's 2018 season. His batting average improved by six points, his on-base percentage increased by 23 points and he improved his already-stellar walk and strikeout rates. However, these upgrades were heavily offset by a downturn in power. Bell hit just 12 homers compared to 26 the year prior and his slugging percentage dropped 55 points as a result. Some of this regression was expected, as his home-run-to-flyball rate came back down to a more reasonable 9.2% from his 19.1% mark in 2017. His struggles against left-handed pitching also hurt him, as he mustered just a .734 OPS with two home runs against them last season. Bell's standing as the Pirates' starting first baseman is safe, but he needs to improve his power output to avoid getting lost in the wash at the first-base position.
Long considered a hit over power first baseman, Bell uprooted that narrative last season with 26 long balls and just a .255 average. He finished with a .211 ISO, which ranked 52nd among qualified hitters, with 11 of his home runs coming at PNC in a bottom-eight park for homers. However, his flyball rate was just over 30 percent while his HR/FB was inflated at 19.1 percent; it's hard to bet on him repeating that level of power production next season. Further, while Bell made consistent contact, walked at an above-average rate and his BABIP was depressed, his xBA was identical to his actual batting average, so it's not a given that he gets a lot back in that department in 2018. There may very well be another level or two to his game, but it's unwise to assume he puts it all together and vaults into top-75 territory right away this season. It's better to instead keep expectations modest -- another $10-plus season in 15-team leagues -- with anything beyond that being a bonus.
Bell burst onto the scene in 2016, stroking a memorable grand slam off Chicago's Jake Arrieta in his first series just prior to the All-Star break. GM Neal Huntington then recalled Bell for good in August. Bell batted .273/.368/.406 in 152 plate appearances, though he hit just .167 in his final 47 at-bats. The 24-year-old played at first base but later saw time in right field. His defense is below average but his bat excites fantasy owners. The switch-hitter hit .324 with 13 homers and 41:55 BB:K in 359 Triple-A plate appearances, contending for the Triple Crown. He also showed excellent command of the strike zone in Pittsburgh, walking more times (21) than he struck out (19). Bell should start out on the strong side of a platoon with David Freese at first base, but given his pedigree and long-term upside as a hitter, he should eventually earn everyday at-bats and could have a breakout season.
Bell is somewhat of an enigma. The 6-foot-2, 233-pounder produced a sterling .317/.393/.446 line split between Double-A and Triple-A while exhibiting tremendous plate discipline (65:65 K:BB). He hit only seven homers in 572 plate appearances, however, and the Pirates need power from the first base position. The organization is hopeful the 23-year-old matures into 20-plus home run hitter annually, as his raw power grades out as above average, though potential .300 hitters have plenty of value regardless of home run-hitting ability. A former outfielder, Bell will likely begin 2016 at Triple-A Indianapolis, but he could be called up in late-April, once the Pirates have exacted an extra year of control over the promising prospect. The likes of John Jaso, Mike Morse and Jason Rogers do not exactly represent daunting roadblocks.
Bell compiled an overall line of .325/.375/.459 and was named Pittsburgh's top minor league hitter of the year in 2014. The organization moved Bell to first base from the outfield for the Arizona Fall League, with fairly disappointing results. The Pirates have sought help at first and the 22-year-old switch-hitter projects as a possible long-term solution. Unfortunately, after a rough AFL both in the field (five errors) and at the plate (zero homers), the organization must wonder whether the 6-foot-2, 235 pounder will ever hit for power. Bell went deep just nine times in 465 plate appearances split between High-A (nine homers in 363 PA) and Double-A (zero homers in 102 PA). He's already dealt with knee injuries on multiple occasions, but if he finds a power stroke, the Bucs will most likely fast track him to the majors.
Bell may have taken a back seat to some of Pittsburgh's other prospects for the last year or so, but make no mistake - his power potential is for real. After being limited to 15 games due to a knee injury in 2012, the switch-hitting corner outfielder began to find his way last summer. Bell posted a .279/.353/.453 line in 459 at-bats for Low-A West Virginia, to which he added 37 doubles, 13 homers, and 76 RBI. Pittsburgh might not promote the second-round draft pick swiftly, if only because the 21-year-old missed nearly all of 2012, but his offensive potential has the organization excited about his future. Owners in dynasty leagues should consider Bell, while most should track his progress. He's likely Pittsburgh's second-best offensive prospect behind Gregory Polanco.
Bell entered 2012 as the team's brightest and best paid ($5 million bonus) offensive prospect in the low minors. He played in only 15 Low-A games, however, before suffering a knee injury that cost him his season -- not exactly the best way to start a pro career. Inflammation in his left knee lingered throughout the summer to the point that he was unable to participate in the fall Instructional League. Hopefully he'll find a way to get back on the field for 2013 because he's one of the organization's best power prospects. The switch-hitter, who remains years away from the majors, makes for a strong pickup in dynasty leagues assuming that he makes it back from his knee issues.
Bell entered the 2011 draft as a player with immense power who seemed bent on foregoing the draft to enter college. His mother is a university professor, but the lure of first-round money at pick No. 61 proved to be too much for the switch-hitter to pass up. Bell immediately becomes the best power prospect in the Pirates system. He's thought to be average at best defensively, but has a chance to move up quickly an offensively-challenged organizational ladder. His second-round, $5 million contract would've never happened under the new CBA, but Bell gives the small market Bucs a chance to cash in on a player who was universally ranked as a first-round talent.
More Fantasy News