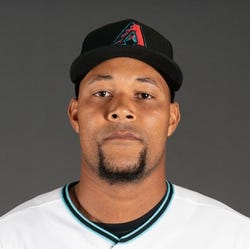 Rest-of-Season Projections
2023 Fantasy Outlook
Oakland acquired Familia in March after he was cut loose by the Diamondbacks. The 33-year-old has the most closing experience in the Oakland bullpen, although he hasn't been a regular closer for a few years and is coming off a season in which he posted a 6.09 ERA. Familia is probably best left on the waiver wire in most leagues.
Read Past Outlooks
$Signed a one-year contract with the Athletics in March of 2023. Released by the Athletics in May of 2023.

Familia was
released
by the Athletics on May 6.
ANALYSIS
Familia was designated for assignment by Oakland in early May and was cut loose by the organization a couple days later. The 33-year-old recorded two saves and one hold in 14 appearances with a 6.39 ERA, 2.05 WHIP and 9:13 K:BB over 12.2 innings.
Read More News
Pitching Stats
Loading Pitching Stats...
2023
2022
2021
2020
2019
2018
2017
2023 MLB Game Log

Calculate Stats Over Time
Just click on any two dates.
Scoring
FanDuel
DraftKings
Yahoo DFS
Loading Pitching Game Log...
2022 MLB Game Log

Calculate Stats Over Time
Just click on any two dates.
Scoring
FanDuel
DraftKings
Yahoo DFS
Loading Pitching Game Log...
2021 MLB Game Log

Calculate Stats Over Time
Just click on any two dates.
Scoring
FanDuel
DraftKings
Yahoo DFS
Loading Pitching Game Log...
2020 MLB Game Log

Calculate Stats Over Time
Just click on any two dates.
Scoring
FanDuel
DraftKings
Yahoo DFS
Loading Pitching Game Log...
2019 MLB Game Log

Calculate Stats Over Time
Just click on any two dates.
Scoring
FanDuel
DraftKings
Yahoo DFS
Loading Pitching Game Log...
2018 MLB Game Log

Calculate Stats Over Time
Just click on any two dates.
Scoring
FanDuel
DraftKings
Yahoo DFS
Loading Pitching Game Log...
2017 MLB Game Log

Calculate Stats Over Time
Just click on any two dates.
Scoring
FanDuel
DraftKings
Yahoo DFS
Loading Pitching Game Log...
Minor League Game Log

Calculate Stats Over Time
Just click on any two dates.
Loading Minor League Pitching Game Log...
Pitching Appearances Breakdown
How many pitches does Jeurys Familia generally throw?
What part of the game does Jeurys Familia generally pitch?
% Games Reaching Innings Threshold
% Games By Number of Innings Pitched
Left/Right Pitching Splits
BAA
K
BB
H
HR
Since 2021

vs Left

.287
51
34
54
6
Since 2021

vs Right

.274
71
28
74
13
2023

vs Left

.300
2
6
6
0
2023

vs Right

.250
7
7
7
2
2022

vs Left

.309
16
14
21
1
2022

vs Right

.330
25
8
37
6
2021

vs Left

.270
33
14
27
5
2021

vs Right

.231
39
13
30
5
More Splits

→

View More Split Stats
Home/Away Pitching Splits
ERA
WHIP
IP
K/9
BB/9
Since 2021

Home

4.17
1.51
58.1
9.3
5.1
Since 2021

Away

5.90
1.76
58.0
9.6
4.5
2023

Home

6.75
2.00
8.0
7.9
10.1
2023

Away

5.79
2.14
4.2
3.9
7.7
2022

Home

3.04
1.44
23.2
8.4
3.8
2022

Away

9.58
2.23
20.2
8.3
5.2
2021

Home

4.39
1.43
26.2
10.5
4.7
2021

Away

3.58
1.41
32.2
11.3
3.6
More Splits

→

View More Split Stats
Stat Review
How does Jeurys Familia compare to other relievers?
This section compares his stats with all relief pitcher seasons from the previous three seasons (minimum 30 innings)*. The bar represents the player's percentile rank. For example, if the bar is halfway across, then the player falls into the 50th percentile for that stat and it would be considered average.
* Exit Velocity, Barrels/BBE %, Balls Hit 95+ MPH %, and Spin Rate are benchmarked against 2019 data (min 30 IP).
See here for more exit velocity/barrels stats
plus an explanation of current limitations with that data set.
K/BB

Strikeout to walk ratio.

K/9

Average strikeouts per nine innings.

BB/9

Average walks per nine innings.

HR/9

Average home runs allowed per nine innings.

Fastball

Average fastball velocity.

ERA

Earned run average. The average earned runs allowed per nine innings.

WHIP

Walks plus hits per inning pitched.

BABIP

Batting average on balls in play. Measures how many balls in play against a pitcher go for hits.

GB/FB

Groundball to flyball ratio. The higher the number, the more likely a pitcher is to induce groundballs.

Left On Base

The percentage of base runners that a pitcher strands on base over the course of a season.

Exit Velocity

The speed of the baseball as it comes off the bat, immediately after a batter makes contact.

Barrels/BBE

The percentage of batted ball events resulting in a Barrel. A Barrel is a batted ball with similar exit velocity and launch angle to past ones that led to a minimum .500 batting average and 1.500 slugging percentage.

Spin Rate

Spin Rate is the rate of spin on a baseball after it is released. It is measured in revolutions per minute (rpm).

Balls Hit 95+ MPH

The percentage of batted balls hit that met or exceeded the 95 MPH threshold.

Swinging Strike

The percentage of pitches that result in a swing and a miss.
Advanced Pitching Stats
Loading Advanced Pitching Stats...
Loading MLB Defensive Stats...
Recent RotoWire Articles Featuring Jeurys Familia
See More
Past Fantasy Outlooks
2022
2021
2020
2019
2018
2017
2016
2015
2014
2013
2009
For his career, Familia has racked up a bunch of strikeouts with a high number of walks. His groundball nature keeps homers in check but yields a high BABIP. Last season, three of the four trends continued, but he unfortunately yielded a high number of homers, surrendering 10 in 59.1 innings. The result was a 3.94 ERA, which could have been worse if not for a high 76.4 percent LOB mark. Familia continues to throw hard, averaging 97-mph on his two- and four-seam fastballs. His 27.5 percent strikeout rate was his second highest ever, but his 10.5 percent walk pace was the third straight season he recorded a double-digit mark. Familia's strikeouts are fantasy-friendly, but they come devoid of saves and with collateral ratio damage, and those trends may continue in 2022 for Philadelphia with Corey Knebel and Brad Hand ahead of him in the pecking order at closer.
Familia reported to spring training last year 30 pounds lighter. He also spent the offseason working on a new grip for his splitter, spreading apart his fingers more, dropping its velocity to create a greater delta from his sinker. Early results were promising as Familia pitched well in the Grapefruit League. However, Familia was unable to recapture the success after the delay and he recorded a 19.2 K% and 15.8 BB%, his poorest marks since 2013. He was rescued by a low .247 BABIP and 60.0% ground ball rate, helping limit long balls. Familia never figured in saves scenario, compiling just five holds. The veteran right-hander has one year remaining on his contract, so he'll again be part of the Mets' bullpen. However, with waning peripherals, Familia has almost no shot at ninth-inning duties.
Edwin Diaz gets a lot of pub for his disappointing 2019 season, but Familia was even worse in Year 1 of a three-year, $30 million pact. The right-hander's walk rate shot up from around 10% to north of 15%, his worst mark in a full season. His K-rate dipped by more than four percentage points in his return to the Mets and his home-run rate more than doubled, though Familia was still above average in the home-run department in context with the rest of the league. The good news is that Familia's velocity readings held steady, with his fastball still clocking in at 96 mph on average. His chase and swinging-strike rates dipped despite that, and he's no higher than fourth in the Mets' bullpen hierarchy (behind Diaz, Dellin Betances and Seth Lugo), but there is still something here. In leagues that count holds, you could do worse.
Familia put together a nice bounce-back season after injuries and a suspension limited him to 24.2 lackluster innings in 2017. He opened the year as the Mets' closer, converting 17 of his 21 save chances and posting a 2.88 ERA, 1.23 WHIP and 43:14 K:BB across 40.2 innings before being traded to the Athletics in mid-July. Upon arriving in Oakland, the 29-year-old stepped in as the primary setup man to All-Star closer Blake Treinen. Familia didn't allow a run through his first eight appearances (10 innings) with the A's, though he struggled over the final month and a half of the season (5.06 ERA in 21.1 innings), leaving him with a 3.45 ERA, 1.21 WHIP and 40:14 K:BB across 31.1 innings with Oakland. The reliever hit free agency for the first time in his career and ultimately wound up back with the Mets on a three-year deal. Barring an injury to Edwin Diaz, Familia likely won't see more than the occasional save chance.
Familia was suspended 15 games at the start of the year for violating the league's domestic-abuse policy and he then missed several months after undergoing surgery to address a blood clot near his shoulder. The right-hander eventually returned to reclaim the closer role for the Mets. After he gave up three runs in his first appearance back from the DL in late August, Familia went on to post a 3.14 ERA, 1.05 WHIP and 15:5 K:BB over his final 14 appearances while going 3-for-3 in save chances over the final few weeks. The team brought in AJ Ramos from Miami during Familia's absence, but Ramos struggled down the stretch and his walk issues figure to keep him firmly behind Familia in the pecking order entering 2018. Familia made at least 76 appearances in every season from 2014-16 and he won't be priced up coming off the shortened season.
The flame-throwing righty's ratios fell back from 2015 but his fantasy owners didn't complain as Familia led the majors with 51 saves. He threw 77-plus innings for the third straight season, more than the average closer. The extra frames embellish his near double-digit strikeout rate and give his ratios a little more impact. The only blemish in Familia's skill set is inconsistent control. As an extreme groundball pitcher, he's going to have a high hit rate so he needs a low walk rate to keep his WHIP in check. His home run rate is aided by limited flyballs, which in turn yields a low ERA. To wit, Familia surrendered only one homer last season, with 10 allowed over the past three seasons spanning 233 frames. Familia may not be the first closer off the board or the most expensive, but he's not far off from those options in terms of skills. He will be suspended for the first 15 games after violating Major League Baseball's domestic violence policy.
At the outset of spring training, Familia appeared destined to work as part of the bridge to then-closer Jenrry Mejia. Even Mejia's hold on the job was supposed to be temporary, as Bobby Parnell's eventual return was supposed to provide an experienced option to work the ninth inning for manager Terry Collins. Mejia suffered an elbow injury in early April, which opened the door for Familia, who simply took the job and ran with it all the way through October. With improvement in his strikeout rate (from 22.7% in 2014 to 27.9% in 2015) and walk rate (from 9.9% to 6.2%), along with a continually strong groundball rate (58.3% last season) Familia was one of the league's most effective relievers as he piled up 43 saves in 48 opportunities. He should have plenty of job security to begin 2016, despite a hiccup in Game 1 of the World Series, as there were no significant signs of Familia slowing as the season progressed.
While not quite the prospect that teammate Jenrry Mejia was, Familia definitely came up with his own level of fanfare and he was equally mishandled by the Mets. Despite plenty of strong numbers in the minors, he was clearly unrefined in 2012 and didn't really deserve his September cup of coffee. And there was certainly no reason to then have him break camp with the club in 2013. An elbow surgery eventually limited him to just nine innings at three minor league levels by season's end. Despite essentially a lost season, Familia had a surprise breakthrough in 2014, sticking with the club all year and grabbing a hold of the eighth inning role by season's end. Mid-90s heat and a devastating slider make him hell on righties (.377 OPS), but he's still got work to do against lefties (.821). If he can figure out southpaws, his strikeout rate will likely jump above the 25.0% mark, making him valuable as a deep league or NL-only commodity even without the benefit of logging saves.
Familia opened 2013 with the Mets, but bounced between the minors and the big leagues before being shut down due to biceps tendinitis. He suffered a setback in rehab, requiring surgery in early June to remove bone spurs and loose bodies. The surgery nearly ended his season, but Familia made it back for one game in September before he was sent to the Arizona Fall League. A hard-throwing righty, Familia works primarily with a 94-97 mph fastball and sinker, as well as a slider and changeup. Familia should enter spring training with a shot to earn a spot in the team's bullpen.
The debate about Familia's future role - starter or reliever - continues to rage on, with his 2012 performance doing little to answer it. Familia, who has a mid-90s fastball, mid-80s breaking pitch and work-in-progress changeup, struggled as a starter until a midseason tweak to make his setup and delivery quicker that seemed to make a big difference. During that rough patch, his control deserted him and he ended up with a 128:73 K:BB ratio in 137 innings. Familia will open spring training as a reliever, and if he fails to make the squad, he likely will work as a starter for Triple-A Las Vegas.
Signed by the Mets as a non-drafted free agent on July 13, 2007.
More Fantasy News