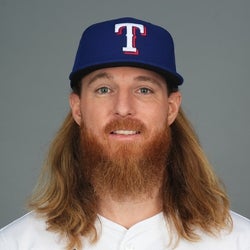 Rest-of-Season Projections
2023 Fantasy Outlook
Gray's tenure with the Rangers began inauspiciously enough. He hit the injured list with a blister after his first start and was forced to the IL a second time in April with an MCL sprain in his left knee. The right-hander went on to miss more than a month in the second half with an oblique strain. Around those injuries, Gray was quite good, pitching to a 3.96 ERA, 1.13 WHIP and 18.2 K-BB% across 24 starts. Gray gets a lot of whiffs with his slider and the best may still be yet to come with him now that he's out of Colorado. The stop-and-start nature of his 2022 campaign could make Gray a nice value at the draft table. He tends to get lost in the shuffle, but this is a quality arm.
Read Past Outlooks
$Signed a four-year, $56 million contract with the Rangers in November of 2021.

Not locked in for Game 4 yet
Updating a previous item, Gray is not yet locked in to start Game 4 of the World Series on Tuesday in Arizona,
Kennedi Landry of MLB.com
reports.
ANALYSIS
Bob Nightengale of USA Today
reported earlier Monday that it would be Gray taking the ball for the Rangers in Game 4. While the right-hander appears to be the most likely candidate to start Tuesday, manager Bruce Bochy noted that he would not be holding Gray or anyone else back from pitching in Game 3, if needed. Bochy should officially announce a Game 4 starter after the conclusion of Game 3.
Read More News
Pitching Stats
Loading Pitching Stats...
2023
2022
2021
2020
2019
2018
2017
2023 MLB Game Log

Calculate Stats Over Time
Just click on any two dates.
Scoring
FanDuel
DraftKings
Yahoo DFS
Loading Pitching Game Log...
2022 MLB Game Log

Calculate Stats Over Time
Just click on any two dates.
Scoring
FanDuel
DraftKings
Yahoo DFS
Loading Pitching Game Log...
2021 MLB Game Log

Calculate Stats Over Time
Just click on any two dates.
Scoring
FanDuel
DraftKings
Yahoo DFS
Loading Pitching Game Log...
2020 MLB Game Log

Calculate Stats Over Time
Just click on any two dates.
Scoring
FanDuel
DraftKings
Yahoo DFS
Loading Pitching Game Log...
2019 MLB Game Log

Calculate Stats Over Time
Just click on any two dates.
Scoring
FanDuel
DraftKings
Yahoo DFS
Loading Pitching Game Log...
2018 MLB Game Log

Calculate Stats Over Time
Just click on any two dates.
Scoring
FanDuel
DraftKings
Yahoo DFS
Loading Pitching Game Log...
2017 MLB Game Log

Calculate Stats Over Time
Just click on any two dates.
Scoring
FanDuel
DraftKings
Yahoo DFS
Loading Pitching Game Log...
Minor League Game Log

Calculate Stats Over Time
Just click on any two dates.
Loading Minor League Pitching Game Log...
Pitching Appearances Breakdown
How many pitches does Jon Gray generally throw?
What part of the game does Jon Gray generally pitch?
% Games Reaching Innings Threshold
% Games By Number of Innings Pitched
Left/Right Pitching Splits
BAA
K
BB
H
HR
Since 2021

vs Left

.243
203
97
203
31
Since 2021

vs Right

.241
230
54
191
29
2023

vs Left

.250
69
35
73
14
2023

vs Right

.262
73
19
76
8
2022

vs Left

.248
55
24
54
6
2022

vs Right

.201
79
15
51
11
2021

vs Left

.235
79
38
76
11
2021

vs Right

.258
78
20
64
10
More Splits

→

View More Split Stats
Home/Away Pitching Splits
ERA
WHIP
IP
K/9
BB/9
Since 2021

Home

4.18
1.22
200.1
8.9
3.1
Since 2021

Away

4.28
1.29
233.1
9.0
3.2
2023

Home

4.78
1.44
79.0
8.0
3.5
2023

Away

3.45
1.14
78.1
8.3
2.6
2022

Home

3.35
0.95
43.0
10.3
1.5
2022

Away

4.27
1.22
84.1
9.1
3.4
2021

Home

4.02
1.15
78.1
9.2
3.6
2021

Away

5.22
1.53
70.2
9.8
3.4
More Splits

→

View More Split Stats
Stat Review
How does Jon Gray compare to other starting pitchers?
This section compares his stats with all starting pitcher seasons from the previous three seasons (minimum 120 innings)*. The bar represents the player's percentile rank. For example, if the bar is halfway across, then the player falls into the 50th percentile for that stat and it would be considered average.
* Exit Velocity, Barrels/BBE %, Balls Hit 95+ MPH %, and Spin Rate are benchmarked against 2019 data (min 120 IP).
See here for more exit velocity/barrels stats
plus an explanation of current limitations with that data set.
K/BB

Strikeout to walk ratio.

K/9

Average strikeouts per nine innings.

BB/9

Average walks per nine innings.

HR/9

Average home runs allowed per nine innings.

Fastball

Average fastball velocity.

ERA

Earned run average. The average earned runs allowed per nine innings.

WHIP

Walks plus hits per inning pitched.

BABIP

Batting average on balls in play. Measures how many balls in play against a pitcher go for hits.

GB/FB

Groundball to flyball ratio. The higher the number, the more likely a pitcher is to induce groundballs.

Left On Base

The percentage of base runners that a pitcher strands on base over the course of a season.

Exit Velocity

The speed of the baseball as it comes off the bat, immediately after a batter makes contact.

Barrels/BBE

The percentage of batted ball events resulting in a Barrel. A Barrel is a batted ball with similar exit velocity and launch angle to past ones that led to a minimum .500 batting average and 1.500 slugging percentage.

Spin Rate

Spin Rate is the rate of spin on a baseball after it is released. It is measured in revolutions per minute (rpm).

Balls Hit 95+ MPH

The percentage of batted balls hit that met or exceeded the 95 MPH threshold.

Swinging Strike

The percentage of pitches that result in a swing and a miss.
Advanced Pitching Stats
Loading Advanced Pitching Stats...
Loading MLB Defensive Stats...
Our full team depth charts are reserved for RotoWire subscribers.
Subscribe Now
Recent RotoWire Articles Featuring Jon Gray
See More
Jason Collette highlights 10 hitters and 10 pitchers who have been nearly forgotten about in the first handful of 2024 drafts, including shortstop Tim Anderson.
The RotoWire Roundtable is back early this year, featuring an unsurprising consensus top pick followed by plenty of disagreement.
Erik Halterman digs into the MLB Championship Series and lines up his best bets for the ALDS and NLDS with trips to the World Series on the line. Who will prevail in the Lone Star Series?
Past Fantasy Outlooks
2022
2021
2020
2019
2018
2017
2016
2015
2014
An often tantalizing thought, Gray leaving Coors Field has finally come to fruition as he signed a four-year, $56 million contract with the Rangers in November. Gray posted a serviceable 4.54 ERA with roughly a strikeout per inning at altitude during his career with the Rockies and now will pitch his home games in a much more pitcher-friendly environment at Globe Life Field. Gray's velocity peaked in July of 2021, but he picked up an injury and wasn't the same thereafter. There would seem to be some potential upside in his new home as Gray has a fine fastball/slider combination. The right-hander is worth a look outside the top 200 in drafts now that he's shed the purple and black, but it's still best to view him as a streamer until further notice.
Gray's ERA estimators had been quite consistent over the past five seasons, but he took a significant step back over a smaller sample in 2020 with a 5.68 xFIP and 5.58 SIERA. He missed the final month of the season due to right shoulder inflammation, and the injury could have helped contribute to some of his struggles. His hard-hit rate has crept up over the past two seasons, and he had 42.4% of his batted balls hit above 95 mph in 2020, which is especially concerning at Coors Field. His strikeout rate also plummeted to a career-worst 12.6 K%, the first time the mark fell below 20%. Gray had been slightly better at home than he had been on the road recently, but he struggled mightily in the altitude in 2020, posting an 8.39 ERA at home versus a 3.77 ERA on the road. His injury and a smaller sample inflated his numbers in 2020, but the 29-year-old is a much riskier fantasy option than he's been in the past.
Depending on what ERA estimator you favor, Gray has either been the same guy the past several years or the same guy with 2019 being a slight step backwards. Over his five-year career, Gray's xFIP has ranged from 3.45-3.89 while his SIERA has been 3.68-4.35. In both instances, the highest mark was last season, despite Gray's actual 3.89 ERA. Thus is the variability of ERA, especially in Coors Field. The three major accessible estimators -- FIP, xFIP and SIERA -- peg Gray's expected career ERA at 3.77, 3.62, 3.97. In context, Gray is a true-talent 3.30 guy saddled with working half his games at altitude. Aside from the variability, Gray's durability is a concern with just one season of 30 starts. The temptation is to draft him for strikeouts and stream on the road, but Gray's home splits are better than on the road. Some avoid Coors Field at all costs, others welcome the hefty discount. Take your pick.
Gray came out after the season to state his 2018 struggles were due to unspecified health issues that caused him to lose 20 pounds and also some of his velocity. He had a 5.44 ERA in the first half despite a strong 21.6 K-BB%. The struggles earned him a midseason demotion, and when he returned, his ERA dropped nearly a full run, but his K-BB dropped to 11.8%. Gray's issues were exacerbated when runners were on base as the league hit .297/.379/.506 against him when anyone was on base compared to a .242/.286/.417 line with the bases empty. That was not the case in 2017 when the league hit .230/.302/.365 against Gray with runners on base. A simple return to previous levels of health and velocity should get him back on the right track as the underlying skills are there. The struggles while pitching with runners on base were simply too much to overcome in 2018. It is a fixable issue, and the Coors Field factor should keep his price down.
The initial response to Gray is that we must ding him because he pitches in Colorado. What if you knew that over the past two seasons, he has held the league to a .238 average in Coors and has a 3.89 ERA there? Gray has now pitched two seasons in Colorado with at least 100 innings of work and his overall home run rate has been below 1.0 HR/9 in each season. That speaks to the quality of his stuff and how tough he is to square up when he is commanding all of his pitches. The addition of a better curveball in 2017 helped him take another step forward, but the next step is avoiding the disabled list as he has yet to make 30 starts in a season (20 last season). Rostering Gray is not as risky as is the case with most Colorado pitchers. He could come at a bargain in mixed leagues due to his zip code.
In his first full season in the big league rotation, Gray took strides toward becoming the frontline arm the Rockies were hoping for when they selected him with the third overall pick in the 2013 draft. He improved on many fronts, raising his K/9 to an outstanding 9.9, increasing his GB/FB ratio to 1.65 and upping the average velocity of his fastball above 95 mph. Walk rate was one of the few areas that saw a slight regression, as his BB/9 increased ever so slightly to 3.2. His ERA, although improved from 2015, still sat at a less than desirable 4.61, although his 3.60 FIP suggests luck wasn't on his side. All in all, 2016 was a step forward for Gray, and at only 24 years old, he should continue to progress as he works toward being the top gun in the Rockies rotation. Coors Field will never be his friend, but he was actually better at home (3.16 FIP) than on the road (4.05 FIP) last season, suggesting that he is capable of handling the thin Rocky Mountain air.
The default with Colorado pitchers is to look at the home/road splits and try to ascertain how much Coors Field impacted his numbers. Occam's Razor suggests the most straightforward answer, so we look at the splits and see an 8.27 ERA at home (21 innings) and a 2.70 ERA on the road (20 innings) in near-equal samples. His fastball and changeup were obliterated at home to the tune of a combined 1.158 OPS in 86 plate appearances, versus a .678 OPS in 59 plate appearances on the road. The necessary caveats apply to a 41-inning sample, but it's not surprising that his stuff is less effective in Denver. It's just always going to be a problem for Colorado pitchers. We'll get seasons here and there, but long-term fantasy relevance at Coors Field seems impossible. It's not just the thin air, either, honestly it's usually more about the enormous outfield. Throw in the fact that he is slated to miss a month or more with a strained abdominal muscle to start the season, and Gray is best left untouched in standard leagues, until he is able to return and demonstrate his health. At that point he could be a useful streaming option in road starts.
Though their battered rotation presented several openings by midseason, the Rockies resisted the temptation to call up Gray and begin his service clock in the midst of a non-contending year. Gray likely would have forced the Rockies' hand if he dominated in his first full season in the minors, but he was merely only very good at Double-A Tulsa, submitting a 3.91 ERA and 14.2 K%-BB% over 124.1 innings. It won't preclude him from competing for an Opening Day starting gig with the Rockies this spring, but the organization probably prefers to give him a little more time in the minors to raise his performance before joining the big club later in the season and assuming his destiny as an anchor in their rotation. Having Coors Field as his eventual home park dampens Gray's appeal more than most prospects of his caliber because of the expected ERA and WHIP hits, but the right-hander probably has a rosier fantasy outlook than the Rockies' other highly-touted hurler, Eddie Butler, on the basis of his stronger strikeout rates.
After he was drafted third overall in the first-year player draft in June, Gray immediately made a splash on the professional stage. He was quickly advanced through rookie ball and proceeded to breeze through his five California League starts, going 4-0 with a 0.75 ERA and 36:6 K:BB ratio over 24 innings. With starting pitching being a sore spot for the organization practically since its inception, the Rockies have made it known they intend to fast-track Gray's development, making a deployment to Double-A Tulsa or Triple-A Colorado Springs out of spring training a distinct possibility for the ascendant right-hander. At 6-foot-4 and 255 pounds, Gray possesses the ideal frame for a power pitcher and the repertoire to match. With a fastball that routinely touches the upper-90s to go along with his plus-slider, Gray projects as a high-volume strikeout artist at the next level and he should already attract attention in dynasty formats.
More Fantasy News