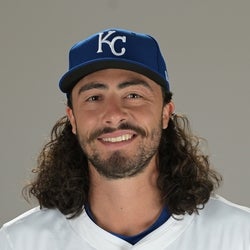 Rest-of-Season Projections
2023 Fantasy Outlook
After being named National League Rookie of the Year in 2021, India injured his hamstring a week into the season and landed on the injured list. He returned a couple weeks later only to wind up back on the IL in short order with the same injury. From there he battled a number of aches and pains, mostly the result of his many hit-by-pitches along with some foul balls off his body. India was plunked 14 times in 431 plate appearances last season after leading the NL in HBPs in his rookie year with a whopping 23. That aspect of his game adds to his injury risk, but India put together a red-hot stretch from July to September in which he hit .306/.376/.505 across 52 games and reminded everyone that he's a high-level talent. We know India likes to run and the short porch in left field at Great American Ball Park is conducive to right-handed power.
Read Past Outlooks
$Signed a one-year contract with the Reds in March of 2023.

On base four times in win
India went 2-for-2 with one double, two walks and two runs scored in Sunday's 4-2 win over the Pirates.
ANALYSIS
India reached base in all four plate appearances Sunday and scored the game-winning run in a contest the Reds desperately needed to win. Since being reinstated from the IL on Sept. 10 following a bout with plantar fasciitis, India had only five hits in his previous 42 at-bats going into Sunday's game. Over 509 plate appearances, India's now slashing .242/.334/.400 with 16 home runs, 58 RBI, 73 runs and 13 stolen bases.
Read More News
Batting Stats
2023 MLB Game Log

Calculate Stats Over Time
Just click on any two dates.
Scoring
FanDuel
DraftKings
Yahoo DFS
Loading Batting Game Log...
2022 MLB Game Log

Calculate Stats Over Time
Just click on any two dates.
Scoring
FanDuel
DraftKings
Yahoo DFS
Loading Batting Game Log...
2021 MLB Game Log

Calculate Stats Over Time
Just click on any two dates.
Scoring
FanDuel
DraftKings
Yahoo DFS
Loading Batting Game Log...
Minor League Game Log

Calculate Stats Over Time
Just click on any two dates.
Loading Minor League Batting Game Log...
Batting Order Slot Breakdown
#1
#2
#3
#4
#5
#6
#7
#8
#9
#1
#2
#3
#4
#5
#6
#7
#8
#9
Left/Right Batting Splits
OPS
PA
HR
RBI
AVG
Since 2021

vs Left

.733
405
7
36
.258
Since 2021

vs Right

.777
1166
40
132
.253
2023

vs Left

.642
127
3
12
.207
2023

vs Right

.765
382
13
46
.254
2022

vs Left

.709
119
1
10
.260
2022

vs Right

.704
312
9
31
.245
2021

vs Left

.825
159
3
14
.297
2021

vs Right

.839
472
18
55
.259
More Splits

→

View More Split Stats
Home/Away Batting Splits
OPS
PA
HR
RBI
AVG
Since 2021

Home

.793
783
23
90
.263
Since 2021

Away

.739
788
24
78
.246
2023

Home

.819
257
7
29
.272
2023

Away

.650
252
9
29
.213
2022

Home

.733
200
7
23
.246
2022

Away

.682
231
3
18
.251
2021

Home

.811
326
9
38
.268
2021

Away

.860
305
12
31
.270
More Splits

→

View More Split Stats
Stat Review
How does Jonathan India compare to other hitters?
This section compares his stats with all batting seasons from the previous three seasons (minimum 400 plate appearances)*. The bar represents the player's percentile rank. For example, if the bar is halfway across, then the player falls into the 50th percentile for that stat and it would be considered average.
* Exit Velocity and Barrels/PA % are benchmarked against 2019 data (min 400 PA) and Hard Hit Rate is benchmarked against last season's data (min 400 PA).
See here for more exit velocity/barrels stats
plus an explanation of current limitations with that data set.
BB/K

Walk to strikeout ratio

BB Rate

The percentage of plate appearances resulting in a walk.

K Rate

The percentage of plate appearances resulting in a strikeout.

BABIP

Batting average on balls in play. Measures how many of a batter's balls in play go for hits.

ISO

Isolated Power. Slugging percentage minus batting average. A computation used to measure a batter's raw power.

AVG

Batting average. Hits divided by at bats.

OBP

On Base Percentage. A measure of how often a batters reaches base. Roughly equal to number of times on base divided by plate appearances.

SLG

Slugging Percentage. A measure of the batting productivity of a hitter. It is calculated as total bases divided by at bats.

OPS

On base plus slugging. THe sum of a batter's on-base percentage and slugging percentage.

wOBA

Weighted on-base average. Measures a player's overall offensive contributions per plate appearance. wOBA combines all the different aspects of hitting into one metric, weighting each of them in proportion to their actual run value.

Exit Velocity

The speed of the baseball as it comes off the bat, immediately after a batter makes contact.

Hard Hit Rate

A measure of contact quality from Sports Info Solutions. This stat explains what percentage of batted balls were hit hard vs. medium or soft.

Barrels/PA

The percentage of plate appearances where a batter had a batted ball classified as a Barrel. A Barrel is a batted ball with similar exit velocity and launch angle to past ones that led to a minimum .500 batting average and 1.500 slugging percentage.

Expected BA

Expected Batting Average.

Expected SLG

Expected Slugging Percentage.

Sprint Speed

The speed of a runner from home to first, in feet per second.

Ground Ball %

The percentage of balls put in play that are on the ground.

Line Drive %

The percentage of balls put in play that are line drives.

Fly Ball %

The percentage of balls put in play that are fly balls.
Prospect Rankings History
Advanced Batting Stats
Loading Advanced Batting Stats...
Games By Position
Defensive Stats
Loading Games Played by Position...
Loading MLB Defensive Stats...
Batted Ball Stats
Loading Batted Ball Stats...
Stats Vs Upcoming Pitchers
Our full team depth charts are reserved for RotoWire subscribers.
Subscribe Now
Past Fantasy Outlooks
India demonstrated in his NL Rookie of the Year campaign that hard work can pay off. His work ethic drew raves in the Reds' alternate training site in 2020, both at the plate and in learning second base. That carried over to an electric spring training, which prompted the Reds to rearrange their infield to make room for his bat, moving Eugenio Suarez to shortstop and Mike Moustakas to third, with India at second base. After struggling the first two months, India caught fire in June and claimed the leadoff spot, hitting .275/.383/.482 there. India added some category juice to go along with the solid rate stats, swiping 12 bases, slugging 21 homers and scoring 98 runs. Opposing pitchers threw fastballs 55.7% of the time against India, where he hit .302 and slugged .525, compared to .225/.351 against breaking pitches, so look for the pitch mix to change against him in 2022.
India is a highly-rated prospect in the Cincinnati organization, but one with some question marks. He had health issues in 2019 (wrist) and 2020 (lat) that cut into his development time. While he was reportedly more impressive at the plate at the Reds alternate training site than he was in 2019, that's not saying a whole lot and he wasn't facing many quality arms this past summer. Additionally, he projects as a below-average defender at third base and second base, leading to concerns about his defensive utility. Heading into his age-24 season, India needs to handle upper-level pitching. If he does, he could make his MLB debut this summer in a part-time capacity or as an injury replacement. A David Bote type of second-division role seems like a reasonable floor, with room to eclipse that if he can unlock more power at the plate.
India's breakout junior year at Florida that led to the Reds selecting him with the No. 5 overall pick in 2018 looks like the outlier. Some of the criticism of him has been overblown -- his .256/.346/.410 line in the pitcher-friendly Florida State League does not look great, but he was the ninth-best hitter on the circuit (125 wRC+). He was even better in the Southern League (138 wRC+), but it's the nature of his production that is underwhelming, especially for those in batting average leagues. He hasn't hit for much power and his .270 BA at Double-A was a career high. Additionally, his body has gotten worse, losing much of the explosiveness that allowed him to play shortstop in college. The Reds sent him to the Arizona Fall League, where his .587 OPS ranked 47th out of 57 qualified hitters. India will get to the big leagues, likely in 2021, but his ceiling no longer looks worthy of a top-five draft pick.
Last year's No. 5 overall pick confirmed positive biases in his initial Appy League assignment. However, it will be his 27-game run in the Midwest League that garners the most attention from those in dynasty-league drafts. As one of the most advanced college hitters in the draft, he deserved a taste of Low-A in his debut year, and was 14 percent better than league average despite hitting .229, as he worked the count (11.6 BB%) and hit for power (.167 ISO). Over his final 13 games, India's BABIP (.344) normalized and he hit .277/.370/.511. He looks to do damage to the pull side when he gets his pitch -- an aggressive approach that will lead to plenty of strikeouts, but could result in Cody Bellinger-esque production in the big leagues. Like Bellinger, India is a versatile defender (capable of playing everywhere in the infield) with good speed and instincts on the bases. His surface stats could lead to an unwarranted discount in first-year player drafts.
More Fantasy News