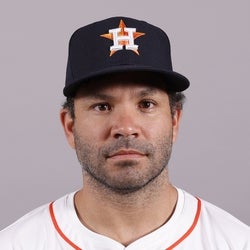 Rest-of-Season Projections
2023 Fantasy Outlook
One of these years, Altuve will let us down, but 2022 was not the year, as he had his best season by wRC+ by repeating his four-category volume, albeit not in the way anyone predicted. Houston's issues at the bottom of the lineup limited Altuve's opportunities to their rebuilding years levels, but the 18 steals in 19 attempts was a huge surprise after his three-year run of 16 for 24 on the bases. He was one of four players (Berti, Andrus, Marte) to swipe at least 18 bases at age 32, and for the first time since 2017 we have seen more than two players swipe that many bases. The changes in the rules may help Altuve's steals hold up another season, but treat double-digit steals as a bonus. The lineup around him and the home ballpark insulate him somewhat from the aging curve that he continues to evade. The physical similarities could raise the same age concerns that beset Dustin Pedroia at this age, but that is likely the only way he gets remotely discounted in drafts this season.
Read Past Outlooks
$Signed a five-year, $151 million contract extension with the Astros in March of 2018.

Altuve went 1-for-4 with a stolen base in Friday's 2-1 win over the Diamondbacks.
ANALYSIS
Altuve's steal was his first since Aug. 20, and his 14th of the season in 16 tries. He's not been lacking for opportunities on the basepaths lately -- he's hit .377 (20-for-53) with four walks over his last 12 games. The second baseman has a .315/.398/.531 slash line with 17 home runs, 51 RBI and 75 runs scored through 88 contests.
Read More News
Batting Stats
2023
2022
2021
2020
2019
2018
2017
2023 MLB Game Log

Calculate Stats Over Time
Just click on any two dates.
Scoring
FanDuel
DraftKings
Yahoo DFS
Loading Batting Game Log...
2022 MLB Game Log

Calculate Stats Over Time
Just click on any two dates.
Scoring
FanDuel
DraftKings
Yahoo DFS
Loading Batting Game Log...
2021 MLB Game Log

Calculate Stats Over Time
Just click on any two dates.
Scoring
FanDuel
DraftKings
Yahoo DFS
Loading Batting Game Log...
2020 MLB Game Log

Calculate Stats Over Time
Just click on any two dates.
Scoring
FanDuel
DraftKings
Yahoo DFS
Loading Batting Game Log...
2019 MLB Game Log

Calculate Stats Over Time
Just click on any two dates.
Scoring
FanDuel
DraftKings
Yahoo DFS
Loading Batting Game Log...
2018 MLB Game Log

Calculate Stats Over Time
Just click on any two dates.
Scoring
FanDuel
DraftKings
Yahoo DFS
Loading Batting Game Log...
2017 MLB Game Log

Calculate Stats Over Time
Just click on any two dates.
Scoring
FanDuel
DraftKings
Yahoo DFS
Loading Batting Game Log...
Minor League Game Log

Calculate Stats Over Time
Just click on any two dates.
Loading Minor League Batting Game Log...
Batting Order Slot Breakdown
#1
#2
#3
#4
#5
#6
#7
#8
#9
#1
#2
#3
#4
#5
#6
#7
#8
#9
Left/Right Batting Splits
OPS
PA
HR
RBI
AVG
Since 2021

vs Left

.901
482
20
47
.300
Since 2021

vs Right

.881
1210
56
144
.291
2023

vs Left

.846
113
3
5
.283
2023

vs Right

.941
297
14
46
.322
2022

vs Left

1.086
162
10
21
.340
2022

vs Right

.860
442
18
36
.285
2021

vs Left

.789
207
7
21
.278
2021

vs Right

.862
471
24
62
.278
More Splits

→

View More Split Stats
Home/Away Batting Splits
OPS
PA
HR
RBI
AVG
Since 2021

Home

.911
839
36
93
.301
Since 2021

Away

.863
853
40
98
.286
2023

Home

.779
200
4
19
.268
2023

Away

1.035
210
13
32
.349
2022

Home

.971
301
13
25
.328
2022

Away

.870
303
15
32
.271
2021

Home

.932
338
19
49
.296
2021

Away

.750
340
12
34
.261
More Splits

→

View More Split Stats
Stat Review
How does Jose Altuve compare to other hitters?
This section compares his stats with all batting seasons from the previous three seasons (minimum 400 plate appearances)*. The bar represents the player's percentile rank. For example, if the bar is halfway across, then the player falls into the 50th percentile for that stat and it would be considered average.
* Exit Velocity and Barrels/PA % are benchmarked against 2019 data (min 400 PA) and Hard Hit Rate is benchmarked against last season's data (min 400 PA).
See here for more exit velocity/barrels stats
plus an explanation of current limitations with that data set.
BB/K

Walk to strikeout ratio

BB Rate

The percentage of plate appearances resulting in a walk.

K Rate

The percentage of plate appearances resulting in a strikeout.

BABIP

Batting average on balls in play. Measures how many of a batter's balls in play go for hits.

ISO

Isolated Power. Slugging percentage minus batting average. A computation used to measure a batter's raw power.

AVG

Batting average. Hits divided by at bats.

OBP

On Base Percentage. A measure of how often a batters reaches base. Roughly equal to number of times on base divided by plate appearances.

SLG

Slugging Percentage. A measure of the batting productivity of a hitter. It is calculated as total bases divided by at bats.

OPS

On base plus slugging. THe sum of a batter's on-base percentage and slugging percentage.

wOBA

Weighted on-base average. Measures a player's overall offensive contributions per plate appearance. wOBA combines all the different aspects of hitting into one metric, weighting each of them in proportion to their actual run value.

Exit Velocity

The speed of the baseball as it comes off the bat, immediately after a batter makes contact.

Hard Hit Rate

A measure of contact quality from Sports Info Solutions. This stat explains what percentage of batted balls were hit hard vs. medium or soft.

Barrels/PA

The percentage of plate appearances where a batter had a batted ball classified as a Barrel. A Barrel is a batted ball with similar exit velocity and launch angle to past ones that led to a minimum .500 batting average and 1.500 slugging percentage.

Expected BA

Expected Batting Average.

Expected SLG

Expected Slugging Percentage.

Sprint Speed

The speed of a runner from home to first, in feet per second.

Ground Ball %

The percentage of balls put in play that are on the ground.

Line Drive %

The percentage of balls put in play that are line drives.

Fly Ball %

The percentage of balls put in play that are fly balls.
Advanced Batting Stats
Loading Advanced Batting Stats...
Games By Position
Defensive Stats
Loading Games Played by Position...
Loading MLB Defensive Stats...
Batted Ball Stats
Loading Batted Ball Stats...
Stats Vs Upcoming Pitchers
Our full team depth charts are reserved for RotoWire subscribers.
Subscribe Now
Recent RotoWire Articles Featuring Jose Altuve
See More
Past Fantasy Outlooks
2022
2021
2020
2019
2018
2017
2016
2015
2014
2013
2012
Altuve showed 2020 was just a short season anomaly by tying his career high with 31 homers, though he needed 130 more plate appearance than 2019. Altuve's reliance on the Crawford Boxes to maintain power grew as he posted one of the shortest average fly ball distances of anyone with at least 30 long balls with all but one of his home runs to the pull side. A career high FB% helped drive power, but dropped his BABIP to .280, second lowest to the prior year's .250 mark. Altuve's 13.4 K% was ninth best among qualified hitters, yet his .278 average was only higher than 2020's .219. At some point, Altuve's dependence on Minute Maid Park with be a bug, it's still a feature, hitting atop a potent lineup in a park built for his approach and swing. Be wary of losing more batting average points as his foot speed further declines (down to 72nd percentile spring speed), and of course the steals aren't coming back.
After never hitting below .283 in any of his first eight full seasons, Altuve saw his average plummet to .219 in 2020. He was also caught stealing on the basepaths more times than he was successful, a first in his big-league career. Altuve flipped the switch in October, slashing .350/.500/.729 in the playoffs with five homers, matching his HR total from the regular season. It's fair to wonder if the right knee issue that forced Altuve to the IL in September was hindering his play in the weeks leading up to his placement on the injured list. Explaining his poor performance and dismal batted-ball numbers any other way is difficult, unless you want to pretend he was one of the best hitters in the game for a decade simply because he was stealing signs. That scandal will forever be a black eye on his career, but Altuve has been too good for too long to think he can't still perform at a high level at age 30/31.
Altuve failed to hit .300 for the first time since 2013, albeit falling just two points -- or one hit -- short. He shattered his career high in homers with 31, doing it in just 124 games, his fewest played since his 2011 rookie campaign. Altuve missed just over five weeks with a strained hamstring. He was put on the IL on May 11, slashing just .243/.329/.472 at the time. After returning June 12, Altuve posted a .320/.363/.581 line, more reminiscent of his usual production. Altuve's power spike came despite a decrease in both exit velocity and launch angle. He was graced by good fortune with some help from the ball. Altuve remains one of the best at his position; he's just no longer one of the best overall, primarily due to waning steals. That said, there's a question how long he can remain elite with his skill set as his Statcast numbers (average exit velocity, barrels, xBA and xSLG) are middle of the pack.
Altuve played most of the season with a knee injury that was diagnosed as an avulsion fracture after the Astros were knocked out by Boston. He required surgery in late October. Despite the bum wheel, Altuve remained an above-average offensive player albeit not at the same level of the prior few seasons. The bad wheel goes a long way in explaining where the steals went, though the Astros as a team attempted significantly fewer stolen bases. It is an exercise in futility to pick apart his underlying 2018 numbers because he is still an elite hitter. Altuve's ability to hit 20-plus homers is contingent upon him playing 150-plus games and enjoying the Crawford Boxes, but he should be able to resume his overall run production as he is still in his peak years. You'll just have to forgive him for attempting to play through his knee troubles and go back to the well again as there will not be much of a discount at all.
Altuve proved that his 2016 power surge wasn't a fluke, matching his home-run total (24) from the previous year and setting new career bests with his entire slash line (.346/.410/.547) while improving his success rate on the basepaths (84.2 percent). For the fourth consecutive season, he led the American League in hits, despite his lowest total of plate appearances since 2012. A perennial All-Star and Silver Slugger Award winner, Altuve has played at an elite level annually since 2014, when fantasy owners were enthralled by his ability as a 50-steal contributor. An early-season spike in strikeouts in April was offset by three straight months with a K-rate under 10 percent, and while his season rate was up from 9.8 to 12.7 percent, whiffs are not an issue for him. As part of a Houston core that figures to remain intact for at least another two years, Altuve is positioned to once again make another run at being the best player in the game.
All Altuve did was take his improbable 2015 season to the next level with an amazing 2016 season. In the AL Tout Wars auction last March, he went for a stunning $43, but in the end, he earned every bit of it as a five-category stud. Altuve improved his walk rate to a career-high 8.4 percent (from 4.8 percent in 2015) and, following suit with the rest of the league, hit for more power. A new power baseline for Altuve is tough to figure out, but his ISO and hard-hit rate progression in recent years suggests 15-20 homers annually is reasonable. Still just 26, he has played nearly every game over the past five seasons and rarely gets himself out. Even when he does chase pitches out of the strike zone, he still makes enough contact to put the ball safely into play and uses his speed to turn outs into hits. Altuve has reached 30 steals in five straight seasons and with a powerful lineup around him, he is an easy top-10 pick for 2017.
Altuve reached the 200-hit milestone for the second straight year in 2015, but ended up finishing second in the category overall behind fellow second baseman Dee Gordon (205 hits). The three-time All-Star and 2015 Gold Glove winner still had a phenomenal season, hitting .313/.353/.459 with 15 home runs and 66 RBI — both career highs — over 638 at-bats. The 25-year-old led the AL with 38 stolen bases despite finishing with 18 fewer steals than he had the year before. It seems fair to say his 86 percent success rate on stolen-base attempts in 2014 was an outlier, as that rate fell back to 74.5% last season, which is more in line with his career average. Most will continue to draft Altuve in the first couple rounds as an elite source of steals, batting average and runs, and he could solidify himself as a perennial first-round pick if his power continues to develop.
Altuve turned in a remarkable season for Houston, earning the second All-Star nod of his young career en route to winning the AL batting title with a .341 average. The 24-year-old led the majors with 67 multi-hit games and 225 hits, which far surpassed Craig Biggio's club record of 210 hits in a single season. Altuve's success at the plate can be attributed to an improved approach, which saw his contact rate (92%) rise by six percent and his strikeout rate (7.1%) dip significantly compared to the year prior. Altuve's .414/.566/1.013 slash line against lefties was particularly impressive, and while he only slightly improved his walk rate (5.1%), he terrorized opponents on the basepaths with an AL-leading 56 steals. His 86 percent success rate on stolen base attempts may prove to be an outlier, however, considering his success rate for his career coming into last season was 73.5 percent. While it might be wise for fantasy owners to anticipate regression from Altuve this season, there's no denying his value as an elite source of steals who will score plenty of runs and get on base at a healthy clip.
Altuve logged a career-high 152 games for the Astros last season and delivered statistics that were roughly on par with projections. While his overall line (.283/.316/.363), run total (64) and batting average against lefties (.287) regressed from the previous season, Altuve remained an elite source of stolen bases (35). Still, his poor plate discipline (4.8% walk rate) combined with the lack of talent behind him in the Astros' batting order limits his upside for the 2014 season. It's still very early in Altuve's career, with plenty of room left for improvement as he will only turn 24 in May, but he will need help in certain areas to make a bigger impact on fantasy teams.
Altuve continued his growth in his sophomore campaign, swiping 33 bases and hitting .290 for the last place Astros. His batting average was bolstered by his absolute crushing of left-handed pitching: he hit .359 against lefties and just .264 against righties. He usually pounds the ball into the ground to try to get the most out of his speed. Altuve is a bit of a liability with men on base, but the team has not expected him to be a run producer. At some point, he will need to fend off Delino DeShields Jr., but for the moment, Altuve is the best the Astros have to offer and is the established second baseman for at least the next couple of seasons.
The diminutive Altuve managed 200 hits across three levels last season, fueled largely by an impressive .408/.451/.606 line in the California League. Altuve has great speed and a little bit of pop, and though he can't draw a walk to save his life, he doesn't strike out a ton either. With an Astros squad under new management and in full-on rebuilding mode, he should be one of the team's lone bright spots while serving as the team's primary second baseman.
More Fantasy News