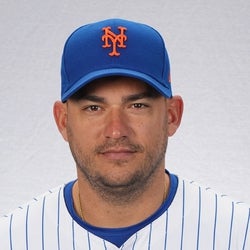 Rest-of-Season Projections
$Signed a one-year, minor-league contract with the Padres in May of 2023. Released by Padres in June of 2023.

ANALYSIS
This marks the third minor-league contract Iglesias has opted out of this season -- once with the Marlins and now twice with the Padres. The 33-year-old shortstop holds a nice .314/.354/.542 slash line through 130 plate appearances in Triple-A. He will presumably now search for an organization that can offer a more direct path to the majors.
Read More News
Batting Stats
2022
2021
2020
2019
2018
2017
2022 MLB Game Log

Calculate Stats Over Time
Just click on any two dates.
Scoring
FanDuel
DraftKings
Yahoo DFS
Loading Batting Game Log...
2021 MLB Game Log

Calculate Stats Over Time
Just click on any two dates.
Scoring
FanDuel
DraftKings
Yahoo DFS
Loading Batting Game Log...
2020 MLB Game Log

Calculate Stats Over Time
Just click on any two dates.
Scoring
FanDuel
DraftKings
Yahoo DFS
Loading Batting Game Log...
2019 MLB Game Log

Calculate Stats Over Time
Just click on any two dates.
Scoring
FanDuel
DraftKings
Yahoo DFS
Loading Batting Game Log...
2018 MLB Game Log

Calculate Stats Over Time
Just click on any two dates.
Scoring
FanDuel
DraftKings
Yahoo DFS
Loading Batting Game Log...
2017 MLB Game Log

Calculate Stats Over Time
Just click on any two dates.
Scoring
FanDuel
DraftKings
Yahoo DFS
Loading Batting Game Log...
Minor League Game Log

Calculate Stats Over Time
Just click on any two dates.
Loading Minor League Batting Game Log...
Left/Right Batting Splits
OPS
PA
HR
RBI
AVG
Since 2021

vs Left

.768
315
6
35
.296
Since 2021

vs Right

.674
663
6
60
.274
2023

vs Left

0
0
0
0
0
2023

vs Right

0
0
0
0
0
2022

vs Left

.752
158
2
18
.295
2022

vs Right

.685
309
1
29
.290
2021

vs Left

.784
157
4
17
.297
2021

vs Right

.664
354
5
31
.260
More Splits

→

View More Split Stats
Home/Away Batting Splits
OPS
PA
HR
RBI
AVG
Since 2021

Home

.682
471
7
55
.263
Since 2021

Away

.724
507
5
40
.298
2023

Home

0
0
0
0
0
2023

Away

0
0
0
0
0
2022

Home

.662
217
2
31
.264
2022

Away

.747
250
1
16
.315
2021

Home

.699
254
5
24
.262
2021

Away

.702
257
4
24
.280
More Splits

→

View More Split Stats
Advanced Batting Stats
Loading Advanced Batting Stats...
Games By Position
Defensive Stats
Loading Games Played by Position...
Loading MLB Defensive Stats...
Batted Ball Stats
Loading Batted Ball Stats...
Stats Vs Upcoming Pitchers
Recent RotoWire Articles Featuring Jose Iglesias
See More
Jan Levine kicks off the column for 2023 and examines all the NL positional battles.
Jason Collette is excited for the increase in steals which the new rules should bring next season. Which hitters and pitchers will be affected the most?
Past Fantasy Outlooks
2022
2021
2020
2019
2018
2017
2016
2015
2014
2013
2012
2011
2010
The Angels acquired Iglesias last offseason and installed him as their everyday shortstop. He missed some time in May with a sore back, then had an IL visit for a hamstring issue. The Halos released Iglesias in early September. At the time he was slashing .259/.295/.375. Iglesias then returned to Boston, the team that drafted him in 2009. The Red Sox were shorthanded with a COVID-19 outbreak, so Iglesias took over as the regular second baseman. He stabilized the infield offensively and defensively, posting a .356/.406/.508 line down the stretch, remaining in the lineup during the club's late season playoff drive even though he wasn't eligible for the postseason. Iglesias showed enough with the bat to warrant another season as a regular in a middle infield spot. He's only eligible at shortstop in most fantasy leagues, which relegates him to mixed league reserve status, best suited for deeper formats, though the fact he signed with Colorado for 2022 could give him a slight bump thanks to Coors Field.
We all knew 2020 was going to end with some interesting stat lines in a 60-game season. That said, absolutely nobody saw Iglesias hitting nearly 100 points above his career average in any amount of playing time. Iglesias has built up quite the defensive reputation and enjoyed his one season in Cincinnati in 2019; he hit as many homers that season as he had the previous two seasons combined. Heading into 2021, the appeal with Iglesias lies mostly in the everyday playing time in a decent lineup after a trade to the Angels. Expect some giveback with the BA gains the past two seasons, even as Iglesias had the highest xBA in baseball last year with seemingly every batted ball he put into play avoiding a glove. He doesn't barrel the ball up often, and his low-walk-and-high-contact approach worked to its extreme best last year.
Iglesias' skill set appeals more to fanbases and local announcers than it does to fantasy players and analysts. His .288 average was his highest since 2015, he hit a career-high 11 homers (nine of them in Great American Ball Park) and hit a whopping .431 in 59 high-leverage plate appearances. Yet all of that translated into a .119 ISO, and a 3.8 BB% allowed him to only get on base at a .315 clip. He also was caught in half of his 12 stolen-base attempts, suggesting that he'll get fewer opportunities to run in the future. His contact rate and defense will keep him in the lineup most days early on after he signed a one-year deal with the Orioles, but the threat of a midseason trade is very real. Iglesias almost certainly would not play every day for a contender.
Iglesias became more than just an all-glove shortstop who hit from the nine-hole and occasionally found his way on base in 2018. He still has little power to speak of, but the 15 steals were a pleasant surprise. Even with the extra trips into scoring position, Iglesias still set a full-season career low in runs scored last season. He remains a high-contact slap hitter who does not walk much simply because pitchers are not afraid to challenge him in the strike zone. The power is not going to blossom, ever, and at 30 years of age, he is unlikely to maintain his speed for much longer. The defensive skills will keep him in the league for a few more years, but only single-league owners can consider rostering him, and even that acquisition should be very late in the draft or auction. His bat is simply too empty to reach for the potential steals, and without those steals, he has little redeeming value.
Simply by playing regularly, Iglesias managed to compile decent counting totals relative to a lot of middle infielders, but make no mistake about it: he's not a good hitter. He puts the ball in play consistently (13.3 percent strikeout rate last season), but the quality of that contact is generally poor and he rarely walks (4.3 percent walk rate). Iglesias posted a measly 1.0 Brls/PA, ranking 457th out of 540 hitters with at least 30 batted-ball events. Iglesias has posted identical .283 wOBA marks the past two seasons, with wRC+ marks of 72 and 71. He's a plus on defense and the Tigers figure to let Iglesias continue to play every day as they begin their rebuild, but regular playing time is not enough to make a hitter of Iglesias' caliber a worthwhile target in standard leagues.
Iglesias played a career-high 137 games last season, yet even with the increased exposure his overall offensive production barely registered. The only value added with his bat in the past has come in high batting average seasons. Even at his best it's a one-dimensional profile that lacks significant contributions in power or stolen bases, and his tallies of runs and RBI are so weak that sheer playing time is unable to lift them into the realm of mediocrity. Iglesias is a potential fantasy liability in every category, that is unless he is employed in a Scoresheet league in order to reap some value from his glove work. He'll always have the All-Star appearance of 2015, but as Iglesias traverses through his physical prime the reality has become cemented that the secondary offensive skills are unlikely to manifest.
Iglesias had an outstanding 2015 -- offensively and defensively -- until he was hit by a pitch while trying to bunt in early September. The ball went off the middle finger of his throwing hand causing a non-displaced chip fracture and prematurely ending his season. Iglesias slashed a surprising 300/.347/.370 with two home runs, 23 RBI and 44 runs while dazzling with highlight-reel plays in the field. He even made an appearance at the All-Star Game. But he does come with some baggage -- he's injury prone (he missed all of 2014 with shin splints) and has a reputation for reacting late to batted balls, turning routine plays into highlight-worthy ones. Remember his shoving match with James McCann in early August? Teammates have long memories, especially when it comes to a lack of hustle. Iglesias will be healthy heading into 2016, but his fragility and his attitude are real concerns. And with Dixon Machado pushing him, this bottom-of-the-order hitter could become trade bait at some point in the season.
After being acquired in a 2013 midseason deal with the Red Sox, Iglesias was expected to take over as the Tigers' full-time shortstop of the present and future in 2014. Instead, Iglesias was forced to sit out all of last season after he was diagnosed with stress fractures in both legs – injuries that were originally thought to be shin splints. During a healthy campaign in 2013, Iglesias started to show signs that he belonged as an everyday major leaguer. In 109 appearances split between the Red Sox and Tigers, he hit .303/.349/.386 with 21 extra-base hits and five steals. While the productivity at the plate in 2013 was a pleasant surprise, Iglesias' primary value still rested in his glove, as he offers premium defense at the shortstop position. Iglesias was given clearance to ramp up baseball activities in mid-October, and he's expected to be ready to participate when spring training opens. Detroit hasn't anointed Iglesias the everyday starting shortstop, but he is considered the favorite for the gig over Eugenio Suarez and Andrew Romine.
With Jhonny Peralta's 50-game suspension looming, Iglesias was acquired by the Tigers in a deadline deal that included Jake Peavy and Avisail Garcia. Iglesias was immediately plugged in as the Tigers' primary shortstop, hitting .259/.306/.348 in 135 at-bats for his new squad. While he flashed some offense (.330/.376/.409) with the Red Sox prior to the midseason move to Detroit, Iglesias has always been considered a light-hitting prospect who offers premium defense at the shortstop position. Last season's final batting average of .303 was largely inflated by a .359 BABIP. And, of course, Iglesias offers very little in the power department, connecting on just six home runs over 1,098 career at-bats in the minors. Still, Iglesias does have good speed, which could help him sustain a high BABIP and provide decent stolen-base totals as he develops his baserunning skills. Peralta signed with the Cardinals as a free agent in November, making way for Iglesias to be the Tigers' everyday shortstop of the present and future. His primary value will always come on the defensive side of the ball, but if Iglesias can improve at the dish and start to steal bases at a decent clip, he'll provide surprising value in deeper formats.
One month does not make a hitter. So when examining Iglesias' September line (.118/.200/.191), don't label him as an "all glove, no bat" shortstop just yet. The Red Sox did not give up on Dustin Pedroia when he started his big-league career slowly, so they are not pulling the plug on Iglesias yet. The organization is confident he will become a better hitter, but it would like to see Iglesias put together a stretch of quality at-bats before considering him for the everyday shortstop. Unfortunately, that chance may not come early in 2013 with Boston signing Stephen Drew. But given Drew's injury history, Iglesias could still take over the job. However, his bat will need to make a significant improvement to have much of an impact for fantasy purposes.
Iglesias made his major league debut in 2011 with a brief stint in May when Marco Scutaro was injured and then returned in September. The consensus is that he's Boston's shortstop of the future due to his glove, but the Red Sox would like to see more good at-bats from him in Triple-A. He showed better-than-expected offense in 2010 at the Double-A level, but it didn't sustain in his first full year at the most-advanced minor league level. A full season at Pawtucket is expected.
Iglesias is seen as the Red Sox's shortstop of the future with a major league ready glove. The question remains as to how good his bat will get, but he started the season well before a knuckle injury wiped out June, July and half of August. That's two-and-a-half months of development lost. He's not very selective, does not handle pitches on the outside third of the plate well and is getting used to advanced pitching at the professional level. Developing a better approach at the plate and making up for those lost at-bats in 2010 are seen as his primary goals for 2011. Look for him to start the season at Double-A Portland and don't read too much into it if he stays there the whole season.
Iglesias, 19, is being touted as Boston's shortstop of the future, but the Cuban defector has yet to play an inning at the minor league level. He brings a major league ready glove with a plus arm and range. Like a lot of young shortstops, Iglesias needs some work at the plate -- in particular his strike-zone management and patience.
More Fantasy News