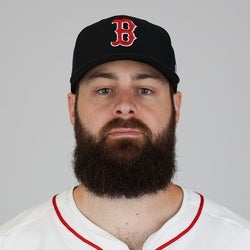 2023 Fantasy Outlook
The right-hander established himself as a reliable front-end starter with a 3.47 ERA from 2019 to 2021, but he cratered last season with an ERA that approached 5.00. Giolito lost a tick on his fastball and saw his strikeout rate drop over two percentage points to 25.2 percent, though his HR/9 improved slightly to 1.3. The White Sox's poor defense certainly did him no favors, which is reflected in his 3.66 xFIP. Still, the poor results can't be entirely blamed on the defense, as he also allowed a 39 percent hard-hit rate, which represents a full-season career high. Giolito will turn 29 years old in July and is entering his final season of arbitration eligibility, and he's a prime rebound candidate with every incentive to deliver in a contract year.
Read Past Outlooks
$Signed a one-year, $10.4 million contract with the White Sox in January of 2023.

Velo steady, still getting Ks
Giolito was sitting between 91 and 94 mph with his fastball during his Cactus League start Tuesday,
Scott Merkin of MLB.com
reports.
ANALYSIS
For much of Giolito's career, he's averaged around 94 mph with his fastball. That number dipped to 92.7 during a subpar 2022 campaign, so it's slightly concerning that he's struggled to ramp his velocity back up. On the other hand, he's racked up 15 strikeouts across only 9.1 frames while maintaining a respectable 3.86 ERA in Cactus League games this spring. Overall, Goilito will be hoping to bounce back from last season's 4.90 ERA and 1.44 WHIP, which he posted across 161.2 frames.
Read More News
Pitching Stats
Loading Pitching Stats...
2022
2021
2020
2019
2018
2017
2022 MLB Game Log

Calculate Stats Over Time
Just click on any two dates.
Scoring
FanDuel
DraftKings
Yahoo DFS
FantasyDraft
Head2Head
Loading Pitching Game Log...
2021 MLB Game Log

Calculate Stats Over Time
Just click on any two dates.
Scoring
FanDuel
DraftKings
Yahoo DFS
FantasyDraft
Head2Head
Loading Pitching Game Log...
2020 MLB Game Log

Calculate Stats Over Time
Just click on any two dates.
Scoring
FanDuel
DraftKings
Yahoo DFS
FantasyDraft
Head2Head
Loading Pitching Game Log...
2019 MLB Game Log

Calculate Stats Over Time
Just click on any two dates.
Scoring
FanDuel
DraftKings
Yahoo DFS
FantasyDraft
Head2Head
Loading Pitching Game Log...
2018 MLB Game Log

Calculate Stats Over Time
Just click on any two dates.
Scoring
FanDuel
DraftKings
Yahoo DFS
FantasyDraft
Head2Head
Loading Pitching Game Log...
2017 MLB Game Log

Calculate Stats Over Time
Just click on any two dates.
Scoring
FanDuel
DraftKings
Yahoo DFS
FantasyDraft
Head2Head
Loading Pitching Game Log...
Minor League Game Log

Calculate Stats Over Time
Just click on any two dates.
Loading Minor League Pitching Game Log...
Pitching Appearances Breakdown
How many pitches does Lucas Giolito generally throw?
What part of the game does Lucas Giolito generally pitch?
% Games Reaching Innings Threshold
% Games By Number of Innings Pitched
Left/Right Pitching Splits
BAA
K
BB
H
HR
Since 2020

vs Left

.211
243
75
153
21
Since 2020

vs Right

.256
232
66
210
38
2022

vs Left

.217
87
27
57
7
2022

vs Right

.312
90
34
114
17
2021

vs Left

.221
97
29
69
9
2021

vs Right

.217
104
23
76
18
2020

vs Left

.180
59
19
27
5
2020

vs Right

.190
38
9
20
3
More Splits

→

View More Split Stats
Home/Away Pitching Splits
ERA
WHIP
IP
K/9
BB/9
Since 2020

Home

4.68
1.23
207.2
10.2
3.0
Since 2020

Away

3.42
1.21
205.0
10.5
3.1
2022

Home

6.08
1.48
77.0
9.8
2.8
2022

Away

3.83
1.39
84.2
9.9
3.9
2021

Home

3.81
1.10
87.1
10.1
2.8
2021

Away

3.25
1.11
91.1
10.1
2.5
2020

Home

3.95
1.04
43.1
11.2
3.9
2020

Away

2.79
1.03
29.0
13.3
2.8
More Splits

→

View More Split Stats
Stat Review
How does Lucas Giolito compare to other starting pitchers?
This section compares his stats with all starting pitcher seasons from the previous three seasons (minimum 120 innings)*. The bar represents the player's percentile rank. For example, if the bar is halfway across, then the player falls into the 50th percentile for that stat and it would be considered average.
* Exit Velocity, Barrels/BBE %, Balls Hit 95+ MPH %, and Spin Rate are benchmarked against 2019 data (min 120 IP).
See here for more exit velocity/barrels stats
plus an explanation of current limitations with that data set.
K/BB

Strikeout to walk ratio.

K/9

Average strikeouts per nine innings.

BB/9

Average walks per nine innings.

HR/9

Average home runs allowed per nine innings.

Fastball

Average fastball velocity.

ERA

Earned run average. The average earned runs allowed per nine innings.

WHIP

Walks plus hits per inning pitched.

BABIP

Batting average on balls in play. Measures how many balls in play against a pitcher go for hits.

GB/FB

Groundball to flyball ratio. The higher the number, the more likely a pitcher is to induce groundballs.

Left On Base

The percentage of base runners that a pitcher strands on base over the course of a season.

Exit Velocity

The speed of the baseball as it comes off the bat, immediately after a batter makes contact.

Barrels/BBE

The percentage of batted ball events resulting in a Barrel. A Barrel is a batted ball with similar exit velocity and launch angle to past ones that led to a minimum .500 batting average and 1.500 slugging percentage.

Spin Rate

Spin Rate is the rate of spin on a baseball after it is released. It is measured in revolutions per minute (rpm).

Balls Hit 95+ MPH

The percentage of batted balls hit that met or exceeded the 95 MPH threshold.

Swinging Strike

The percentage of pitches that result in a swing and a miss.
Advanced Pitching Stats
Loading Advanced Pitching Stats...
Loading MLB Defensive Stats...
Our full team depth charts are reserved for RotoWire subscribers.
Subscribe Now
Recent RotoWire Articles Featuring Lucas Giolito
See More
Past Fantasy Outlooks
2022
2021
2020
2019
2018
2017
2016
2015
2014
2013
Giolito caught some helium last draft season, and unfortunately, the end result was a little deflating for those that paid top dollar to acquire his services. It was far from a bad season, but Giolito took nine losses, served up 27 homers in 178.2 innings and lost nearly seven percentage points off his strikeout rate (27.9 K%). He spent time on the injured list late in the season with a hamstring injury and finished with more walks (five) than strikeouts (four) in his one postseason appearance. His swinging-strike rate remained elite at 15.3% (fifth in MLB), so his strikeout rate seems likely to tick back up in 2022. Giolito will continue to give up the occasional rocket when he leaves a changeup hanging or a fastball center-cut, but he's been one of the top arms in the American League since he reverted back to his old mechanics after the 2018 season. With his supporting cast, and in that division, Giolito should still be considered a fantasy ace.
Giolito was the worst starting pitcher in baseball in 2018 and some projection systems continue to ding him for that season. Track record matters and we can't pretend that season never happened, but Giolito is a unique case in that he is a fundamentally different pitcher than he was then. After the 2018 campaign, Giolito completely overhauled his arm action and delivery, ditched his sinker in favor of more four-seamers and later changed the grip on his slider. The change back to something resembling his high school mechanics paid immediate dividends and fueled his confidence, culminating in Giolito throwing one of the two no-hitters in the majors in 2020. He threw his changeup more frequently than ever in 2020 en route to a top-five strikeout rate among qualified starters (33.7%). James McCann and his framing are gone, but that's not reason enough to think Giolito won't finish among the elite.
Giolito posted the highest ERA among qualified starters in 2018, then reinvented himself, spending the offseason working on a shorter delivery, adding a couple more ticks to his fastball along with more spin to his curve and slider. He also reworked his arsenal, bagging his sinker, the pitch he threw second-most often in 2018, cutting back on his curve while using his fastball and change more. The result was a swinging-strike rate of 15%, compared to 8.3% the previous season. Giolito's control also improved, helping post a 24.3 K-BB%, sixth best among qualified starters. After five starts, Giolito's 5.32 ERA and 1.44 WHIP weren't encouraging, then his offseason work manifested, and he went 3.12/1.01 the rest of the way. Giolito finished strong, boding well for owning his new skills. Don't be afraid to invest, especially since he stands to gain with expert framer Yasmani Grandal in town.
It is easy to forget that Giolito was once the 16th overall pick of the 2012 draft, and that was only because he was injured in high school and everyone knew he needed Tommy John surgery. He went on to be considered the top pitching prospect in baseball from 2015-16, but Giolito's pitches have really backed up in recent years. He also has an inconsistent grasp of where those pitches are going (to put it nicely). His 6.13 ERA was by far the worst in the majors for all qualified starters and his 11.6% walk rate also brought up the rear. Fifteen of his 32 starts were of the quality variety, but his bad outings were extreme as he gave up five or more earned runs in 10 outings. Only Mike Leake had a lower strikeout percentage among qualified pitchers. It is important to be aware of a player's pedigree, and while Giolito has it in spades, his stuff and command are simply not befitting of a player we should expect significant improvement from.
The former top prospect posted sparkling numbers in seven starts for the White Sox, bouncing back from a miserable debut with the Nationals, but was it real or an illusion? By most measures, it was the latter; Giolito did miss more bats, but still had a modest 19 percent strikeout rate, and home runs were once again a problem (eight allowed in 45.1 innings). The right-hander showed improvement with his control (2.4 BB/9), but the ERA estimators suggest Giolito was closer to a 4.50 ERA pitcher, with luck playing a significant role in his surface stats (92 percent strand rate, .189 BABIP). Giolito saw another dip in fastball velocity -- his average settled at just over 92 mph -- and his larger body of work at Triple-A left a lot to be desired. His 10.1 percent swinging-strike rate and 62 percent first-pitch strike rate hint at room for strikeout growth, but the team context works against him, and there will likely be more bumps in the road.
Giolito began the year in Double-A and ended it in the majors, but it wasn't exactly a completely successful season for the phenom. He put up strong, but not truly dominant, numbers in the high minors but struggled with his command and control with Washington, resulting in walk and home run rates out of character for Giolito compared to his minor league work. End-of-season fatigue may have been a factor, as his fastball was averaging 93.4 mph in the majors instead of popping the high 90s, but his workload only increased marginally from 2015, so whispers about his health inevitably followed (he's had Tommy John once already). At his best, the right-hander still features that explosive fastball, plus a hammer curve and changeup that could soon surpass the curve as an out pitch, and an offseason of rest might be all he needs to regain his top-shelf stuff and seize hold of a spot in the White Sox's rotation. It's also possible that despite his scouting reports, he takes a while to adjust to the majors -- his numbers last year bear some similarities to Kevin Gausman's the season he broke into the majors as a 22-year-old.
This could be the year when Giolito goes from highly-touted prospect to mainstream ace. Three years removed from Tommy John surgery, the Nationals will set him loose on big league hitters when a need in the rotation arises. He cruised through High-A and Double-A in his age 20/21 season, but the numbers do not do him justice. He had a 1.96 FIP in 69.2 innings at High-A and a 3.18 FIP in 47.1 innings at Double-A. His combination of a plus-plus fastball and a borderline 80-grade curveball is something few pitchers on the planet can boast. He also has the potential for a plus changeup in two or three years, with above average command to boot. In short, this is a future ace. His body is built to log innings and his arsenal is built to embarrass big league hitters, the latter of which should begin sometime this summer.
Now two years removed from his Tommy John surgery, Giolito looked every inch the future ace as he tore through the South Atlantic League, posting outstanding 10.1 K/9 and 3.9 K/BB ratios over a restricted workload of 98 innings. The tall, young right-hander already possesses a high-90s fastball and power curve that will overmatch just about anybody he faces in A-ball, so the Nationals are focused on building up his stamina and having him develop his changeup into a quality offering, something which could be the difference between Giolito being merely good in the majors or being one of the best in the game. The club has no reason to rush him given their loaded major league rotation, so Giolito could easily spend two more seasons or more in the minors before getting the call, but at the moment, all signs point to dynasty owners being amply rewarded down the road for their patience.
The Nationals' 2012 first-round pick made an impressive return from Tommy John surgery, albeit in very limited work, and struck out 39 batters in 36.2 innings between rookie ball and Low-A while flashing the same high octane fastball, power curve and developing changeup that made him a much-ballyhooed high schooler prior to his surgery. The Nats are notoriously conservative with recovering pitchers so expect Giolito to be on a strict innings cap this season, but even in limited work he's more than capable of emerging as one of the game's elite pitching prospects. A violent delivery and spindly frame, the usual recipe for control and injury issues, might be the only thing keeping him from tearing into the majors as soon as 2015.
The 16th overall pick in the draft went under the knife for the least surprising Tommy John surgery ever in August, and the Nationals do not expect to get anything for their $3 million signing bonus until 2014. Giolito could be worth the wait though. Were it not for his elbow trouble he very well might have gone first overall, as high schoolers with prototypical power pitcher builds and fastballs that light up the third digit on the radar gun tend to get scouts drooling. It will be a long road back for Giolito, but if any team can get the most out of him it would be the Nats (see: Strasburg, Stephen and Zimmermann, Jordan).
More Fantasy News