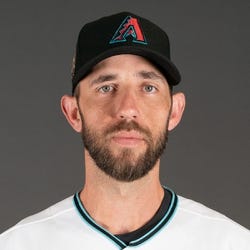 2023 Fantasy Outlook
Bumgarner reached 30 starts last season for the first time as a Diamondback. Still, we can't really view him as a workhorse at this point given that those 30 outings resulted in only 158.2 innings. Just six of those starts fell under the "quality" umbrella, and only two of those quality starts came after the All-Star break. Bumgarner remains a proficient strike-thrower and his velocity actually rebounded a tick in 2022. However, only Marco Gonzales (13 percent) and Johnny Cueto (15.7 percent) had lower strikeout rates than MadBum's 16 percent mark among those who threw at least 150 innings. Bumgarner also ranks sixth in baseball in home runs allowed since 2020, and the five ahead of him have all thrown way more innings. It's hard to see the Diamondbacks ever booting him from their rotation, but it's even more difficult to see the 33-year-old returning to fantasy relevance.
Read Past Outlooks
$Signed a five-year, $85 million contract with the Diamondbacks in December of 2019.

Makes second spring start
Bumgarner allowed two hits and two walks while striking out five over 3.1 scoreless innings in Thursday's spring start against the Cubs.
ANALYSIS
Bumgarner had been scheduled to start one of Wednesday's two games, but rain canceled both and he was pushed to Thursday. It was his second start in the Cactus League, though he also threw 3.2 innings in a "B" game against minor leaguers. On Thursday, the lefty allowed a hit in the first inning and was pulled in the second with one out and the bases loaded to preserve his pitch count and get another up-and-down. The zero runs allowed were due largely the work of reliever
Zach McAllister
, who escaped the second-inning jam. Bumgarner returned to pitch perfect third and fourth innings.
Read More News
Pitching Stats
Loading Pitching Stats...
2022
2021
2020
2019
2018
2017
2022 MLB Game Log

Calculate Stats Over Time
Just click on any two dates.
Scoring
FanDuel
DraftKings
Yahoo DFS
FantasyDraft
Head2Head
Loading Pitching Game Log...
2021 MLB Game Log

Calculate Stats Over Time
Just click on any two dates.
Scoring
FanDuel
DraftKings
Yahoo DFS
FantasyDraft
Head2Head
Loading Pitching Game Log...
2020 MLB Game Log

Calculate Stats Over Time
Just click on any two dates.
Scoring
FanDuel
DraftKings
Yahoo DFS
FantasyDraft
Head2Head
Loading Pitching Game Log...
2019 MLB Game Log

Calculate Stats Over Time
Just click on any two dates.
Scoring
FanDuel
DraftKings
Yahoo DFS
FantasyDraft
Head2Head
Loading Pitching Game Log...
2018 MLB Game Log

Calculate Stats Over Time
Just click on any two dates.
Scoring
FanDuel
DraftKings
Yahoo DFS
FantasyDraft
Head2Head
Loading Pitching Game Log...
2017 MLB Game Log

Calculate Stats Over Time
Just click on any two dates.
Scoring
FanDuel
DraftKings
Yahoo DFS
FantasyDraft
Head2Head
Loading Pitching Game Log...
Minor League Game Log

Calculate Stats Over Time
Just click on any two dates.
Loading Minor League Pitching Game Log...
Pitching Appearances Breakdown
How many pitches does Madison Bumgarner generally throw?
What part of the game does Madison Bumgarner generally pitch?
% Games Reaching Innings Threshold
% Games By Number of Innings Pitched
Left/Right Pitching Splits
BAA
K
BB
H
HR
Since 2020

vs Left

.235
70
26
69
12
Since 2020

vs Right

.276
192
75
289
50
2022

vs Left

.263
24
14
36
3
2022

vs Right

.286
88
35
143
22
2021

vs Left

.193
35
11
23
7
2021

vs Right

.256
89
28
111
17
2020

vs Left

.270
11
1
10
2
2020

vs Right

.304
15
12
35
11
More Splits

→

View More Split Stats
Home/Away Pitching Splits
ERA
WHIP
IP
K/9
BB/9
Since 2020

Home

4.66
1.36
173.2
6.9
2.4
Since 2020

Away

5.31
1.30
173.0
6.9
2.8
2022

Home

4.74
1.43
93.0
6.6
2.4
2022

Away

5.07
1.45
65.2
6.0
3.3
2021

Home

4.34
1.25
66.1
7.9
2.4
2021

Away

4.95
1.13
80.0
7.4
2.4
2020

Home

5.65
1.40
14.1
5.0
2.5
2020

Away

6.91
1.46
27.1
7.2
3.0
More Splits

→

View More Split Stats
Stat Review
How does Madison Bumgarner compare to other starting pitchers?
This section compares his stats with all starting pitcher seasons from the previous three seasons (minimum 120 innings)*. The bar represents the player's percentile rank. For example, if the bar is halfway across, then the player falls into the 50th percentile for that stat and it would be considered average.
* Exit Velocity, Barrels/BBE %, Balls Hit 95+ MPH %, and Spin Rate are benchmarked against 2019 data (min 120 IP).
See here for more exit velocity/barrels stats
plus an explanation of current limitations with that data set.
K/BB

Strikeout to walk ratio.

K/9

Average strikeouts per nine innings.

BB/9

Average walks per nine innings.

HR/9

Average home runs allowed per nine innings.

Fastball

Average fastball velocity.

ERA

Earned run average. The average earned runs allowed per nine innings.

WHIP

Walks plus hits per inning pitched.

BABIP

Batting average on balls in play. Measures how many balls in play against a pitcher go for hits.

GB/FB

Groundball to flyball ratio. The higher the number, the more likely a pitcher is to induce groundballs.

Left On Base

The percentage of base runners that a pitcher strands on base over the course of a season.

Exit Velocity

The speed of the baseball as it comes off the bat, immediately after a batter makes contact.

Barrels/BBE

The percentage of batted ball events resulting in a Barrel. A Barrel is a batted ball with similar exit velocity and launch angle to past ones that led to a minimum .500 batting average and 1.500 slugging percentage.

Spin Rate

Spin Rate is the rate of spin on a baseball after it is released. It is measured in revolutions per minute (rpm).

Balls Hit 95+ MPH

The percentage of batted balls hit that met or exceeded the 95 MPH threshold.

Swinging Strike

The percentage of pitches that result in a swing and a miss.
Advanced Pitching Stats
Loading Advanced Pitching Stats...
Loading MLB Defensive Stats...
Our full team depth charts are reserved for RotoWire subscribers.
Subscribe Now
Recent RotoWire Articles Featuring Madison Bumgarner
See More
Past Fantasy Outlooks
2022
2021
2020
2019
2018
2017
2016
2015
2014
2013
2012
2011
2010
2009
2008
Bumgarner is about the oldest 32-year-old pitcher you'll ever see. It feels as if he has been in baseball forever, and that is because of the volume of his pitching. Only Justin Verlander can match Bumgarner in the number of 200-plus-inning seasons before the age of 30 (seven), and the mileage is showing with this former workhorse. His first full season in Arizona was better than the ugly effort in 2020, but still well short of the established baseline from his days as a rotation anchor. He is still stingy with the walks, somewhat offsetting the damage the frequency of homers adds to his ERA. It is weird finding a pitcher with such an imbalance between ERA and WHIP, but that is where this Arizona staff ace is now. New pitching coach Brent Strom may help him out in some manner, but this is a real-life No. 1 or 2 pitcher who is a No. 4 or 5 at best on a fantasy team.
A career-low groundball rate and a HR/FB twice his career level led to Bumgarner surrendering an uncharacteristic 13 homers in his first 31.2 innings with the Diamondbacks before issuing none over his final two starts, each spanning five innings. The veteran southpaw's velocity was down all season, perhaps due to a sore back sidelining him the middle four weeks. Bumgarner's velocity ticked up after he returned, but it was still down from the prior four years. Heading into 2020, it was assumed Bumgarner had established a new baseline, well below his former ace level, but still palatable for mixed-league deployment. Now, with so much mileage on his left arm and the possibility of recurring back issues, he's a performance and injury risk lacking the volume of innings to cover up an average strikeout rate.
After a couple of seasons in which Bumgarner threw a combined 240.2 innings, the southpaw regained workhouse status with 207.2 frames, ninth most in MLB. His strikeout and walk rates were in sync with his salad days, but the transformation to being a flyball pitcher resulted in a career-high 30 homers allowed. His ratios were typical of a flyball guy, sporting a low 1.13 WHIP but a bloated 3.90 ERA. The cause for the increase in FBs is unclear. Bumgarner's velocity and pitch mix were consistent with previous seasons. He didn't work higher in the zone. If anything, he worked a little lower. Perhaps his 91-mph fastball is more vulnerable to the uppercut swing revolution. He landed in Arizona, and while Chase Field is less of a hitter's park post-humidor, it's much more hitter friendly than his old digs, so more long balls could be in the offing. Durability is back, as are the whiffs. The risk is a high ERA.
Bumgarner suffered a broken finger in spring training, resulting in a second consecutive abbreviated season after a long track record of durability. His 19.8% strikeout rate last season was his lowest since 2010 while his 7.8% walk rate was a career worst. The combination of those two, his K-BB%, was his worst this decade. More troubling is the fact that Bumgarner's fastball, which was once a quality pitch for him, abandoned him last year. By run values, his fastball was nearly as bad for him last year as it was good for him in 2015. The velocity on the pitch has been consistent the past three seasons, but a 91-mph fastball is league average now. He still managed to finish with a solid ERA thanks to his ability to pitch out of trouble with his secondary pitches. The risk is more health than skill, because Bumgarner has shown he can still pitch reasonably well without the fastball. While no longer an ace, Bumgarner is still a good piece to have on your roster.
Bumgarner suffered a Grade 2 shoulder sprain and bruised ribs in a dirt bike accident in late April and missed nearly three months of the 2017 season. The results were strong for the lefty following his return -- he posted a 3.43 ERA and 1.10 WHIP in 13 second-half starts -- but the strikeouts were down and the homers were up for Bumgarner down the stretch. He allowed 15 homers and struck out 73 in his final 84 innings. The team context isn't great anymore, because while he pitches in a friendly home park, the San Francisco offense is questionable and the bullpen is shaky. Worse yet, he was hit on the hand by a comebacker in 2018 spring training and could miss up to two months as a result. Bumgarner will presumably return to something close to his old form once healthy, but it's a lengthy bench stash for a player whose skills were not quite at that elite level late last season.
Coming into the season, Bumgarner was regarded as one of fantasy baseball's top arms and he once again lived up to expectations. The wood-chopping lefty posted a career-best ERA over a career-high 226.2 innings. He has defied the critics who thought he would break down after throwing 270 combined regular and postseason innings in 2014. Bumgarner just keeps adding to his regular-season innings total year-over-year while increasing his strikeout rate (to a career-high 10.0 K/9 in 2016). While his demeanor is that of a seasoned veteran, the Giants' ace will be just 27 years old entering the 2017 season, leaving the scary possibility that he could take yet another step forward.
Bumgarner came into the season with the most perceived risk of any of the game's top starters after logging a combined 270 innings during the Giants' 2014 championship run. He shot a snot rocket at the critics and turned in his best season from a statistical standpoint. In a season where he was supposed to "break down," Bumgarner set career-best marks in strikeouts (234), walks (39), and innings pitched (218.1). He doesn't come with the flashy arsenal of Clayton Kershaw or Jake Arrieta; rather, he gets it done by pounding the strike zone with his low-to-mid 90s fastball/cutter combo, mixing in a slider 31.9 percent of the time. With the Giants missing the postseason in 2015, Bumgarner will be afforded a little more rest this offseason compared to last year. Either way, he proved the doubters wrong and should be treated as a top fantasy arm heading into the 2016 season.
Bumgarner's price is almost certainly headed sky-high at the 2015 draft table. After a regular season that included career highs in innings, strikeouts (rate and total), walks (rate and total) and wins, he was already rising higher into the ranks of the elite starters. During the postseason on the biggest stage, he posted a 1.03 ERA in 53 innings with a 7.5 K/BB ratio. However, lost in the celebration is the fact that he logged 270 innings while continuing to chuck his slider at a 34.9% clip. His heavy slider rates increase injury risk, and while few guys scream workhorse more than Bumgarner, no one is impervious. Adam Wainwright used to the hold the mantle as Mr. Durable Workhorse who would be a lock for 200-plus innings a year...until he went down with Tommy John surgery. This isn't a projection of injury for Bumgarner, but rather a call for caution when investing, as there is less risk within the top five.
Bumgarner put together a career year in 2013, getting his ERA under 3.00 for the first time as a full-time starter. He also experienced improvements in his K/9 (8.9) and HR/9 (0.7) from the year before, while keeping his walks (2.8 BB/9) in check. He only netted 13 wins for an offensively-challenged Giants team, but victories are almost impossible to predict on a yearly basis. Looking ahead, Bumgarner projects to throw 200-plus innings for the fourth consecutive season and should be one of the more reliable arms taken early off the board.
Bumgarner's 2012 numbers were very similar to the ones he put up in 2011 except for his improved luck on balls in play (.276) and his increased HR/FB rate (11.5 percent). His peripherals remained very strong (8.3 K/9 and 2.1 BB/9), and his 9.0 percent swinging-strike rate was very similar to his 2011 rate (9.2 percent). Down the stretch, Bumgarner seemed to hit a wall as his average fastball velocity dropped just below 90 mph after September (91.3 mph for the season). The increased usage of his slider (39 percent) could be a concern in the coming year, but Bumgarner is capable of making a run at the NL ERA crown in 2013.
Bumgarner ended April with a 6.17 ERA and 1.757 WHIP last year, but he was one of baseball's best pitchers the rest of the season, posting a 2.83 ERA and 1.142 WHIP (and that's with him allowing eight runs while recording just one out during a June outing). Over the final four months of last season, Bumgarner recorded an incredible 145:24 K:BB ratio over 126.2 innings. His 3.10 xFIP ranked seventh-best in baseball. Bumgarner's fastball velocity is now all the way back, and his slider is one of the best pitches in the game, though it should be noted he threw it 32.4 percent of the time last year, which was the fourth-highest rate in MLB, so there's some concern there. Still, at 6-foot-4, 215 pounds, he appears to be a horse and hasn't yet shown any signs of arm trouble. Bumgarner is extremely difficult to homer against, and with plus command and a rising strikeout rate, he enters his third year in the league with massive upside.
After experiencing some success at the Triple-A level, Bumgarner was called up to San Francisco in late June and never looked back, posting a 3.3 K/BB ratio with a 3.00 ERA and 1.306 WHIP over 18 starts. He pitched far better on the road than at home, but that's likely an anomaly that won't continue into 2011. While still nowhere close to what it was when he came out of high school, Bumgarner's fastball velocity crept back up last year (averaged 91.3 mph), and he became a dominant pitcher down the stretch. In September and through the playoffs, he posted a fantastic 50:9 K:BB ratio over 50.2 innings, with a 1.54 ERA and a 1.101 WHIP. With a deceptive delivery, plus curveball and a changeup that's developing into a dominant pitch, Bumgarner has the potential to be a No. 2 starter (if not an ace) for years to come, and pitching in the NL West is always a plus for prospective fantasy owners. Bumgarner is someone to target in 2011.
After dominating Low-A as a 19-year-old in 2008, Bumgarner posted a 1.93 ERA and 1.028 WHIP in Double-A last season, but his strikeout rate dropped significantly (from 10.45 K/9IP to 5.80 K/9IP). It's hard to argue with a 20-year-old recording a 1.93 ERA in Double-A, especially since he also more than held his own in a brief audition with the Giants in September: 1.80 ERA, 1.100 WHIP, .229 BAA over 10.0 innings. However, his fastball velocity was noticeably lower, which is cause for concern moving forward. After frequently reaching the mid-to-upper 90s, Bumgarner averaged just 89.2 mph with his fastball with the Giants. He's still one of the best prospects in baseball, but it's a development worth watching. There's a chance he opens 2010 as the team's No. 5 starter, but he's more likely to get more seasoning in the minors before eventually getting recalled to San Francisco.
Bumgarner was flat-out dominant in 2008, finishing Low-A Augusta with a 1.46 ERA and a 164:21 K:BB ratio over 141.2 innings. A 6-4, 215-pound lefty, Bumgarner possesses an overpowering fastball, and his secondary pitches are developing much quicker than originally anticipated. He'll begin 2009 in either High-A or Double-A, and the Giants have been conservative with him thus far. Bumgarner won't be up in San Francisco for a couple of years, but he's easily one of baseball's 10 best prospects.
The Giants selected Bumgarner out of high school with the No. 10 pick in last year's draft. Possessing one of the best arms in the draft, Bumgarner's heater can reach 94-95 mph with movement. However, his breaking ball and changeup are below average, and he will need considerable development time in the minors. The Giants have done well with similar pitchers, so this fits with their history. He's years away, but the southpaw has ace potential.
More Fantasy News