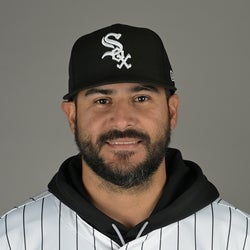 Rest-of-Season Projections
2023 Fantasy Outlook
Good for Martin Perez. After a decade of serving batting practice in big-league games, Perez put together a career year in 2022 to secure $19.65 million from the Rangers in the form of the qualifying offer. He cut his home-run rate dramatically and with that trimmed his ERA to 2.89, ranking 14th among qualified starters. The lefty did not point to any one reason for his shocking turnaround but said instead it was simply a matter of maturity and growth on the pitching mound. History screams regression though the estimators paint his performance last season in a generally favorable light. The one thing Perez has provided consistently throughout his career is the ability to eat innings and that volume alone provides a good deal of value in certain points formats. In leagues where you need to protect ratios, invest at your own risk.
Read Past Outlooks
$Signed a one-year, $19.65 million contract with the Rangers in November of 2022.

Let down by bullpen in no-decision
Perez allowed an unearned run on three hits and one walk over seven innings in a no-decision against St. Louis on Monday. He struck out five batters.
ANALYSIS
Perez tossed arguably his best game of the campaign, giving up a season-low three hits and tying a season high by completing seven frames. The only run he allowed was unearned, and he finished with his fifth quality start. The southpaw was in line for the win when he departed, but
Grant Anderson
gave up two runs in relief in the eighth inning, sending Perez to a no-decision. Despite that disappointment, Perez bounced back nicely after giving up six earned runs over 4.2 frames against Detroit his last time out.
Read More News
Pitching Stats
Loading Pitching Stats...
2023
2022
2021
2020
2019
2018
2017
2023 MLB Game Log

Calculate Stats Over Time
Just click on any two dates.
Scoring
FanDuel
DraftKings
Yahoo DFS
Loading Pitching Game Log...
2022 MLB Game Log

Calculate Stats Over Time
Just click on any two dates.
Scoring
FanDuel
DraftKings
Yahoo DFS
Loading Pitching Game Log...
2021 MLB Game Log

Calculate Stats Over Time
Just click on any two dates.
Scoring
FanDuel
DraftKings
Yahoo DFS
Loading Pitching Game Log...
2020 MLB Game Log

Calculate Stats Over Time
Just click on any two dates.
Scoring
FanDuel
DraftKings
Yahoo DFS
Loading Pitching Game Log...
2019 MLB Game Log

Calculate Stats Over Time
Just click on any two dates.
Scoring
FanDuel
DraftKings
Yahoo DFS
Loading Pitching Game Log...
2018 MLB Game Log

Calculate Stats Over Time
Just click on any two dates.
Scoring
FanDuel
DraftKings
Yahoo DFS
Loading Pitching Game Log...
2017 MLB Game Log

Calculate Stats Over Time
Just click on any two dates.
Scoring
FanDuel
DraftKings
Yahoo DFS
Loading Pitching Game Log...
Minor League Game Log

Calculate Stats Over Time
Just click on any two dates.
Loading Minor League Pitching Game Log...
Pitching Appearances Breakdown
How many pitches does Martin Perez generally throw?
What part of the game does Martin Perez generally pitch?
% Games Reaching Innings Threshold
% Games By Number of Innings Pitched
Left/Right Pitching Splits
BAA
K
BB
H
HR
Since 2021

vs Left

.250
51
12
66
3
Since 2021

vs Right

.270
264
114
325
37
2023

vs Left

.341
8
3
14
1
2023

vs Right

.275
41
18
63
9
2022

vs Left

.219
25
6
28
1
2022

vs Right

.246
144
63
150
10
2021

vs Left

.253
18
3
24
1
2021

vs Right

.308
79
33
112
18
More Splits

→

View More Split Stats
Home/Away Pitching Splits
ERA
WHIP
IP
K/9
BB/9
Since 2021

Home

3.63
1.42
178.2
8.2
3.3
Since 2021

Away

3.65
1.32
199.2
6.9
2.7
2023

Home

1.40
1.13
25.2
7.4
1.8
2023

Away

5.53
1.63
42.1
6.0
3.4
2022

Home

2.92
1.32
92.1
8.9
3.7
2022

Away

2.86
1.20
104.0
6.8
2.7
2021

Home

5.64
1.70
60.2
7.6
3.4
2021

Away

3.71
1.29
53.1
7.8
2.2
More Splits

→

View More Split Stats
Stat Review
How does Martin Perez compare to other starting pitchers?
This section compares his stats with all starting pitcher seasons from the previous three seasons (minimum 120 innings)*. The bar represents the player's percentile rank. For example, if the bar is halfway across, then the player falls into the 50th percentile for that stat and it would be considered average.
* Exit Velocity, Barrels/BBE %, Balls Hit 95+ MPH %, and Spin Rate are benchmarked against 2019 data (min 120 IP).
See here for more exit velocity/barrels stats
plus an explanation of current limitations with that data set.
K/BB

Strikeout to walk ratio.

K/9

Average strikeouts per nine innings.

BB/9

Average walks per nine innings.

HR/9

Average home runs allowed per nine innings.

Fastball

Average fastball velocity.

ERA

Earned run average. The average earned runs allowed per nine innings.

WHIP

Walks plus hits per inning pitched.

BABIP

Batting average on balls in play. Measures how many balls in play against a pitcher go for hits.

GB/FB

Groundball to flyball ratio. The higher the number, the more likely a pitcher is to induce groundballs.

Left On Base

The percentage of base runners that a pitcher strands on base over the course of a season.

Exit Velocity

The speed of the baseball as it comes off the bat, immediately after a batter makes contact.

Barrels/BBE

The percentage of batted ball events resulting in a Barrel. A Barrel is a batted ball with similar exit velocity and launch angle to past ones that led to a minimum .500 batting average and 1.500 slugging percentage.

Spin Rate

Spin Rate is the rate of spin on a baseball after it is released. It is measured in revolutions per minute (rpm).

Balls Hit 95+ MPH

The percentage of batted balls hit that met or exceeded the 95 MPH threshold.

Swinging Strike

The percentage of pitches that result in a swing and a miss.
Advanced Pitching Stats
Loading Advanced Pitching Stats...
Loading MLB Defensive Stats...
Our full team depth charts are reserved for RotoWire subscribers.
Subscribe Now
Recent RotoWire Articles Featuring Martin Perez
See More
Past Fantasy Outlooks
2022
2021
2020
2019
2018
2017
2016
2015
2014
2013
2012
2011
2010
2009
Perez began last season as a starter for the Red Sox before being moved to the bullpen due to his struggles, and he finished the campaign with an unremarkable 4.74 ERA and 4.82 FIP. The veteran lefty will return to Texas, where he spent the first seven years of his big-league career, on a one-year deal for 2022. Perez has posted a sub-4.00 ERA only once in his career (2013) and has a 5.50 ERA over the past five seasons. He figures to cover a fair number of innings as part of a young Rangers rotation but is unlikely to be a sought-after commodity for fantasy purposes.
Perez found some mild success with Boston in 2020, posting a 4.50 ERA and 1.34 WHIP over 62 innings across 12 starts. However, his 5.20 xFIP suggests that he may have been somewhat lucky, and he also had a career-worst 38.5 GB% and 10.7 BB% during the 60-game season. Perez has leaned more on his off-speed pitches in recent years, while his average fastball velocity dropped to 92.1 mph in 2020. He had a career-high 18.3 K% over the past two years, but that mark is still below average. The southpaw had a career-worst 5.43 SIERA last year, and his hard-hit rate has been above 30% in each of the past five seasons. The 29-year-old could land a role as a back-end starter or swingman in 2021, but he's an unreliable fantasy option due to his struggles to limit meaningful contact recently. Even if he can land a spot in a starting rotation, Perez's inconsistent production makes him a risky season-long fantasy option.
Perez was a surprise winner of a spot in Minnesota's rotation. Working with new pitching coach Wes Johnson, Perez developed a cutter and improved his delivery to add more velocity. He averaged 94.2 mph on his four-seamer and threw his cutter 30.8 percent of the time. The results were initially promising, as he had a 2.17 ERA, 1.15 WHIP and 8.0 K.9 in his first eight starts. However, the league appeared to figure out his new approach, as he had a 6.29 ERA and 6.6 K/9 over his last 21 starts. He struggled with the long ball in the second half, giving up 16 home runs in 14 starts. Perez held lefty batters to just a .585 OPS, but righties put up an .836 OPS against him. Boston signed him to a one-year, $6 million deal with a club option for 2021, and he projects to be the fifth starter. He should be a solid streamer against teams like the Orioles but could get a quick hook against the better AL lineups.
Perez was previously a member of the Rangers' rotation for much of his career, but he was dreadful in that capacity the past two seasons, accruing a 5.37 ERA, 1.63 WHIP and 5.5 K/9 across 47 starts. However, last season's 6.22 ERA is a bit of an outlier in the context of the rest of his career, and an elbow injury is at least partly to blame. After inking Perez to a one-year, $3.5 million deal this winter, the Twins probably won't hesitate to move the lefty to the bullpen if he struggles in spring training or early on during the season, but he'll at least get the chance to battle for a back-end rotation gig right away.
Perez gobbled 185 innings in 2017 and 197 frames in 2016. Last year, Texas gave him 5.19 runs of support per start -- the league's 11th-highest average -- and that powered him to 13 wins. He was also helped by another year of velocity gains following 2014 Tommy John surgery. The left-hander may not have the same chance to help the rotation early in 2018, as he underwent surgery in December to repair a fracture in the radial head of his right elbow. Though it's his non-throwing arm, the Rangers still expect him to start the season on the disabled list. Perez has failed to post a K/9 above 5.6 in his last three seasons, and he hasn't even balanced that with a better walk rate than 2.8 BB/9. A contact-dependent pitcher pitching home games at hitter-friendly Globe Life Park deserves plenty of skepticism. It'll take substantial skill development or a favorable change of scenery to excite fantasy owners.
The southpaw has failed to justify his once lofty prospect status. Perez's 3.62 ERA from 2013 looks like a fluke, considering he's suffered with a 4.93 ERA since. To be fair, he's been recovering from 2014 Tommy John surgery, so he deserves some patience, especially with a few encouraging signs from 2016. Per PITCHf/x, his four-seamer (92.9 mph) and two-seamer (92.5) sat at three-year highs. Perez again enjoyed a groundball rate over 50 percent, a skill that can lead to bigger things for the impending 26-year-old. One of his best assets is his ability to land an 0-1 count: His 64.6 first-strike percentage tied for 11th among qualified pitchers in 2016. Plus, Texas' offense helped him reach 10 wins despite his rough performances. Even with all these hidden positives, he must show he can grow beyond pitching to contact. Spring training may offer hints that he could be more than just an innings eater in AL-only leagues. While he carries some post-hype intrigue, it is important to proceed with caution.
Perez wasn't the same guy we saw in a strong 20-start rookie campaign back in 2013, but elements in his return from Tommy John surgery were impressive despite underwhelming results. His groundball rate reached elite levels at 60 percent, and his 65 percent first-pitch strike rate was 21st among 157 starters with at least 70 IP. His velocity returned to his 2014 level, but it's probably wiser to judge him against him pre-2014 levels since he likely pitched some, if not many, of his 51 IP at less than 100 percent leading up to the surgery. In that case, he's a tick behind, though he did close the season with his best marks (93.5 mph in his final three starts including the postseason). It's great that he can generate a groundball with all four of his pitches, but he's at the mercy of his defense and plain ol' luck with this much contact allowed. The skills and multiple injuries conjure thoughts of Brett Anderson; bid accordingly.
Perez was off to a brilliant start in 2014 with a 1.42 ERA in his first five starts, including back-to-back shutouts in mid-April, before finally catching the Tommy John surgery plague that infected the league. The elbow no doubt was affecting him in what would be his final three starts of 2014, when he allowed 19 earned runs in 13 innings on the heels of those shutouts. He allowed 24 hits and walked 10 batters in those three outings after giving up just 26 hits and nine walks in his first 38 innings. While Tommy John surgery is far from a career death sentence and often doesn't degrade the pitcher at all once he's fully recovered, it's not guaranteed he returns to being the pitcher he was. As such, tread cautiously when re-investing in the once-promising lefty. At 24 years old, there is plenty of time for him to rebound, but 2015 is unlikely to offer much for fantasy gamers. He won't even be considered for a return until midseason and that is a best-case scenario. Wait for 2016.
Perez's season got off to a slow start after he took a comebacker off his wrist late in the spring that kept him sidelined until early May. He was up in the major league rotation for good in late June after a solid string of starts at Triple-A Round Rock. He made 20 starts for Texas, allowing 129 hits and 37 walks in 124.1 innings, fanning 84. Those aren't great peripherals, though his numbers improved as the season wore on. The Rangers believe in the improvement, inking him to a four-year contract that also contains club options for an additional three years. It's hard to entirely dismiss his terrible 2012 season at Triple-A when looking to the future, but he'll have a spot at the back of the Texas rotation for the entirety of the 2014 season.
After a few years of showing the occasional flash of greatness, Perez fell apart in 2012: a poor 69:56 K:BB rate in 127 innings at Triple-A Round Rock, and an accompanying promotion/change-of-scenery to the majors saw much the same (25:15 K:BB in 38 innings). He'll still be just 22 years old when the season begins, but you have to go back all the way to the first half of 2009 (at High-A no less) to see a prolonged stretch where Perez put everything together. He's tradeable now in the right deal, and that wasn't the case 12 months ago.
Perez entered the 2010 season as one of the top young pitching prospects in all of baseball, though an inconsistent season as a 19-year old with Double-A Frisco took some of the shine off his start as 2011 neared. He pitched better last season, though his composite line across two levels (including 10 starts at Triple-A Round Rock) isn't jaw-dropping: 137.1 innings, 152 hits, 120:56 K:BB. The 72 hits allowed in 49 innings at Triple-A is the real warning sign, given that he allowed 117 hits in 99.2 innings at Double-A Frisco in 2010. There's clear bat-missing ability here by looking at his K/9IP totals which remain excellent for such a young starter, but consistency remains a real problem for him right now. Derek Holland struggled with consistency early in his career too, but appears to have turned the corner, so there's still every reason to think Perez projects as a solid No. 2 starter down the road. It's easy to forget he'll still be just 21 years old as 2012 opens.
Perez pitched the full season at Double-A Frisco as a 19-year-old and suffered with his consistency all season. Buried amongst the disappointing campaign was 101 strikeouts in 99.2 innings, but also a whopping 117 hits allowed and 50 walks. His winter ball season was more of the same, mixing solid results with poor ones. He'll likely begin the year back at Double-A Frisco again given his struggles there, and remains among baseball's best pitching prospects given his age and past performance, but a quick start to the season would alleviate some of the worry following a disappointing season.
You don't see many 18-year-old pitchers skip High-A completely, but Perez did just that when he earned a promotion directly to Double-A Frisco after a solid start to the season at Low-A. He got beat around a bit at Double-A, but was a full year younger than anyone else in the league and we're dealing with an elite prospect here if he can stay healthy. He's the Rangers' best pitching prospect now that Neftali Feliz and Derek Holland have graduated, and a healthy season at Double-A Frisco will place him near the top of the list in all the minors if he's not there already.
Perez made his pro debut as a 17-year old in 2007 in the Northwest League and acquitted himself quite well. Although his component ratios were not outstanding statistically, he held his own considering his age, and scouts like his stuff: 89-93 mph fastball and a nasty-ass curveball. Perez is a long way from the majors, and a lot of questions need to be addressed: can he stay healthy? Can he sharpen his command? Can he develop a changeup? Perez has a bright future if he can keep his arm attached. (Outlook courtesy of The Baseball Prospect Book 2008 by John Sickels, available only at Johnsickels.net.)
More Fantasy News