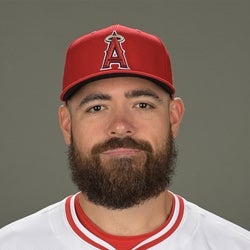 2023 Fantasy Outlook
Moore's days as a starting pitcher may be over after a career year pitching exclusively out of the bullpen. The southpaw stayed healthy all year, logging 74 innings (7th-most among relievers) with a career-best 1.18 WHIP, five saves and 14 holds across 63 appearances. He quelled the home run issue he had as a starter, giving up just three homers all season for a 0.36 HR/9 rate that was 17th-best among relievers. Shifting to the pen also allowed Moore to add a tick-and-a-half of velocity, which significantly improved both his strikeout rate and swinging strike percentage. All three of his pitchers - fastball, curve and changeup - were effective in striking batters out, with the latter producing a 45.7% whiff rate. Moore has not yet signed with a team for 2023, but figures to remain in the bullpen wherever he goes. He's slightly risky from a health perspective, but there's still upside in this mid-30's arm. Saves may be a possibility depending on Moore's landing spot.
Read Past Outlooks
$Signed a one-year, $7.55 million contract with the Angels in February of 2023.

Agrees to deal with Halos
ANALYSIS
Moore had been one of the best remaining available free agents after posting a 1.95 ERA, 1.18 WHIP and 83:38 K:BB over 74 innings for the Rangers last season. He also collected five saves and should be in the late-inning mix for the Angels in 2023, particularly since he was effective against hitters from both sides of the plate, holding righties to a .537 OPS and lefties to a .634 OPS.
Read More News
Pitching Stats
Loading Pitching Stats...
2022 MLB Game Log

Calculate Stats Over Time
Just click on any two dates.
Scoring
FanDuel
DraftKings
Yahoo DFS
FantasyDraft
Head2Head
Loading Pitching Game Log...
2021 MLB Game Log

Calculate Stats Over Time
Just click on any two dates.
Scoring
FanDuel
DraftKings
Yahoo DFS
FantasyDraft
Head2Head
Loading Pitching Game Log...
2019 MLB Game Log

Calculate Stats Over Time
Just click on any two dates.
Scoring
FanDuel
DraftKings
Yahoo DFS
FantasyDraft
Head2Head
Loading Pitching Game Log...
2018 MLB Game Log

Calculate Stats Over Time
Just click on any two dates.
Scoring
FanDuel
DraftKings
Yahoo DFS
FantasyDraft
Head2Head
Loading Pitching Game Log...
2017 MLB Game Log

Calculate Stats Over Time
Just click on any two dates.
Scoring
FanDuel
DraftKings
Yahoo DFS
FantasyDraft
Head2Head
Loading Pitching Game Log...
Minor League Game Log

Calculate Stats Over Time
Just click on any two dates.
Loading Minor League Pitching Game Log...
Pitching Appearances Breakdown
How many pitches does Matt Moore generally throw?
What part of the game does Matt Moore generally pitch?
% Games Reaching Innings Threshold
% Games By Number of Innings Pitched
Left/Right Pitching Splits
BAA
K
BB
H
HR
Since 2020

vs Left

.268
35
16
44
3
Since 2020

vs Right

.217
111
60
83
15
2022

vs Left

.243
16
8
18
0
2022

vs Right

.165
67
30
31
3
2021

vs Left

.289
19
8
26
3
2021

vs Right

.267
44
30
52
12
2020

vs Left

0
0
0
0
0
2020

vs Right

0
0
0
0
0
More Splits

→

View More Split Stats
Home/Away Pitching Splits
ERA
WHIP
IP
K/9
BB/9
Since 2020

Home

5.11
1.45
75.2
9.6
5.5
Since 2020

Away

3.03
1.30
71.1
8.2
3.8
2022

Home

2.54
1.18
39.0
10.2
5.5
2022

Away

1.29
1.17
35.0
10.0
3.6
2021

Home

7.85
1.75
36.2
9.1
5.4
2021

Away

4.71
1.43
36.1
6.4
4.0
2020

Home

0
0
0
0
0
2020

Away

0
0
0
0
0
More Splits

→

View More Split Stats
Stat Review
How does Matt Moore compare to other relievers?
This section compares his stats with all relief pitcher seasons from the previous three seasons (minimum 30 innings)*. The bar represents the player's percentile rank. For example, if the bar is halfway across, then the player falls into the 50th percentile for that stat and it would be considered average.
* Exit Velocity, Barrels/BBE %, Balls Hit 95+ MPH %, and Spin Rate are benchmarked against 2019 data (min 30 IP).
See here for more exit velocity/barrels stats
plus an explanation of current limitations with that data set.
K/BB

Strikeout to walk ratio.

K/9

Average strikeouts per nine innings.

BB/9

Average walks per nine innings.

HR/9

Average home runs allowed per nine innings.

Fastball

Average fastball velocity.

ERA

Earned run average. The average earned runs allowed per nine innings.

WHIP

Walks plus hits per inning pitched.

BABIP

Batting average on balls in play. Measures how many balls in play against a pitcher go for hits.

GB/FB

Groundball to flyball ratio. The higher the number, the more likely a pitcher is to induce groundballs.

Left On Base

The percentage of base runners that a pitcher strands on base over the course of a season.

Exit Velocity

The speed of the baseball as it comes off the bat, immediately after a batter makes contact.

Barrels/BBE

The percentage of batted ball events resulting in a Barrel. A Barrel is a batted ball with similar exit velocity and launch angle to past ones that led to a minimum .500 batting average and 1.500 slugging percentage.

Spin Rate

Spin Rate is the rate of spin on a baseball after it is released. It is measured in revolutions per minute (rpm).

Balls Hit 95+ MPH

The percentage of batted balls hit that met or exceeded the 95 MPH threshold.

Swinging Strike

The percentage of pitches that result in a swing and a miss.
Advanced Pitching Stats
Loading Advanced Pitching Stats...
Loading MLB Defensive Stats...
Our full team depth charts are reserved for RotoWire subscribers.
Subscribe Now
Recent RotoWire Articles Featuring Matt Moore
See More
Past Fantasy Outlooks
2022
2019
2018
2017
2016
2015
2014
2013
2012
2011
2010
Moore last saw significant MLB action in 2018 before appearing in 24 games for the Phillies last season, but he struggled in his return with a 6.29 ERA across 73 innings. He's in camp with the Rangers for 2022 and is the mix for a back-end rotation spot, though he figures to face long odds. Moore had an 18.9 percent strikeout rate and 11.4 percent walk rate and doesn't offer much upside even if he receives some starting opportunities this year.
Moore's ERA climbed for the second straight season, soaring all the way up to 6.79. He was removed from the Rangers' rotation in early June. After recording a horrendous 8.02 ERA as a starter, he did at least improve out of the bullpen, but he wasn't exactly good in relief (5.36 ERA). Moore landed with the Tigers, a team desperate for anyone to eat innings, which should give him a more secure rotation spot than he probably deserves. Moore is an eight-year veteran but is still just 29 years old. He has fine control, walking between 8.3% and 8.7% of opposing batters, but his mediocre 18.3% strikeout rate caps his upside. Fringe deep-league value isn't out of the question, but anything more than that would be a surprise.
Moore followed up his solid 2016 Giants debut by posting the highest ERA (5.52) of any qualified starter in 2017. Widely considered baseball's top prospect earlier this decade, the enigmatic southpaw has improved his control but, despite a decent 8.2 career K/9, struggles to work confidently around the plate. He lost 1.4 mph off his four-seam fastball last year, showed faulty mechanics and leaned too heavily on an ineffective cutter. Left-handers peppered the southpaw to a .438 wOBA and an 18.6 HR/FB. Despite these setbacks, he may only need tweaks to his delivery to rediscover his old promise, and as a penny stock, he still has a chance to rebound. The 28-year-old would have been a better dice roll had he remained in the National League and pitcher-friendly AT&T Park and not been dealt to the Rangers and hitter-leaning Globe Life Park in December.
In an unsurprising move, Moore had his $7 million option activated by the Giants this offseason after the club traded for him at the deadline, locking him in as the Giants' third or fourth starter to begin the 2017 season. The southpaw's 2016 results were fairly average when you look at his 4.08 ERA, 1.13 HR/9 and a 2.47 K/BB ratio. His league-average ERA does not tell the whole story as there were plenty of peaks and troughs throughout the year, with monthly ERAs ranging from 2.41 to 7.36 over 198.1 innings. His home and away splits stick out as well with a 3.36 home ERA and a 5.02 mark on the road. Pitching a full season with San Francisco should slightly improve his home numbers and his ERA as a whole. His strikeouts (8.1 K/9 last year) do give him a slight edge over other 4.00 ERA pitchers in his tier.
It was a tale of two seasons for Moore in 2015. He was coming back from Tommy John surgery that took place in mid-April of 2014 and wanted to be back in the majors in a bad way in June. The Rays didn't bring him back until July and in six starts, Moore was beaten up badly with a 8.78 ERA and a 2.06 WHIP with batters hitting .372/.439/.549 against him. The team sent Moore back to Triple-A Durham until rosters expanded in September. Moore made six more starts to end the season and looked like the Moore of old with a 2.97 ERA, a 1.16 WHIP, and struck out 20 percent of the batters he faced while walking seven percent. Before the demotion, Moore's stuff was flat and rolling up to the nitro zone of batters whereas his stuff had its old zip and his secondary pitches were competitive over the final six starts. He's a perfect candidate for the "last year's trash; this year's treasure" theory in 2016.
Moore's season lasted just two games, as he walked off the mound in Kansas City in early April with what the team hoped was just forearm tightness. In fact, he had torn his UCL and was done for the season. Given the Rays' traditional conservative ways, it is unlikely Moore retakes the mound in Tampa Bay before Father's Day. When pitchers come back from Tommy John surgery, the control of their pitches is usually the last thing that comes back and that's not good for a pitcher whose walk rate was already below average. He is not going to get 20 starts in 2015 and the starts he does get are not likely to be smooth in the early going. Mixed league players would be wise to let others take the chance on the name while those in AL-only leagues should look for Moore in the endgame.
In his second full season as a starter with the Rays, Moore launched forward as one of the top left-handers in the American League. He finished the season with a 17-4 record and a 3.29 ERA and was selected to his first All-Star game. He missed August with soreness in his throwing elbow, but was able to come back strong in September and the postseason. His fastball velocity was lower in 2013, but he still dealt with walk problems and led the major leagues in wild pitches. He has a respectable 8.6 K/9 rate and he locked down when runners were in scoring position, only allowing hitters to manage .200/.299/.282 in that situation. Though it may be difficult to repeat the incredible winning percentage, the 24-year-old Moore will be one of the top starters for the Rays and he will be a player to target on draft day.
Many expected Moore to be a Rookie of the Year candidate after his late season heroics for Tampa Bay in 2011 that included a spot in the postseason rotation. Tampa Bay was so confident in his future that they signed him to a five-year, $15 million contract extension to buy out his arbitration years before the season began. Moore struggled with a 4.76 ERA and 4.5 BB/9 in his first 10 starts which ended most of his rookie hoopla. However, he made adjustments and improved his slider, which led him to post a 3.36 ERA and 117:53 K:BB ratio in 120.2 innings after May 28. The lefty's big fastball hovers in the mid-90s and is mixed with a solid slider and changeup that give him big potential to be a future strikeout champ. If he can build on his second half and avoid the free passes that plagued his first half, Moore has a chance to live up to last year's preseason hype and become one of the top starters in the AL.
Moore started the season at Double-A Montgomery where he dominated the Southern League, including the first no-hitter in the league since Tommy Hanson's. Moore was even better after his July promotion to Triple-A Durham where he sported a 1.37 ERA over nine starts (52.2 innings) with a 79:18 K:BB rate. Moore received his first major league start against the Yankees in the Bronx in September and tossed five scoreless innings, striking out 11 for his first win. Moore went on to pitch Game 1 of the ALDS and threw seven shutout innings in Arlington against the Rangers as the Rays won 9-0. The big question heading into this season is where Moore fits in the Rays' plans. Conventional wisdom would say he'd have a spot in the rotation, even if the Rays go with a six-man rotation. A trade of one of the returning five starters would help clear up this picture and a spot in the rotation would likely make him the front-runner for ROY in the American League. He signed a five-year, $15 million contract in December, so the Rays may have already tipped their hand he'll be in the starting rotation in April. Don't be afraid to be aggressive in drafting the him, the sky is the limit.
After a slow start at High-A Charlotte, Moore not only figured things out, he had one of the best seasons for a minor league pitcher in 2010. Over the first half of the season he had a 6.08 ERA and struck out 78 batters in 60.2 innings. The second half was a complete 180, as he held a 1.39 ERA while striking out 130 over 84 innings (a 13.9 K/9IP mark). Moore was the first minor leaguer to eclipse 200-strikeout mark in the last five years (when some guy named Francisco Liriano did it). Moore will likely begin the season at Double-A Montgomery and should make it to Durham by season's end. Grab him if your keeper league has a minor league system and look for him to be with the Rays by mid-to-late 2012.
Moore might be the next big pitching arm to come up through the Rays' farm system. He struck out a whopping 176 batters in only 123 innings for Low-A Bowling Green. He'll likely start the year at High-A Charlotte and is a nice late pick in leagues with deep minor league reserves.
More Fantasy News