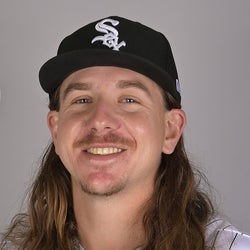 Rest-of-Season Projections
2023 Fantasy Outlook
The White Sox made one of the first big splashes of the offseason, signing Clevinger to a one-year, $12 million deal. Clevinger's return from November 2020 Tommy John surgery was delayed by a sore knee and he would go on to miss additional time with a triceps strain, but the right-hander still took the mound 23 times for San Diego (22 starts) during the 2022 regular season. His fastball velocity was down more than a tick from the last time we saw him and his strikeout rate was nowhere close to where it was during his peak years with Cleveland (18.8 K% last season). His home-run rate shot up to a career-high 1.6 HR/9. It's tough to evaluate Clevinger for 2023 given the additional injuries on top of rehab from reconstructive elbow surgery. In theory, Clevinger should get closer to being himself the further he is removed from surgery, but he has totaled just 282 innings since the start of the 2019 season and should be projected conservatively.
Read Past Outlooks
$Signed a one-year, $8 million contract with the White Sox in November of 2022. Contract includes $12 million mutual option ($4 million buyout) for 2024.

Clevinger (9-9) took the loss Saturday, allowing six runs on seven hits and two walks over 1.2 innings against the Padres. He struck out two.
ANALYSIS
Clevinger hadn't allowed more than six hits or two earned runs in any of his previous four starts, but he yielded four runs in the first frame and two more in the second Saturday as he delivered his shortest outing of the season. The 32-year-old hurler had been on quite the run since returning from a bicep injury July 29, posting a 6-4 record with a 2.96 ERA, 1.00 WHIP and 55:12 K:BB across 67 innings. However, Saturday's dud increased Clevinger's season-long ERA from 3.40 to 3.77 to go with a 1.23 WHIP and 110:40 K:BB across 131.1 innings - his biggest workload since 2018.
Read More News
Pitching Stats
Loading Pitching Stats...
2023
2022
2021
2020
2019
2018
2017
2023 MLB Game Log

Calculate Stats Over Time
Just click on any two dates.
Scoring
FanDuel
DraftKings
Yahoo DFS
Loading Pitching Game Log...
2022 MLB Game Log

Calculate Stats Over Time
Just click on any two dates.
Scoring
FanDuel
DraftKings
Yahoo DFS
Loading Pitching Game Log...
2021 MLB Game Log

Calculate Stats Over Time
Just click on any two dates.
Scoring
FanDuel
DraftKings
Yahoo DFS
Loading Pitching Game Log...
2020 MLB Game Log

Calculate Stats Over Time
Just click on any two dates.
Scoring
FanDuel
DraftKings
Yahoo DFS
Loading Pitching Game Log...
2019 MLB Game Log

Calculate Stats Over Time
Just click on any two dates.
Scoring
FanDuel
DraftKings
Yahoo DFS
Loading Pitching Game Log...
2018 MLB Game Log

Calculate Stats Over Time
Just click on any two dates.
Scoring
FanDuel
DraftKings
Yahoo DFS
Loading Pitching Game Log...
2017 MLB Game Log

Calculate Stats Over Time
Just click on any two dates.
Scoring
FanDuel
DraftKings
Yahoo DFS
Loading Pitching Game Log...
Minor League Game Log

Calculate Stats Over Time
Just click on any two dates.
Loading Minor League Pitching Game Log...
Pitching Appearances Breakdown
How many pitches does Mike Clevinger generally throw?
What part of the game does Mike Clevinger generally pitch?
% Games Reaching Innings Threshold
% Games By Number of Innings Pitched
Left/Right Pitching Splits
BAA
K
BB
H
HR
Since 2021

vs Left

.226
106
45
106
24
Since 2021

vs Right

.252
95
30
117
12
2023

vs Left

.240
50
22
58
11
2023

vs Right

.248
60
18
63
5
2022

vs Left

.211
56
23
48
13
2022

vs Right

.257
35
12
54
7
2021

vs Left

0
0
0
0
0
2021

vs Right

0
0
0
0
0
More Splits

→

View More Split Stats
Home/Away Pitching Splits
ERA
WHIP
IP
K/9
BB/9
Since 2021

Home

3.69
1.21
109.2
8.3
2.9
Since 2021

Away

4.30
1.21
136.0
6.6
2.6
2023

Home

4.37
1.39
59.2
8.9
3.5
2023

Away

3.27
1.09
71.2
6.4
2.1
2022

Home

2.88
1.00
50.0
7.6
2.2
2022

Away

5.46
1.35
64.1
6.9
3.2
2021

Home

0
0
0
0
0
2021

Away

0
0
0
0
0
More Splits

→

View More Split Stats
Stat Review
How does Mike Clevinger compare to other starting pitchers?
This section compares his stats with all starting pitcher seasons from the previous three seasons (minimum 120 innings)*. The bar represents the player's percentile rank. For example, if the bar is halfway across, then the player falls into the 50th percentile for that stat and it would be considered average.
* Exit Velocity, Barrels/BBE %, Balls Hit 95+ MPH %, and Spin Rate are benchmarked against 2019 data (min 120 IP).
See here for more exit velocity/barrels stats
plus an explanation of current limitations with that data set.
K/BB

Strikeout to walk ratio.

K/9

Average strikeouts per nine innings.

BB/9

Average walks per nine innings.

HR/9

Average home runs allowed per nine innings.

Fastball

Average fastball velocity.

ERA

Earned run average. The average earned runs allowed per nine innings.

WHIP

Walks plus hits per inning pitched.

BABIP

Batting average on balls in play. Measures how many balls in play against a pitcher go for hits.

GB/FB

Groundball to flyball ratio. The higher the number, the more likely a pitcher is to induce groundballs.

Left On Base

The percentage of base runners that a pitcher strands on base over the course of a season.

Exit Velocity

The speed of the baseball as it comes off the bat, immediately after a batter makes contact.

Barrels/BBE

The percentage of batted ball events resulting in a Barrel. A Barrel is a batted ball with similar exit velocity and launch angle to past ones that led to a minimum .500 batting average and 1.500 slugging percentage.

Spin Rate

Spin Rate is the rate of spin on a baseball after it is released. It is measured in revolutions per minute (rpm).

Balls Hit 95+ MPH

The percentage of batted balls hit that met or exceeded the 95 MPH threshold.

Swinging Strike

The percentage of pitches that result in a swing and a miss.
Advanced Pitching Stats
Loading Advanced Pitching Stats...
Loading MLB Defensive Stats...
Our full team depth charts are reserved for RotoWire subscribers.
Subscribe Now
Recent RotoWire Articles Featuring Mike Clevinger
See More
Erik Halterman looks at the best and worst players by round for earned auction value rankings, including Freddie Freeman, who from a pure "spots gained" perspective, was the best pick of Round 1.
Chris Morgan is going with a trio of Guardians at home against Kyle Gibson and the Orioles.
Todd Zola has Weekly Pitcher Rankings for the final week of the 2023 season, with plenty of scenarios in play for pitchers who could get pulled from starts based on their teams' playoff status.
Past Fantasy Outlooks
2022
2021
2020
2019
2018
2017
Now 16 months removed from Tommy John surgery, Clevinger believes he's made a full recovery from the procedure. The reports on his progress have been encouraging and Clevinger thinks he will be ready to go for the start of the 2022 season. New Padres manager Bob Melvin made it clear that Clevinger will be in the rotation, though Melvin added the caveat, "if 100 percent healthy." The team is taking it slowly with Clevinger this spring, which makes sense even if Clevinger is near the back-end of the usual recovery window from TJS. He had a brilliant 2018 season with Cleveland when he posted a 3.02 ERA over 200 innings, but the right-hander has never reached 130 innings in any other big-league season. A bet on Clevinger is a leap of faith on the health. The skills we've seen in the past make it tempting to take that leap.
When the Padres acquired Clevinger at the trade deadline, they figured to be securing an ace for the foreseeable future. The right-hander certainly looked the part early on, balancing one poor start with three strong ones for Cleveland prior to the deal. The move to the West Coast did little to dampen Clevinger's outlook as his numbers mostly improved after joining the Padres. There were a few areas of concern when examining his overall 2020 body of work -- namely, a 4.18 xFIP that exceeded his ERA by over a run and a 24.7 K% that was nearly 10 points lower than his 2019 mark -- but given the scrambled nature of the campaign and the fact Clevinger continued to miss bats at a healthy rate (12.8 SwStr%), San Diego should have entered 2021 giddy about him anchoring its rotation. Sadly, a late-season elbow issue turned out to need Tommy John surgery, so Clevinger won't be able to contribute until 2022.
Clevinger checks all the boxes of a fantasy ace. He features three plus pitches, led by a 96-mph fastball. His next best is a slider generating a 21.8% swinging strike mark followed by a change inducing swinging strikes 15.9% of the time. The only blemish is his curve with just 26th percentile spin, leading to a slightly-lower 13.9% swinging-strike rate but a hefty .405 BABIP. After a 200-inning campaign in 2018, Clevinger only threw 126 last season, with two IL stints. The first came after straining his back in his second start of the year. Clevinger spent nine weeks on the shelf before returning, only to go back for an ankle injury. After the minimum stay, Clevinger returned and never looked back. The Indians may be conservative so he may not reach the 200-inning plateau this season, but there's no reason he shouldn't come close. One last tidbit: Clevinger is 29, though he seems five years younger.
Clevinger avoided the sophomore slump in 2018 by not being a sophomore. He quietly exceeded his rookie eligibility in 2016. Last season was a nice step forward for Clevinger as he showed more command of his pitches than he had the previous two seasons and got to the 200-inning mark in just his third season in the majors. Although advanced pitch metrics show that all four of Clevinger's pitchers were better than average, he does struggle more against lefties who had 13 of the 21 homers against him last year and slugged 84 points better against than their right-handed teammates. Clevinger had a 31% increase in his workload from 2017 to 2018 (when including postseason work), but at age 28, that should not be as much of an issue as it is for other younger pitchers. Back-to-back seasons of stranding 80% of his runners is fortune rarely enjoyed by a starter, so factor in some ERA regression this season and you'll be fine.
Clevinger would be a first rounder if hair were a scoring category as he has a magical mane. What he does not have is consistent command as it comes and goes from game to game. There were times in 2017 when he looked dominating in outings and there were times he could not complete five innings due to high pitch counts and an inability to find the strike zone (4.4 BB/9). Clevinger has his flaws, but it is tough to overlook his potential as he strikes out 10 per nine innings and holds batters to a low batting average (.210), thus largely offsetting the free passes he is fond of handing out. His ERA was lower than it should have been as he stranded 79.7 percent of his runners, which is tough for a starting pitcher to do. He should be in the Cleveland rotation in 2018, so bank on wins, strikeouts and some WHIP help while keeping your fingers crossed that the ERA does not get too close to 4.00.
Clevinger looks like a Jacob deGrom starter kit, though he didn't quite pitch like one in a 53-inning debut sample. He has the 93-95 mph heater and three secondary pitches, but he leans on the slider and changeup while the curveball is more of a show-me pitch. The right-hander struggled a bit the third time through the lineup like most young arms. He also started slow so he really only found success in the third and fourth innings of his starts. He was also solid in 12 innings of relief. He needs to figure out righties again if he's going to find success similar to his minor league track record (3.41 ERA, 2.8 K/BB). Homers were his undoing, almost exclusively because of a lack of fastball command. He yielded too many walks with it to righties and lefties, but righties had a 600-point better OPS with five homers in 75 plate appearances. In summation: Clevinger has some common young-arm issues, but enough raw stuff to stay firmly on the radar.
More Fantasy News