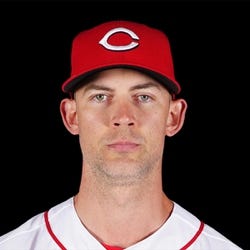 Rest-of-Season Projections
$Signed a two-year, $19 million contract with the Royals in November of 2020. Traded to the Reds in March of 2022. Reds declined $13 million team option for 2023 in November of 2022.

ANALYSIS
The veteran lefty's season didn't go as planned, as he was limited by injuries to 19 starts and struggled to a 6.06 ERA when available. He's now finished with an ERA north of 5.00 for three straight seasons. He's reportedly contemplating retirement, and it could be tough for him to find another big-league deal if he elects to continue his career.
Read More News
Pitching Stats
Loading Pitching Stats...
2022
2021
2020
2019
2018
2017
2022 MLB Game Log

Calculate Stats Over Time
Just click on any two dates.
Scoring
FanDuel
DraftKings
Yahoo DFS
Loading Pitching Game Log...
2021 MLB Game Log

Calculate Stats Over Time
Just click on any two dates.
Scoring
FanDuel
DraftKings
Yahoo DFS
Loading Pitching Game Log...
2020 MLB Game Log

Calculate Stats Over Time
Just click on any two dates.
Scoring
FanDuel
DraftKings
Yahoo DFS
Loading Pitching Game Log...
2019 MLB Game Log

Calculate Stats Over Time
Just click on any two dates.
Scoring
FanDuel
DraftKings
Yahoo DFS
Loading Pitching Game Log...
2018 MLB Game Log

Calculate Stats Over Time
Just click on any two dates.
Scoring
FanDuel
DraftKings
Yahoo DFS
Loading Pitching Game Log...
2017 MLB Game Log

Calculate Stats Over Time
Just click on any two dates.
Scoring
FanDuel
DraftKings
Yahoo DFS
Loading Pitching Game Log...
Minor League Game Log

Calculate Stats Over Time
Just click on any two dates.
Loading Minor League Pitching Game Log...
Left/Right Pitching Splits
BAA
K
BB
H
HR
Since 2021

vs Left

.242
45
9
45
6
Since 2021

vs Right

.276
180
72
231
44
2023

vs Left

0
0
0
0
0
2023

vs Right

0
0
0
0
0
2022

vs Left

.232
19
4
22
4
2022

vs Right

.316
57
36
98
20
2021

vs Left

.253
26
5
23
2
2021

vs Right

.252
123
36
133
24
More Splits

→

View More Split Stats
Home/Away Pitching Splits
ERA
WHIP
IP
K/9
BB/9
Since 2021

Home

5.58
1.33
132.1
8.0
2.5
Since 2021

Away

5.28
1.46
124.1
7.7
3.2
2023

Home

0
0
0
0
0
2023

Away

0
0
0
0
0
2022

Home

6.22
1.58
50.2
7.1
3.7
2022

Away

5.89
1.69
47.1
6.8
3.6
2021

Home

5.18
1.18
81.2
8.6
1.8
2021

Away

4.91
1.31
77.0
8.3
2.9
More Splits

→

View More Split Stats
Advanced Pitching Stats
Loading Advanced Pitching Stats...
Loading MLB Defensive Stats...
Recent RotoWire Articles Featuring Mike Minor
See More
Past Fantasy Outlooks
2022
2021
2020
2019
2018
2017
2016
2015
2014
2013
2012
2011
2010
It's not Khris Davis/.247 level, but for the third straight season, Minor recorded a 1.24 WHIP, but it came with an ERA north of 5.00 for the second consecutive campaign. Home runs remain Minor's major bugaboo as his 1.47 HR/9 was the fourth year in a row it was at least 1.30. They are also responsible for Minor's ERA variance. Over the past four seasons, his actual ERA wavered from 3.59 in 2019 to 5.56 in 2020 while his estimators have been in the 4.30-4.50 range. Minor's K-BB% has also been stable over this span. The lefty's 2021 campaign ended a couple weeks early with shoulder impingement. While he'll be healthy heading into his age-35 season, durability is a concern. Minor still misses ample bats to be deployed for favorable matchups, but with his proclivity for supplying souvenirs to fans in the bleachers, he's best deployed at home and in other power-suppressing venues, and even that's tenuous.
After Minor posted a pair of league-average seasons in hitter-friendly Globe Life Park, there was hope for more when Texas moved to Globe Life Field, which was assumed to be more pitcher friendly. While the venue played as expected, Minor failed to capitalize. Even a deadline deal to the playoff-bound Athletics couldn't flip the script. Minor's xFIP and SIERA were in line with the prior two seasons; he was victimized by a high home-run rate. It wasn't all bad luck as a career-worst 8.4% walk rate shows Minor displayed spotty control. A bright spot is a 25.9 K%. There's quite a bit of evidence to suggest Minor was essentially the same pitcher as the previous seasons. There's a place for him on a fantasy staff; just in the streaming range, not as a mid-rotation sort some hoped for last season. Minor signed a two-year deal with the Royals in November, which sets him up for a good number of favorable matchups.
One big X-factor to keep in mind with Minor and every other Rangers player: the new park in Arlington (Globe Life Field). While we do not know how the park will play, it will have a retractable roof and there's a real chance it plays friendlier for pitchers than the old Globe Life Park did. Last season, Minor outperformed his FIP by more than 60 points and his xFIP by a full run. Some performance regression should be expected, but a more favorable home park would help offset some that. Minor had one of the most effective changeups in baseball last season, and with two quality breaking pitches to complement the fastball and the offspeed, Minor was able to limit the damage from right-handed hitters (.301 wOBA). His arm has held up to an increased workload in recent years, and he was one of just 15 pitchers to clear 200 IP in 2019. Minor probably won't get the respect he deserves at the draft table.
After missing two seasons due to injury, Minor resurfaced as a reliever in 2017 and excelled with the Royals. The Rangers wanted to give him another chance to start, and he did just that, taking the ball 28 times last year, all starts. Minor mostly struggled in the first half, but he made adjustments and was highly effective after the All-Star break, posting a 2.97 ERA over 10 starts. He had a 23.8 K% and held his opponents to a .193 average in those final 10 outings. In the end, he still had one of the highest barrel rates in baseball, but the lefty's late improvement provides reason for optimism. Minor has now stayed relatively healthy two years in a row, doing his best to shed the injury-prone label. The home park dings him, but if Minor truly did work out the kinks late last year, he will return a profit as a late pick in 2019.
Minor lost two seasons due to shoulder issues, but he returned with a bang in 2017. Assigned to the Royals' bullpen out of camp, he saw an uptick in velocity across the board while working in shorter spurts. Minor also altered his pitch mix, more than doubling his slider usage at the expense of the fastball, which helped him add considerably to his strikeout rate (10.2 K/9). Control was Minor's calling card during his time with Atlanta, and he was good in that regard with Kansas City as well (2.6 BB/9). His overall stellar performance combined with injuries and struggles at the back end of the Royals' bullpen led to Minor working his way into the closer role by the end of the year, with the lefty earning his first six career saves. Minor will stretch back out and attempt to return to a starting role in 2018 after signing a three-year deal with the Rangers in the offseason.
Signed by the Royals to a two-year deal in February, Minor never made it to the 25-man roster in 2016. Fortunately, he pitched in 10 minor league games, with the bulk of those outings coming as a starter with Triple-A Omaha. Unfortunately, he struggled with walks (4.4 BB/9) and was susceptible to the long ball (1.82 HR/9) during his time in the Pacific Coast League, and the Royals opted to play it safe with his workload rather than push him aggressively toward big league innings. Most likely, a move to the bullpen is in order, as keeping Minor healthy for 50-60 innings in a relief role is a better bet than trying to strengthen his arm for 150-plus frames as a starter. Now 29, the former first-round pick faces an uphill battle to earn a meaningful role in 2017.
Minor has fallen quite a bit after a strong 2013 campaign. Due to a myriad of shoulder issues, the left-hander hasn't appeared in a game since 2014, where he struggled to the tune of a 4.77 ERA and 1.3 HR/9. Due to these issues, the Braves decided to non-tender him this past offseason, which allowed the Royals to sign him to a two-year contract with a mutual option. The Royals rotation is somewhat crowded at the moment, but if he can get healthy and return to his 2013 form, he could push Danny Duffy and Chris Young for the fifth rotation spot.
Shoulder issues delayed Minor at the start of spring training, and while initial reports suggested he would still be ready for Opening Day, the left-hander didn't end up making his 2014 debut until May 2. The arm trouble surfaced after Minor resumed throwing following a procedure to repair scarring near his urethra in December. From the get-go, Minor's performance was not up to the level most had come to expect after his strong 2012 and 2013 campaigns, as he gave up six home runs in his first five outings. The long ball would remain a major issue throughout the year, with Minor allowing just one fewer home run than he did in 2013 (22) despite tossing 59.1 fewer innings, and opposing lefties hit .357/.403/.484 against him, up from .217/.260/.322 a year before. His strikeout and walk rates both went in the wrong direction, but Minor's 3.90 xFIP suggests he pitched better than his surface numbers would indicate, and it's at least possible there were some lingering effects from the injuries. Health concerns have persisted into 2015, as Minor may begin the season on the disabled list after experiencing rotator cuff soreness in mid-March.
Just as many expected, 2013 was a breakout campaign for Minor, who led the team in innings pitched (204.2), strikeouts (181) and quality starts (23), while improving his strikeout and walk rates to 8.0 K/9 and 2.0 BB/9, respectively. He trimmed his ERA by more than 90 points, despite a 20-point increase in his opponents' batting average on balls in play. Further, Minor held opposing lefties to a .583 OPS and made 30-plus starts for the second consecutive season. However, despite a 4.94 run support average, second-highest in the National League, Minor finished with only 13 wins, and his line drive rate was up a bit. The left-hander induces very few groundballs (35.5 career GB%), and his fastball is not overpowering, but Minor has proven effective regardless, and he's still just 26 years old, so he's just entering his physical prime.
Minor received his first full season in the major leagues in 2012 and found some success toward the end of the season. He was awful over his first 15 games, but settled down and put up a 2.21 ERA over his last 15 starts. Minor's minor league numbers indicate that he shouldn't be as prone to the long ball as he was in 2012. However, he had a very low opponent batting average on balls in play (.252) that will likely increase in 2013. Though he only throws about 90 mph, Minor has an excellent fastball with very good movement. His changeup and curveball are also above average offerings and Minor does a good job of setting them up. Minor had a good, but not great, 7.3 K/9 in 2012, but the potential is certainly there for that number to rise given his higher strikeout ratios in the minors. Minor could be a breakout candidate for 2013.
Minor entered last spring as the favorite for the fifth starter job given his pedigree (seventh overall pick in the 2009 draft), but lost out to Brandon Beachy and bounced between Triple-A and the Braves the rest of the season. Minor was dominant in Triple-A again with a 3.22 ERA and 99:27 K:BB ratio in 100.2 innings. His results were not as spectacular in the majors, but he still posted a 4.14 ERA and strong 77:30 K:BB ratio in 82.2 innings at age 23. He also had a strong September once he settled into the rotation with several starters out due to injury as he posted a 3.67 ERA with a 25:11 K:BB ratio in 27 innings. He also reduced his home runs allowed, which had been a worry in his brief time in the majors in 2010. He should enter the season as Atlanta's No. 4 or No. 5 starter and may establish himself as a fixture in the rotation for many years.
Minor, the seventh overall pick in the 2009 draft, began the season at Double-A and ended the season in Atlanta's rotation. After dominating at Double-A (11.3 K/9IP with strong control), he had a 1.89 ERA with a 37:12 K:BB ratio in 33.1 innings at Triple-A and was called up to Atlanta in early August. He began his career with three quality starts and had a 5.84 ERA and 47:9 K:BB ratio in 37 innings in his first seven starts. He then lasted less than two innings in his next two outings and the Braves pulled him from the rotation over worries about fatigue. While his overall 5.98 ERA may not look like he held his own in the majors, his 43:11 K:BB ratio in 40.2 innings shows he can be a frontline starter. He'll need to keep the ball in the park (six home runs), but he gave up just nine home runs in 129.1 innings in the minors the past two years. He'll likely begin 2011 as Atlanta's No. 5 starter and has the makings of a future star. The only worry for 2011 is the Braves may once again limit his innings after a big leap in workload last season.
Minor, the seventh overall pick in the 2009 draft, had a 0.64 ERA with a 17:0 K:BB ratio in 14 innings in four starts at Low-A Rome. He's made a strong impression so far and will likely begin in High-A next season and could move up quickly. The Braves felt that he was polished enough to send him to the Arizona Fall League, where the hitter-friendly environment seemed to get the best of him. Despite the rough showing there, the Braves are very high on his long-term potential and Minor has drawn comparisons to Philadelphia's Cole Hamels.
More Fantasy News