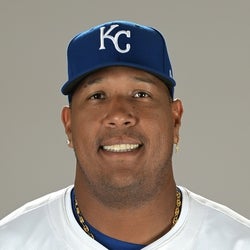 Rest-of-Season Projections
2023 Fantasy Outlook
Perez hurt his thumb in May, sending him to the IL for 10 days. After aggravating it a few weeks later, Perez had surgery on the UCL in his left thumb, costing him a little more than a month. He also lost a few games after taking a pitch off his wrist. The various hand injuries cost Perez some power as his fly ball exit velocity dropped a couple of ticks. His BABIP also suffered, but Perez was still one of the most productive catchers, fantasy and otherwise. Embarking on his age-33 season, Perez's status as the first catcher off the board last one year, but he's still in the chat for those looking for a top backstop. He'll continue to play more than most at the position with significant time at designated hitter, but Perez's days of leading catchers in plate appearances is likely history. His power is apt to subsist for a few years, but he's likely to revert to being a batting average liability.
Read Past Outlooks
$Signed a four-year, $82 million contract extension with the Royals in March of 2021. Contract includes $13.5 million team option for 2026.

Homers in Saturday's loss
Perez went 1-for-4 with a solo home run in Saturday's 5-2 loss to the Yankees.
ANALYSIS
Perez has gone 8-for-24 (.333) with two homers and seven RBI over six games since returning from the 7-day concussion injured list. His numbers through 139 games this season have largely been in line with what he did in 114 contests in 2022. Perez is slashing .256/.294/.424 with 23 homers, 79 RBI, 59 runs scored and 21 doubles entering the final game of 2023.
Read More News
Batting Stats
2023
2022
2021
2020
2019
2018
2017
2023 MLB Game Log

Calculate Stats Over Time
Just click on any two dates.
Scoring
FanDuel
DraftKings
Yahoo DFS
Loading Batting Game Log...
2022 MLB Game Log

Calculate Stats Over Time
Just click on any two dates.
Scoring
FanDuel
DraftKings
Yahoo DFS
Loading Batting Game Log...
2021 MLB Game Log

Calculate Stats Over Time
Just click on any two dates.
Scoring
FanDuel
DraftKings
Yahoo DFS
Loading Batting Game Log...
2020 MLB Game Log

Calculate Stats Over Time
Just click on any two dates.
Scoring
FanDuel
DraftKings
Yahoo DFS
Loading Batting Game Log...
2019 MLB Game Log

Calculate Stats Over Time
Just click on any two dates.
Scoring
FanDuel
DraftKings
Yahoo DFS
Loading Batting Game Log...
2018 MLB Game Log

Calculate Stats Over Time
Just click on any two dates.
Scoring
FanDuel
DraftKings
Yahoo DFS
Loading Batting Game Log...
2017 MLB Game Log

Calculate Stats Over Time
Just click on any two dates.
Scoring
FanDuel
DraftKings
Yahoo DFS
Loading Batting Game Log...
Minor League Game Log

Calculate Stats Over Time
Just click on any two dates.
Loading Minor League Batting Game Log...
Batting Order Slot Breakdown
#1
#2
#3
#4
#5
#6
#7
#8
#9
#1
#2
#3
#4
#5
#6
#7
#8
#9
Left/Right Batting Splits
OPS
PA
HR
RBI
AVG
Since 2021

vs Left

.845
449
28
71
.272
Since 2021

vs Right

.760
1267
66
206
.258
2023

vs Left

.666
146
5
17
.227
2023

vs Right

.730
432
18
63
.264
2022

vs Left

.845
119
5
18
.278
2022

vs Right

.728
354
18
58
.246
2021

vs Left

.982
184
18
36
.302
2021

vs Right

.812
481
30
85
.261
More Splits

→

View More Split Stats
Home/Away Batting Splits
OPS
PA
HR
RBI
AVG
Since 2021

Home

.842
846
49
154
.283
Since 2021

Away

.724
870
45
123
.241
2023

Home

.769
280
12
43
.273
2023

Away

.663
298
11
37
.237
2022

Home

.785
227
10
41
.273
2022

Away

.730
246
13
35
.236
2021

Home

.942
339
27
70
.297
2021

Away

.774
326
21
51
.248
More Splits

→

View More Split Stats
Stat Review
How does Salvador Perez compare to other hitters?
This section compares his stats with all batting seasons from the previous three seasons (minimum 400 plate appearances)*. The bar represents the player's percentile rank. For example, if the bar is halfway across, then the player falls into the 50th percentile for that stat and it would be considered average.
* Exit Velocity and Barrels/PA % are benchmarked against 2019 data (min 400 PA) and Hard Hit Rate is benchmarked against last season's data (min 400 PA).
See here for more exit velocity/barrels stats
plus an explanation of current limitations with that data set.
BB/K

Walk to strikeout ratio

BB Rate

The percentage of plate appearances resulting in a walk.

K Rate

The percentage of plate appearances resulting in a strikeout.

BABIP

Batting average on balls in play. Measures how many of a batter's balls in play go for hits.

ISO

Isolated Power. Slugging percentage minus batting average. A computation used to measure a batter's raw power.

AVG

Batting average. Hits divided by at bats.

OBP

On Base Percentage. A measure of how often a batters reaches base. Roughly equal to number of times on base divided by plate appearances.

SLG

Slugging Percentage. A measure of the batting productivity of a hitter. It is calculated as total bases divided by at bats.

OPS

On base plus slugging. THe sum of a batter's on-base percentage and slugging percentage.

wOBA

Weighted on-base average. Measures a player's overall offensive contributions per plate appearance. wOBA combines all the different aspects of hitting into one metric, weighting each of them in proportion to their actual run value.

Exit Velocity

The speed of the baseball as it comes off the bat, immediately after a batter makes contact.

Hard Hit Rate

A measure of contact quality from Sports Info Solutions. This stat explains what percentage of batted balls were hit hard vs. medium or soft.

Barrels/PA

The percentage of plate appearances where a batter had a batted ball classified as a Barrel. A Barrel is a batted ball with similar exit velocity and launch angle to past ones that led to a minimum .500 batting average and 1.500 slugging percentage.

Expected BA

Expected Batting Average.

Expected SLG

Expected Slugging Percentage.

Sprint Speed

The speed of a runner from home to first, in feet per second.

Ground Ball %

The percentage of balls put in play that are on the ground.

Line Drive %

The percentage of balls put in play that are line drives.

Fly Ball %

The percentage of balls put in play that are fly balls.
Advanced Batting Stats
Loading Advanced Batting Stats...
Games By Position
Defensive Stats
Loading Games Played by Position...
Loading MLB Defensive Stats...
Batted Ball Stats
Loading Batted Ball Stats...
Stats Vs Upcoming Pitchers
Our full team depth charts are reserved for RotoWire subscribers.
Subscribe Now
Recent RotoWire Articles Featuring Salvador Perez
See More
Past Fantasy Outlooks
2022
2021
2020
2019
2018
2017
2016
2015
2014
2013
2012
The 2021 season was a record-breaking one for Perez, whose 48 homers were the all-time best for a primary catcher. He was able to achieve that mark by playing 161 games (40 at DH). After missing all of 2019 to Tommy John surgery, his breakout started in 2020 with a 25.6% HR/FB and 13.9 Barrel%. The change came by going with a more line-drive approach -- his launch angle dropped from 18 degrees to 14.2 degrees and his flyball rate fell from 45% to 37.4%. Those changes stuck in 2021 (26.4% HR/FB, 15.9% LA) while he set new highs with a 114.4 mph maxEV and 93 mph avgEV. He's still not walking and even pushed his strikeout rate to a career-high 25.6%. Some downward home-run regression should be expected, though a number in the 30s is reasonable. The main concern is that his batting average might tank if the K% continues to climb. Even with the few negatives, Perez should be the first catcher drafted.
After missing all of 2019 while recovering from Tommy John surgery, Perez returned with a vengeance, slashing .333/.353/.633 across 156 PA. A .269 career hitter, Perez achieved that lofty mark in batting average despite fanning at a career-high rate (23.1%) and posting a career-low walk rate (1.9%). He hit the ball on the screws, with his xBA, xSLG, wOBA, xwOBA and xwOBACON all ranking in the top 5% of the league, per Statcast. It's easy to see that Perez was fortunate and maxed out with his plate approach -- his .375 BABIP was nearly 90 points higher than his career mark -- but regression back to career norms would still leave him among the best-of-the-rest behind J.T. Realmuto at the catcher position. He will need his usual heavy workload to achieve another top-three finish at catcher, which seems possible if not likely, but keep in mind Perez has a lot of mileage on his legs for 30 years old.
Perez missed the entire season recovering from Tommy John surgery, but in the year of the resurgent catchers, he was not really missed by fantasy players. Perez's value comes in his ability to absorb a lot of playing time, although Ned Yost even cut back on that in recent years. Twenty homers and 70 RBI could be a safe baseline for Perez despite the layoff, but can we put him down for 55-plus runs again? It will be interesting to see how new manager Mike Matheny manages his playing time in 2020 given Jorge Soler's best position is DH, although there has been talk of giving him time at first base. It will be nice to have Perez back in the player pool, but the year off is going to have an impact on his numbers. Perhaps his body needed the rest more than others given his big workloads, as he likely feels much older than his actual 29 years of age.
Perez's 2018 got off to an ominous start. He slipped lifting a suitcase on the eve of Opening Day, suffering a Grade 2 MCL tear. His debut was delayed until April 24, but after that, Perez was his usual durable self, playing nearly every day until missing a week with a sprained thumb in late August. The injury continued to bother Perez the rest of the way and required lateral collateral ligament reconstruction after the season. Perez tied his career high with 27 homers though he recorded a career-low .234 average. The low average was surprising since Perez set personal bests in exit velocity and hard-hit rate, suggesting his .245 BABIP was artificially low. Perez is expected to fully recover from the thumb surgery in time for a full spring training. He should be good for his normal 130 or so games, providing plus power with an improved average. He should again be one of the first backstops off the board, buoyed by batting in the heart of the Royals' order.
When healthy, Perez is one of the few bell cow catchers left in the league. Unfortunately, he needed a two-week stint on the disabled list in August with a strained intercostal -- his first visit since being concussed in 2013. Despite failing to reach 500 plate appearances for the first time since 2012 (falling one short), Perez set career highs with 27 homers and 80 RBI, while tying 2016's career best 57 runs scored. An increase in HR/FB fueled by a higher hard contact rate drove the power surge. Perez remained allergic to walks, drawing a free pass in just 3.4 percent of his trips to the dish. The 27-year old backstop aggravated his side in September, but is expected to be healthy in the spring. While some regression in power is likely, note his ISO has increased every season since 2013. Not only does Perez play almost every day, he hits high up in the order, making him a great target for those not afraid to invest in a catcher.
On the surface, Perez's 2016 season was essentially a repeat of the prior campaign, with a small, but not unreasonable drop in batting average. A closer look, however, reveals the lower average resulted from a disconcerting decline in contact rate, the skill Perez relies on most for production as he rarely walks and in recent years has carried a below-average BABIP. Digging deeper, Perez's numbers on fastballs didn't change, but his strikeouts rose precipitously when facing breaking pitches and changeups. On the plus side, Perez surpassed the 20-homer plateau for the second straight season, enjoying an increase in isolated power for the third consecutive year. The big question is whether the still just 26-year-old backstop will improve against offspeed and breaking stuff. He'll continue to play more than most at the position, so assuming Perez's stock takes a hit from the low average, there's a nice buying opportunity here.
It only feels like Perez catches 267 games a season, but he still plays a lot of games behind the plate. While he is a fantastic receiver behind the dish, there are issues at the dish for him. On the plus side, his power numbers continue to improve as his home run total has increased each of the past four seasons while his Isolated Power has increased each of the last three years. He's also a high-contact hitter that is tough to strike out. The downside is he is allergic to walks and puts a lot of balls into play that his slow running cannot beat out for hits and thus his on base percentage has declined each season he has been in the majors. He's a solid three-category producer at catcher, but the batting average is at the mercy of the BABIP gods but he could continue to grow his homer total this season.
If nothing else, Perez's steady presence in the lineup makes him a valuable fantasy catcher, as only Jonathan Lucroy played in more games in 2014 -- and Lucroy saw much of that time at first base. The young backstop caught 150 games for manager Ned Yost, and rightfully earned his second straight Gold Glove award. Although he scored more runs (57) and collected more hits (150) than in any of his other major league seasons, each figure of his .260/.289/.403 slash line represented a career low. He chased a career-high 46.2% of pitches outside the strike zone, and as a result, struck out in 14 percent of his at-bats (another career-high). He'll presumably work on his pitch selection this offseason, an area that the 24-year-old has always struggled with a bit, having never posted a walk rate above five percent in any of his MLB season. His youth leaves him with plenty of time to improve his plate discipline, however, so there's enough reason for optimism heading into 2015.
After an incredibly strong finish to the 2012 season, expectations for Perez ran very high heading into the 2013 season. He was always known to be a high-average hitter with strong contact rates but he also displayed a strong power surge that many thought would take longer to develop. Unfortunately, that power didn't materialize as expected last season. He ultimately finished the season batting .292 with 13 home runs (.141 ISO) and 79 RBI, numbers more reflective of expectations prior to the 2012 power surge. Perez doesn't walk or strikeout very often, so his on-base totals won't be huge unless he sees a spike in his BABIP. Still, his ability to put bat on ball and hit for a line drive rate above 20-percent, coupled with the fact that he'll hit in the heart of the Royals' lineup, should provide solid, above-average production from behind the plate.
Expectations were riding high for Perez heading into the 2012 season, but a torn meniscus suffered during spring training put him on the shelf for the entire first half of the season. Even in the wake of such a disastrous injury for a catcher, Perez came back and produced for fantasy owners in the exact fashion as they had hoped. Garnering 305 plate appearances, Perez hit .301 with 16 doubles and 11 home runs for a .170 ISO and, despite an abominable 3.9 percent walk rate, still managed a .328 OBP thanks to such strong contact rates and a very favorable 8.9 percent strikeout rate. He'll enter 2013 as the Royals' primary backstop and should be a hot commodity on draft day as few catchers are capable of hitting for average as he can along with his mid-level power.
Perez made quite the leap in 2011 as he went from spending half the season at Double-A Northwest Arkansas, to spending less than two weeks at Triple-A Omaha, before he jumped up to the majors for the final two months of the season. At the Double-A level, he showed an ability to hit for average (.283 batting average) and a little bit of power (.429 slugging percentage with nine home runs in 286 at-bats). At the major league level, Perez continued to hit as he posted a .331 batting average and .473 slugging percentage. Those numbers need to be put in the proper context as he had a .362 BABIP helping him along in those 158 plate appearances. Still, the team is committed to Perez as their everyday catcher for the 2012 season. He'll be just 21 years old on Opening Day, so fantasy owners should expect a bit of a learning curve as Perez adjusts to life as a full-time catcher saddled with the responsibilities of handing a major league pitching staff.
More Fantasy News