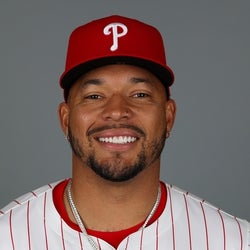 Rest-of-Season Projections
2023 Fantasy Outlook
Walker struggled during the second half of 2021 and finished with a 4.47 ERA, but he didn't fade as much down the stretch last season and overall produced a 3.49 ERA and 1.19 WHIP across 157.1 innings. The right-hander's strikeout rate dropped two percentage points to 20.3 percent, but he also cut his walk rate to 6.9 percent, which is his best figure since 2016. The advanced stats indicate Walker could be due for some regression (3.94 xERA, 4.05 SIERA, 3.89 xFIP), and he won't be helped much by the defense after joining Philadelphia on a four-year, $72 million deal. He'll be stable in the middle of the rotation for the reigning NL Champions and should be a solid mixed-league option for fantasy managers in 2023, though his strikeout numbers certainly limit his upside.
Read Past Outlooks
$Signed a four-year, $72 million contract with the Phillies in December of 2022.

Walker did not factor into the decision Friday, allowing two runs on five hits and one walk over six innings against the Mets. He struck out four.
ANALYSIS
Walker pitched well enough Friday night to earn his 11th quality start. The outing was a solid return to form after he had allowed three or more runs over his four previous starts. Walker has a 4.35 ERA, 1.32 WHIP and 135:65 K:BB over 165.2 innings in his first season with the Phillies. He is currently slated to make his final start of the regular season next week against the Pirates.
Read More News
Pitching Stats
Loading Pitching Stats...
2023
2022
2021
2020
2019
2018
2017
2023 MLB Game Log

Calculate Stats Over Time
Just click on any two dates.
Scoring
FanDuel
DraftKings
Yahoo DFS
Loading Pitching Game Log...
2022 MLB Game Log

Calculate Stats Over Time
Just click on any two dates.
Scoring
FanDuel
DraftKings
Yahoo DFS
Loading Pitching Game Log...
2021 MLB Game Log

Calculate Stats Over Time
Just click on any two dates.
Scoring
FanDuel
DraftKings
Yahoo DFS
Loading Pitching Game Log...
2020 MLB Game Log

Calculate Stats Over Time
Just click on any two dates.
Scoring
FanDuel
DraftKings
Yahoo DFS
Loading Pitching Game Log...
2019 MLB Game Log

Calculate Stats Over Time
Just click on any two dates.
Scoring
FanDuel
DraftKings
Yahoo DFS
Loading Pitching Game Log...
2018 MLB Game Log

Calculate Stats Over Time
Just click on any two dates.
Scoring
FanDuel
DraftKings
Yahoo DFS
Loading Pitching Game Log...
2017 MLB Game Log

Calculate Stats Over Time
Just click on any two dates.
Scoring
FanDuel
DraftKings
Yahoo DFS
Loading Pitching Game Log...
Minor League Game Log

Calculate Stats Over Time
Just click on any two dates.
Loading Minor League Pitching Game Log...
Pitching Appearances Breakdown
How many pitches does Taijuan Walker generally throw?
What part of the game does Taijuan Walker generally pitch?
% Games Reaching Innings Threshold
% Games By Number of Innings Pitched
Left/Right Pitching Splits
BAA
K
BB
H
HR
Since 2021

vs Left

.220
192
92
175
28
Since 2021

vs Right

.248
221
75
252
32
2023

vs Left

.227
72
37
70
11
2023

vs Right

.256
63
30
81
8
2022

vs Left

.242
57
23
57
7
2022

vs Right

.239
75
22
86
8
2021

vs Left

.192
63
32
48
10
2021

vs Right

.250
83
23
85
16
More Splits

→

View More Split Stats
Home/Away Pitching Splits
ERA
WHIP
IP
K/9
BB/9
Since 2021

Home

3.48
1.13
250.2
8.1
3.1
Since 2021

Away

4.79
1.34
231.1
7.3
3.1
2023

Home

3.55
1.23
88.2
7.8
4.0
2023

Away

5.26
1.42
77.0
6.8
3.3
2022

Home

3.42
1.17
71.0
7.7
2.5
2022

Away

3.54
1.22
86.1
7.4
2.6
2021

Home

3.46
1.01
91.0
8.7
2.8
2021

Away

5.82
1.41
68.0
7.7
3.6
More Splits

→

View More Split Stats
Stat Review
How does Taijuan Walker compare to other starting pitchers?
This section compares his stats with all starting pitcher seasons from the previous three seasons (minimum 120 innings)*. The bar represents the player's percentile rank. For example, if the bar is halfway across, then the player falls into the 50th percentile for that stat and it would be considered average.
* Exit Velocity, Barrels/BBE %, Balls Hit 95+ MPH %, and Spin Rate are benchmarked against 2019 data (min 120 IP).
See here for more exit velocity/barrels stats
plus an explanation of current limitations with that data set.
K/BB

Strikeout to walk ratio.

K/9

Average strikeouts per nine innings.

BB/9

Average walks per nine innings.

HR/9

Average home runs allowed per nine innings.

Fastball

Average fastball velocity.

ERA

Earned run average. The average earned runs allowed per nine innings.

WHIP

Walks plus hits per inning pitched.

BABIP

Batting average on balls in play. Measures how many balls in play against a pitcher go for hits.

GB/FB

Groundball to flyball ratio. The higher the number, the more likely a pitcher is to induce groundballs.

Left On Base

The percentage of base runners that a pitcher strands on base over the course of a season.

Exit Velocity

The speed of the baseball as it comes off the bat, immediately after a batter makes contact.

Barrels/BBE

The percentage of batted ball events resulting in a Barrel. A Barrel is a batted ball with similar exit velocity and launch angle to past ones that led to a minimum .500 batting average and 1.500 slugging percentage.

Spin Rate

Spin Rate is the rate of spin on a baseball after it is released. It is measured in revolutions per minute (rpm).

Balls Hit 95+ MPH

The percentage of batted balls hit that met or exceeded the 95 MPH threshold.

Swinging Strike

The percentage of pitches that result in a swing and a miss.
Advanced Pitching Stats
Loading Advanced Pitching Stats...
Loading MLB Defensive Stats...
Our full team depth charts are reserved for RotoWire subscribers.
Subscribe Now
Recent RotoWire Articles Featuring Taijuan Walker
See More
Past Fantasy Outlooks
2022
2021
2020
2019
2018
2017
2016
2015
2014
2013
2012
Other than a short IL stint in the first half with left side tightness, Walker was one of the few Mets pitchers to avoid the injury bug. He matched his career high with 29 starts, generating 159 frames, the second most he's thrown. Walker's peripherals were nearly identical to the previous season, as were his expected ERAs. However, a low 69.4% LOB bloated his 2021 ERA to 4.47 as compared to a high 78.5% mark buoying a lucky 2.70 in the pandemic season. Another year removed from 2018 Tommy John surgery, Walker's velocity ticked up to 2015's level though it didn't manifest in more strikeouts. Walker has managed to outpitch his peripherals a couple of seasons, so he usually garners some fantasy attention. However, last season best represents his true level, a mixed league streamer buoyed by one of the best home pitching venues in the league. Walker's availability for Opening Day is in question after undergoing minor knee surgery in January, but if he's not ready by then it doesn't sound as though he'll miss much time.
Walker excelled with his second team of the 2020 season, surrendering just four runs over six starts for the Blue Jays after being traded from the Mariners at the end of August. It was this performance that brought his ERA down to 2.70 for the campaign over 53.1 frames. The 28-year-old also posted a 1.16 WHIP with a 50:19 K:BB, good enough for a 4-3 record. 2020 was a reassuring year for the right-hander, who had his 2018 season end early as a result of a UCL injury that required Tommy John surgery. Walker still flashes command issues at times, walking three or more batters in three of his 11 starts, but he took a definite step forward, especially considering he hasn't tossed more than 13 frames in a year since 2017. He enters the offseason as a free agent, but his 2020 showing should be enough to show teams that he's a capable starter whose success can sometimes hinge too much on his fastball.
Walker had his 2018 season shut down after three outings in April with the familiar journey of forearm tightness to UCL sprain to Tommy John surgery. Walker worked all of 2019 to get back to the majors, and did to throw one inning of relief on the final day of the season, allowing one hit and striking out one San Diego hitter. Prior to the injury journey of 2018-19, Walker was coming off his finest professional season where it looked like he was finally putting everything together. The issue with him is that his success lives off his fastball as he does not have a singular secondary pitch that is better than average. Perhaps the path forward for Walker is one in the bullpen that would allow him to maximize his fastball usage and allow his secondary pitches to be utilized in smaller percentages. He's a risky play for 2020 until his command resurfaces.
Coming off a season in which Walker exhibited modest skills growth, hopes were high. When the Diamondbacks announced they'd be using a humidor for home games, expectations soared, perhaps too much considering Walker's checkered injury history. Sure enough, he left his third start early with the dreaded right forearm tightness. Early reports suggested the injury was minor, but those proved premature as Walker soon went under the knife for a torn UCL. The Tommy John surgery was deemed successful, and Walker embarked on a throwing program in late September. Since the procedure was done in April, Walker has a chance to return in the second half. As is always the case, this is barring a setback with his role and effectiveness up in the air. Walker's pedigree is worth a roster spot in keeper and dynasty leagues. With pitching roster spots so valuable, he shouldn't be drafted with 2019 in mind.
Acquired from the Mariners, Walker posted full-season bests in ERA (3.49), home-run rate (0.97 HR/9), strikeout rate (8.4 K/9) and groundball rate (48.9 percent). The flamethrower was limited, however, by a 3.5 BB/9 and a blister issue that hindered him early and cost him about a month. Poor grip may explain erratic velocity and dips in swinging strikes (8.6 percent) and first-pitch strikes (58.6 percent). He flashed brilliance, though, with a 3.32 second-half ERA and a 3.02 ERA in eight pairings with catcher Jeff Mathis, who may be the muse for his diverse arsenal. Also, the new humidor at Chase Field could help Walker's home struggles (1.39 HR/9 with a 4.18 ERA last year). Health and mechanical issues have delayed the former top prospect's growth, but the 25-year-old is trending upward a year removed from ankle surgery.
Walker started his age-23 season with quality starts in each of his first four turns, but he fell off-track and earned quality starts in just five of his last 21 starts (one of which only qualified because the runs were unearned). He had some massive performances in 2016, striking out exactly 11 batters on three separate occasions (and walking one or zero hitters in each), representing an all-or-nothing approach to the game log. Traded in the offseason to Arizona, Walker now faces an uphill battle, moving to a tougher ballpark and an organization that has not been earning merit badges for their work with pitchers recently. Additionally, Walker was making in-season mechanical changes as late as last September, and we get the recipe for a long road of disappointment for the once-promising starter. The stuff promises better things in the future, but there will likely be more growing pains before Walker is ready to make an impact on a start-by-start basis.
A monstrously bad start overshadowed a solid summer for Walker. He was popped for nine earned runs in his season debut, five in his next, and then after two good starts (one earned in 12.3 IP), he was smashed again for seven earned leaving him with an 8.74 ERA through five starts. That took him off the radar for just about everybody, at least as a premium fantasy option. He reeled off a 2.88 ERA in his next 11 starts with 69 K in 68.2 innings. From that point on his final 13 starts saw the normal ups and downs of a young, inexperienced pitcher. He'd have three good starts here, two duds there, en route to a 4.83 ERA in 78.1 innings. Home runs were the main problem behind his struggles. He had a 7.44 ERA in seven starts where allowed two-plus home runs and a 3.78 ERA in 22 starts with 0-1 home runs allowed. If loved him last year, you still should. He still has all the tools for a huge breakout.
The organization's top pitching prospect, Walker's ascension to the Seattle rotation did not go smoothly last season. He began the year on the disabled list with shoulder stiffness, missing the first three months. He then had to endure the wrath of manager Lloyd McClendon after an uninspiring start at Triple-A over the All-Star break. Consequently, the Mariners kept him at Tacoma longer than expected, and when he finally returned in late July he walked six and was demoted right back down after the game. He didn't make it back to Seattle until September when he worked out of the bullpen for three appearances before making two starts. He fared well in that stretch, though, posting a 1.96 ERA in 23 innings with 20 strikeouts and five walks. It's at least something to build on for 2015 when the 22-year-old will again compete for a rotation spot in spring training. Walker still has incredible upside, and last year's experience could serve him well this season.
After he rolled through Double-A and Triple-A last year, the Mariners gave their 21-year-old future ace a taste of the big leagues in September. Walker acquitted himself nicely across three starts with 12 strikeouts and four walks in 15 innings. The 6-foot-4 right-hander throws his four-seamer at 95 mph but hits the high 90s, pairing it with a low-90s cutter that keeps hitters off-balance. His offspeed stuff needs continued development, but he looks ready for the big-league rotation, which he appears likely to make coming out of spring training. It wouldn't hurt if he got a little more minor-league seasoning, but he should be in the rotation to stay by summer if he doesn't make the rotation out of spring training.
Walker had an inconsistent 2012 campaign, not extremely surprising for a hurler at the Double-A level who only turned 20 in August. After dominating the first two months of the season, Walker struggled in summer and late in the year, finishing with a bloated ERA. The most curious part of his numbers was the massive decrease in groundballs induced. Despite those concerns, he was still hitting 98 mph late in the season, and the Mariners liked the development of his breaking pitches too. It's too optimistic to expect the 6-foot-6 right-hander to make the Seattle squad out of spring training, but he's an elite talent who could see the bigs by the end of this year.
Named the organization's top prospect by Baseball Prospectus, Walker is a 6-foot-6 right-hander who could be about a year away from Seattle. The 19-year-old dominated at Low-A Clinton last season, striking out 113 in 96.2 innings with a 1.54 GO/AO and a .202 opponents' average. A 2010 supplemental pick out of high school, Walker was named the organization's Minor League Pitcher of the Year. Walker is just 19 and needs more seasoning, but he's not too far away. He could go to spring training in 2013 with a shot at a rotation spot. Keep an eye on his progress this season.
More Fantasy News