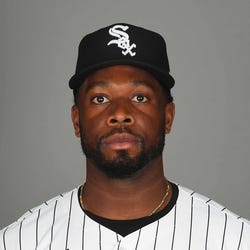 Rest-of-Season Projections
2023 Fantasy Outlook
Toussaint is a textbook study in the futility of having good stuff without accompanying command and control. A first-round draft pick by Arizona in 2014, the right-hander has never been lacking in talent, but he has thus far been able to carve out a steady role in the big leagues. Toussaint got a look in the majors with Atlanta four straight campaigns between 2018 and 2021, but he racked up a 5.46 ERA (5.37 FIP), 1.5 HR/9 and 12.9 percent walk rate across 145 innings over that stretch. After struggling with the organization's Triple-A affiliate last season, Atlanta designated Toussaint for assignment, then quickly traded him to the Angels. The change of scenery didn't do much to improve Toussaint's outlook; in 25.1 innings with Los Angeles, he walked 19 batters and gave up 13 earned runs. The viability of Toussaint's stuff is evident when he's on, and he's struck out over a batter per inning over the course of his career, but the clock is ticking on his opportunity to turn things around. The Angels non-tendered him in November, so it'll likely be up to another organization to try to work out the kinks.
Read Past Outlooks
$Signed a one-year contract with the Guardians in January of 2023. Waived by the Guardians in June of 2023. Claimed off waivers by the White Sox in June of 2023.

Allows one run over four frames
Toussaint did not factor into the decision Thursday, allowing one run on three hits and three walks over four innings in a 3-1 victory over the Diamondbacks. He struck out four.
ANALYSIS
Toussaint was able to limit the Diamondbacks despite struggling with his command. Two of his walks came back-to-back with two outs in the fourth inning, and he's issued multiple walks in 10 of his last 11 starts. The outing also marked just the second time this month that Toussaint was unable to make it through five innings.
Read More News
Pitching Stats
Loading Pitching Stats...
2023
2022
2021
2020
2019
2018
2023 MLB Game Log

Calculate Stats Over Time
Just click on any two dates.
Scoring
FanDuel
DraftKings
Yahoo DFS
Loading Pitching Game Log...
2022 MLB Game Log

Calculate Stats Over Time
Just click on any two dates.
Scoring
FanDuel
DraftKings
Yahoo DFS
Loading Pitching Game Log...
2021 MLB Game Log

Calculate Stats Over Time
Just click on any two dates.
Scoring
FanDuel
DraftKings
Yahoo DFS
Loading Pitching Game Log...
2020 MLB Game Log

Calculate Stats Over Time
Just click on any two dates.
Scoring
FanDuel
DraftKings
Yahoo DFS
Loading Pitching Game Log...
2019 MLB Game Log

Calculate Stats Over Time
Just click on any two dates.
Scoring
FanDuel
DraftKings
Yahoo DFS
Loading Pitching Game Log...
2018 MLB Game Log

Calculate Stats Over Time
Just click on any two dates.
Scoring
FanDuel
DraftKings
Yahoo DFS
Loading Pitching Game Log...
Minor League Game Log

Calculate Stats Over Time
Just click on any two dates.
Loading Minor League Pitching Game Log...
Pitching Appearances Breakdown
How many pitches does Touki Toussaint generally throw?
What part of the game does Touki Toussaint generally pitch?
% Games Reaching Innings Threshold
% Games By Number of Innings Pitched
Left/Right Pitching Splits
BAA
K
BB
H
HR
Since 2021

vs Left

.211
56
58
55
11
Since 2021

vs Right

.226
103
40
72
12
2023

vs Left

.208
35
32
33
5
2023

vs Right

.238
50
25
36
5
2022

vs Left

.233
4
13
7
1
2022

vs Right

.145
22
6
8
1
2021

vs Left

.208
17
13
15
5
2021

vs Right

.250
31
9
28
6
More Splits

→

View More Split Stats
Home/Away Pitching Splits
ERA
WHIP
IP
K/9
BB/9
Since 2021

Home

5.19
1.40
85.0
9.2
5.4
Since 2021

Away

4.31
1.37
77.1
8.4
5.5
2023

Home

5.28
1.44
44.1
9.7
4.9
2023

Away

4.64
1.45
42.2
7.8
7.0
2022

Home

4.08
1.19
17.2
8.2
6.1
2022

Away

5.87
1.70
7.2
11.7
8.2
2021

Home

5.87
1.48
23.0
9.0
5.9
2021

Away

3.33
1.15
27.0
8.3
2.3
More Splits

→

View More Split Stats
Stat Review
How does Touki Toussaint compare to other starting pitchers?
This section compares his stats with all starting pitcher seasons from the previous three seasons (minimum 120 innings)*. The bar represents the player's percentile rank. For example, if the bar is halfway across, then the player falls into the 50th percentile for that stat and it would be considered average.
* Exit Velocity, Barrels/BBE %, Balls Hit 95+ MPH %, and Spin Rate are benchmarked against 2019 data (min 120 IP).
See here for more exit velocity/barrels stats
plus an explanation of current limitations with that data set.
K/BB

Strikeout to walk ratio.

K/9

Average strikeouts per nine innings.

BB/9

Average walks per nine innings.

HR/9

Average home runs allowed per nine innings.

Fastball

Average fastball velocity.

ERA

Earned run average. The average earned runs allowed per nine innings.

WHIP

Walks plus hits per inning pitched.

BABIP

Batting average on balls in play. Measures how many balls in play against a pitcher go for hits.

GB/FB

Groundball to flyball ratio. The higher the number, the more likely a pitcher is to induce groundballs.

Left On Base

The percentage of base runners that a pitcher strands on base over the course of a season.

Exit Velocity

The speed of the baseball as it comes off the bat, immediately after a batter makes contact.

Barrels/BBE

The percentage of batted ball events resulting in a Barrel. A Barrel is a batted ball with similar exit velocity and launch angle to past ones that led to a minimum .500 batting average and 1.500 slugging percentage.

Spin Rate

Spin Rate is the rate of spin on a baseball after it is released. It is measured in revolutions per minute (rpm).

Balls Hit 95+ MPH

The percentage of batted balls hit that met or exceeded the 95 MPH threshold.

Swinging Strike

The percentage of pitches that result in a swing and a miss.
Prospect Rankings History
Advanced Pitching Stats
Loading Advanced Pitching Stats...
Loading MLB Defensive Stats...
Our full team depth charts are reserved for RotoWire subscribers.
Subscribe Now
Recent RotoWire Articles Featuring Touki Toussaint
See More
Past Fantasy Outlooks
2021
2020
2019
2018
2017
2015
Toussaint is a talented young arm with a few flaws which hold him back from overall success. He throws a beautiful curveball which can make even the best of hitters look silly, has above-average velocity with his fastball and scouts grade all four of his pitches at a 50 or higher grade on the 20-80 scale. The pieces are there for a good pitcher, but the execution has simply not been there. He has 107 strikeouts in 95 innings at the big-league level, but also owns a 5.97 ERA and 1.60 WHIP in that time. His 2020 was marred with him falling behind in too many counts and giving up the high ground to hitters. He added a slider to his repertoire in 2020, but the pitch was a nothing pitch for him that led to three of his seven homers allowed, so perhaps that pitch can go back into the workshop for some adjustments. The talent makes him tough to give up on, but he is still a work in progress.
Toussaint is the latest September cautionary tale. Across six appearances (four starts) for the Braves in September of 2018, Toussaint had a 27.7 K%, .198 BAA and 3.90 FIP. He also had an 18.8 BB% during that span, and anyone who took a flier on Toussaint over, say, teammate Mike Soroka in drafts last March paid the price. He was optioned down at the end of spring training, gave up eight runs in his first 11.1 innings with the big-league team and ended up spending his time in the bullpen when not getting clobbered at Triple-A. The fact is his command and control are lacking; Toussaint struggles to fill up the strike zone and rarely does his catcher not have to move his glove off the target. He was a prospect of some repute and is still only 23 years old, but it should be noted that Toussaint's fastball velocity did not play up in relief. This will be a season to simply monitor from a safe distance.
Toussaint is back in most evaluators' good graces after impressing at the three highest levels of organized baseball last season. His control left him after he arrived to the majors (6.5 BB/9), but he was able to overcome those issues to a large extent and achieve respectable results for a 22-year-old. What separates Toussaint is his split-finger pitch. He had a 56% groundball rate on that offering, which he threw 20.6% of the time while with Atlanta. He struggled to get his fastball by hitters, but the pitch had a 50% flyball rate (16.7% GB%). Having one extreme groundball pitch to pair with an extreme flyball pitch helped Toussaint beat the estimators at all but one stop on the farm. The curveball provides a strikeout punch, and the workload is not a big concern after he built up to 165.1 innings in 2018. There's no reason to think Toussaint won't be in the rotation, so it makes sense to get aggressive with him after the more proven options dry up.
The Braves have so many high-quality pitching prospects that Toussaint gets lost in the shuffle. Unfortunately, that depth makes it even more likely that he will end up in the bullpen. His 9.0 percent walk rate in the Florida State League was his best mark since rookie ball and his 26.3 percent strikeout rate ranked second in the league among pitchers who threw 100-plus innings. His 5.04 ERA and 1.36 WHIP were uninspiring, but his 3.39 FIP paints a more accurate picture of how he pitched at High-A. An extremely athletic 6-foot-3, 185-pound righty, Toussaint continues to make minor improvements each year, and he was able to finish his campaign with a seven-start run at Double-A. With a plus fastball, plus curveball and solid-average changeup, he has the repertoire to start, and on the right day he can look like a future frontline arm. However, on most nights, his command/control can be so bad that he looks like a lock to end up in the bullpen. Extreme patience is required with this lottery ticket.
Toussaint has now logged 220 innings at Low-A, walking 119 batters over that span. Those totals are obviously connected, as most young pitchers with mid-90s gas, a plus curveball and average changeup spend at most one season at a level, and are often pushed aggressively up the ladder. He may be closing games for the Braves in 2020, but there are some factors that still give hope to the notion that Toussaint could make it as a starter. He won't turn 21 until June, which will make him young for the Florida State League, so while he has already logged a lot of innings in full-season ball, developmentally he is still pretty pliable. Toussaint also has prototypical 6-foot-3, 185-pound size and is an excellent athlete, which can be a precursor for command/control gains. He was as overpowering as ever last year, allowing a .217 average while posting a 22.4 percent strikeout rate, so No. 2 starter upside remains for the thrill-seeking dynasty league owner.
Toussaint was taken with the 16th pick in the 2014 draft, and in addition to having a 70-grade name, he also has about as much upside as any pitcher in the draft class. The 18-year-old righty was deployed for 28.2 innings in rookie ball, and demonstrated his ability to miss bats with a potentially elite fastball/curveball combo (32 strikeouts), but he also reminded everyone just how much refining there is left to do (1.95 WHIP on 38 hits and 18 walks). If he is assigned to full-season ball as an 18-year-old, it will be understandable if his ERA and WHIP don't match the hype surrounding his arm right away. In time, this is a pitcher who will be able to embarrass hitters in the low levels of the minors. Don't get too aggressive in dynasty leagues, as Toussaint probably won't make the big leagues until 2018, and a lot can happen between now and then. But in the meantime, there is a lot to dream on here.
More Fantasy News