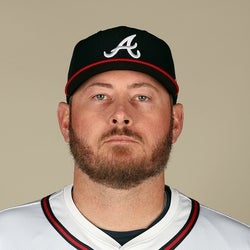 60-Day IL
Injury Elbow
Est. Return 2/1/2024
Rest-of-Season Projections
2023 Fantasy Outlook
There was no outlook written for Tyler Matzek in 2023. Check out the latest news below for more on his current fantasy value.
#

Overall
$Signed a two-year, $3.1 million contract with the Braves in November of 2022. Contract includes a $5.5 million team option for 2025.

ANALYSIS
Matzek underwent Tommy John surgery in October and has reportedly been throwing since the end of May. The 32-year-old reliever still has a long way to go in his rehab process and almost certainly won't be ready to return until next season, but it's a good sign to see Matzek get back to throwing with a bit of velocity.
Read More News
Pitching Stats
Loading Pitching Stats...
2023 MLB Game Log

Calculate Stats Over Time
Just click on any two dates.
Scoring
FanDuel
DraftKings
Yahoo DFS
Loading Pitching Game Log...
2022 MLB Game Log

Calculate Stats Over Time
Just click on any two dates.
Scoring
FanDuel
DraftKings
Yahoo DFS
Loading Pitching Game Log...
2021 MLB Game Log

Calculate Stats Over Time
Just click on any two dates.
Scoring
FanDuel
DraftKings
Yahoo DFS
Loading Pitching Game Log...
2020 MLB Game Log

Calculate Stats Over Time
Just click on any two dates.
Scoring
FanDuel
DraftKings
Yahoo DFS
Loading Pitching Game Log...
Minor League Game Log

Calculate Stats Over Time
Just click on any two dates.
Loading Minor League Pitching Game Log...
Left/Right Pitching Splits
BAA
K
BB
H
HR
Since 2021

vs Left

.229
37
22
33
3
Since 2021

vs Right

.146
76
44
33
3
2023

vs Left

0
0
0
0
0
2023

vs Right

0
0
0
0
0
2022

vs Left

.212
9
12
11
2
2022

vs Right

.153
27
17
15
1
2021

vs Left

.239
28
10
22
1
2021

vs Right

.141
49
27
18
2
More Splits

→

View More Split Stats
Home/Away Pitching Splits
ERA
WHIP
IP
K/9
BB/9
Since 2021

Home

2.96
1.03
51.2
8.9
4.2
Since 2021

Away

2.95
1.44
55.0
10.1
6.9
2023

Home

0
0
0
0
0
2023

Away

0
0
0
0
0
2022

Home

2.53
1.08
21.1
6.8
4.6
2022

Away

4.43
1.43
22.1
8.1
7.3
2021

Home

3.26
0.99
30.1
10.4
3.9
2021

Away

1.93
1.44
32.2
11.6
6.6
More Splits

→

View More Split Stats
Advanced Pitching Stats
Loading Advanced Pitching Stats...
Loading MLB Defensive Stats...
Our full team depth charts are reserved for RotoWire subscribers.
Subscribe Now
Recent RotoWire Articles Featuring Tyler Matzek
See More
Past Fantasy Outlooks
2022
2021
2016
2015
2014
2012
2011
2010
Matzek became somewhat of a cult hero for Atlanta during the World Series run in 2021, and he was reliable setup option all year with 24 holds and a 2.57 ERA, 1.22 WHIP and 77:37 K:BB across 63 innings. The veteran southpaw could see more action in the middle innings this season with the offseason additions of Kenley Jansen and Collin McHugh. With Will Smith also returning, Matzek won't be in the mix for saves without a rash of injuries in Atlanta's bullpen.
Matzek completed his comeback bid in 2020, returning to the majors for the first time since 2015. The lefty made 23 middle-relief appearances for Atlanta, posting a 2.79 ERA and 43:10 K:BB with a 4-3 record. He showed off an improved 94.4 mph average fastball velocity, leading to an elite 35.5 K% that was the best of his career, and he exerted dominance with a 13.3% swinging-strike rate. Matzek also limited meaningful contact, posting a 22.7% hard-hit rate and 3.0% barrel rate, which helped make up for his 43.1 GB%. He had a 1.92 FIP that suggests he may have performed even better than his surface numbers show. Matzek is part of an elite pitching staff in Atlanta, and his path to saves is blocked by several other relievers. He displayed impressive talent in 2020 and should produce solid strikeout numbers and the occasional win, but his fantasy value is capped by his lack of high-leverage opportunities.
Matzek had a very up-and-down season overall, through trips back-and-forth from the minors to issues both on and off the field. He started the season with the Rockies but ended it playing for their Triple-A team in Albuquerque. Matzek was a major part of the rotation when he was called up in June 2014, but he only ended up starting five games for Colorado in 2015. He ended with a 2-1 record behind a 4.09 ERA and 1.82 WHIP through 22 innings pitched. Matzek has struggled with his command continually through his young career and the team is hoping to resolve this issue for the 2016 season, where Matzek will continue to fight for a spot in the starting rotation.
Consistent issues with command at every stop in the minors once looked like it might force Matzek, the No. 9 overall draft pick by the Rockies in 2009, to move to relief in order to reach the big leagues. The organization gave him one last gasp at working as a starter at Triple-A, and after he showed mild improvement with finding the strike zone over 12 outings with Colorado Springs, he made his MLB debut in June. Thereafter, Matzek shocked everybody by registering a 4.05 ERA (3.78 FIP) over 117.2 innings, highlighted by a complete-game shutout of the Padres in September. He finished with a 3.4 BB/9 rate, the lowest mark of his professional career at any level, and yielded grounders on nearly half his balls in play. It's too early to proclaim that Matzek has resolved his command woes, but the lefty's sensational final month (1.69 ERA, 27:9 K:BB in 26.2 frames) has him trending in the right direction. In fact, if he can maintain September's strikeout-per-inning output, Matzek might offer more fantasy potential than any of the Rockies' other starters.
For the second consecutive season, Matzek exhibited some modest growth in commanding his pitches, trimming his walk rate from 14.6 to 12.1 percent. Still, even that figure is probably too high for Matzek to find sustained success in the majors, especially since the improvement was coupled with a drop in his strikeout rate of seven percentage points. Matzek's first-round pedigree and fleeting dominance on the rare occasions he finds the strike zone were enough for the Rockies to protect him from the Rule 5 Draft, but he seems to be facing a make-or-break season with several more promising pitching prospects coming up the pipeline. If Matzek fails to make further gains with his command at Triple-A Colorado Springs this season, the Rockies would probably look to transition him into full-time relief duty.
Matzek can miss bats (10.29 K/9IP at Low-A and High-A) but seems to have no idea where the ball is going, as he issued 96 walks over 97 innings last season. The young left-hander even took a leave from the organization midseason to work with a former pitching instructor on his mechanics, and it's possible that he figured something out late in the year as he shaved his walk rate to 4.17 BB/9IP over 41 innings in August and September. The Rockies will probably start him back at High-A Modesto in hopes that the improved control he displayed late last season gets him back on track.
Matzek, the Rockies' 2009 first-round pick, is a hard-throwing lefty with a full arsenal of pitches. In 2010, he spent the season at Low-A Asheville with a 2.92 ERA, 8.9 K/9IP strikeout rate and .198 batting average against. His 6.3 BB/9IP walk rate is concerning, but he's only one year removed from high school, so he's still developing. Once he gets over that hump, he should be able to pitch deeper into games and hit his stride. He's regarded as a player that should move quickly through the Rockies' system and could make his debut as early as 2011. Those in keeper leagues should take note of Matzek's talents, if they haven't already done so.
The Rockies' first-round pick in 2009, Matzek participated in the instructional league during the fall, but will get his first taste of pro ball in 2010. Projected to remain in extended spring training (warm weather) before moving to Low-A, Matzek has the Rockies excited with his 94-96 mph fastball and a full repertoire that includes a curve, slider and changeup, as well as his great work ethic, competitive nature and polished mechanics at such a young age. Matzek is said to mix all of his pitches very well while keeping hitters off balance by changing speeds and location. Look for Matzek to progress quickly and have an impact role in the Rockies' rotation no later than late 2011, putting him firmly on the radar for those in keeper leagues.
More Fantasy News