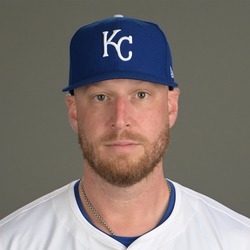 Rest-of-Season Projections
2023 Fantasy Outlook
After coming over in a trade from Atlanta on Aug. 1, Smith proceeded to make 24 relief appearances for Houston during the regular season, compiling a 3.27 ERA, 1.23 WHIP and six holds in 22 innings. Overall he had a 3.97 ERA, 1.41 WHIP and five saves over 65 appearances, though a declining strikeout rate (to 9.92 K/9 - the worst since his rookie season) is a concern. Smith surpassed 30 saves in 2019 and 2021 with San Francisco and Atlanta, respectively, so he could be in the mix to close in Texas despite signing with the Rangers late in the spring.
Read Past Outlooks
$Signed a one-year, $1.5 million contract with the Rangers in March of 2023.

Makes scoreless appearance
Smith allowed one walk and struck out one over a scoreless eighth inning in Tuesday's 9-3 loss to the Angels.
ANALYSIS
Smith, who normally works as setup reliever when the Rangers are leading, made a low-leverage appearance following a rough stretch. The left-hander was tagged for six runs on six hits and three walks over his previous three outings. It's unclear whether using Smith in a mop-up role was a way to give him a positive feeling about an outing or if it was because he hadn't thrown in five days. It may have been a little of both.
Read More News
Pitching Stats
Loading Pitching Stats...
2023
2022
2021
2020
2019
2018
2017
2023 MLB Game Log

Calculate Stats Over Time
Just click on any two dates.
Scoring
FanDuel
DraftKings
Yahoo DFS
Loading Pitching Game Log...
2022 MLB Game Log

Calculate Stats Over Time
Just click on any two dates.
Scoring
FanDuel
DraftKings
Yahoo DFS
Loading Pitching Game Log...
2021 MLB Game Log

Calculate Stats Over Time
Just click on any two dates.
Scoring
FanDuel
DraftKings
Yahoo DFS
Loading Pitching Game Log...
2020 MLB Game Log

Calculate Stats Over Time
Just click on any two dates.
Scoring
FanDuel
DraftKings
Yahoo DFS
Loading Pitching Game Log...
2019 MLB Game Log

Calculate Stats Over Time
Just click on any two dates.
Scoring
FanDuel
DraftKings
Yahoo DFS
Loading Pitching Game Log...
2018 MLB Game Log

Calculate Stats Over Time
Just click on any two dates.
Scoring
FanDuel
DraftKings
Yahoo DFS
Loading Pitching Game Log...
2017 MLB Game Log

Calculate Stats Over Time
Just click on any two dates.
Scoring
FanDuel
DraftKings
Yahoo DFS
Loading Pitching Game Log...
Minor League Game Log

Calculate Stats Over Time
Just click on any two dates.
Loading Minor League Pitching Game Log...
Pitching Appearances Breakdown
How many pitches does Will Smith generally throw?
What part of the game does Will Smith generally pitch?
% Games Reaching Innings Threshold
% Games By Number of Innings Pitched
Left/Right Pitching Splits
BAA
K
BB
H
HR
Since 2021

vs Left

.211
71
18
48
6
Since 2021

vs Right

.224
136
52
103
19
2023

vs Left

.177
19
4
11
1
2023

vs Right

.224
36
13
33
4
2022

vs Left

.230
30
5
23
2
2022

vs Right

.267
35
20
35
7
2021

vs Left

.212
22
9
14
3
2021

vs Right

.192
65
19
35
8
More Splits

→

View More Split Stats
Home/Away Pitching Splits
ERA
WHIP
IP
K/9
BB/9
Since 2021

Home

4.11
1.21
100.2
9.7
2.6
Since 2021

Away

3.66
1.18
83.2
10.6
4.4
2023

Home

4.50
1.13
30.0
7.8
2.1
2023

Away

4.28
0.99
27.1
9.5
3.3
2022

Home

3.67
1.46
34.1
10.5
2.6
2022

Away

4.38
1.34
24.2
9.1
5.5
2021

Home

4.21
1.05
36.1
10.4
3.0
2021

Away

2.56
1.23
31.2
12.8
4.5
More Splits

→

View More Split Stats
Stat Review
How does Will Smith compare to other relievers?
This section compares his stats with all relief pitcher seasons from the previous three seasons (minimum 30 innings)*. The bar represents the player's percentile rank. For example, if the bar is halfway across, then the player falls into the 50th percentile for that stat and it would be considered average.
* Exit Velocity, Barrels/BBE %, Balls Hit 95+ MPH %, and Spin Rate are benchmarked against 2019 data (min 30 IP).
See here for more exit velocity/barrels stats
plus an explanation of current limitations with that data set.
K/BB

Strikeout to walk ratio.

K/9

Average strikeouts per nine innings.

BB/9

Average walks per nine innings.

HR/9

Average home runs allowed per nine innings.

Fastball

Average fastball velocity.

ERA

Earned run average. The average earned runs allowed per nine innings.

WHIP

Walks plus hits per inning pitched.

BABIP

Batting average on balls in play. Measures how many balls in play against a pitcher go for hits.

GB/FB

Groundball to flyball ratio. The higher the number, the more likely a pitcher is to induce groundballs.

Left On Base

The percentage of base runners that a pitcher strands on base over the course of a season.

Exit Velocity

The speed of the baseball as it comes off the bat, immediately after a batter makes contact.

Barrels/BBE

The percentage of batted ball events resulting in a Barrel. A Barrel is a batted ball with similar exit velocity and launch angle to past ones that led to a minimum .500 batting average and 1.500 slugging percentage.

Spin Rate

Spin Rate is the rate of spin on a baseball after it is released. It is measured in revolutions per minute (rpm).

Balls Hit 95+ MPH

The percentage of batted balls hit that met or exceeded the 95 MPH threshold.

Swinging Strike

The percentage of pitches that result in a swing and a miss.
Advanced Pitching Stats
Loading Advanced Pitching Stats...
Loading MLB Defensive Stats...
Our full team depth charts are reserved for RotoWire subscribers.
Subscribe Now
Recent RotoWire Articles Featuring Will Smith
See More
Past Fantasy Outlooks
2022
2021
2020
2019
2018
2017
2016
2015
2014
2013
2010
After Kenley Jansen shockingly signed a one-year deal with Atlanta in March, Smith appears to be back to being one of the game's top setup men. Smith racked up 37 saves in 43 chances for the National League champion Braves and led all relievers with a 92.5% team save share, so he will certainly be the next man up if Jansen struggles or gets injured. Equipped with a devastating slider that he threw 41% of the time to stifle opposing hitters (.124 BA, 49.1% Whiff%), Smith posted a solid 11.5 K/9. However, the southpaw struggled on occasion with walks (9.9%) and he served up 11 home runs in 68 innings (1.5 HR/9). Despite these blemishes, the Braves stuck by him after seven straight seasons of success in high-leverage. Smith has a hefty $13M contract this season with a team option for 2023.
Those who drafted Smith with the assumption that he would wrestle away the closer job from Mark Melancon were left disappointed, as the southpaw hung a goose egg in the saves column. Smith missed most of summer camp following a positive COVID-19 test and did not debut until Aug. 9, finishing with a 4.50 ERA across 25 total appearances (postseason included). Under the hood, mostly everything looks fine as Smith still had a 29.0 K%, fueled by a stellar 17.5 SwStr%. He also had a 6.5 BB%, an improvement on his 2019 mark. The long ball was a problem, but less so later in the year with Smith allowing only two HR in his final 14 appearances. Smith was one of the top closers in all of baseball in 2019 when he racked up 34 saves for the Giants, and he is going to play a big role in the late innings for Atlanta, with perhaps a partial share of the ninth. The Braves made it clear they like Smith in a flexible role.
Smith was one of the top closers in MLB last season, compiling 34 saves for the 77-win Giants. Along with a stellar 2.76 ERA and 1.03 ERA, Smith fell just four punchouts shy of the century mark. He avoided the IL, throwing 65.1 innings, his most since 2014. He missed all of 2017 rehabbing from Tommy John surgery. Smith is essentially a two-pitch hurler, relying mainly on his fastball and slider, only occasionally mixing in a curve and changeup. He's lost a couple ticks from his fastball post TJS but gets more tilt on his wipeout slider. As a southpaw, Smith excels versus left-handed batters but also handles righty swingers nearly as well as top right-handed relievers. Smith left the Giants, signing a three-year, $39 million contract with the Braves. Atlanta is reportedly sticking with Mark Melancon as the closer. However, cream usually rises, and Smith is the superior arm. Draft accordingly.
Smith missed 2017 while rehabbing from Tommy John surgery but in 2018 quickly earned a setup role that eventually turned into closing duty, running away with the job in late June. He cleaned up after Mark Melancon and others while Hunter Strickland (finger) was sidelined. The southpaw went 14-for-17 in save situations, and along the way posted a career-best ERA while improving his K/9 by 1.4 and BB/9 by 1.5 from 2016. Smith showed he regained his strikeout punch with a 14.8% swinging-strike rate. The team owes Melancon $14 million in each of the next two seasons, but Smith has made a strong case to hold onto the job given his increased reliability against righty batters (.248 wOBA last year). The Giants have not made it a secret that they are looking to trade Smith to a contender, so while he may open the season getting saves, it's quite possible he won't be by season's end.
Smith missed all of the 2017 campaign after undergoing Tommy John surgery in March, but he was able to resume throwing in September and is expected to be ready by Opening Day. Pitchers coming back from reconstructive elbow surgery are somewhat of a crapshoot, though it helps that Smith has never relied on overpowering velocity to get batters out, as his fastball sits around 92 mph. Prior to 2017, the southpaw had established himself as a reliable back-end reliever, compiling a combined 3.24 ERA and 11.9 K/9 from 2013 to 2016. Assuming he's able to regain his pre-injury form, the 28-year-old should work his way back into a high-leverage role for the Giants, likely working as one of the team's top lefty setup men. While Smith should be a solid source of ERA and strikeouts, his value will likely be limited outside of leagues that count holds with Mark Melancon locked into the ninth inning.
The Giants paid a pretty penny to acquire Smith at the trade deadline this past season, immediately slotting him into a late-inning role. The southpaw struggled with his new club early on, giving up six earned runs over his first 4.2 innings with San Francisco. He settled in nicely after that, posting a 0.80 WHIP while accumulating nine holds over 18 scoreless appearances from Aug. 20 through the end of the regular season. Smith isn't your traditional lefty, as his splits are pretty even against opposing lefties and righties. That quality is what made him such an attractive piece to the Giants and why they were willing to give up a top pitching prospect, Phil Bickford, to acquire him. Smith will serve as manager Bruce Bochy's left-handed setup man in 2017, making him a desirable target in leagues that count holds.
Smith appears poised to get some saves for the Brewers after posting the best season of his relief career in 2015. He set career bests in K/9 (12.9), ERA (2.70) and FIP (2.47) while winning seven games and holding 20 more out of the setup role. Most importantly, Smith held his own against right-handed pitching after struggling mightily against them in previous years. Righties hit just .193/.264/.281 against Smith compared to .295/.391/.481 in 2014. The Brewers announced in camp that Smith and Jeremy Jeffress would both get save opportunities this season, with manager Craig Counsell playing the matchups in the ninth inning. Smith figures to be the better source of ratios and strikeouts, although as the southpaw, he could be used less frequently in the closer role. His slider is definitely a closer-quality pitch: it drew nearly a 30 percent whiff rate and was responsible for 68 of Smith's 91 strikeouts in 2015.
Smith's final numbers don't tell the entire tale of his entire 2014 campaign, as 14 of the 27 earned runs he gave up during the season came during the month of July. He was dominant to begin the season, giving up just one earned run through the end of May, but he faded a bit down the stretch while appearing in 78 games, the most he has pitched at any level as a professional. Smith possess a mid-90s fastball and throws two nasty breaking pitches, and he has shown he can be a dominant southpaw. Manager Ron Roenicke will likely look to conserve Smith a little better in 2015, but he figures to be the top left-hander out of the Brewers' bullpen.
For the second year in a row, Smith spent much of his time on the shuttle between Triple-A and the majors. He worked out of the bullpen for the most part but also got a bit of work as a spot starter as well. He posted a very impressive 11.6 K/9 over 33.1 innings, with an even tastier 6.14 K/BB, which helped solidify the Royals bullpen as one of the strongest in the majors last year. But after signing free agent Jason Vargas, evaluating their own in-house options, and looking into some additional free agents, the Royals ended up trading Smith to the Brewers in exchange for outfielder Norichika Aoki. Smith will likely get a chance to compete for a rotation spot during the spring, but he will more likely continue pitching out of the bullpen.
Like many of the Royals' young starters, Smith was thrust into action, perhaps a little ahead of schedule, due to a build up of injuries in the rotation. He was a spot starter from May through July, but found a relatively permanent home come August. He made 16 starts over the course of the season and finished with a 6-9 record and a 5.32 ERA but with just a 1.8 K/BB over 89.2 innings. He was never a big strikeout guy down in the minors, posting a 7.4 K/9 through 89.2 innings for Triple-A Omaha during the season, but that number dropped to 5.9 in the majors. He also saw a spike in his walk and home-run rates. The 23-year-old southpaw will likely get a chance to compete for a spot with the big club this spring, but he still looks like he is at least another year away from commanding the strike zone and putting together a worthwhile season for fantasy owners.
Scouts just don't understand how Smith dropped into the seventh round two years ago. He spent the summer adjusting to better competition, and by the end of the year was progressing without a hitch. Smith may be challenged in the tougher hitting environments higher in the system, but he's a long-term play in any league.
More Fantasy News