Khimki vs. Olympiacos
Date: 12/18
Time: 8:00 PM CET
Game Preview
Two pillars in the post will battle Wednesday in Greece, as Nikola Milutinov and his Olympiacos teammates will host Devin Booker and the rest of the squad from Russia. Khimki's Alexey Shved will almost certainly make some noise in Round 14, but the focus in Wednesday's contest will be on the big men. Khimki heads into this matchup seventh in the standings, and Olympiacos will enter tied for 12th. The two teams are separated by just two wins, though, so both will have plenty to compete for when they take the floor Wednesday.
Injuries
Khimki
Petr Gubanov - OUT - Undisclosed
11/30 10:12 PM IST - Gubanov is with the Russian National Team for this weekend's FIBA qualifiers and will not be available for Khimki's Round 10 EuroLeague matchup with Panathinaikos, according to euroleague.net. Gubanov averaged 17 minutes per game in Rounds 4 and 5, but he has not seen EuroLeague action since, so his absence should not affect the rotation Khimki has been using of late.
Timofey Mozgov - OUT - Undisclosed
11/6 10:12 PM IST - Mozgov (undisclosed) remains sidelined, according to Khimki's official website. Khimki is getting healthier as a team, but Mozgov continues to work his way back from his injury. A timeline for his return remains uncertain.
Janis Timma - GTD - Undisclosed
12/12 10:29 PM IST - Timma (undisclosed) will not play Thursday against ALBA Berlin. Timma will miss a second straight EuroLeague game as a result of his injury.
Egor Vialtsev - GTD - Knee
11/29 9:08 PM IST - Vialtsev (knee) was on Khimki's roster for Thursday's loss to Fenerbahce. Vialtsev did not play in Round 11, but his inclusion among his club's 12 active players signals he could return to action in the near future.
Olympiacos
Willie Reed - GTD - Back
12/17 11:10 PM IST - Reed is dealing with a back injury, according to TalkBasket.net. The extent of Reed's injury is not known, but it leaves his Round 14 status uncertain, and he will be a game-time decision for Wednesday's matchup with Khimki.
Vassilis Spanoulis - GTD - Thigh
12/17 11:08 PM IST - Spanoulis (thigh) is expected to play Wednesday against Khimki, according to TalkBasket.net. Spanoulis missed Olympiacos' last game as a result of his injury, but he was able to practice Tuesday, which puts him on track to return to action in Round 14.
Khimki Probable Starters
G - Alexey Shved
G - Stefan Jovic
F - Anthony Gill
F - Janis Timma
C - Devin Booker
Olympiacos Probable Starters
G - Vassilis Spanoulis
G - Antonis Koniaris
F - Georgios Printezis
F - Kostas Papanikolaou
C - Nikola Milutinov
Top Picks
(Captain) Alexey Shved, BCK - It's tough to ever go wrong with Shved, who has scored in double figures in every game this season and also heads into Wednesday's contest among the Top 10 in the league in assists per game.
Nikola Milutinov, OLY - Milutinov had a rough go of it his last time out, but he was only on the court for a season-low 17 minutes. As long as he plays at least around the 26 minutes he is averaging per game, he will be a good bet to post a double-double, particularly with him averaging 10.5 points and 9.3 rebounds per contest.
Devin Booker, BCK - Booker was simply dominant in Round 13, setting a season high with 24 points and tying a season high with 10 rebounds – all while playing a total of 24 minutes.
Augustine Rubit, OLY - Fellow big man Willie Reed could miss Wednesday's game, and if he does, Rubit will be the biggest beneficiary. Rubit put up 16 points and eight rebounds last time he played extended minutes in Round 10, so he has proven capable of putting up good numbers when given the chance.
Taylor Rochestie, OLY - Olympiacos has been shuffling American guards all season, but they may have found the right one in Rochestie, who averaged 10.0 points and 7.5 assists in the two games he played at least 20 minutes this season.
Captaincy Options
Dream11 Team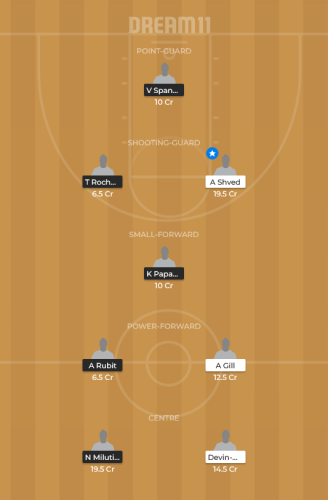 Grand League Combination
Shved, Milutinov, Booker, Rubit
Small League Combination
Shved, Milutinov, Booker, Gill
The author(s) of this article may play in daily fantasy contests including – but not limited to – games that they have provided recommendations or advice on in this article. In the course of playing in these games using their personal accounts, it's possible that they will use players in their lineups or other strategies that differ from the recommendations they have provided above. The recommendations in this article do not necessarily reflect the views of RotoWire. Kevin O'Brien plays in daily fantasy contests using the following accounts: FanDuel: kevob100, DraftKings: kevob100.